After nearly three months, the wait is finally over! Roy Henry's Boogalou BBQ dine-in restaurant is now open for business at 1401 Carter Road (the former PizzAroma building).
"It's good to be open!" Henry said. "I've got a really good staff with lots of experience."
The former Boogalou location on 54 was carry-out only. With this being Roy's first time running a sit-down restaurant, he decided to use the first several days as a soft opening to fine tune the operation. There were no major announcements and no grand openings.  Instead, Henry simply put up a "now open" sign out front and opened the doors, which is really all it took to get patrons into the restaurant.
In fact, the first two days of the soft opening saw a 20% increase from Monday to Tuesday.  "We're just trying to get our staff in position so everything is ready when the rush comes once the word really gets out," Henry said.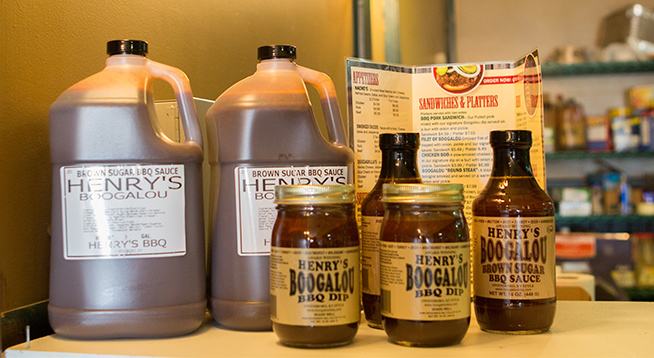 The inside of the building looks great.  There's a fresh coat of paint, sports memorabilia on all the walls, and large screen TVs everywhere you look. With the scent of bbq smoke in the air and the fireplace in the center of the dining room, it's a cozy place to eat lunch or dinner.
Once the systems are in place and the staff is acclimated, Henry says other plans will be phased in.  Like barbecue delivery, for example.
Read more about future plans and menu additions here.