As the sun begins to set earlier, and the weather becomes cooler, our spirits sometimes become a little drearier. The best cure for the winter blues may require a trip to our local fine art museum or art studio, or even a short journey out of town. Scientists have found that viewing and creating art can benefit both your mental and physical health. Research shows that the areas of the brain connected to pleasant emotions and the experience of reward are triggered by viewing art. So, in effect, art makes your brain happy. If you are looking to add a little color to the dull and dreary days of winter, there are several options nearby for you to enjoy.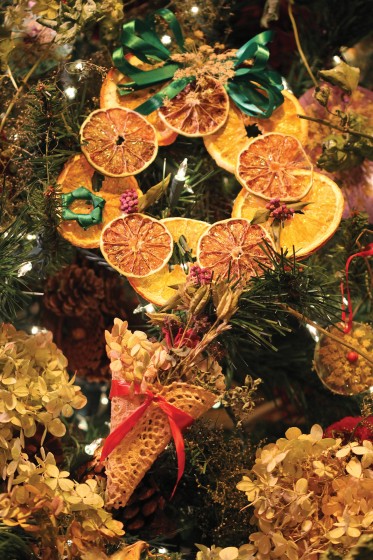 Owensboro Museum of Fine Art Holiday Forest Festival of Trees
If you need a little motivation to get into the Christmas spirit, then all you need to do is simply walk through the doors of the Owensboro Museum of Fine Art. Whether you choose to visit on your own or with family, the Museum of Fine Art offers a unique multi-cultural and historical experience unlike anything else found in this area. After being greeted by the bold colors and ornate design of the life-size Chinese dragon in the atrium, there are two directions to travel that offer completely different viewing experiences. As you travel through the historic John Hampden Smith Decorative Arts Wing, you will feel as if you have been transported back in time to the 1800's. Elaborate trees adorn each of the five period rooms, embellished with bright red bows, black and white photography, and small historical objects, all in an effort to create the feel of an old Americana Christmas.
As you travel throughout the other wings of the museum, you will encounter 20 different trees, decorated to represent the history and culture of 20 different countries. Each tree correlates with the artwork within its exhibition, and is decorated with hand-crafted art from local civic organizations, local artists, school children, and private collections. State Representative, Brent Yonts, who generously loaned his personal historical memorabilia collection to the Bicentennial Christmas exhibition, said it best. When you visit the Holiday Forest, "You can see a reflection of the world through Christmas trees."
Studio Slant
If you consider yourself more of a hands-on person, rather than a gallery viewer, there are still several options to create handmade art to give for the holidays. With families getting busier and busier during the year and throughout the holidays, it has become incredibly convenient to purchase and give gift cards to friends and family members. Christy Chaney of Studio Slant reminds us that, "Anyone can buy a gift card, but making something for someone shows them that you care. You put a little bit of yourself into a gift, where you put a little bit of money into a gift card." There is still time to attend one of the studio's Christmas-themed art classes, on December 3 and 17, as well as a "Paint What You Love" class (inspired by the idea of painting a beloved pet), scheduled for some time in mid-December. Each of these options allows you the opportunity to have a stress-free creative experience, while making a special gift for a friend or family member.
If you like the idea of a handmade gift, but find yourself without the time to create it, Studio Slant also offers the option of personalizing any door hanger they carry, along with the convenience of free gift wrapping and delivery. They also carry Kentucky-themed items, handmade jewelry, original Kelly McClelland artwork, as well as glass Christmas ornaments hand-blown by Brook White. Christy also suggests that, "even if you (feel like you) don't have any artistic talent," there are unfinished wooden pieces, such as picture frames and wooden boxes, that can be purchased at Hobby Lobby or Michael's, then painted and decorated to give them that personal touch. By involving your child in the gift-making process, you are also "giving a gift to your child and yourself," as the experience of "creating the gift is half the gift."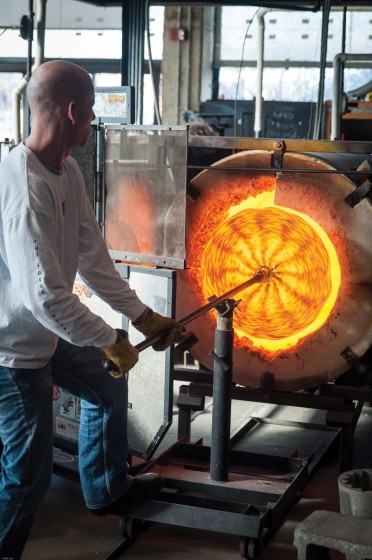 Flame Run – Brook White
Studies show that "along with the perks of enjoying and experiencing art, there are real-world benefits to making art with your own two hands." If you find yourself traveling to the city of Louisville for a little holiday shopping, take the time to duck out of the cold and schedule a "blow your own experience" at Flame Run Glass Studio and Gallery. Projects can range from snowmen and Christmas ornaments to bourbon glasses and vases, and can take anywhere from fifteen to forty-five minutes to complete. Owensboro native, and glass artist, Brook White, says that there is no better way to "stay warm during the cold months than in the hot shop of the glass-blowing studio." Simply visiting the gallery and soaking in the beauty of the many stunning glass pieces is an experience within itself, but creating a unique piece of art that you have added your own color and breath to is a priceless gift to give a loved one. Although you will not be able to take your item home the same day it was made, as it will need a day or two to cool, the studio does offer the convenience of shipping, if you are no longer in town.
If you still have the desire to create that personal gift, but aren't sure if you can do so in time for the holidays, Melissa Deeg with Creative RU says that, although it might be "too late to create handmade ornaments from the clay state," several local shops and boutiques offer "little works of art that people can give" as gifts. Crazy Me carries hand-painted ornaments representing local college teams, as well as plates and items that can still be personalized. Nona's Downtown Market, as well as several other shops and boutiques, offer local handmade art and one-of-a-kind gifts. In the Groove engraving goes beyond personalized seasonal door hangers with the option to customize wooden recipe boards with cherished family recipes, or put a special inscription on a new hammer for the handy person in your life. If you are looking to decrease your stress level this holiday season, start by taking in the beauty of the art around you, then enjoy the chance to create art-filled memories that will last your family for years to come.
For more information on the businesses featured in this article: