Roy Henry, of Boogalou BBQ, is hoping he's found a new niche: barbecue delivery.
"How many times have you been at home, craving barbecue, but you didn't have time to barbecue and didn't want to get out and go somewhere?" he asked me during this interview.
I don't know about you, but my answer was "a lot!"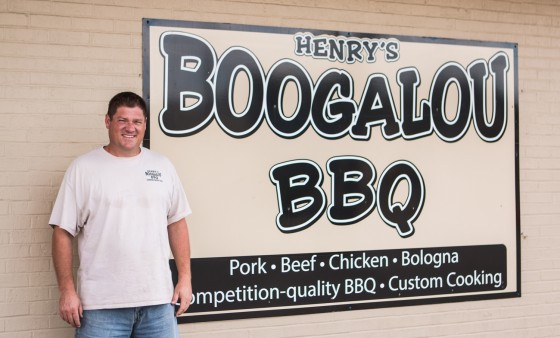 Delivery is just one of the new concepts Henry is trying at his new location at 1401 Carter Road, which was formerly PizzAroma. The newly renovated dining room will have a sports theme. "We're going for a family friendly sports bar feel where you can come with the kids and watch the game. This town's a sports town so we're going to try and capture that. We'll have local high school and college jerseys, a large screen TV on every wall, and a penalty box in the corner," he explained, visibly excited about the idea of converting a corner booth into a plexi-glass lined hockey penalty box, which plays off of his hockey playing and coaching roots.
The interior has been painted with the signature brown and tan in the Boogalou logo and new light fixtures are being installed. The familiar fireplace is still the centerpiece of the dining room. "There are a lot of fond memories with this building, and we want to keep that going," Roy said.
Like always, Roy's strategy with the new location is to make changes naturally and slowly over time. "We're not going to try more than we can handle at first. I like to build a strong foundation first and grow from there. We don't want to do too much too fast. We just want to continue making good quality barbecue and make sure everybody has a good time while they're here."
One example of that strategy is the move from 54, where Boogalou has been for the past year, to Carter road. The 54 location was drive through only. After establishing themselves for a year, it was time to find a place with indoor seating and the PizzAroma building opened up at the perfect time.
"We're excited about it. We know that even though we were out on 54 for a year, we still have to prove ourselves. We're hoping to build off of the long-standing reputation of this building and put our take on it," Roy said.
As of this writing, the restaurant should be open in mid October. Here are a few things you can expect at the new location:
Delivery
Boogalou will be the only barbecue restaurant delivering in the city. "When I talked to Bob Leucht, he suggested delivery because of the success they had with delivery here. We won't be delivering right at first; maybe a month or six weeks into it," Roy said.
Less Fried
They're trading their fried sides for home-cooked selections like green beans, mac & cheese, mashed potatoes and smoked cabbage.
Appetizers
New to the menu, Boogalou's appetizers will feature smoked meat that they already have in house, like pulled pork nachos, smoked chicken quessadillas, etc.
50/50
The plan is to offer 50% traditional selections like pulled pork and ribs, and 50% non-traditional, cutting edge selections like you might see on Food Network.
Breakfast and Lunch Options
Eventually, they plan to offer plate lunches with non-BBQ options like meatloaf, and breakfast items starting at 10am. "We've developed our sandwiches with an egg. My favorite is smoked balogna and egg," Roy said.