Nick Hetman, Vice Commander of the American Legion, called the chance to ride with fellow veterans on a Huey-H1 Vietnam-era Helicopter a "flood of emotions and memories."
When Hetman was contacted by City Events Coordinator Tim Ross and presented the opportunity to gather local veterans for a ride with Army Aviation Heritage Foundation pilots aboard the Huey, he said he knew exactly who he would call.
Harold Phillips, now 93, who served his country 28 years through World War II, Korea, and Vietnam
Charles Lagadinos, US Marine and commander of the America Legion
and Steve Hayes, a pilot who flew a Huey in Vietnam and survived being shot down twice, two engine failures and two transmission failures.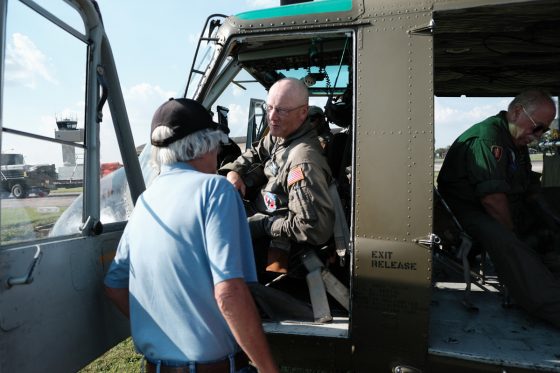 Hayes says the experience was something he'll remember the rest of his life. "Not being on one in 45 years, that's a long time," he said.
The Army Aviation Heritage Foundation (AAHF) is a group of volunteers who offer the history of Army Aviation through air shows and demonstrations at schools across the country. "We like to take veterans on rides when we can," says Donnie Brown, who escorted to the veterans to the Huey and says he flew recovery missions in Vietnam in similar aircraft.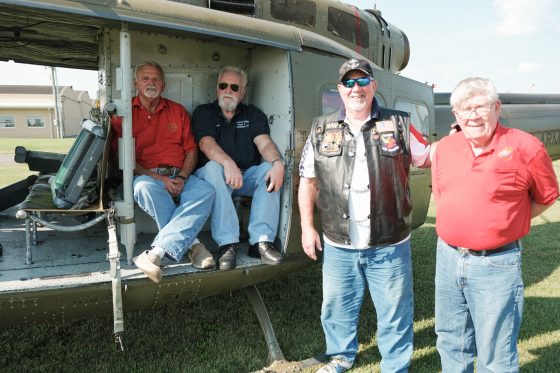 The AAHF will be offering paid rides on a first-come, first-serve basis at the Owensboro Regional Airport during the 2017 Owensboro Air Show this weekend. Rides on a UH-1 Huey are just $85 per person. Rides on an AH-1 Cobra start at $350 (depending on the duration of the flight experience).
Times are:
Friday, Sept. 22 – 12pm – approx. 5:30pm
Saturday, Sept. 23 – 9am – approx. 11:30am
Sunday, Sept. 24 – 9am – approx. 11:30am
If you're interested, you can talk to the AAHF at their booth next to the main terminal at the Owensboro Regional Airport at the times listed above.