Many of us have had ideas and inventions that we toss back and forth in our minds. We ponder creations people have never heard of, or envision ways to improve upon products that currently exist in a certain market. It is one thing to dream up an idea or a concept, but it is another thing entirely to invest the time and energy into seeing our dreams through to the end. One Owensboro man turned his vision for a better electrician's tool into a successful friend-and-family-run business that boasts "American Made."
Second-generation master electrician, Vince May, has always been a "hands-on guy" who, after seeing something, tries to think of ways that he can make it better. Vince's father founded May Electric in 1959, and Vince bought into the company in 1989. After almost thirty years with May Electric, Vince felt that there was a need to create a better cable bender, so he asked Evansville graphic design expert, Phil Lowers, to partner with him in hopes of creating a worthy prototype. The bender, designed to bend cable up to 500 MCM, would be made out of mild steel and the handle cut with a waterjet cutting machine, a process in which sand and water blend together to cut steel. The exterior would then be powder coated, a type of coating that is "applied as a free-flowing, dry powder," similar to a colored baby powder, and would be more durable than paint and quicker and easier to apply. Vince found a patent attorney in Evansville, and then the two took the prototype to Bailey Tools, who quickly jumped on board with the idea.
The design itself was inspired by the verbiage that Vince used in the shop, along with his desire to support American-made products. Vince always referred to a certain end of the tool as "the dog bone end," and since they felt they needed a mascot that was tough and rugged, he and Phil created a bulldog that had a wide open grin so that he could hold the tool firmly in his mouth. The image of the bulldog led to the name of the new company, which became Bulldog Manufacturing, LLC in 2011.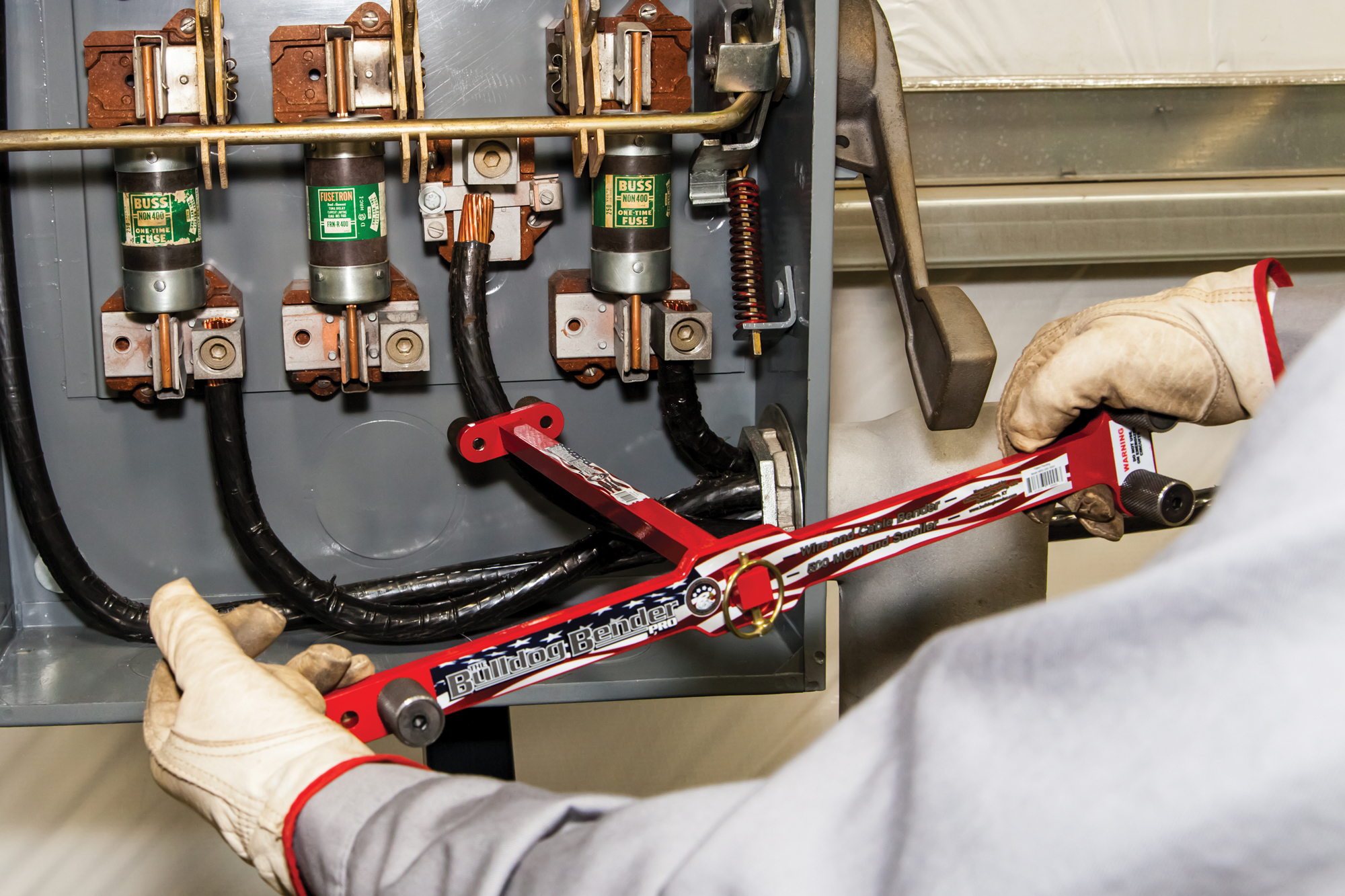 The handle design is bold red and boasts stars and stripes. When asked why he went with this particular design, Vince says, "I'm all about American-made products. My wife thinks I bleed red, white, and blue."
While the idea for the tool itself was well-received, Vince had no idea what lay ahead of him in terms of getting the product from his garage to the shelf. Now that he had a working prototype and was patent-pending, there were details to consider such as labeling, mass production, packaging, an instructional how-to sheet, disclaimers, and warranties. In February of 2011, after being reassured that Phil was on board to move forward with all of the specifics, Vince retired from May Electric with the hope of focusing on further marketing his invention and working out the details. Unfortunately, Phil passed away three months later, leaving Vince unsure how to proceed.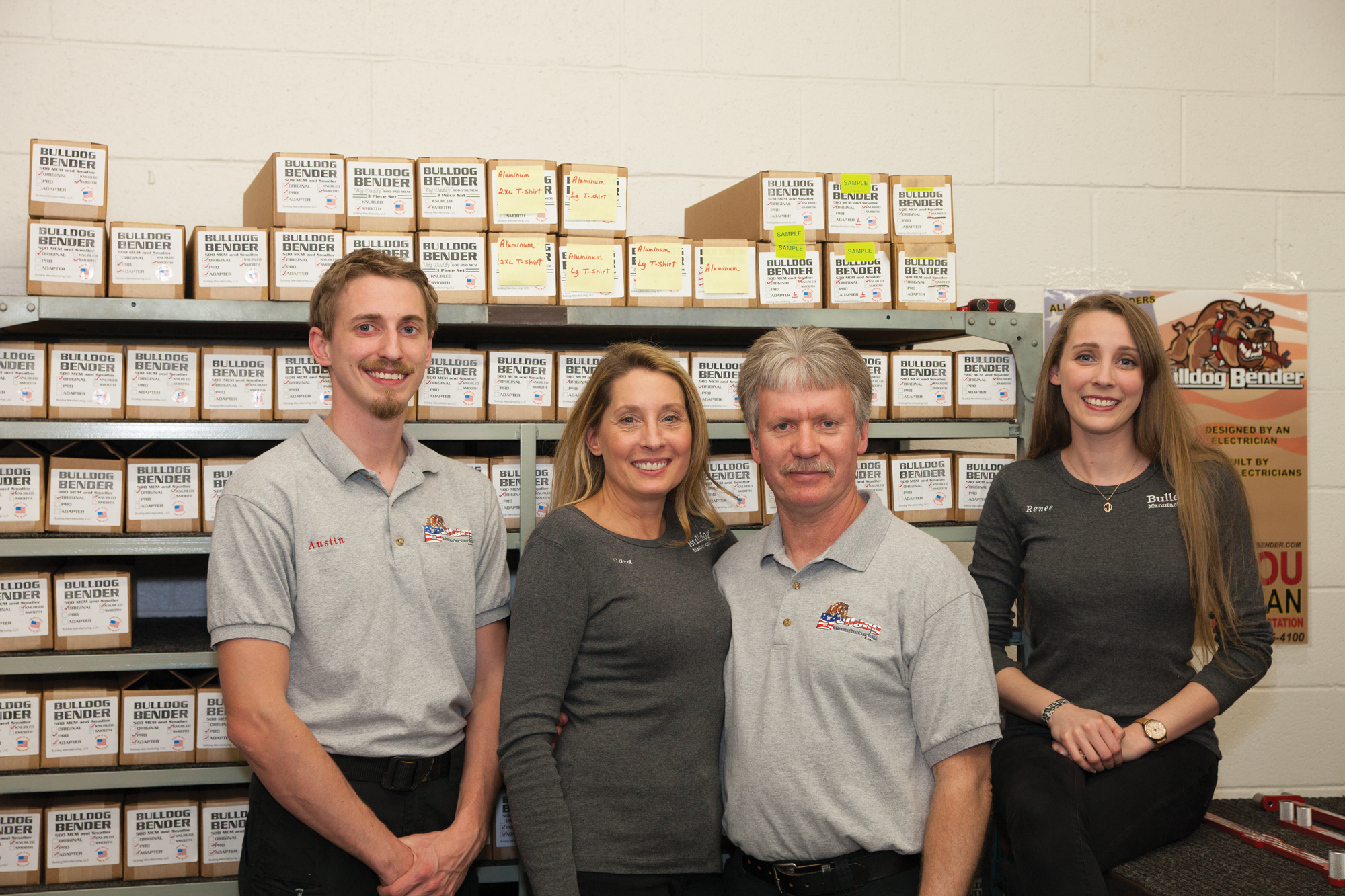 With the help of his wife, Cara, and children, Austin and Renee, Vince surged forward later that year. One day in particular he happened to notice the back of Rack-A-Tiers magazine at an electrical supply house. In bold letters it read, "Do you have an idea?" Vince sent them a sample and received a call in return asking if he "could make a bunch" of them, and that was just the beginning. In 2013, the Bulldog Bender received a twenty-year patent, and was in attendance at the NECA (National Electrical Contractors Association) show in Washington, D.C., the largest electrical trade show in the United States. The 2014 NECA show in Chicago saw the emergence of the "Big Daddy" model designed for 600-750 MCM cable, as well as several "repeat customers that were using my tool exclusively." Bulldog's success continued in 2015, as sales doubled from the previous year, and they debuted an all-aluminum bender, giving electricians three models, and several combinations, to choose from. The most pleasant surprise of 2015 was winning the NECA Showstopper award at the San Francisco show against such big names as DeWalt and Milwaukee. The Showstopper award is a prestigious award given exclusively to new tools that year. The honor not only landed Bulldog Manufacturing in the center of Electrical Contractor magazine, but it also drew the interest of many of the big manufacturers at the San Francisco show. Vince says, "At this point, there are a lot of big players interested in this product."
As for the future, Vince has had requests all over the United States, Canada, Australia, and the United Kingdom. His first priority, however, is to get the Bulldog Manufacturing name "out there" in the American market. He figures, "there are approximately 800,000 electricians and electrical contractors in the United States, if I could just sell to ten percent of them, I would be in good shape." Every electrician that shakes his hand or purchases his bender will have the confidence of knowing that he is not just the salesman for a certain product, Vince May is a master electrician with thirty years of field experience, and is both the designer and the manufacturer of a quality American-made product that he stands behind 100%.
Shortly before this article went to print, Vince was contacted by the television show Shark Tank, and asked to prepare an audition video for the show.