Aleris Corporation announced today on its website that it has entered into a definitive agreement to be acquired by Zhongwang USA LLC, a company majority-owned and led by Mr. Liu Zhongtian, founder of China Zhongwang Holdings Limited ("China Zhongwang", HKEX code: 01333).
The aggregate value of Aleris amounts to $2.33 billion, comprising $1.11 billion in cash for the equity to be paid by Zhongwang USA, plus $1.22 billion in net debt.
Aleris will continue to be headquartered in Cleveland, Ohio, and will be operated as an independent entity. The Aleris management team will remain in place, providing continuity for Aleris employees and customers and supporting the continued implementation of the Aleris strategy.
Lewisport Operations Continuing
Aleris will retain its name and continue to serve its customers with no changes to current operations, contracts, or commitments.  It will continue with the implementation of all strategic growth projects, including its major expansion project in Lewisport, Kentucky, which will enable Aleris to meet the North American automotive industry's growing demand for aluminum auto body sheet.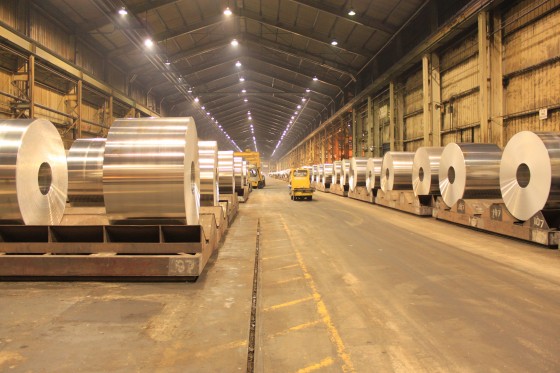 "We are excited about this transition to strategic ownership as it will allow us to accelerate our strategy to expand our capabilities to support the production of high-value advanced materials for the global automotive and aerospace markets, while maintaining our position as a leading supplier to critical regional markets like building and construction," said Sean Stack, President and CEO of Aleris.  "We expect the transition to be seamless for our employees and customers, and that the new strategic shareholder will provide us with greater financial flexibility to continue to anticipate and meet the needs of our customers well into the future."
The acquisition of Aleris reflects Mr. Liu's commitment to disciplined operating investments over the long-term in an industry to which he has been committed for two decades. In addition to his role at Zhongwang USA, Mr. Liu is also the chairman and founder of China Zhongwang, the second largest aluminum extrusions product developer and manufacturer in the world and the largest in Asia.  With the acquisition of Aleris, Mr. Liu will now oversee companies that have complementary geographic footprints and capabilities.
"This acquisition is an international expansion to establish a complementary business foothold, as I strongly believe in the potential and prospects of Aleris and the aluminum industry as a whole," Mr. Liu said. "Aleris has a strong management team, talented employees, and industry-leading capabilities with a complementary geographic footprint. As the company enters the final phase of its Lewisport automotive project, I believe Aleris is well-positioned to capitalize on the positive demand trends we see globally, and I look forward to supporting the Aleris management team in implementing their growth strategies and pursuing continued success with expanded resources and financial and operational flexibility."
About Zhongwang USA LLC
Zhongwang USA LLC is an investment company majority-owned by Liu Zhongtian through Zhongwang International Group Limited, parent company of China Zhongwang. China Zhongwang is the world's second largest industrial aluminum extrusion developer and manufacturer. It was listed on The Stock Exchange of Hong Kong in 2009.
About Aleris
Aleris is a privately-held, global leader in aluminum rolled products serving diverse industries including aerospace, automotive, building and construction, commercial transportation and industrial manufacturing. Headquartered in Cleveland, Ohio, Aleris operates production facilities in North America, Europe and Asia. For more information, visit aleris.com.