After our feature on a Pearl Harbor survivor in Owensboro Living Magazine, a reader let us know there was another WWII veteran living in the Maceo area who would be willing to share his story.
In observance of Memorial Day, we figured it was the perfect time to share the story of Petty Officer 3rd Class Albert Hall, who served in the Navy aboard the USS MacDonough from 1942-1944 and the Halsey Powell to the end of WWII.
Take a moment today to remember all veterans, active military, and those who gave their lives fighting or our freedom.
[tw-divider][/tw-divider]
The challenge with a guy like Albert Hall is fitting a life story into 1,000 words when it could fill a whole book. He's 96 and his mind is still sharp enough to remember precise details on enough lived experience to last three lifetimes.
Albert was born in Alabama but grew up near Paducah and spent several years in Arkansas and Georgia. His father was a sharecropping cotton farmer. "It was a poor way to serve the Lord," Albert remembers.
He fibbed a little about his age (he was actually 16) so he could work in the Civilian Conservation Corps camps in the 30's because they hired 18-year-olds. After the 3Cs he worked for LnN Railroad in Louisville.
When the war started in 1939, Albert got a letter like so many other young men and decided to join the Navy, which meant 21 days of boot camp in San Diego.
On October 12, 1942, Hall was stationed on "Old MacDonough" as a Seaman 2nd Class, where he trained as a "striker" and made Sonar 3rd Class.
Attu
The closest call Hall experienced aboard the USS MacDonough came during the Battle of Attu in the Aleutian Islands. "We were rammed by one of our own ships," Hall said, chuckling. "We were in formation and steaming ahead toward Attu. The way they deployed, the troop ships were in the middle, surrounded by destroyers. This old ship was over on the other side of the formation. Their radar went out. I was on watch. The skipper had his bunk so we could wake him up if we had contact. Each ship had his own area to search submarines. I was searching and noticed something wasn't right. I was ready to get the old man up when that ship hit us on the port side and we came to a dead stop in the water. He almost cut us in two."
The salvage crew closed the hatch to make the fire room air tight in order to keep the ship from sinking. "God had his hand on us because they told us we wouldn't have lasted five minutes in the cold water."
Following the collision, the MacDonough was towed back to Kodiak, Alaska, and the men got a 30-day leave so the ship could be repaired in Guadalcanal.
Lit Up Like LA
The ship had many other missions escorting carriers while "island hopping" the Gilbert Islands, Marshall Islands, Mariana Islands, the Philippines, Guam, and others.
"In one day our Navy guns splashed (shot down) 317 Japanese plans," Hall remembered. "Fleet Admiral William 'Bull' Halsey ordered the planes to fuel up and take off after the Japenese fleet to finish them off. By the time the US fleet caught the Japanese fleet, it was getting dark and our planes were running out of fuel. So Bull ordered all the ships to turn on all their lights so the planes could see to land on the carriers. It looked like the City of Los Angeles out there in the middle of the ocean. From then on, he was my idol."
Maryland and Nevada Got Revenge
There were many more engagements along the islands. But Hall perked up again when recalling the Philippines because "that's when we finished off the Jap fleet. That's where the Maryland and Nevada and some other ones that had been hit (at Pearl Harbor) got their revenge. We tore 'em up!"
After the Philippines, the MacDonough needed repairs again, so the men were allowed to go home on leave while the ship was being repaired. It just so happened that Iwo Jima happened while Hall and his crew were back on land.
Hall's next assignment was aboard the newly rebuilt USS Halsey Powell, which in comparison was "like going from a Model T to a Cadillac" in Hall's opinion. "This old ship was WWI vintage, but had been rebuilt, and it had amenities on there like you wouldn't believe. I felt like I was an officer!" [Laughs.]
Go, Harry, Go!
Again, the boys left from San Diego, steamed on to Pearl Harbor, and got back to the action. But Albert still remembers looking down at the sunken USS Arizona as they routed through Pearl Harbor. "I would always look to see it; there was still oil coming up."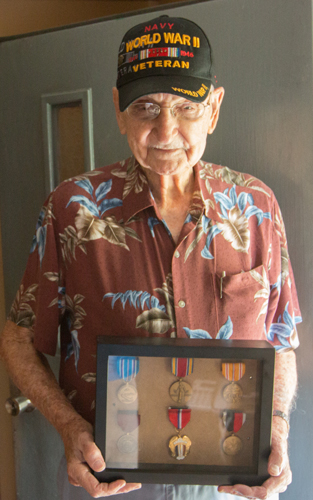 There's another image clearly burned into his memory from that trip. "We got just outside of Pearl Harbor and the next morning all you could see in all directions were ships of every conceivable type and size. I never saw so much stuff in my life."
Two days after they left Pearl Harbor on the Halsey Powell, the word came down that the fleet was headed for the Tokyo invasion. "We had the stuff to do it," Hall commented. The next day they received word that the first bomb was dropped. "A day or two later they dropped the other one, but they didn't even give up after that first one. Not till the second one."
After that, the fleet transitioned from an invasion force to an occupational force. "We never changed speed, we never changed course, we just went right on in to Tokyo Bay and dropped anchor."
It turned out the Halsey Powell was positioned close enough to the USS Missouri that Hall and other crewmen had a grandstand seat for the Japenese formal surrender on Sunday, September 2, 1945. "There came 'Dugout Doug' (General Douglas MacArthur) with that pipe in his mouth and the other fellas in their top hats at a big table and they all started signing. At the very last, Douglas took his own sweet time, and finally signed last to end the war."
Hall says his biggest regret – even to this day – of his experience in WWII was the kamikazes. "They would be flying right at us. Mostly young kids really. And there was nothing we could do but shoot them down. We got hit by a lot of them."
After the war, Hall had enough points to earn leave and accepted his discharge, which officially was granted October 13, 1945.
After the War
Following WWII, Hall had a long, successful career as a crane operator for major civil engineering projects that took him all over the world working on bridges, causeways, locks and dams, coal fields, and power plants.
Today Albert Hall is 96 years young and feeling fine. He survived malaria as a boy and being hit by a car as a teenager; his family made it through The Great Depression in the 1930s by the efforts of his brothers who would fish and trade their daily catch door-to-door for other goods; he survived WWII unscathed; and he endured the loss of wives and other family members. Through it all, Albert faced the challenges and triumphs of those nine decades with a strong faith and a positive outlook.
"I believe all of that was a test. God don't put on you more than you can handle," he told me, leaning up in his chair. "When you think you're at the breaking point; it ain't so! Look at the Apostle Paul! The Lord said 'my strength is sufficient for you.' There you go!"
Albert credits his mother for instilling his faith in an Almighty God, and he obviously still believes today. "I never dreamed I'd be 96 years old and feeling as good as I do. Looking at it from all sides – I wouldn't change a thing. I've been blessed so many times. I'm still being blessed. I'll just take whatever the Lord hands me."