More than a dozen monumental Christmas trees, an exhibition of 50 major works of art in three-dimensional media and the unveiling of three important gifts to the Owensboro Museum of Fine Art will be showcased at the 38th annual Holiday Forest Gala, scheduled Friday, November 14 from 6:30 to 8:30.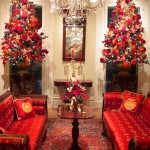 The Gala, an annual holiday event and benefit for the museum, sponsored since 1977 by The Glenmore Distillery, features the Holiday Forest Festival of Trees, combined with The Consummate Craftsman, a major exhibition by artists living and working in the Southeastern states.
The Consummate Craftsman is an invitational exhibition featuring 24 artists who are recognized for their accomplishments in interior, architectural and environmental design. The exhibition features blown and cast glass; bronze, wood and stone sculpture; large-scale wall hangings, furniture and monumental ceramics. The exhibition is presented through the sponsorship of local art patron, Ann Murphy Kincheloe.
Works by former Owensboroan Brook Forest White, Jr. are featured in the exhibition and include more than a dozen blown glass objects created in his Louisville studio and gallery, Flame Run. White's public art installations in Owensboro include a monumental outdoor triptych in the collection of Owensboro Health Regional Hospital and a major installation commissioned for the lobby of the Owensboro Convention Center.
Featured along with White is a collection of blown glass by his mentor and teacher, the internationally recognized glassblower, Stephen Rolfe Powell, professor of art, Centre College, Danville, Ky. Powell is represented by large vessels and wall installations.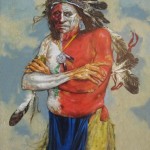 Three major gifts to the museum's permanent collection will be unveiled at the gala. These include the painting "Cuerno Verde" by nationally prominent Western painter Paul Pletka, a large canvas depicting the historical Comanche warrior, Chief Green Horn, a gift of Owensboroans David and Marcia Hocker.
"Crow Man," a painting by the internationally known Native American painter Kevin Red Star, is a gift of United Kingdom collector Allen Preger. A large multimedia weaving by Arturo Alonzo Sandoval, University of Kentucky professor of art, is a gift of the artist. Two of his monumental works, commissioned by the Owensboro Convention Center, are installed in the center's lobby.
The 38th Holiday Forest includes trees decorated with handmade ornaments by local artists, florists, schools and organizations. Special features are a tree of blown glass ornaments by White and a tree celebrating Native American cultural traditions in honor of the gifts of paintings to the museum's Permanent Collection. Gary Tunget, Fleur de Lis florist, has designed trees in three period rooms in the historic John Hampden Smith Decorative Arts Wing, and a tree by the Owensboro Herb Society will be featured in the Field Stained Glass Gallery. Burns Middle School will be represented by decorations in the Waymond Morris Young at Art Gallery, and Ohio County glassmaker Linda House will feature a stained glass tree in the Nancy Field Wilson Religious Art Gallery. New to the 2014 Holiday Forest is the Daviess County Barn Quilt Trail Committee, whose members will recreate quilt squares painted on Daviess County barns.
Reservations for the Gala can be made by phoning the museum at 270-685-3181 or may be made online at www.omfa.us. Admission fees for the annual benefit are $50.00 per person or $40.00 per person for subscribers to the OMFA Friends of the Foundation.
The Holiday Forest Festival of Trees will remain on view through December 31 and general admission, beginning Saturday, November 15, is $2.00 for adults and $1.00 for children. The Consummate Craftsman will remain on exhibit through February 22, 2015.
A special feature for children during the six-week Christmas exhibition will be art instruction in the museum's interactive art studio, ARTLAND, where they will create holiday take-home decorations. ARTLAND, sponsored by the Michael E. Horn Family Foundation, is presented free to the public during regular museum hours.
The Owensboro Museum of Fine Art is located at 9th and Frederica streets and is open Tuesday through Thursday, 10:00 a.m. to 4:00 p.m.; Friday, 10:00 a.m. to 7:00 p.m.; and Saturday and Sunday, 1:00 p.m. to 4:00 p.m. For more information, visit the museum's website at www.omfa.us.