We continue our Platinum Award Winning "Summer of Love" season with a free, fun-filled Friday! This week's sponsor is Mizkan (makers of Ragu and Bertolli Sauces).
This week we have one of the most popular bands of the season (Louisville Crashers) plus Wilson Crowe Band and the "Ahoy on the Ohio" Lighted Boat Parade.
6:30-10:00 pm:  Wilson Crowe (Top 40 Country, Country Rock)
Jagoe Homes patio stage on the BB&T Plaza at the RiverPark Center
7:00-10:00 pm: Blue Diamond (Bluegrass)
Atmos Energy Courtyard at RiverPark Center
7:00-9:00pm: Peyton Smith and Alayshia Smoot
Cromwell Overlook Stage at the Smothers Park Fountains
7:00pm-9:30pm: Glenn's Gospel on the River featuring "Paul Moseley & Friends" and "Childress Family" Cannon Hall inside the RiverPark Center
8:00-11:30 pm: Louisville Crashers (outrageous party band)
Don Moore Stage on the Kentucky Legend Pier at the Owensboro Convention Center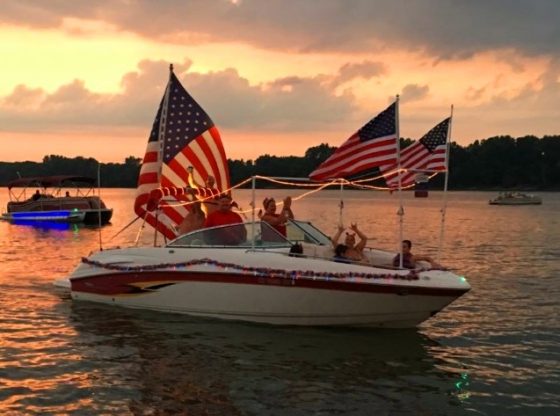 We're hosting our 2nd Annual "Ahoy on the Ohio Boat Parade" presented by Hall Marine and sponsored by Kroger. It's right on the Ohio River at the Kroger Street Fair! Gather along the rails overlooking the river at sunset to see the lighted boat parade. Last year's best-decorated boat was "Gilligan's Island."  Who will win this year?
We'll have live cartoon character "Sponge Guy" courtesy of TD's Tuff Decisions Costumes.
Tonight's Class PreUnions: Hancock County Class of 1967 and Daviess County Classes of 1997 and 2007.
Don't be late for our "toast to the sunset" tonight at dusk! Plus free balloon animals, free petting zoo and free and popcorn for the kids and the FA5 Free Foto Booth for everyone! 11 food trucks! The US Bank Home Mortgage T-shirt cannon will be sending special T-Shirts into the crowd!  Fun. Free. Friends. Friday After 5 is Where the Weekend Begins! www.FridayAfter5.com    More fun?  Go to: www.VisitOwensboro.com