It has been 18 years since Helen Sears (who is now 90), Winny Lin (who now lives in CA), and Marisue Coy (who still lives in Owensboro) founded the Owensboro Multicultural Festival, which is held every third Saturday in August on the lawn at First Presbyterian Church.
By now, there are volunteers working the festival who grew up attending as children. Christine Coy Fohr, for example, is now the pastor at First Presbyterian Church and has been involved in the festival since she was in elementary school.  She also happens to be Marisue's daughter.
Winny Lin remembers Christine promoting the festival as a student at Tamarack Elementary, where she did an interview on the DCPS TV channel. She also managed a booth about the United Kingdom. "Now Christine is one of the administrators of the festival Facebook page, she prepares the church grounds with her 2-yr-old daughter, Maddy, and is involved in planning and getting volunteers," Lin said. Pastor Fohr will also say the blessing at the opening ceremony.
Talk about coming "full circle."
Laquan Jackson Kendall went to Tamarack Elementary with Christine. This year Kendall is going to bring her circle of friends and their children to present "Black is Beautiful," which features singing, dancing, poem reciting, and painting.
"It is crucial that people are willing to step forward to share the beauty of their culture," Lin says, "especially when there is so much hatred among different races on national news."
Around the World in a Day
A walk through the Multicultural Festival is like taking a fast trek around the globe. By visiting booths, participants can enjoy cultural elements from Spain, China, India, and Myanmar. Here are some of the highlights:
Western Kentucky University Confucius Institute is bringing their mobile unit full of Chinese artifacts and teachers to give visitors a taste of China.
Ti-state Cultural Society of India is bringing their fabulous Asian Indian dancers.
International Center will feature Burmese dancers.
And of course the ever-faithful Sr. Fran Wilhelm, who has been involved every year, will bring the Centro Latino dancers.
Apollo High School grad Larissa May Guy is a company dancer at Flamenco Louisville, a flamenco organization offering classes, workshops, and educational programs. Flamenco dancing typically includes singing, vocalizations, guitar playing, dance, handclapping, and finger snapping.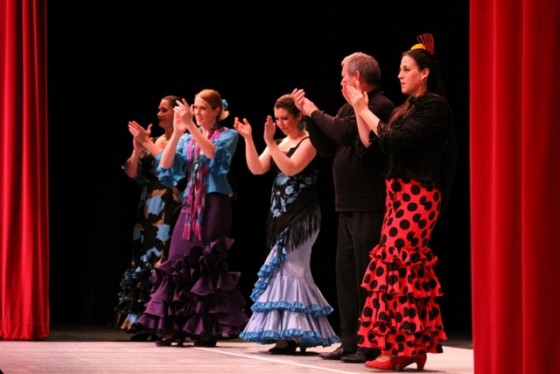 "I am beyond thrilled to join the line-up of other festival presenters and introduce to my hometown community Spain's rich culture and history of Flamenco," Larissa said. "We will be wearing traditional flamenco costumes and playing castanets as well as using other props typically seen in an authentic Spanish tablao (flamenco show). We will showcase three of our company dancers, a Flamenco guitarist, and a Flamenco singer."
Find all that and more on your tour through the 18th annual Owensboro Multicultural Festival this Saturday, August 20, 2016, from 11 a.m. – 6 p.m. at First Presbyterian Church, located at 1328 Griffith Avenue.
The schedule is as follows:
11:00-11:30     Michael Johnson—gospel
11:30-11:45     Opening Ceremony
Color Guard—Apollo High School ROTC
National Anthem
Blessings–Rev. Christine Coy Fohr
America the Beautiful
People's Parade
11:45-12:00     JaySlay_ent—Justin Willis
12:00-12:15     Open Door Unitarian Universalist Fellowship
12:15-12:30     Creative Recycled Fashion Show—Sierra Club Pennyrile Group
12:30-1:15       Flamenco Louisville (Sponsored by Dick and Tina Temple)
1:15-1:45         Journey to China—Tri-state Chinese Cultural Association Chinese School & Confucius Institute of Western Kentucky University
1:45-2:00         Asian Indian Dances—Tri-state Cultural Society of India
2:00-2:30         Zumba at Ely's Dance Fitness
2:30-2:45         Black is Beautiful!
2:45-3:15         Chad Gesser (dj prof G) with a World DJ set
3:15-3:45         Centro Latino Dancers
3:45-4:00         Zingara Belly Dance
4:00-4:30         Burmese Showcase
4:30-4:45         Korean Tae Kwon Do—Lewis Montgomery and students
*Photo by Sarah Allison. Provided by Flamenco Louisville.