Photos by AP Imagery
Take a look into this iconic Owensboro home, located at 1546 College Drive. With five bedrooms, three bathrooms, multiple living areas and a backyard made for entertaining, it is understandable why this has always been one of Owensboro's most desirable homes!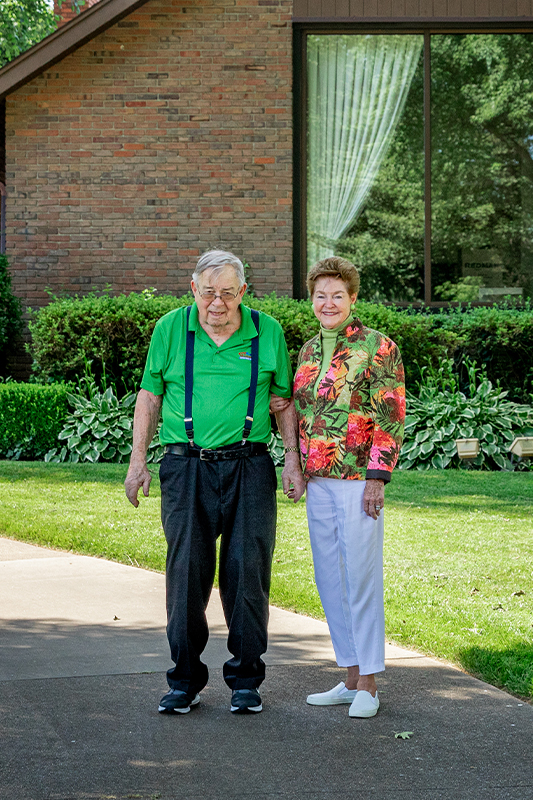 Gene and Jennie Clemens, owners of Trophy House and Trisons, were in their 30s when they put down roots in Owensboro and built their dream home. The young couple lived on Imperial Drive, in the heart of Owensboro, when the opportunity came to build at 1546 College Drive.
W.L. Harder, an Owensboro farmer, owned over 40 acres he purchased from Jackson Bosley, the namesake of Bosley Road. He eventually sold off the farmland in approximately 40 lots for residential development. The Clemens were one of the first to buy in 1969, choosing the lot next to the Harder plantation home. Those 40 acres now make up nearly 150 homes in the W.L. Harder subdivision, which spans from Tamarack to Scherm Roads behind Kentucky Wesleyan College.
Gene, an avid hunter, modeled his home after a hunting lodge he had seen in a magazine. He chose to outfit the home in natural redwood, to truly give it a lodge-like atmosphere.
"They made it their own," said Randy Clemens, Gene and Jennie's youngest son.
Over the next five decades, Gene and Jennie raised three sons, Nick, Mike and Randy, and built their business. Trophy House opened in 1963, with Jennie taking ownership with a partner in 1976. The Clemens expanded in 1981, with the addition of All American Advertising Specialities. Then they relocated to their current Frederica Street location 25 years ago, adding a gift store—Trisons, which is named in honor of their three sons.
The Clemens' sons now all have families of their own, making another generation of memories in the College Drive home. Randy said some of his fondest memories are in his childhood home. He learned to drive in the backyard, long before the pool and outdoor living spaces were built. Each of the three sons have spent every Christmas morning in the home, around the giant Christmas tree that many in Owensboro would admire from the iconic, picturesque window.
With Gene and Jennie entering the next chapter of their lives, it was time to downsize from the nearly 3,500 square foot home to something with less maintenance and fewer stairs. But leaving the home they built together has been tough.
"You know the old saying, 'home is where the heart is,' that's what I keep telling my parents," Randy said. "It had our hearts while we lived there and now our hearts move on."
The Clemens family is excited to pass on the house to its next owners, Terry and Jill Cooney and their two sons.
"I hope they can have the same type of experience we had there," Randy said. "I hope they get equal or greater memories there that we had for over 50 years."
The Cooneys, who were looking for a home in the area, jumped when 1546 College Drive hit the market.
"We are going to try to make it our home," Terry said. "I am interested to see what we can make out of it."
About the Realtor
Ryan Rutman has been selling homes in Owensboro for over 13 years. He was honored to help the Clemens through the process of selling their family home.
"Ryan made it happen," said Randy Clemens. "He was very professional and listened to our concerns. This was an emotional process for all of us."
In less than three days, Ryan helped the Clemens navigate multiple offers and eventually accept an offer for over asking price.
Ryan has grown his real estate team to include his wife, business partner, and fellow Realtor, Chivonne, as well as Realtors Stephanie Hardesty and Katie Drab. The Ryan Rutman Real Estate Group is available to help both buyers and sellers navigate the current real estate market. For them, it's not about the houses, but about the relationships formed along the way.
Are you looking to buy or sell a home? Contact the Ryan Rutman Real Estate Group today!
270-315-7464 | www.ryanrutman.com | Remax Professional Realty Group | 4333 Springhill Drive #102, Owensboro, KY 42303