Owensboro's Michael Hampel Reflects on His Swimming Career Thus Far
On June 5, Owensboro native Michael Hampel competed in the 100-meter breaststroke in the U.S. Olympic Trials in Omaha, NE. Although he did not make the team, coming in 62nd, he said he has learned many lessons over his swimming career. Next year marks the final chapter of that successful career, where he'll be a senior on the Missouri State men's swim team.
Originally qualifying for the trials in 2019, Hampel said the pandemic caused so much lost time and confusion that he was very unprepared for the trials.
"It was a really, really long two years, especially with the NCAA [National Collegiate Athletic Association] and the [MAC] Mid-American Conference being all over the place," Hampel said of the struggle for consistency over the past year.
He said his college team was shut down two times due to COVID, but that Missouri State was able to swim in the MAC Championships where he was a gold medalist in the 200 breaststroke and a silver medalist in the 100 breaststroke this past spring.
"To get through the season was awesome," he said.
Hampel said that training for the Olympic Trials was tough because no one knew what was happening in the beginning of COVID in March 2020. "[In March,] it was still on, still planning to go in June," he said. Then everything shut down, including pools, leaving Hampel scrambling to find pool time and facilities.
When the announcement was made that the Olympics were being postponed, Hampel was out of the pool for 70 days. Prior to that period, the longest time he had been out of the water was 14 days. Hampel relays that it was a struggle to take off that much time and also a struggle to get back into the training routine.
"Pools were just shut down," he said.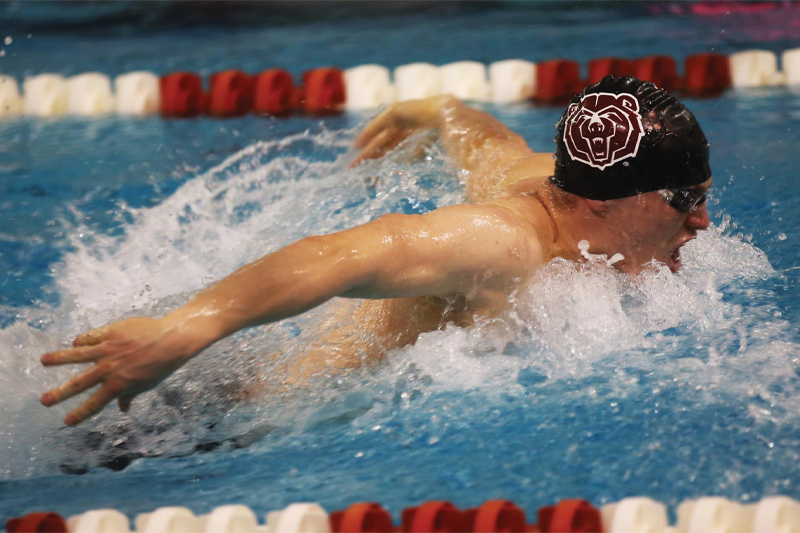 Hampel began his career by being told at age 8 that he was not good enough to swim for the local club team, the Marlins—even in the lowest group. When he tried out again at age 11, because he wanted to use swimming to improve his endurance in basketball and other sports, he made the team.
One of the Marlins' coaches, who began seeing Hampel's success, noticed he was missing swim practices for basketball practices and he made a proposal to Hampel—if the coach could beat Hampel in a game of one-on-one in basketball, Hampel would swim.
"We never played, but I realized then that I must be good at this," Hampel said of his coach's interest.
Hampel realizes that not everyone is cut out for swimming and its grueling commitment and schedule, often early morning training, and credits his parents with telling him to find time to be a kid. But he said that when he was 12 or 13, he was recording swim meets off the internet to watch on repeat—the World Championships and the Olympics to name a couple.
"I was very obsessive as a kid," he said.
Originally, Hampel liked that competitive swimming was very individualized, but as he has gotten older, he realizes it has become more team based.
"You don't want to let them down—I swim for a bigger purpose," he said.
Hampel swam for the Marlins and Owensboro Catholic High School, and was recognized in the top 10 in the country for breaststroke coming out of high school. He committed to the University of Louisville, and in his first season was injured and was medically redshirted. He returned to the team his sophomore year, but transferred to Missouri State after the season ended. He said part of that was because of a disconnect with the University of Louisville team after his injury and also because Missouri State had two All-Americans in breaststroke, Hampel's stroke.
Hampel graduated this past May but because of redshirting, he has one more year of eligibility, where he will continue with the team while completing a graduate degree in sports management.
He has learned many lessons over his unfinished-but-remarkable career and he said he gets in the pool each day reminding himself to have a positive attitude, which he said is key in all aspects of life.
He also believes in being wherever he is with intent.
"Whether it is cooking or schoolwork—you own it, so put in the effort," he said.
And, he always bets on himself.
"No one else will do it for you," he said. "When I do that [betting on himself], it has benefited me in the long run."
Of the 2021 U.S. Olympic Trials, Hampel said that this was the first meet where he did not feel the pressure of how he performed.
"At the end of the day, I am just a kid from Owensboro who wanted a dream," he said. "People will find you."