David Adkisson Shares Strategies for Building a Successful Chamber of Commerce
Photos by  Kristen Ellis
Former Owensboro mayor and chamber of commerce CEO David Adkisson recently released a new book, "Horseshoes vs. Chess: A Practical Guide for Chamber of Commerce Leaders." Challenged by an executive within the national chamber organization in D.C. to put his many experiences in the chamber of commerce profession to good use, Adkisson set to work writing the book. 
The Owensboro native traces the title back 40 years ago to when he was just getting started in the profession and attended a chamber presentation in Louisville. The speaker emphasized that directing a chamber was similar to playing a game of chess.
"Chess requires strategy, sequencing, and thinking two and three moves ahead," Adkisson said. "Growing a community is more like a game of chess as opposed to a game of horseshoes—I thought this really captured the essence of the book."
Though the niche publication is primarily targeted at chamber leaders, board leaders, paid staff, and volunteers in the industry, Adkisson said the book would still be relevant to any non-profit organization.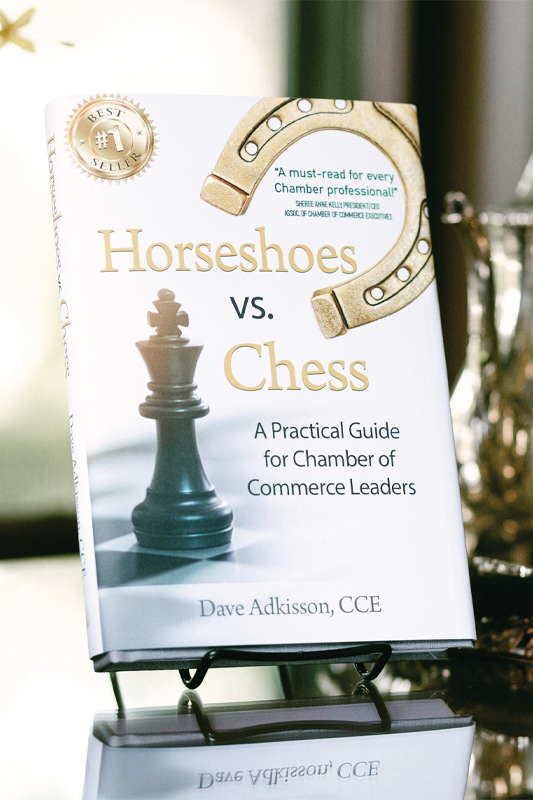 Adkisson relied on an editorial board of over 20 chamber CEOs from all over the country to review the initial transcript. He also relied on an editor out of Frankfort, Kentucky, and a publisher out of Fresno, California to launch the book.
"This past year was my first year out of retirement, so I decided it was time to pull the book together or quit thinking about it," he said. "It's about lessons I wish I would have known when I started. I never intended for it to be a moneymaker."
Although Adkisson went in with tempered expectations, the book reached top-seller status in many Amazon categories, and has far exceeded any sales goals that were initially set. This prompted many Chambers from across the country to extend him an invitation to highlight their conventions as a keynote speaker.
"I'm already scheduled this summer to speak at the Arkansas, Ohio, and Wisconsin state conventions, along with several others," Adkisson said. "I didn't intend for that to happen, but I'm glad it did, so I can encourage others to grow their community."
Adkisson returned to Owensboro after graduate school to serve as an assistant to the president of the local chamber of commerce, as well as the project manager. He then served as the mayor from 1988-1995 before returning to the chamber to serve as the president when they joined hands with the economic development agency.
His 30 years in the industry also include a five-year stint with the Birmingham Chamber of Commerce and a 15-year stint with the Kentucky Chamber of Commerce. As the president and CEO at both stops, he oversaw exponential growth during his tenures. "Horseshoes vs. Chess: A Practical Guide for Chamber of Commerce Leaders," is available for purchase at chamberdave.com or on Amazon.