Businesses across the country have been hit hard by the economic effects of the COVID-19 pandemic. In addition to restaurants and retail, perhaps no industry has faced a tougher challenge than hotels. With bans on travel, occupancy has been severely limited. Add to that the difficulty in sanitizing the rooms and common areas used by travelers, and it's easy to see why hotels have endured an uphill battle to stay afloat. But one local company has taken innovative steps to ensure the success of their business, as well as the health and safety of their customers, as they reopen.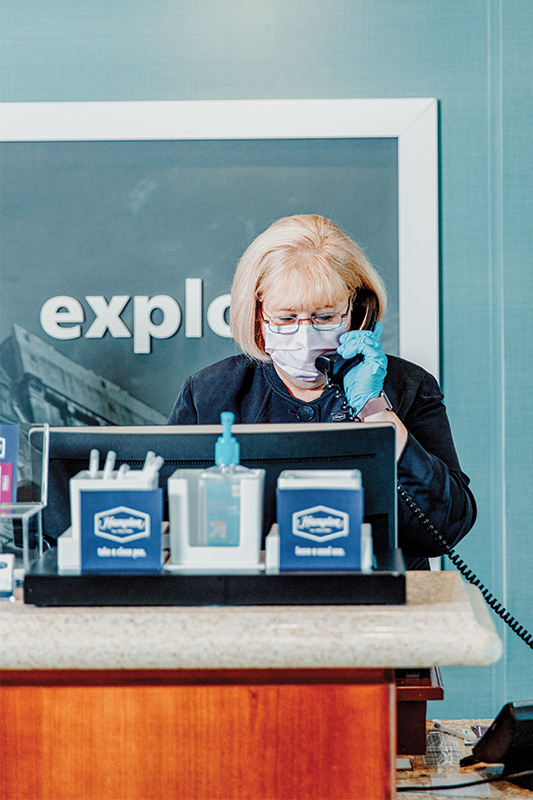 The Malcolm Bryant Corporation owns and operates both of the Hampton Inns in Owensboro, on the riverfront and Salem Drive. On March 26, both locations temporarily closed in response to COVID-19. At capacity, the hotels could serve as many as 1,200 guests, and on a typical day, pre-pandemic, they saw 800-850 guests on average. Overnight, that number plummeted to zero. But with a solid leadership team, and a plan to eventually reopen, the future of the hotels remained safe.
That reopening plan officially took effect on May 15, when the hotels opened their doors to new guests. In order to do so, the hotels implemented a program to ensure social distancing and disease prevention. In partnership with Lysol and the Mayo Clinic, Hilton properties like those operated by the Malcolm Bryant Corporation, developed an extensive strategy to keep guests and employees safe, known as CleanStay.
Madison Silvert, president of the Malcolm Bryant Corporation, said "Not only do these industry leaders in hygiene provide Hilton branded properties, like Hampton Inn and Hampton Inn & Suites, protocols based upon decades of research in communicable disease, as well as access to some of the most powerful anti-viral cleaning agents available, but their years of experience also provide us, our team, and our guests unmatched peace of mind."
One of those protocols is the use of the Hilton app by guests to open their room doors, as opposed to using key cards. Additionally, the CleanStay program includes employee temperature checks, use of personal protection equipment at all times, and staggered schedules so that multiple employees do not arrive on the property simultaneously.
Another measure unique to the locally-operated Malcolm Bryan Corporation properties is a five-day waiting period after a guest checks out, during which time the room is not entered by cleaning staff or other guests. This allows surface contaminants to die out naturally. After the expiration of that time, the room is thoroughly cleaned by housekeeping staff with powerful antiviral cleaning solutions. Once the room is completely sanitized, a special seal is applied to the door, which is signed and dated by the housekeeper. The seal isn't broken until the next guest enters the room, assuring that no potential cross-contamination can take place.
With these procedures in place, both the Hampton Inn and Hampton Inn & Suites have successfully and safely reopened, and Silvert reports that occupancy is increasing every day.