One of the many benefits to the summer season is the freshly grown produce! Whether you're growing it yourself or getting it from a local farm, the taste of fresh fruits and veggies in their peak season can't be beat. If you're wanting to try new ways to enjoy your fresh produce, try one of these recipes! Each recipe is an exciting and delicious crowd-pleaser that would be perfect for a summer get-together!
Tomato Pie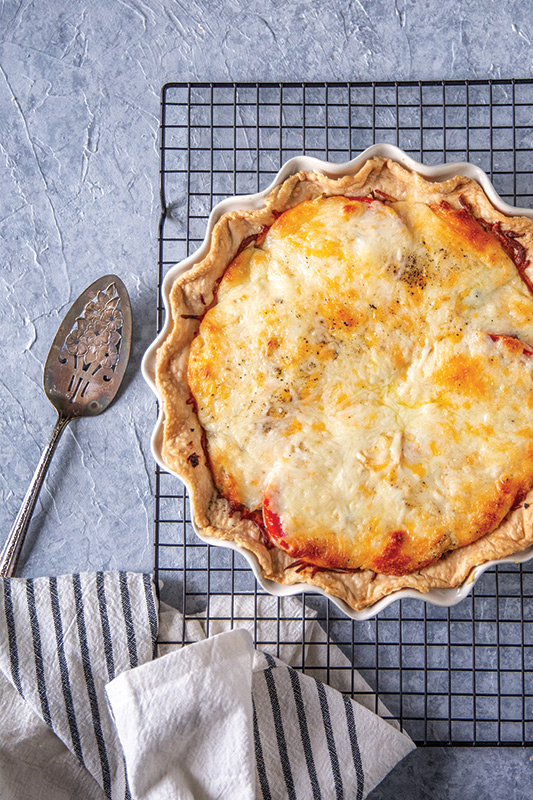 INGREDIENTS:
9 inch pie crust (store-bought or homemade)
3-4 ripe tomatoes
2 cloves minced garlic
1/4 cup chopped basil leaves (fresh)
1/2 cup chopped green onions
2 cups shredded cheese (can mix multiple cheeses)
1 cup Mayonnaise
Salt & pepper (to taste)
INSTRUCTIONS:
1. Preheat oven to 350°F.
2. Slice tomatoes, and place slices on a cooling rack in a single layer (be sure to place a cookie sheet underneath to catch the messy drips). Lightly salt the tomatoes and allow them to sit for 10 min (this releases the moisture from the tomatoes so your pie won't turn to mush). After the 10 minutes, pat-dry the tomatoes to remove as much excess moisture as you can.
3. While the tomatoes are "drying," poke holes in your pie crust with a fork, and pre-cook in the oven for 8-10 minutes, until slightly browned. I recommend using pie weights (dry beans/rice are a good option to use if you don't have pie weights).
4. When the pie crust is pre-cooked and the tomatoes are dried, start to fill the crust with the tomatoes, basil, green onions, and minced garlic. I typically do this by alternating layers of tomatoes, and then the basil/green onion/garlic mixed together. Fill about 3/4 of the pie crust.
5. In a small mixing bowl, combine the shredded cheese and mayonnaise together (I typically use 1 cup of cheddar and 1 cup mozzarella, but any shredded cheese is delicious!). Spread the mixture on top of the tomatoes.
6. Bake the pie for 30 minutes, or until the pie crust is brown and the cheese topping is melted. Let it cool for 10 minutes before cutting and serving warm.
Asparagus Tart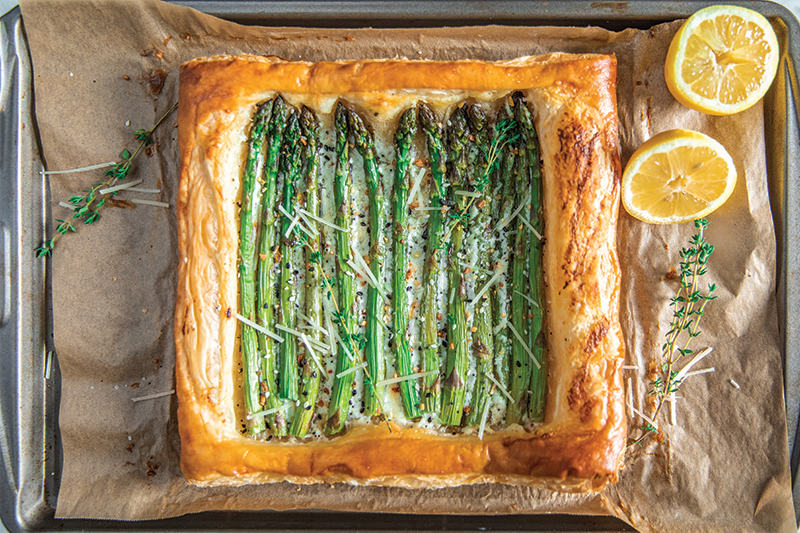 INGREDIENTS:
1 sheet puff pastry (thawed)
1 bunch asparagus (woody ends cut off)
8 oz. Mascarpone cheese (you can also used softened cream cheese)
Shredded Parmesan
1 Lemon (for zest and juice)
"Everything Bagel" seasoning (optional. Can be made yourself by mixing sesame seeds, poppy seeds, dried garlic and onion, and sea salt flakes)
Red Pepper Flakes and/or chives (optional)
INSTRUCTIONS:
1. Preheat oven to 400°F.
2. Place thawed puff pastry sheet on a large piece of parchment paper. Slightly roll out the puff pastry to thin it a bit/make room for asparagus.
3. Score a 1-inch border around the border of the puff pastry (don't cut all the way through! This will be the "crust"), then poke holes throughout the interior of the puff pastry using a fork.
4. In a small mixing bowl, mix together mascarpone cheese, lemon zest, and any additional add-ons (red pepper flakes/chives).
5. Spread the cheese mixture on the puff pastry, leaving the crust clean.
6. Top cheese with asparagus spears. Squeeze a little lemon juice directly on the asparagus. Bake 23-28 minutes or until the puff pastry has browned and asparagus is tender.
7. Remove from the oven, and let cool slightly before topping with shredded parmesan. I also top with "Everything" seasoning (you can use other seasoning of your choice), and some fresh herbs. Serve warm!
Green Bean Salad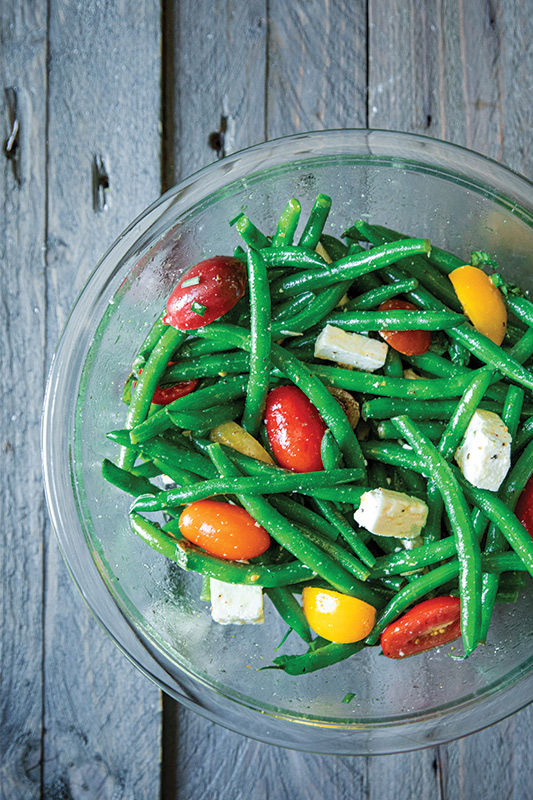 INGREDIENTS:
• 2 lbs. green beans
• 14 oz. halved grape/cherry tomatoes
• 1/2 cup chopped fresh herbs (your choice – I used basil & chives)
• 1/2 cup cubed feta
• 1/3 cup fresh lemon juice
• 1/3 cup extra virgin olive oil
• 2 cloves minced garlic
• 2 tsp. Italian seasoning
(Salt & pepper to taste)
INSTRUCTIONS:
• Parboil green beans by adding beans to boiling water for three minutes, straining, and transferring them to an ice bath.
• Once cooled, pat dry the green beans before tossing them in a large bowl with tomatoes, basil, and chives.
• Whisk together lemon juice, oil, garlic, Italian seasoning, and salt/pepper.
• Pour the whisked dressing on the green bean mixture, add feta, and gently combine.