When Bruce Kunze retired from Daviess County Public Schools in 2004 after 28 years of service to public education, he was looking for a hobby to keep him busy. Always interested in vineyards, Kunze decided to try his hand at the age-old crop. Now, 20 growing seasons later, Browns Valley Vineyard in West Daviess County is thriving, and all maintained by Kunze.
"It's become more than a hobby," he said. "It's a lot of work. But I can do it all by myself, and it's rewarding."
Currently, Kunze grows four different varieties of grapes — two table grapes and two wine grapes — totaling nearly 700 vines on his 1.5 acre vineyard. At the end of the season, that means 3 to 3.5 tons of the juicy fruit.
The growing season began for Kunze back in March, when he spent three to four weeks pruning last year's vines. The plants begin to bud in April, and do require some pest control at that point. The summer is spent "combing" the vines, which is a term for positioning the vines so that they are loose, therefore receiving more air and allowing the fruit to properly ripen.
"It's not a garden," Kunze says. "You can't decide not to do it one year. It takes a lot of maintenance to have a successful crop."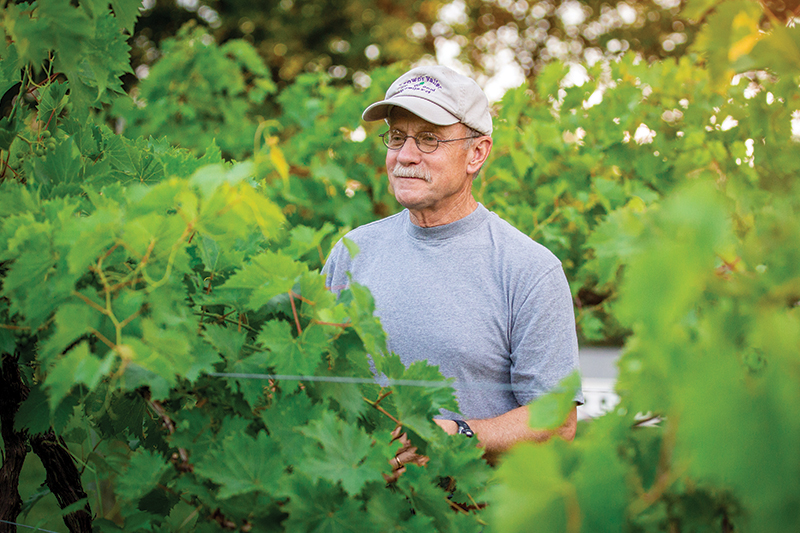 Friends and family will help Kunze net the grapes to keep birds from stealing his well-earned crop. And the season culminates with a harvest, which, according to Kunze, is a big party, complete with a big meal and live music — his favorite part of keeping the vineyard.
"We have some that have been here virtually every year," Kunze said of the 50 to 60 people that come out to help harvest, "and others that are new. We always have good luck having people help."
Once harvested, Kunze will sell the table grapes at the Owensboro Regional Farmers' Market and the red wine grapes he sells to Kentucky wineries.
Always ready to share his knowledge of keeping a vineyard, Kunze has helped a number of people start their own vineyards, offering them tours of his small farm in Brown's Valley. Over the years, 4-H groups and Greater Owensboro Chamber of Commerce farm tours have been out to the vineyard, as well, to learn about Kunze's now 20 years of growing grapes.
Kunze, an educator who has made a run for state office, has made a career of serving his community. Despite growing up in the heart of Owensboro with a father that owned a successful men's clothing store, Kunze always had the desire for country life. After marrying his wife, the two made their home in 1975 on her family's farm, which has belonged to them since 1925. Now history lives on with Browns Valley Vineyard, reaching new generations through Kunze's efforts at keeping his hobby alive.