Photos by Jamie Alexander
When twin sisters Allyson Sanders and Tina Forrest were just college students, they already had big dreams. While students at Kentucky Wesleyan College, they often brainstormed business ideas for the future. Years later, as they see their hard work coming to fruition, they say they definitely saw it coming.
"My sister, my husband Marshall, and I are a team. We were always a team, even in college. We wanted to secure our own wealth, be a bigger part of the community, and decide what our future would look like," Sanders said.
After the twins earned the same college scholarship, they continued to run ideas past each other as they tried to decide which direction to take their lives, stating that entrepreneurship was always the main desire.
"We started to ask: 'What is useful in Owensboro?' We had so many big ideas, so many dreams- it's putting arms around the dream that challenged us. Tina and Marshall keep me grounded. They'd say: "Let's be realistic; you aren't going to start a boutique on Mars," Sanders said.
Considering that many locals search for a place to have a birthday party or throw a baby shower, the trio believed they finally found the perfect business venture, providing Owensboro the space to hold private events.
"We've grown up here. We have kids, we have family—we know what it's like to look for a place to have a party. We wanted to create a place a little more upscale. People are looking for a good space at a good price without the clutter of restaurant noise or traffic," Forrest said.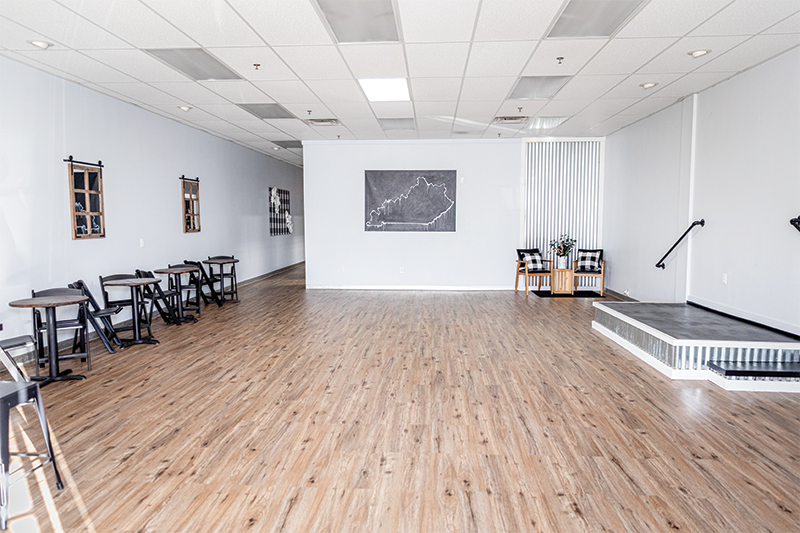 Amid the pandemic, the timing may have seemed less than ideal, but the family saw it as confirmation that private spaces were becoming more valuable than ever.
"We were making calls, getting ideas to paper, and gaining steam, and then we got hit with COVID," Sanders said.
The setbacks did not stop the plans that were being set into motion. If anything, the group became more determined to see their idea come to life.
"People like us, who are motivated and determined and understand what it's like to move forward no matter what, like to see what we can do. We have the entrepreneur spirit," Sanders said.
Party Space Place, an establishment built with the goal to make events more special than just a photo opportunity, finally opened its doors in September.
"We had a soft opening for family and friends, keeping it COVID-friendly. We have been booking small events ever since," Sanders said.
Unique aspects of Party Space Place include offering local party pickups or the ability to hire a "ghost host." This optional add-on provides an errand-running service, such as picking up balloons, the cake, or other party supplies.
"The 'ghost host' is someone in the background to help with pickups as long as it's within city limits. They can greet your guests, help with taking down and setting up, basically a behind-the-scenes helper," Sanders said. "Our place is private. We want you to feel like you're at home."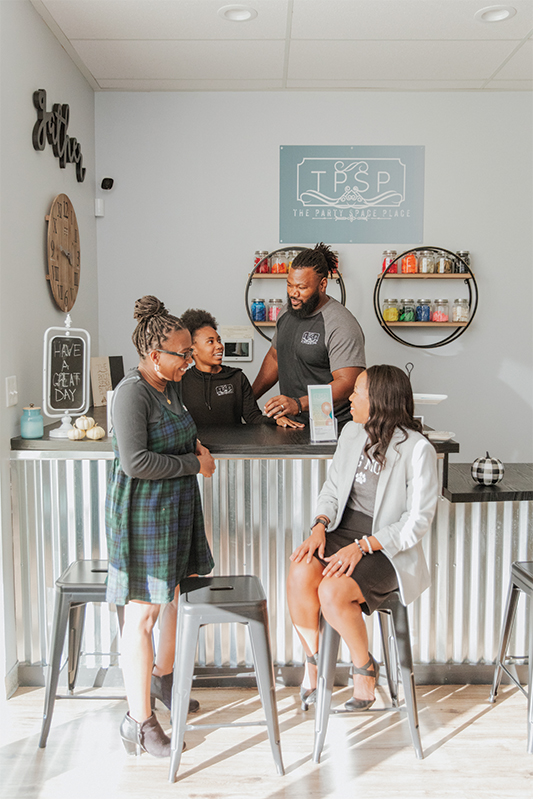 Co-owner Marshall Sanders says his favorite part of the new business is the family atmosphere and the involvement of each of his family members.
"Everyone is involved to a degree. When you come through the doors, you feel like you are home and not away. We knew eventually we would open up a business. We had talked about it in the past. The sisters actually kickstarted everything to make this happen," Marshall said.
Sanders' two daughters are invested in the business, as well. Seventeen-year-old Amari takes care of social media, photos, and other creative aspects of the business. Fourteen-year-old Analea likes to help with the business, too. Getting paid to work with something she truly enjoys is just an added bonus.
"I like that I'm involved, and being with family while I'm working. I do administrative work like filing papers, and I help with odds and ends around the building," Analea said.
As far as what fuels their passion for this new business venture, the family says they love being able to provide the community with a unique and affordable way to throw a party. They are committed to offering a safe and healthy solution to party needs, even in the midst of the current guidelines.
"In the past, parties were just a photo opportunity, but we want to help celebrate a monumental moment. After this year, people are starting to realize that every minute matters," Sanders said.
Future plans include expanding to other unique spaces, offering additional services to help with party preparation, and continuing to grow, eventually hiring staff from outside of the family. They want to stay a micro venue, however, to preserve the private and personal feel.
"Private means so much more now. We want this to go beyond just being a party," Sanders said.
For more information visit www.thepartyspaceplace.com or follow them on Instagram, Facebook, and Twitter
@tpspofficial.