Photos by Jamie Alexander
As stay at home orders lifted and places began to open back up, many RV manufacturers saw such a spike in interest that they were unable to keep up. Rental spaces have also filled quickly, with some families choosing a campground over a more traditional vacation, such as renting a beach house or taking a cruise. 
2020 has looked different for those who enjoy travelling and searching for the perfect destination. According to Kampgrounds of America (KOA), 34% of campers believe road trips are the safest form of travel following the COVID guidelines.
Adam Overall, General Manager of Owensboro RV says they have also seen an increase in RV sales this year. Due to the COVID pandemic, more people are social distancing and using RVs as a means to do that. They started to see the uptick in traffic in March of this year, and it is still going strong. Overall takes pride in being the only RV dealer in Owensboro.
"Here at Owensboro RV, we treat our customers as family. We work very hard to offer the total experience for our customers: from the early stages of shopping all the way to a full service department for when you need repairs. We want full disclosure and don't have hidden fees as so many dealers do," Overall said.
One Owensboro family, the Rittmeyers, bought their first camper last month. Valerie Rittmeyer says the convenience of travelling in-state was alluring, as well as the ability to avoid highly-traveled hotel spaces.
"I grew up camping. My dad died when I was 17, and I had already traveled to over 30 states with him. When he passed away, we sold the camper. I wanted my kids to experience that. We thought, 'what if our kids are too old to enjoy this'? Then we realized this is actually the perfect time to go," Rittmeyer said.
The family was in the running for the WBKR camper giveaway. When they didn't win, they realized they were serious about going ahead and purchasing an RV. The only problem – one that many face this year – was finding one for sale.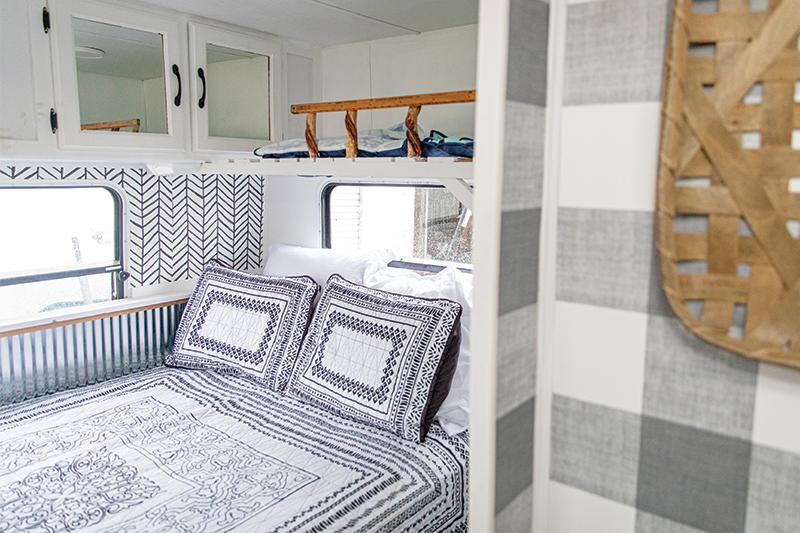 "Around the 4th of July is when we started looking. There's very few used ones because of COVID; they can't keep them in. We were blessed to find someone who decided campers are not for them, and sold it to us." Rittmeyer said.
Although the family was originally searching for something smaller, they decided to invest in something a bit larger so that down the road their future grandkids can travel with them, as well.
"I love that all my children will be in one place. We get to be outside together around the campfire making s'mores, and then are together in close quarters, which is actually really fun. Once you are at the campsite, we are all there at the same place spending time together," Rittmeyer said.
Apart from the getaway aspect of staying in an RV, Rittmeyer said she loves returning to her roots, helping her kids experience some of the same things she did when her dad used to take off three weeks at a time, travelling to rodeos or to the beach.
"I just wanted to create memories. The initial investment may be a little more costly but you don't have to go very far, and it's not very expensive to stay at a campground. Another perk is being able to take our dogs, plus it's really peaceful. We didn't go on a vacation this year, so this is like a mini-vacation," Rittmeyer said.
Another local family, the Shearns, not only purchased a camper this summer, but they completely flipped it to make it a more personal space for their family of five. What Kami and Paul envisioned as a quick makeover demanded much more attention.
"We bought it in June of this year. Paul had been looking for one literally daily on the marketplace because they were going so fast as everyone was buying them. He finally found one that was a good deal, and we thought it did not have a lot of repairs," Shearn said.
Although the couple knew they wanted to remodel the camper, they did not realize until they got further into the project that it would need significant repairs.
"We knew we wanted to flip it, and we thought it needed a few soft spots on the floor fixed. He started to get in there working on it, and it needed a lot more than we imagined. It needed a lot of structural work; the floor was rotted away," Shearn said.
With several leaks and numerous opportunities for cosmetic upgrades, the camper would require a full-time commitment to complete the project. Shearn said her husband got right to the job, often working long hours at a time.
"I would go out there and help him. But he worked on it day and night. He's a pastor, so he had a lot of time on his hands, and it gave him something to do, sometimes working until midnight," Shearn said.
It didn't take long to realize that the work would be substantial.
"He pretty much redid everything structurally. He ripped out a middle closet and basically the entire middle area. He added a small bunk in one of the bedrooms," Shearn said.
For the cosmetic side of the remodel, they added shelves, home-style decorations, painted and upholstered pieces. Once the big renovations were complete, Shearn said she could start decorating.
"I got on blogs and Pinterest to read stories to get ideas of what works and what didn't work. For example, some wallpapers work better than others, which is why I used a pull and stick. I shopped around, getting stuff here and there," Shearn said. "I tried to get the best deal."
Although the camper renovations required more time than the couple initially expected, they are pleased with the results, especially since they got a really good deal on their purchase.
"Now that COVID is going on, I'm not comfortable traveling, but we can take that and can go anywhere – even to our farm in Philpot to sit by the lake," Shearn said.
"The only time we've ever taken it, we went to Rough River; it's just like a house. We have a kitchen and a hot shower. I'd love to get out more," Shearn said.
With three young children who still need a place to nap and rest throughout the day, the Shearns were thankful to have a little getaway.