Photos by Jamie Alexander
These holiday pancakes are a great way to warm up a chilly winter day! Not only do they taste great, they fill the entire house with the smell of holiday spices. Try topping them with cinnamon syrup, powdered sugar, whipped cream or crushed nuts to take them to the next level. It'll be a breakfast treat that the whole family will want you to repeat each year!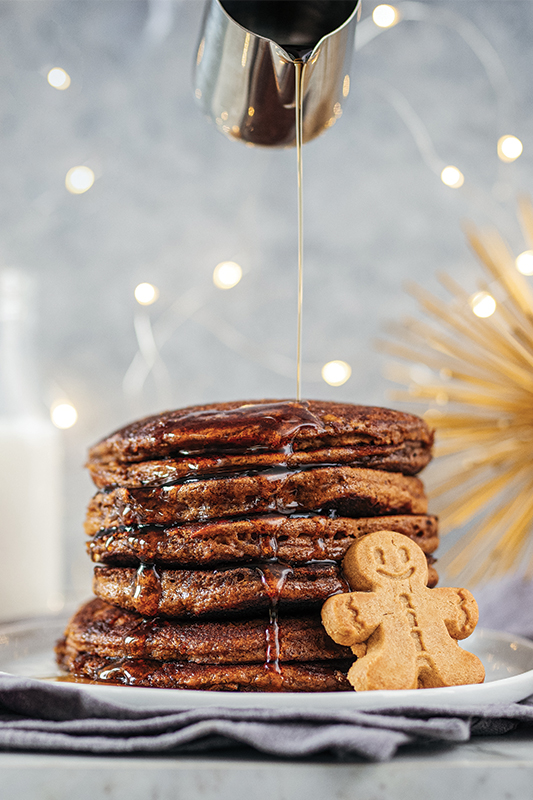 DRY INGREDIENTS:
1 cup flour
2 tbsp brown sugar
2 tbsp sugar
2 tsp cinnamon
2 tsp baking powder
1 tsp baking soda
1 tsp ground ginger
1/2 tsp ground nutmeg
1/2 tsp ground cloves
1/4 tsp salt
WET INGREDIENTS:
3/4 cup buttermilk
1 large egg
3 tbsp unsulphured molasses
1 tbsp vegetable oil
1 tsp vanilla extract
INSTRUCTIONS:
1. In a large bowl, mix all dry ingredients together until combined. In a separate bowl, mix all wet ingredients together until combined. Pour wet mixture into dry mixture and stir until combined, but not over-mixed. Let the batter sit for 3-5 minutes so it begins to rise a bit.
2. While the batter is rising, preheat a skillet or riddle with low/medium heat, and spray generously with cooking oil/spray.
3. Scoop around 1/3 cup of batter onto the surface and allow it to cook until the sides start to brown and the pancakes get small bubbles. Be careful, they can burn quick! Once one side has cooked, flip to the other side. Cook the pancakes until golden brown. Top with your favorite toppings!