Candance Castlen Brake
President and CEO, Greater Owensboro Chamber of Commerce
For many professionals, their office tells a lot about who they are. Whether it's certificates and awards, family photos, or treasured memorabilia, the items displayed around someone's desk can provide a window into their personality. Owensboro is full of interesting business people with interesting stories. "From the Desk Of…" gives those people's clients, customers, family and friends an inside look at where they work and what makes them tick.
As President and CEO of the Greater Owensboro Chamber of Commerce, Candance Brake has her finger on the pulse of Owensboro's business community. Whether she and her team are advocating for pro-business policies with government leaders, or putting on events to benefit local businesses, she manages it all from her glass-walled office on Third Street. Brake took a few minutes to tell Owensboro Living about what she keeps on and around her desk.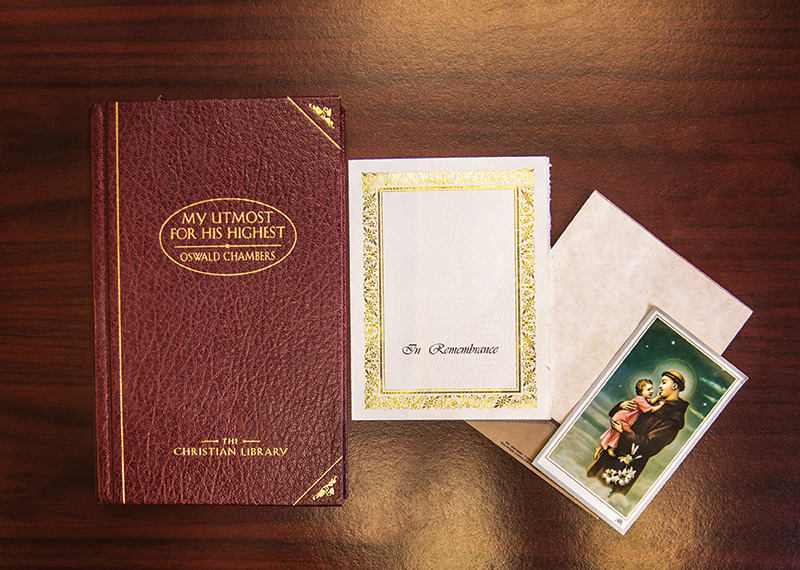 Motivational Reading
Brake turns to an inspirational classic on her desk each day: My Utmost for His Highest by Oswald Chambers. Given to her by former city commissioner Cathy Armor, the hardback book is more than just a daily devotional. In it, she keeps a program from her grandfather's funeral — "He was my steadfast mentor" — as well as cards and photos from local business owners who have passed away. When she sees them during her reading, it's a reminder that "as small business owners, they put everything they have on the line every day. This is why I do this," she said.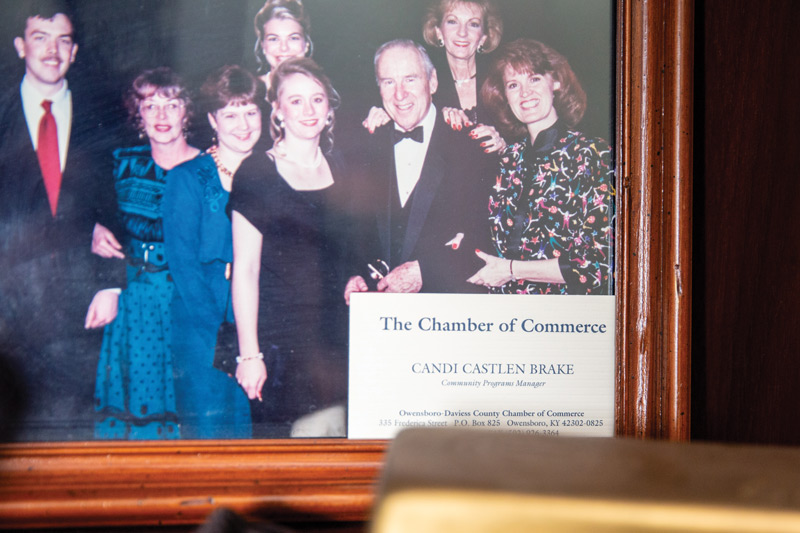 First Business Card
Brake's career has come full circle. Her first job out of college was as a community program manager for the Owensboro Chamber. Her business card from that job sits tucked into the corner of a framed photo from one of the Chamber's annual celebrations she planned. She is standing next to astronaut Jim Lovell, who had come to speak at the banquet. "I spend a lot of time in the office with my work family," she said. "I want it to remind me who I am, where I came from, where I'm headed and who I'm here to serve."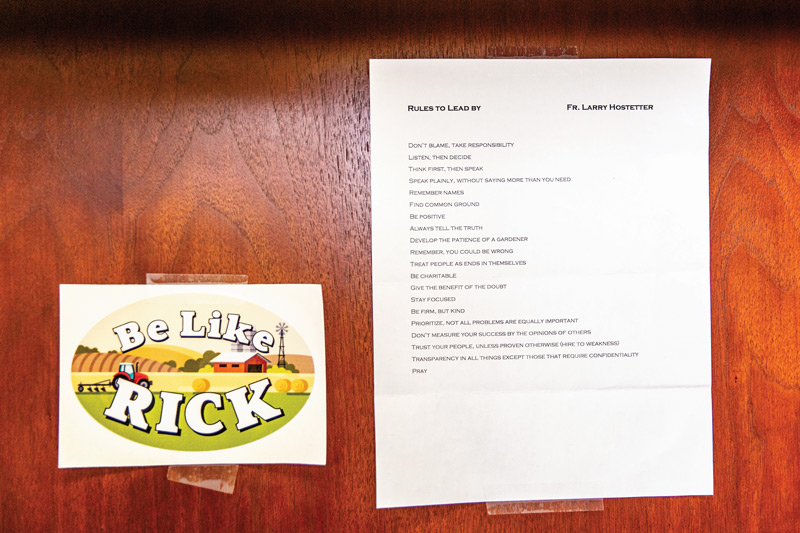 Guideposts
Brake also keeps several "guideposts," or reminders of how to live and act. Rick Kamuf was a local farmer and Chamber board member who passed away unexpectedly two years ago. A "Be Like Rick" sticker posted on Brake's desk helps her strive to emulate his selfless life. "He would call after every board meeting and say something positive," she said. "I miss him so much."
Beside the sticker is a list of "Rules to Lead By" from Father Larry Hostetter, president of Brescia University (Brake's alma mater). She also has easy access to several pages of a leadership philosophy developed by her brother, along with a framed photo taken by one of her favorite college professors, Dr. Francis Brown, of the temple walls in Jerusalem.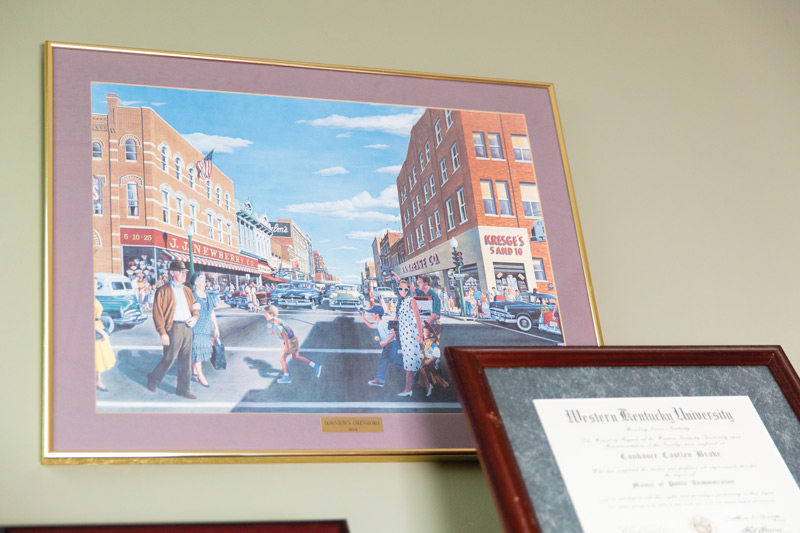 Painting of 1954 Downtown Owensboro
Hanging high on the wall above diplomas from Brescia University, Western Kentucky University and Harvard's John F. Kennedy School of Government is a framed painting of 1954 downtown Owensboro, showing a lively business district with plenty of pedestrian and family activity. Former Daviess County Judge Executive Buzz Norris gave the painting to Brake when she served as Deputy Judge Executive under him in 1995. At the time, many downtown buildings were boarded up, and her goal was to bring the 1954 version back to life. Mission accomplished.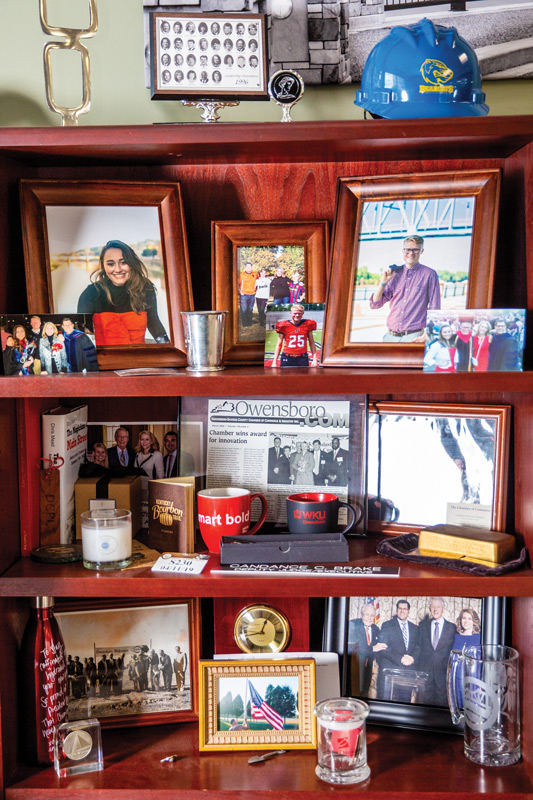 Family and Business Mementos
Several shelves also hold family and business remembrances from years past. Family photos include one from each of her two children's high school graduations, along with a photo of her brother holding a large American flag at their father's grave. Business mementos include a medallion from the opening of the Natcher Bridge, an article detailing an award the Chamber and Economic Development Corporation won when she served as a vice president, a photo of Dana's groundbreaking at the Airpark in 1997, a Brescia hardhat from their expansion project, and a ceremonial brick from the Smothers Park grand re-opening on August 24, 2012.
If you know of someone whose office we could feature in an upcoming issue, tell us about it at [email protected]