Photos by Jamie Alexander
Wedding season is approaching, which means that some people are in the midst of planning bridal showers and engagement parties (not to mention bachelor/bachelorette parties). With so many events to plan now that we are slowly being able to safely gather, it can be easy to run out of ideas for food. Some people think that making the food is the best part of planning, while others would rather invest their energy in thinking of entertainment. Either way, we all want our guests to be happy (and what better way than with food?!). If you're planning a shower and have a long "to-do" list, here are some treats you can make by simply combining ready-made foods (no oven involved). Even with the minimal effort, these recipes are a guaranteed hit.  
Bite-sized Chicken and Waffles
INGREDIENTS:
Your favorite chicken nuggets (from a restaurant or frozen)
Waffle mix or miniature frozen waffles
Mango Habanero jelly
1/2 oz. Rosemary simple syrup*
Rosemary and/or cranberries for garnish
INSTRUCTIONS:
1. Bake your chicken nuggets according to the package (unless you got them from a restaurant)
2. Make your waffle batter and pour them into your waffle maker. You can either pour small portions (1-2 tablespoons) to create miniature waffles, or make a full-sized waffle and cut it to size once they are made. If you are using frozen mini-waffles, toast them and set them aside for assembling!
3. Using a toothpick or decorative skewers, thread each bite-sized treat by layering a chicken nugget on top of each waffle.
4. Warm your mango habanero jelly to thin it out a bit, before drizzling it on top of each treat. Serve warm!
Easy Elote in a cup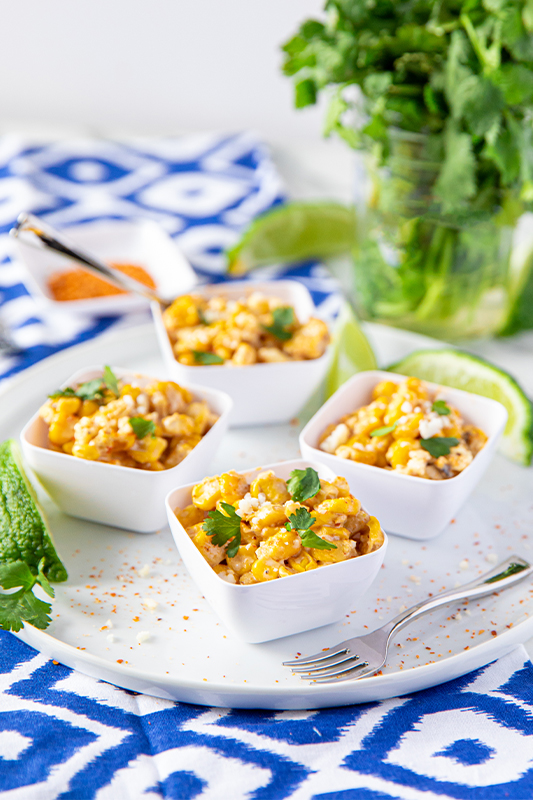 INGREDIENTS:
4 ears of corn (or 3 1/4 cups of canned corn)
2 tablespoons melted butter (unsalted)
1/4 cup mayonnaise
1/3 cup cotija cheese (or queso fresco)
1 tsp Tajin seasoning
1 tsp chili powder
chopped cilantro to taste
salt/pepper to taste
INSTRUCTIONS:
1. Cook 4 ears of corn brushed with melted butter until charred. You can grill, boil (and brush on the melted butter after), cook on a stove top or even use drained canned corn.
2. Cut the corn off the cob and pour into a medium-sized mixing bowl. Stir in mayonnaise and top with crumbled cotija cheese.
3. Mix in salt, pepper, Tajin, and chili powder until combined. Separate into small serving party bowls, alongside chopped cilantro, lime wedges and hot sauce for garnishing. In miniature bowls, this makes enough for about ten small servings.
Watermelon Feta Skewers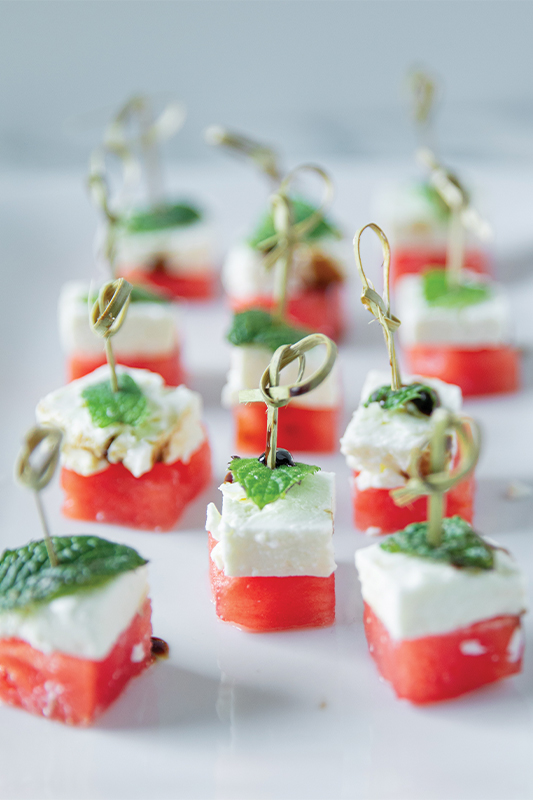 INGREDIENTS:
Seedless watermelon, cut into cubes
Fresh mint leaves
Balsamic reduction or glaze
3-4 blocks Feta cheese (depending on how many you'll make)
INSTRUCTIONS:
1. Cut your watermelon into 1-inch cube pieces. Repeat with the block of feta.
2. Thread a piece of watermelon onto a skewer, followed by a feta chunk and a mint leaf. Repeat until you go through all your ingredients. These can be stored covered in a refrigerator overnight.
3. Drizzle each skewer with balsamic reduction right before serving! OL