Bar Louie gastrobar opened on Frederica Street in late 2017, and offers traditional culinary delights, but also items with a unique flair. Among those are the Ahi Poke bowl, buffalo chicken totchos — a mix of boneless buffalo chicken wings, tater tots and tortilla chips topped with cheese, onion strings and buffalo sauce — and their ever-popular flatbreads.
The restaurant also boasts an extensive cocktail menu with original twists on classic drinks.
But when the Owensboro community was asked to stay healthy at home in mid-March, Mike Baker, vice president of restaurant operations for River City Louie LLC, found a collaboration between Bar Louie and Girls Inc. of Owensboro Daviess County.
Baker, a past president of Girls Inc. and a long-standing board member, called Tish Correa Osborne, CEO of Girls Inc., to determine if there was a need for free lunches in our community.
There was.
So Baker then asked Bar Louie co-owner Jack Wells, who generously agreed to serve the need every Monday, Wednesday and Friday from April to mid-May when the restaurant partially reopened.
After publicizing the collaboration on social media, with close to 100 shares of the post, cars were lined up before the meals were even set out, and Girls Inc. ran out of the 75 meals quickly. After a call to Alex Barton, the general manager at Bar Louie, Bar Louie employees made 75 more meals to be picked up immediately for distribution.
From then on, Barton said, 150 meals were made that included a ham sandwich or hamburger, Cheez-It crackers, fruit and a cookie.
"Saying my employees were overjoyed to do this type of work would be an understatement," Barton said, adding that several even volunteered to make the meals each time. "I am beyond blessed to have such a great crew here at Bar Louie."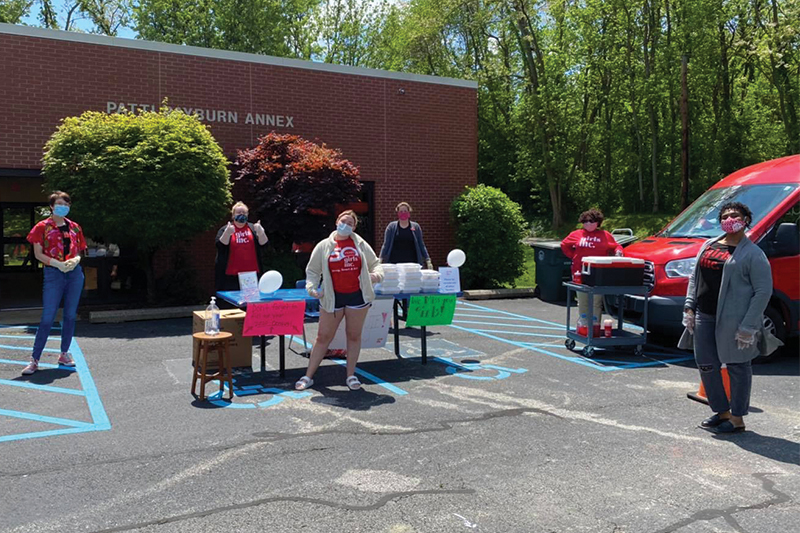 Originally, the meals were provided on site at Girls Inc.'s Rolling Heights campus, but soon Osborne saw a greater need among Girls Inc. families, so the staff began delivering the Bar Louie meals to several Girls Inc. families without transportation to the feeding site. The collaboration allowed Girls Inc. staff to see some of its members and check in with them during the pandemic.
Bar Louie also provided meals to Well's and co-owner Matt Hayden's employees at his other companies, along with continuing to offer carry out meals to the community at Bar Louie's restaurant.
And during the shutdown, they offered free lunches to former employees.
"It is an honor to serve those in need," Baker said.
Barton said that during a time of uncertainty, it was great to have the opportunities to help the community.
"It is great to have owners that allowed this to happen," Barton said.
Bar Louie is located at 234 Frederica Street.