Brother-in-law partners Jordan Leach and Dustin Taylor have turned their woodworking hobby into a thriving side-hustle.
When Dustin Taylor started dating Jordan Leach's sister, their common interests turned into an easy friendship. They also discovered they shared a passion for woodworking.
Jordan's uncle was a woodworker who had a shed full of vintage tools. Dustin grew up watching his grandfather design nature scenes and portraits with his woodburner. So it didn't take long for Dustin and Jordan to start working on projects together in Jordan's uncle's wood shop, making things for friends and family for Christmas.
After a while, Jordan's dad had the idea to turn an old hay barn into a woodshop for the guys, which was much closer and gave them their own space. "My dad's always been the type to say 'we can build it ourselves,' so that's what we did," Jordan said.
That was four or five years ago. Soon after, Jordan and Dustin started sharing photos of their work on Instagram, and they've stayed pretty busy with projects ever since. "It's interesting how it's spread," Jordan says. "We don't promote at all. I'm not even sure how people find out about us, if it's Instagram or the website or what. But they keep finding us."
If you're wondering about the name, it was suggested by a friend. In Greek mythology, Cerberus (Pronounced "sur-ber-uhs") is a three-headed dog, also known as the "hound of hades." That friend came up with a design for a logo and it just sort of stuck. The logo pays tribute to the dogs that always hang around the shop.
Jordan's forte is furniture and larger projects, while Dustin enjoys making signs or anything that involves woodburning. "I love to incorporate wood burning into projects. Especially adding names, dates, or a star over a city on a location sign, things like that," Dustin says. "I love the creative freedom to put our own touch on things."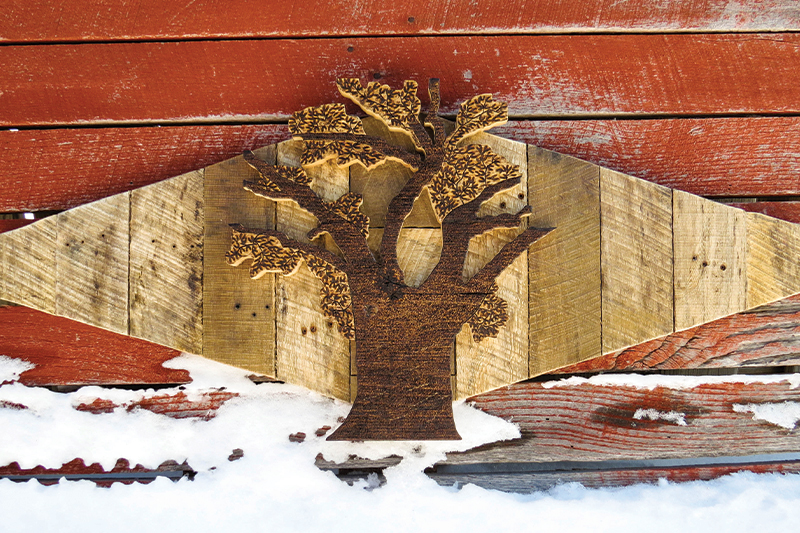 All of their projects are custom built to order. When Cerberus started, reclaimed wood was the trend, but the guys have noticed a shift in trends toward modern looks with hardwood and sawmill lumber. As far as what they'll make, it's just about anything wooden. Some customers come in with a clear idea of what they want. Others have an idea, but want feedback and suggestions.
"It's fun to help an idea come to life, where we get to work with them and give them options," Jordan explains. "So we'll sketch it out, make some changes, then customize it how they want it. But the best is when a customer said, 'We need a table that sits eight people, now go crazy.' We had complete freedom on that one, so that was really fun."
Another interesting request came from a lady who had a tree fall on her house and she wanted Cerberus to make a table from the fallen tree. A storage bed that Jordan called "a puzzle nightmare" was also really fun because it was a challenge to come up with a design that looked cool but could also be taken apart again if the bed was ever moved. "It took a few phone calls to some other woodworkers and my uncle to figure that one out, but it turned out great."
The guys say about 60% of their orders are local and regional customers, and about 40% are out of state. Dustin just did a cutting board for a guy in Oregon, for example, and sent a sign to a customer in Washington State. But most of their big orders, like furniture and bigger signs are within driving distance: Nashville, Evansville, and Louisville.
The two rarely work on projects together anymore; they both have full-time jobs and Dustin has a 4-year old and a 4-month old, but they dream about the future when the kids are older and they get to work in the shop together like they used to.