Matt Weafer has been a part of Niko's Bakery & Cafe since it opened in February 2019. He helped Lola and Christo Nousiadis plan the structure of the kitchen, build a client base, develop recipes, and get the bakery up-and-running smoothly. One year later, in February 2020, Matt bought Niko's Bakery & Cafe alongside his wife, Jessica. It wasn't long after that Kentucky Governor Andy Beshear called for the closure of all restaurants and bars dine-in services due to the coronavirus pandemic.
Luckily, the Weafers didn't have to make many drastic changes when the pandemic hit. They proactively closed their dining room, but were still able to offer drive-thru and curbside services. The Weafers have always been conscious of their restaurant's cleanliness practices, and already had a bulk of their sales made through their drive-thru and carry-out services. The main change they saw was a drop in the breakfast/lunch clientele due to everyone's transit schedules changing. Fortunately, bread and coffee sales evened that out, along with several new practices, including a butcher shop, family meals, and meal-prep options. These were all things they had already planned on implementing, but that were put into practice sooner during the pandemic.
Customers of Niko's Bakery & Cafe have been extremely receptive to the new offerings. "A lot of people are cooking from home, but not everyone has time to cook three meals a day, so meal prep and family meal options can definitely make their lives easier," says Matt. For the pre-cooked family meals, there is a set daily schedule of dishes, not including the daily add-ons like spanakopita, salads, and fresh breads. These meals are pre-ordered and ready for you when you arrive. The meal-prep offerings include great local meat options from the bakery's new butcher shop, along with ready-to-cook sides that make full dinners easy to achieve.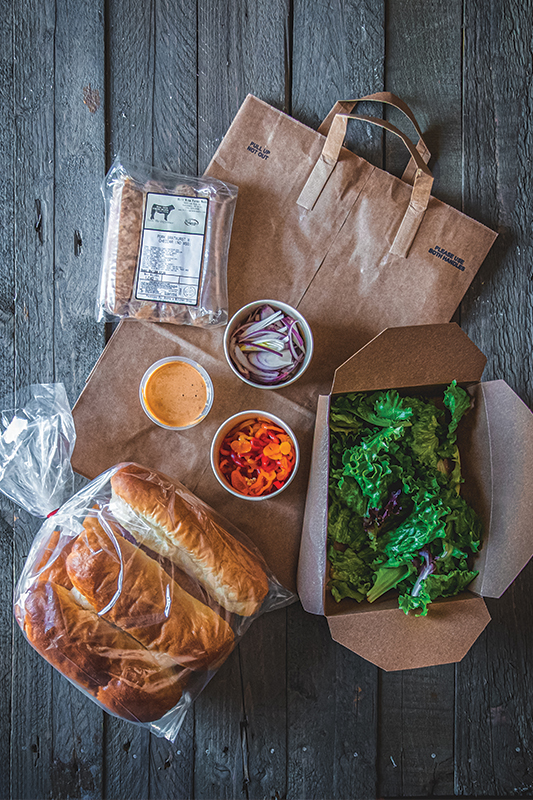 For the meal featured in this article, Niko's Bakery and Cafe made the brioche hot dog buns, which Matt says are "soft, a little sweet, and perfect for anything grilled." They also provided their own sweet pickled peppers and Dijonnaise sauce, along with some lettuce and raw red onion to reflect fresh summer-time ingredients. The cheddar brats were provided by Hill View Farms.
When it comes to preparing the meal, Matt recommends toasting the buns. "Split them open, rub butter on the bun, and toast it on a cast-iron skillet or straight on the grill, avoiding sticky parts of the grill." Another tip for the buns is to put the butter directly on the bun as opposed to the pan, to ensure the butter soaks into the bun and caramelizes better.
For the brats, Matt says they are good slow-cooked, grilled, or even recommends trying to cook them in beer. You can achieve this by submerging them half-way in beer in a small pan, then baking the brats in the oven with the beer. Once the brats are cooked through, you take them out of the oven and brown the outside in a skillet to cook in the flavor. Matt shares that the secret to achieving great taste is to find the best quality brat.
"I love supporting local, and Hill View Farms makes some of the best product." Matt wanted to sell some Hill View Farms meat in his new "Butcher Shop," which includes high quality local meat, vacuum sealed and frozen ready for cooking. Hill View Farms provided some options to be sold there, despite their own success with pickup and curbside services.
Matt has always been involved with the Owensboro Farmers Market, which is where he became friends with Jim Gilles of Hill View Farms Meats. Together, they had the idea of making Niko's one of the pick-up locations for a number of Farmers Market vendors, as the avenue for meat/herb vendors had been delayed due to the pandemic. Niko's Bakery & Cafe is also proud to sell many local products from farms and businesses, including coffee, meat, and honey.
"Everybody has been going above and beyond to support local during the pandemic," Matt says. "It's essential to buy from local farmers. It's good for local economy, the environment, and even personal health."
Make It Yourself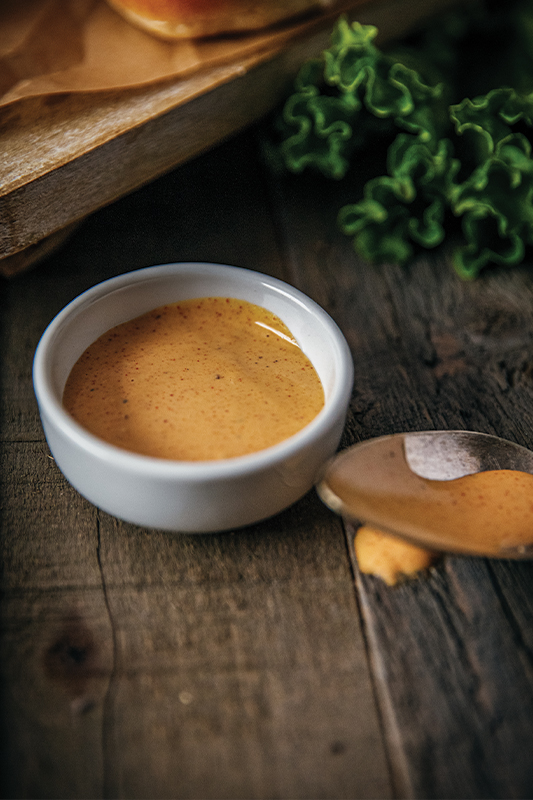 Dijonnaise
Ingredients
1 C aioli (store bought mayo is fine)
1 Tbl Worcestershire
2 tsp Bourbon Smoked Paprika
1/3 C Dijon mustard
1/4 tsp kosher salt
Directions:
Whisk to combine.
Sweet Pickled Peppers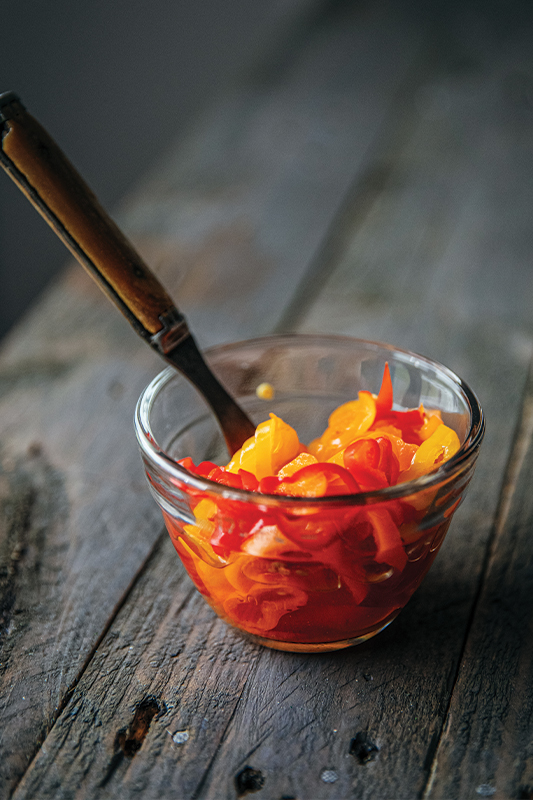 Ingredients:
1 lb small sweet peppers
1 1/2 c cider vinegar
1/2 c sugar
2 garlic cloves smashed
4 bay leaves
1 tsp whole black pepper
1 1/2 tsp kosher salt
Directions:
Combine everything except peppers in a small sauce pot. Bring to simmer to dissolve salt and sugar. Let sit 30 minutes for flavors to mingle. Add 3/4 cup ice water. Add thinly sliced peppers. Move to clean and airtight container. Store in refrigerator. Let sit at least 24 hours before serving.