One Stride At A Time
Photos by Bonnie Nance
Despite the negative effects of the pandemic on many organizations, one local nonprofit is thriving under new leadership, and with a renewed focus on helping clients and engaging volunteers.
Dream Riders of Kentucky continues to see growth in its programming and volunteers, both of which Sandy Webster, who has been at the reins of the program since 2020, says is not surprising.
Webster said that with the current mental health crisis, clients and volunteers are able to find socialization and new skills while at Dream Riders."One of the biggest things is this special environmental haven," she said. "Owensboro is lucky to have animal-assisted therapies."
With the mission to provide individuals with physical, cognitive, social and/or emotional needs an opportunity to experience the therapeutic value of horses and the joy of riding, Webster believes the almost 20-year nonprofit is in a firm position to continue its growth.
Under her leadership, Dream Riders has seen an increase of over 460% in therapeutic services, with over 90 participants per week with visible and invisible disabilities in riding alone, and an additional 30 participants who are served from partnerships in behavioral and mental health with Daviess County Public Schools and River Valley Behavioral Health.
With three therapeutic equine services currently being offered, as well as a plan for serving veterans in the future, Walker is also looking for the nonprofit to be a Professional Association of Therapeutic Horsemanship (PATH) International center.
"This is the safest standard of accreditation that exists, and we are already following it," she said. "It is also how some of our partnerships have evolved."
Webster, who has over 30 years of experience in the therapeutic horsemanship industry, currently holds certification as a PATH International Master Instructor in Therapeutic Riding, along with being an Equine Specialist in Mental Health and Learning (ESMHL), an Interactive Vaulting Instructor and a Therapeutic Driving Instructor.
Dream Riders was founded and created in 2003 by Mike Clark, Suzy Higdon, Nancy Woodward and Benny Clark, who had a collective dream to provide services for people with disabilities in Daviess County and the surrounding area.
The facility is located at Daviess County Lions Club Fair Grounds, where they hold a 30-year, ongoing lease.
Assisting the weekly classes of riders are volunteers who have a place of inclusion, a safe place to socialize and give back to their community.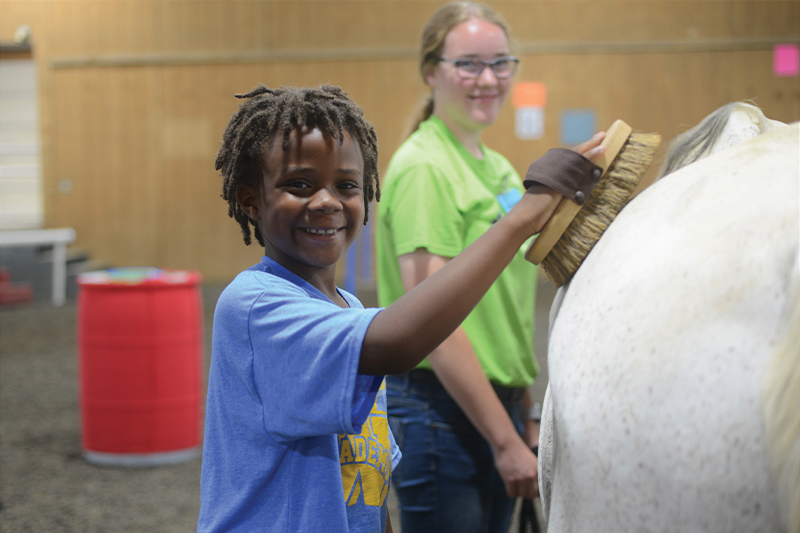 "The volunteers do not need to have any horse experience. They just need to be willing to learn, be non-judgmental, believe in equality and live the Dream Riders' mission to help improve the lives of participants," Webster said.
All volunteers are trained monthly in safety procedures and emergency procedures, and all new volunteers go through an orientation.
"They are super faithful because they are paired with a specific team and rider, and they know the client's goals," Webster said.
Webster said the 70-plus volunteers know their client's goals and know the efforts it takes to achieve these goals. For example, in the last 10 months, she said that six children have spoken for the first time and that these breakthroughs affect everyone.
"The team surrounding the client sees these small miracles," she said, adding that many also tell her they get in 8,000 to 10,000 steps in walking and helping each time.
Other client miracles include an adult trading their walker for a cane and a teenager who feels respected and learns self-worth.
"We serve those with all abilities. We focus on strengths and accomplishments and work slowly but surely with positive reinforcement and teaching to all learning styles," she said.
Callie Gruman, 9, attends Dream Riders as a supplement to her physical therapy.
"Since she started riding, her balance, strength, and coordination have all improved. As examples, she can now stand on one foot for a couple of seconds, and she can attempt a simple yoga routine for up to 15 minutes," said Alysia Booth, Callie's mother. "I think her brushing and helping with her pony… helps build confidence to attempt things for herself. Callie now says 'No, do it' when she wants to try doing something herself first. Callie loves her time with Pixie and the excellent volunteers, and we are grateful for such a high-quality program in our area."
Interested individuals submit a confidential participant application which discloses their condition and therapeutic need along with their physical, cognitive, social and emotional goals. A doctor's recommendation is also included. All of this information is used to determine their class in the program, which holds classes Tuesday and Thursday evenings and Saturday mornings.
Richard Mason, an adult with Parkinson's disease, said that he learned of Dream Riders while in a nursing home for two years and put riding a horse on his bucket list. After researching therapeutic riding, he learned that it could help loosen his stiff hips, but he also gained much more.
"It has allowed me to walk further, enhanced my confidence, and increased my quality of life," Mason said. "Riding has helped with my balance, so much so that I can do upper body exercises with my feet out of the stirrups, while my horse is carrying me at a walk. I love the bond and friendships I have made at this safe, effective, and fun therapeutic riding facility. Dream Riders gives me therapeutic value that has lasting effects at home and other aspects of my life."
Built on kindness, Dream Riders relies on volunteers who want to make a difference, and is led by caring, certified professionals in the therapeutic equine services industry.
"We have a special gem in our own backyard for anyone who has a need to improve their lives either as a volunteer or a participant – together they make Owensboro a better place to learn, improve, reach goals and give back and embrace a sense of purpose in a wonderful environment," Webster said.
Three fundraising events are scheduled for 2022 – Dream Riders is partnering with Puzzle Pieces for the Color Blast on March 19. On May 7, a Kentucky Derby benefit is being held called "Big Hats and Fancy Pants" where Derby food will be served, a special demonstration by Dream Riders participants will be performed and a silent auction will be held. On Sept. 24, a dinner will be held with the Lanham Brothers playing Bluegrass music and showcasing clogging. A special demonstration of Dream Riders will also be performed, and a silent auction will be held.
"Come out and watch what we do at Dream Riders and see Dreams Come True …. One Stride at a Time!," Webster said.