Local Wildlife Rehab Center Makes a Name for Itself on Social Media
Photos by Jamie Alexander
A relatively unknown Owensboro nonprofit has joined the TikTok scene, and boasts over 2.9 million followers. Nurture to Nature Wildlife Rehabilitation Center founder Kristin Allen is as surprised as anyone that people follow what the center does to rescue and rehabilitate injured or orphaned animals.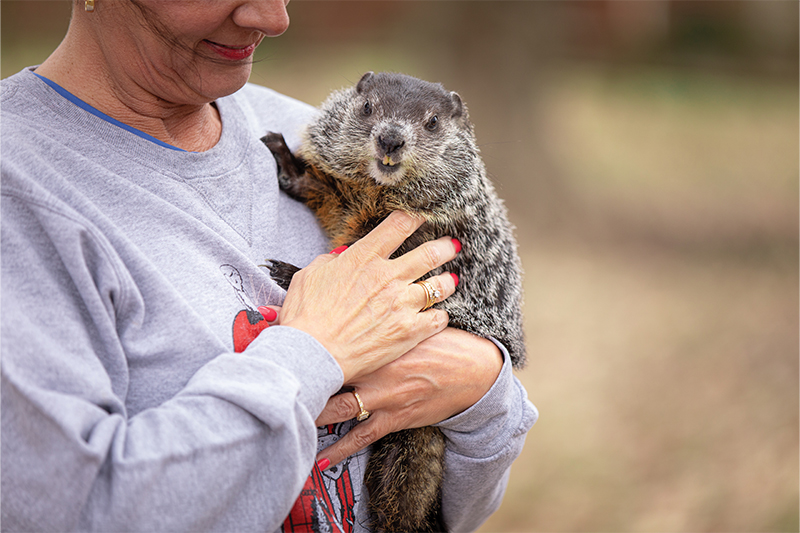 Twenty years ago, Kristin rescued her first squirrel, and she believes God put it in her path.
"And God kept putting them in our path," she said.
Of the Allens' four children, son Grant became the most interested in his mother's mission, and the two of them began the nonprofit center.
In the beginning, they would host 50 to 100 animals a year, but have grown exponentially to 1,000 a year, which is when they realized they needed to become a nonprofit to receive donations.
Kristin said her family jokes about how she used to tell them they would not eat if the animals were going hungry – and they didn't."We never get as many donations as we spend," she said. "But something always happens to let us be able to continue."That something is her husband and the people who send items from their Amazon Wish List, and who donate to the nonprofit."They've been awesome. They can't physically help, but they want to do something," she said of the donors.
For over 11 years, Allen and her family have held the necessary state and federal licenses to care for animals – mostly mammals – but now, they are also taking in birds of prey as Kristin is the executive director of the Western Kentucky Raptor Center. For three seasons, Kristin and her family were part of National Geographic Channel's "Bandit Patrol," a show that followed the dramatic stories of nurturing injured and orphaned animals. When the show decided to go in a different direction, one of the film crew members told the Allens they needed to try filming for social media, and suggested YouTube or TikTok.
Kristin, who admits that she had no idea about the content on TikTok and was not sure what viewers would want, relied on Grant and his wife, RaKara, to share the content.
In April 2020, they posted their first video. They had used their social media to promote the videos to their "Bandit Patrol" followers.
"It got some views," Kristin remembered. "Let's see what happens."
The goal was not monetary gain then – they just wanted to get the word out, which, Kristin says, has been a blessing in other ways.
Grant had researched how to make videos that would keep people interested, and he began sharing the rehabilitation efforts of Nurture to Nature. They started with a barred owl, which Grant and Kristin said people were immediately invested in.
"We try to get their [the viewers'] attention first by asking a question – 'Have you ever seen an owl's ear before?'" Grant explained. Then they used the video to show how the owl's ear was bleeding from its injuries.
Kristin said that through their videos, they are able to "shine a light" in this dark world we are living in.
"There are people out there that can help this animal," she said. "We are doing what we are called to do."
Kristin admits that while some of their stories are happy, there are some that don't end the way they want them to. But, through the viewer comments, such as, "You give me hope in a dark world" and others that come in, Kristin said she is doing exactly what she needs to do.
For some, all you can do is give comfort…hospice care," she said.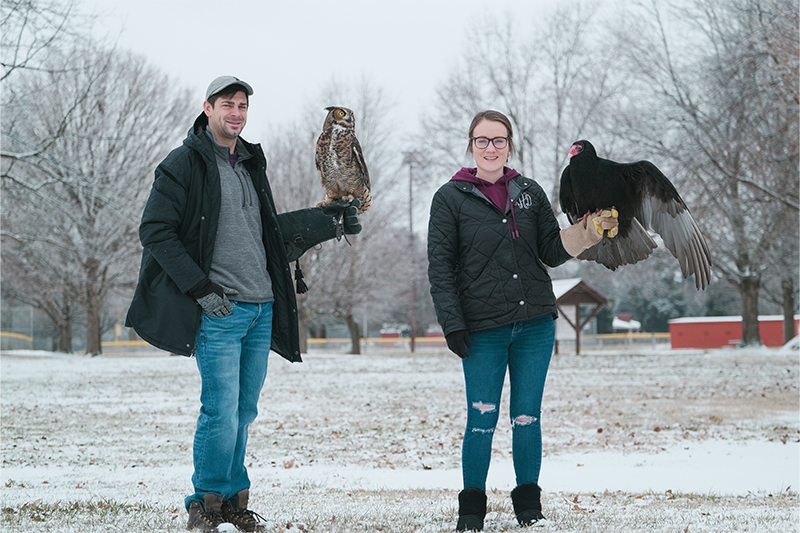 They do some things on TikTok for monetary gains – like using a requested song while they film a deer playing – but Kristin said they keep it all lighthearted and "PG-rated."
"I want kids to be able to see it and watch for the pure joy," she said of her no-foul-language rule.
Another animal that pulls in viewers are fawns, both Kristin and Grant said.
"People really love the fawns," Grant said, recounting the rehabilitation of a fawn whose leg had been amputated. Followers were able to watch its progress all the way to its release to its herd.
Another educational opportunity for Nurture to Nature viewers was following a fox who had mange from eating an animal that had been poisoned. Information was shared with viewers about what happens when the fox continues to scratch his body, what happens to the fox's immune system and how all animals have mange.
RaKara said that when they don't have a lot of stories or animals in rehabilitation, which is usually in the winter, they will do videos that answer viewers' questions.
"TikTok helps us share the information and keep the center going," she said. "It really helps provide for medicine and rehab costs."
Kristin said there are not a lot of options for injured animals as other agencies are full, but Nurture to Nature always takes them. Their property is in the country, where they have an outdoor facility with enclosures, but they also have some animals housed in incubators at their house for those that need to be bottle-fed.
The Western Kentucky Raptor Center is housed at Yellow Creek Park.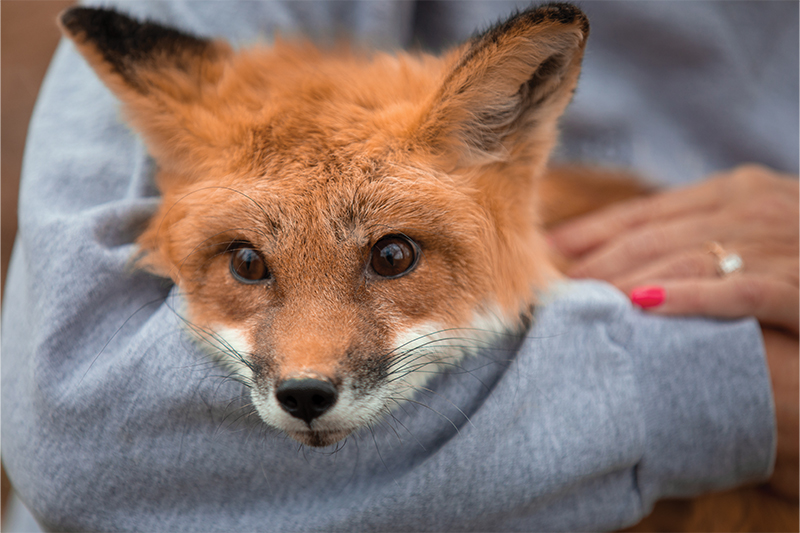 March is when mating usually starts, and from spring until winter, they are rehabilitating animals.
One daughter helps with social media, one works elsewhere full-time, and one is in college for pre-veterinarian, but all help feed when they can. Grant also has a full-time job, but he and his wife do this, as well.
"It's a crazy life," Kristin said. "My husband is up at 4 a.m. to feed the animals, works his day job and comes home to do this. Everyone knows from April to July I am sunk. Everyone knows that if they want to see me, they are going to have a bottle in their hand."
RaKara, who "married into this", as Kristin said, gets just as excited as Kristin about the nonprofit and said that one day she and Grant hope to take over the center. Kristin isn't ready to give it up – or pass on the responsibility to the young couple yet as people call 24 hours a day for help with injured or orphaned animals.
"When the blood quits pulsing through my veins…or when I don't find joy in it anymore," is when Kristin said she will retire. But as long as she still finds joy in a squirrel's yawn, which she does, she will dwell on the positive.
And Kristin now creates some of the videos, as well, although she said hers are different from Grant's.
"Grant gives the information about the animals; I tug on the heartstrings," she said. "We are not wanting fame…we are in it for the animals."
Follow along on Tik Tok @nurture2nature, give them a call at  270-993-6022 or 270-704-3532, or visit their website at www.nurturetonature.org to learn more.