Turning Accidents into Art
Photos by Jamie Alexander
Sherry Dickens finds her art inspiration in several places. It first started watching her artistic family paint and craft things before her eyes. Her dad was a ceramicist, her mom and aunt were oil painters. Each of her sisters painted alongside their parents. While her family was painting canvases, she would color in pages of her art books with her aunt's oil pastels. "From there, I did that and it just kind of stuck with me. Then I would just dabble in it a little as a young girl," Dickens said.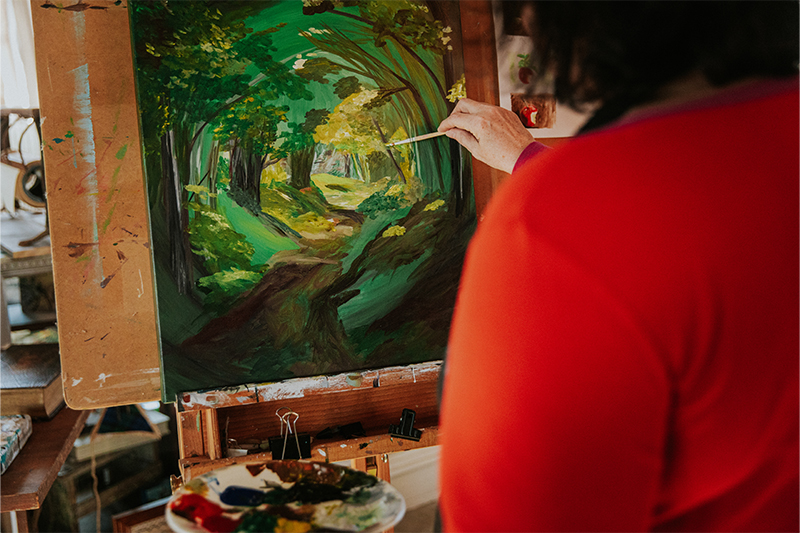 The craft never left her as she continued into high school, and she always tried to have at least one project on her schedule. Unfortunately, she switched her passion for visual art to the backburner when she graduated, and didn't pick it back up until she turned about 26. By day she would be a graphic designer for the Messenger-Inquirer, and when she would clock out, Dickens would do commission work out of her bedroom, painting homes for homebuyers with a real estate agent.
After putting 35 years into the newspaper industry as a graphic designer in both Owensboro and Nashville, she was laid off unexpectedly. Longing to go back home and to start focusing intently on her art she said she heard a familiar voice. "God was pushing me. I felt His small voice pushing me to do what I love to do. Yes, graphic design is a love, but with painting, I was always wanting a studio – a bigger one where I could teach," Dickens said.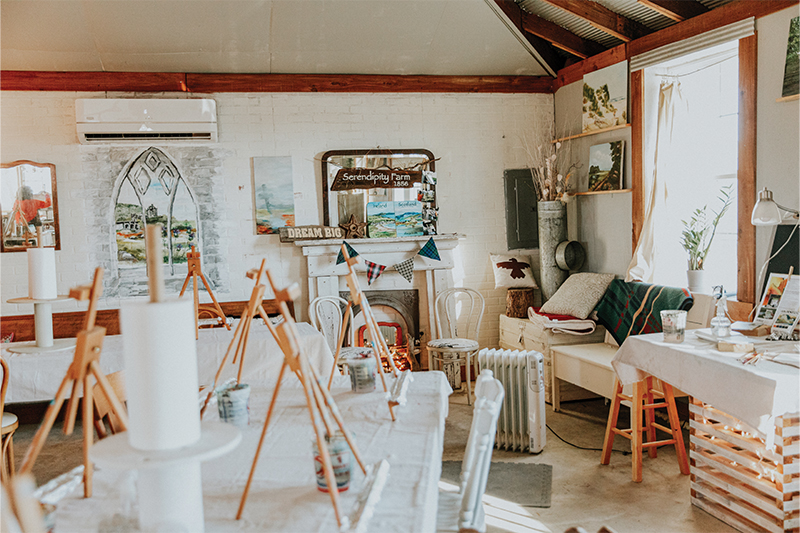 Relying on nothing but that voice, she moved back to Owensboro and started her own studio. When it came to naming it, she found inspiration in the small accidental things that come about."I thought 'serendipity.' It is these accidents that happen — and they do happen in my studio all the time," Dickens said. So Serendipity Farm 1856 tries to take the little accidents and turn them into works of art as people come into the studio.
These accidents happen anywhere from on a canvas to moments she couldn't call even slightly happenstance. One day in her studio, Dickens was talking with friends just after experiencing the deaths of three uncles all in under 10 months. "While we were talking, the sun came through the door window and through the top of my easel, it made the sign of a cross on my landscape painting," Dickens said. "I felt God & my uncles there."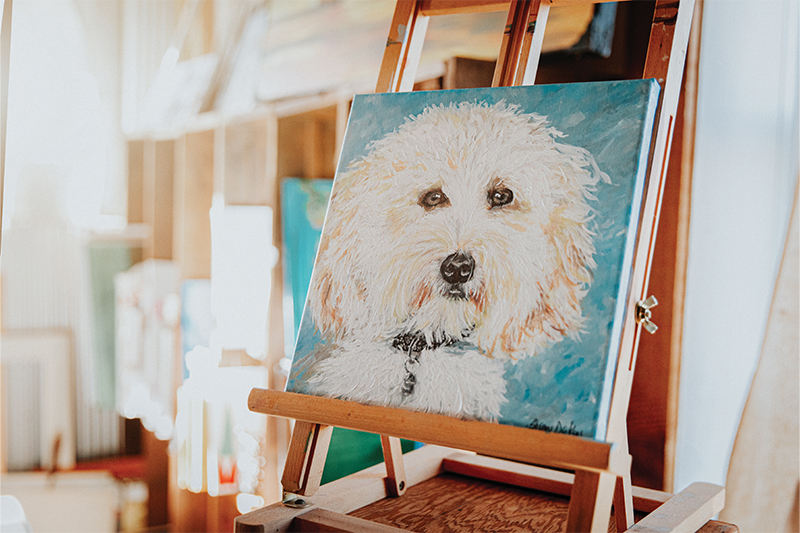 From that point on, she poured into her art and her studio, filling it with classes, small group lessons and commissions. During her classes, she lets her students take the wheel entirely on their subjects, and when a so-called accident arises, that's where she pops in to the rescue. After they've brushed every color along on the canvas, she said many students come back for more classes. Almost all of them recount how the previous class made them view color differently in their day-to-day lives. "[They tell me] they look at things different. They look at a tree different; they look at the sky different; they look at color different. Everything," Dickens said through tears. "And if I've done that for people, I feel blessed."
In the future, she hopes to take a trip to back Ireland and Scotland and find some inspiration from the last time she visited. But the future doesn't stop there. She also wants to take her talents to live painting at events with a twist. Combining her gift with another secret talent, she also hopes to paint wedding receptions, funerals and other events while also playing the bagpipes. "Those events mean a lot to people, and I've already been requested to do one, but I'm not quite there yet," she said.  When she is ready for an event, it will not be by accident, but it will surely provide an opportunity for more of those cherished serendipitous moments.