Photos by Jamie Alexander
High school sports in Kentucky have a long and storied history. And without a professional team to call our own, fans swear their allegiances to blue or red, flock to football fields on Friday night (pre-COVID), and pack high school gyms during the winter. Athletes like Wes Unseld, Tim Couch and Owensboro's own Rex Chapman are known and revered throughout Kentucky as proud representatives of our state. Yet even with the multitude of gifted athletes that suit up for their high school teams each year, it's been some time since the Commonwealth produced a truly transcendent talent. And now the next one may be in our own back yard.
But you wouldn't know it simply by speaking with OHS Junior quarterback Gavin Wimsatt. There's a popular sports adage that says, "Let your game do the talking" – and Wimsatt does just that.
Part of what makes Wimsatt special as a player are both his game and his frame – which wreak havoc on opposing defenses, and have college coaches more than eager to recruit him. The quarterback position has evolved significantly over the years, from the introduction of the forward pass, to standing patiently in the pocket, to today's signal callers, the best of which rely not only on their arms, but also their athleticism to push their teams down the field. Quarterbacks like Russell Wilson, Patrick Mahomes and Lamar Jackson have become the gold standard, and when it comes to style of play and athletic ability, Wimsatt fits the mold.
During his sophomore campaign, his first season as starting quarterback, Wimsatt amassed eye-popping statistics of 2,792 pass yards, 31 passing touchdowns, 564 rushing yards, and 12 rushing touchdowns. And through his first 6 games of this season, he's thrown for 1,143 yards and 12 touchdowns, and picked up another 4 touchdowns on the ground. But even more impressive than his on-field accomplishments may be his down-to-earth attitude. Amidst a maelstrom of recruiting activity, Wimsatt remains calm.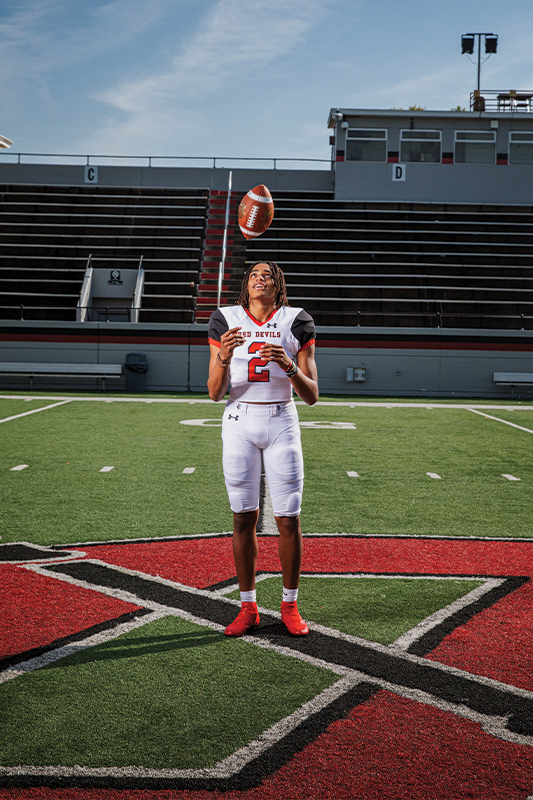 I interviewed Wimsatt on a Thursday night, the day prior to their clash with cross-town rival, Owensboro Catholic. Anyone who knows high school football in Owensboro knows that these contests are always intense, and that there's no love lost when these squads meet. But when asked about his preparation for a big game against a city-county opponent, Wimsatt didn't go the way of talking trash or boasting about his own abilities. Instead, he recounted his routine of a good breakfast, watching film to scout the opponent and correct his mistakes, and staying focused on the game that night. On the following night, as it does most nights, that steady routine and humble attitude paid off to the tune of a 28-14 victory that saw Wimsatt throw for a season-high 305 yards and three touchdowns.
When he's not on the field, Wimsatt says he spends time with his two older brothers, Rashai and Darrion, who inspired him to start playing football at age 5. And, as is evident from his stat sheet, while Wimsatt is certainly not your average athlete, he comes across in conversation as a regular teenager, with his summer spent swimming, fishing and cooking with friends and teammates.
But he also spent time this summer honing his game. The challenges of COVID-19 made both his training and his recruitment look different than they might in any other year, but they certainly haven't slowed down Wimsatt's momentum. In addition to working with a quarterback trainer on his passing skills, as well as his speed and agility, Wimsatt also emphasized the work he put in to stay mentally focused. For Wimsatt, that aspect, along with leadership, is the most important attribute of a quarterback. "The whole team follows you, and it can't be based only on your game. I just try to keep my head up and motivate everybody," Wimsatt said.
The fruits of his summer labor can be seen not only in his team's record and his impressive individual stats, but also in a series of videos he put together to showcase his talents to college coaches. With 19 scholarship offers, including Kentucky, Louisville, Notre Dame and Michigan, among many other top-tier programs, Wimsatt definitely got their attention.
So in addition to watching film, going to practice, playing on Friday nights, going to class, and finding time to spend with his friends and family, Gavin also stays busy talking to college football coaches as they pitch the gifted recruit on their respective schools. Those coaches are limited, depending on the time of year, to how they can communicate with football prospects, either through calls, text or social media. But it only takes a quick look through Wimsatt's Twitter feed to see how much attention the nation's top programs are focusing on the Owensboro junior.
Wimsatt has yet to decide where he'll be playing college football in 2022. But one thing is clear: not only will his coaches at the next level have a star quarterback, they'll also have a terrific teammate, and a humble young man who, despite all his success thus far, still strives to get better every day.