Enthusiastic, extremely personable and multi-talented, she began making sweets at age 17 out of her home, following in her Aunt Paddy's footsteps. After graduating from Sullivan Culinary School, Haley Miller came home to Beaver Dam, to the family who had supported her endeavors, to open Kentucky Wildflour Cakes. Recently, she appeared on Food Network's Holiday Baking Championship.
"I've always loved being in the kitchen," she said. Haley's mom has a picture of her rolling out fondant at age 6, helping her aunt prepare a cousin's wedding cake. "I'm sure whatever I was doing did not go into the cake at the time, because it probably was not good, but I think that's where it started; I've always loved working with that stuff (fondant) and I've always had an interest in art," Haley said. Combining both interests allowed her to create "edible art," as she calls it.
It's not always sweet. In the beginning, Haley wanted to shut her doors and close the business. She realized she could not please every customer who came through the doors. Her sister asked if she wanted to make something that looked good or tasted good. Haley said she wanted to do both. "I want people to enjoy it, but love the look of it before they try it," she said. That's the ultimate challenge: to make everything look good and taste good, as well. Other challenges come in time management (especially with being a young mom), and in earning the trust of customers who are ordering a cake for a very special occasion from a very young pastry chef. She takes her responsibilities seriously, and likes the advantages of setting her own hours. She told her dad, "I can fire myself anytime, and rehire myself anytime, as well." Haley does likewise with her dad; sometimes he's her main delivery man, and other times he's "fired" until further notice.
"My dream was to be in downtown Beaver Dam. When I found this location (105 N. Main St.), I felt like it was meant to be—and I hope to retire here. I don't want to move anymore," Haley said. In her first location, she jokingly said, "I could probably decorate cakes and wash dishes at the same time; it was so small."
Unique to the bakery business is the close interaction with her customers, seeing the delight and smiles on their faces before they dig in. From the antique display case, customers can select a variety of freshly-baked specialty cupcakes (cookies n' cream, Andes Mint, orange dreamsicle), macaroons, peanut butter cookies and, eventually, pies. She anticipates offering daily specials. Open Tuesday-Friday (10 a.m. – 5p.m.) and Saturday (8a.m. – noon), Kentucky Wildflour boasts all homemade and hand-decorated products. Many of Haley's recipes originated with her family. Oftentimes, the bakery sells out the bakery case. They have a reputation for their distinctive butter-cream icing and all hand-painted or sculpted designs.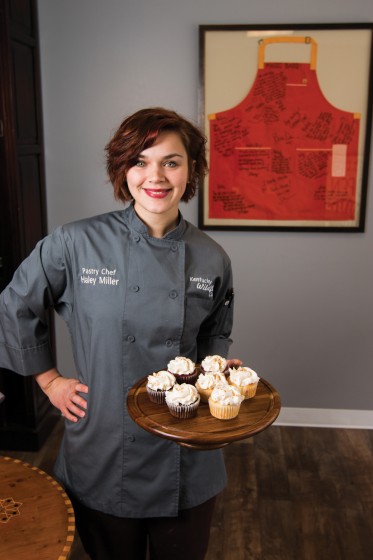 The custom cakes—wedding, anniversary, birthday and special event cakes—are the mainstay of Kentucky Wildflour Cakes. As the business continues to grow in popularity, Haley receives 10-15 custom cake orders to fill weekly. Customers are booking their orders weeks to months in advance. All of Haley's designs are original. "You eat with your eyes first," so Haley devotes herself to the cake's design.
As for any no-no's in the baking business, she laughed as she said, "No eggshells in the batter."
Since childhood, Haley and her older sister wanted to open a coffee shop, one that served specialty / flavored coffees. "That was always our dream to do that. Then I became a pastry chef and the cake side took off before the coffee, but we're finally now getting the coffee side going," said Haley, explaining coffee will be the next addition to the storefront. At this point, Kentucky Wildflour Cakes is a business of one; Haley bakes, shops, serves, cleans, takes phone and online orders, and decorates.
"It's hard to say that I'm the only employee, because I have so many family members that love to come in and help with everything . . . " Haley said. Although she custom-designed Kentucky Wildflour, her family helped it become a reality. With her dad in the construction business, the remodeling process was simplified. In addition to an attractive storefront (a combination of hardwoods, grays, purples; display cases; ample seating space; and large updated restrooms), Haley now has "the bigger kitchen of her dreams." She invested not only design expertise into the remodeling project but also sweat equity, with the official opening in mid-November 2015.
During the summer of remodeling, the Food Network asked Haley to audition for their show. Talk about busy! From the thousands who auditioned, she made the cut. That experience definitely impacted her business, locally and beyond. She has been asked to ship her creations well beyond Kentucky.
Valentine's Day will feature "conversation heart" cookies with custom sayings, homemade fudge, and chocolate on chocolate cake with ganache and topped with strawberries. Are you drooling yet? I am. How sweet it is.