A second Orange Leaf location is days away from opening.
Owner, Roger Ellis, told OwensboroLiving he hopes to open his 54 Orange Leaf location before the end of next week.  Final inspection is planned for the beginning of next week.
The new location is in Lake Forest Town Center on 54, next to Fetta pizza.
The reason for opening a second store on 54 is simple: popular demand. "People on this end of town kept asking us when we were going to open a 54 location," Ellis said. "With all the expansion out here, we decided now is the time."
Orange Leaf corporate is integrating several changes nation-wide in the coming months, which the Frederica store will also be adapting, but Ellis said the 54 location has been selected to be a test market for some of those changes when it opens.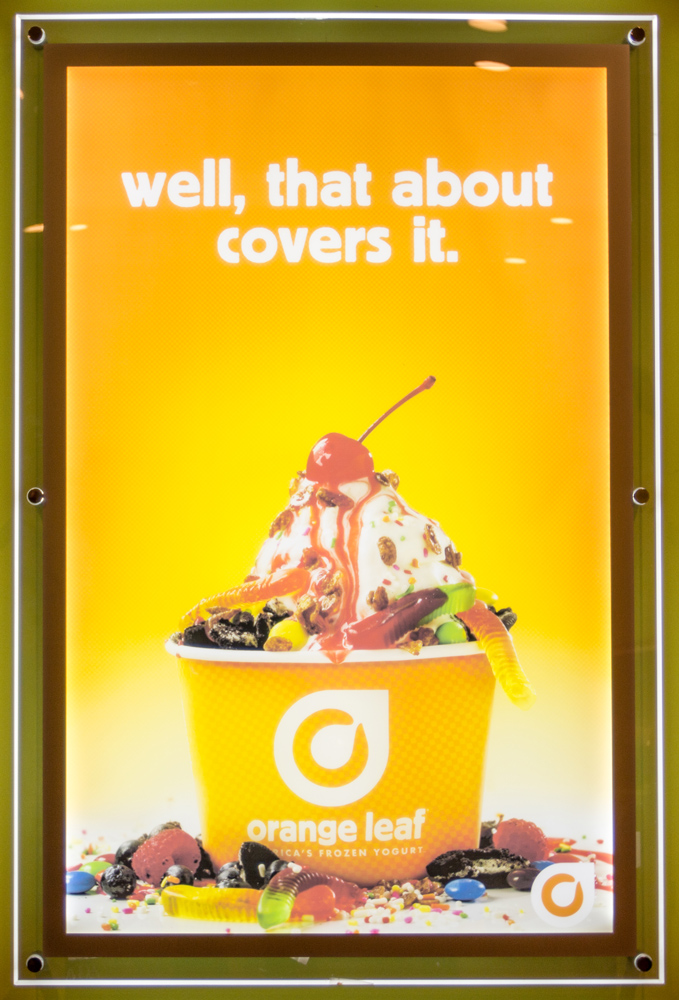 New Sizes
The 54 Orange Leaf will offer three serving sizes, each with a set price.  No more paying per ounce.
"Now you can pick your size, pay a set price, and fill it up as much as you want," Ellis explained. "This is a great change for our customers because it takes the guess-work out of it.  Each cup size is now one low price."
The largest cup size is $5.99 plus tax, which is the max you will ever pay for a cup of Orange Leaf, no matter how much you pile in.
Now families will know exactly how much each cup will cost. And parents will no longer have to worry about smaller children filling their cups with way too much because they can choose a smaller size cup.
Swizzles
The other new feature will be the "Swizzle" – Orange Leaf's version of a blended treat. "Now you can choose your flavor and your toppings, hand it to us and we'll blend it up for you," Ellis explained. "People think of Orange Leaf as a destination because it's fun. Our customers will really like Swizzles."
Down the road, other new Orange Leaf products include frozen yogurt cakes and smoothies this summer.