If you tuned in to the Nat Geo Wild channel last month, you may have spotted some local animal rescue celebrities. Nikki Christian, of Sacramento, Kentucky, and Kristin Allen, of Owensboro, were featured animal rehabbers on season 2 of Bandit Patrol, which aired on Saturday nights at 9 p.m. from February 27-March 26. The series "showcase[d] strong, intelligent women who rescue wild animals," said producer Francis Cordero.
This season was Kristin's second on Bandit Patrol, and Nikki's first. When Kristin started Skyping with JWM Productions out of Maryland in 2013 to pitch the show, she never dreamed it would become a reality. "It still doesn't seem real," Kristin said. "We are the second-highest rated show on Nat Geo Wild, and I am so blessed to have a loving family and great friends to save animals with me."
Taping for season two occurred from March until September of 2015, and there is talk of a third season. As soon as a rehabber received a rescue call, she notified the film crew stationed in Owensboro. The rehab process was then filmed every step of the way, from rescue to release. During Nikki's first filming, she received a couple of calls within 30 minutes about two different Great Horned Owls. Nikki only had one animal carrier in the car, so her daughter, Jaci, held one of the owls in a knapsack on her lap.
What is an animal rehabber? According to the Kentucky Department of Fish and Wildlife Resources, he or she is someone 18 years of age or older who has been licensed through the state to "rescue, raise, and arrange for veterinary medical care of orphaned, sick, displaced, or injured native wildlife with the prudent goal of releasing the wildlife back to its natural habitat." In collaboration with Dr. Nathan Kunze of Audubon Animal Hospital, Nikki and Kristin help mammals, reptiles, and amphibians. The veterinarian does the initial assessment and stabilizes the animal, and then the rehabber cares for the animal until it is ready to be returned to the wild. Some of their most common cases are raccoons, rabbits, skunks, squirrels, and opossums. In episode three of this season, "All Shell Breaks Loose," Nikki and Kristin cared for baby foxes that they introduced to each other.
In order to receive a rehabber license, one must take a basic wildlife course through the International Wildlife Rehabilitation Council, have his or her enclosures assessed by a game warden, and pay a $25 application fee. A list of all animal rehabbers in Kentucky and their contact information can be found at http://app.fw.ky.gov. Kristin explained, "If someone finds an injured animal, they should call us right away. The quicker we get the animal, the quicker that animal gets help."
If a bird of prey is in need, then they work with the Western Kentucky Raptor Center, because a state-licensed rehabber can only keep such an animal for 72 hours. A bird-of-prey license must be acquired through the federal government, so it is not as common. However, Kristin's son, Grant, has his. On episode two of this season, "Spunky Skunk," Kristin and Grant visited a baby vulture at the facility, which is off Highway 144. The bird had been abandoned in a dilapidated corn crib in Dawson Springs and was rescued by Nancy Reynolds, another costar from Madisonville.
Also featured on the show are Linda Williams, who runs Misfit Island Wildlife Rescue Center in Henderson, and Brigette Williams, of Second Chance Wildlife Center, just outside of Louisville in Goshen, Kentucky. All the women work closely together both on and off camera. Kristin explains, "If we need advice or guidance, we turn to each other. It is a beautiful relationship, always with the well-being of the animals coming first."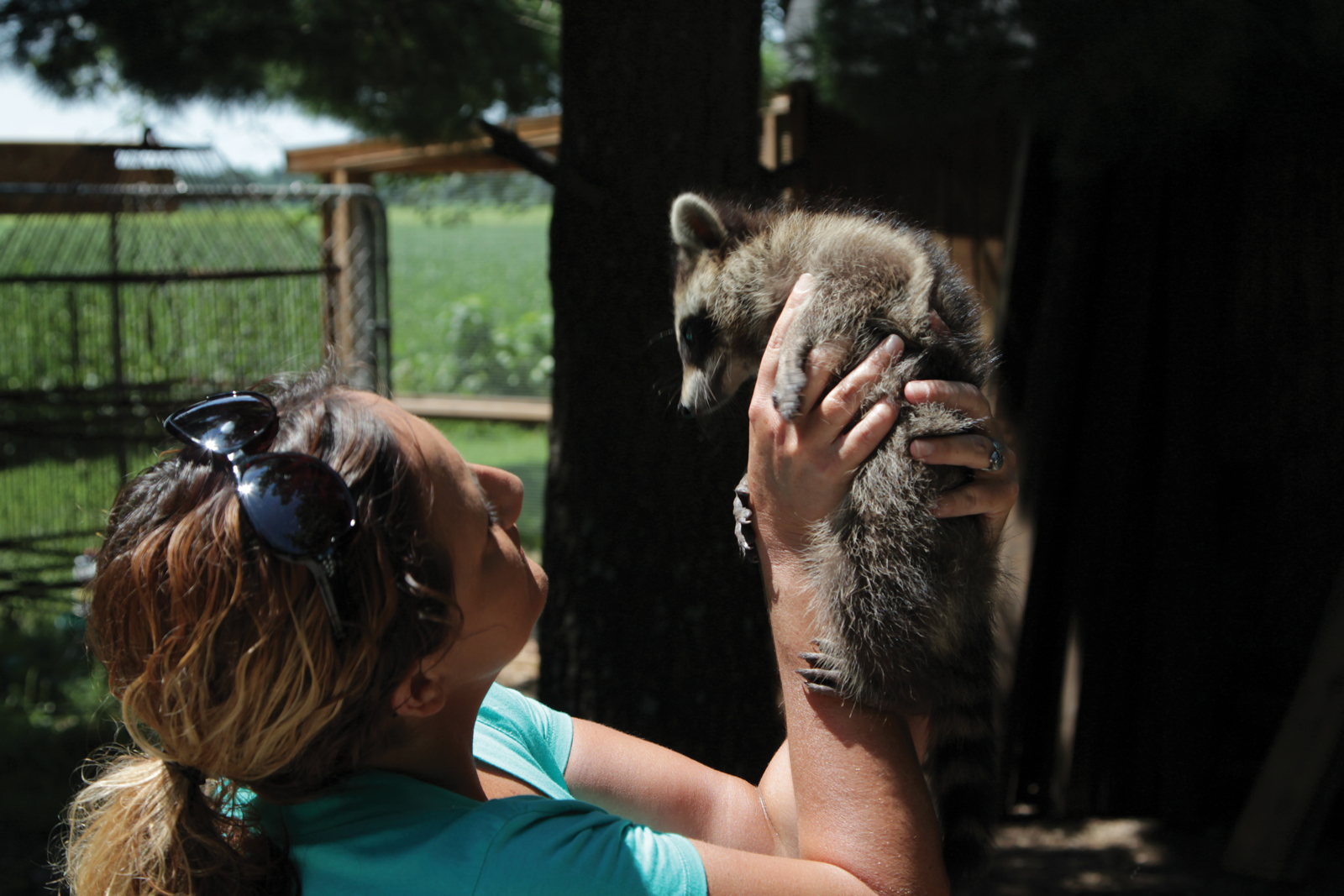 The job of animal rehabber is one of compassion and selflessness. The women house animals on their own property with their own money in their spare time. Nikki is a full-time registered nurse in the recovery room of Owensboro Health Regional Hospital, who works 12-hour shifts. This makes it impossible for her to give rescued neonates the TLC they need, so she gives the babies to Nancy or Kristin to bottle-feed. Kristin runs a photography business, as well as Nurture to Nature Wildlife Rehabilitation Center and Sanctuary, so she has a more flexible schedule, albeit still busy. In turn, Nikki takes older animals to her home, which is how she came to be on Bandit Patrol. During filming of season one, Kristin took seven squirrels to the Christians, and immediately afterwards, National Geographic asked Nikki to join the show.
At both the Christian and Allen households, taking care of the animals is a family affair. Kristin's older children, Adrienne and Grant, are state-licensed wildlife rehabilitators, too; her husband and younger daughters, Madeline and Sophia, also pitch in. Nikki called her son, Jackson, the "muscles" of her operation, because he and his dad, Jarrod, build the enclosures on their site. Jaci used to be scared of the wild animals, but not anymore. Now she wakes up early every morning so she can feed the animals before she leaves for middle school, and she cleans their litter boxes. In fact, she wants to become a veterinarian who rehabs animals when she is older. "From when we take them in when they are little to when we let them go, it is just a joy to do," Jaci shared. "It's always so sad when we let them go, but I know that it is the best thing for them."
One of Jaci and Nikki's favorite "pet" projects is a skunk they named Flower, like in the movie Bambi. The skunk was found on the side of the road, still trying to nurse from its deceased mother. Little Flower needed some extra TLC and often slept snuggled up on Nikki's chest. Eventually, Flower was introduced to nine other skunks, and they were later released on the 100-acre farm behind the Christians' house.
Spring is the busiest season for animal rehabbers as populations rapidly reproduce. At her peak last year, Nikki housed 14 opossums, 10 skunks, 8 raccoons, 7 squirrels, and 4 flying squirrels. Obviously, ample supplies are needed to house such numbers, but the state does not provide funding. Some of their medical necessities are provided by Supplies Over Seas. Nikki cans leftovers from her own garden and collects pumpkin seeds from local patches after Halloween. Donations of tree nuts, cat and dog food, and litter are always appreciated, as are baby items such as blankets and stuffed animals. More specific items can be found on Nikki's wish list at Amazon.com, and donations to help Kristin's efforts can be made at http://www.nurturetonature.org/.
If you have a wildlife emergency, contact Kristin Allen in Daviess County (270-993-6022) or Nikki Christian in McLean County (270-993-0128). Please remember, the rehabbers help animals native to Kentucky that have been injured or abandoned. Sometimes it can be difficult to tell if an animal has been orphaned, or if the parents are simply away finding food, but you can learn more at http://secondchanceswildlife.org/is-it-really-orphaned/. Also, it is illegal for a rehabber to trap nuisance animals.
You can catch replays of Bandit Patrol on the following channels: Dish Network 190, DirecTV 283, or Time Warner Cable 130. Video clips are available on YouTube, and you can follow the series on Facebook and Twitter at #BanditPatrol.