On Saturday, October 8, 2016, Owensboro endurance athlete, Dean Roberts, will jump in the Pacific Ocean with 2,000 of the world's top athletes at the start of the 2016 IronMan World Championship in Kailua-Kona, Hawaii.
Roberts says the two most common reactions he gets are "how much training does that take?" and "why would you want to do that?" Those questions are expected, but they aren't easy to explain.
Admittedly, not everyone "gets it." Swimming, biking, and running for an entire day sounds crazy to most. Because it is crazy. IRONMAN was started in 1977 as a challenge to athletes who were successful in endurance swimming, running, and cycling events. A Honolulu couple proposed combining Hawaii's three toughest endurance races into one event for the toughest of the tough. They called the event "IRONMAN." Fifteen athletes accepted the invitation to "Swim 2.4 miles! Bike 112 miles! Run 26.2 miles! Brag for the rest of your life!"
Thirty-nine years later, the IRONMAN brand has spread around the world through local events. The IRONMAN World Championship is still held each year in Kona near the original location on the big island of Hawaii.
Roberts secured a coveted spot at Kona on May 14 in a Woodlands, Texas event, where he snagged one of 75 Kona slots designated to the Texas qualifier, by placing fifth in his age group. (Only the top six qualified.)
To do so, he had to overcome a last-minute course alteration, a 5-minute penalty during the bike portion, and a thunderstorm during the run. How did he do it? Well, that's a long story…
From Lakewood to Louisville
Of the three portions of an IRONMAN event, running came most natural to Dean. Roberts started running in the third grade at Thruston Elementary, and was a member of legendary Daviess County High School cross country coach Tony Rowe's first state championship team in 1982.
As a young man, he stayed active and ran with a group of guys who trained for 5Ks and eventually marathons together. But when he decided to borrow a road bike and try his first Lakewood Valley Triathlon (near Whitesville), the swimming portion posed a real problem.
"I panicked," Roberts said, recalling how he resorted to the backstroke, treading water, and doing whatever he could just to finish the swim. Dean's wife, Paula, later told him he was the last person out of the water. Consequently, he pedaled his bike as hard as he could to make up for lost time, which resulted in excruciating leg cramps when he started his run.
He called the experience an "eye-opener." "It made me realize this is totally different than anything else I had ever tried before. So if I'm going to do this again, I need to train differently and be prepared."
It took him another ten years before he tried again, but the triathlon bug had bitten him nonetheless. By that time, his two kids, Bethanie and Jacob, had moved on to college. Now he had time to commit to improving. "I felt it wouldn't be fair to my family do that much training," Dean explained. "It also wouldn't be possible without such a supportive wife. Paula is very athletic as well, and is very accommodating of my schedule." His second experience at Lakewood was much better.
By the time he attempted his first IRONMAN in Louisville, his improved open water swimming skills allowed him to stay competitive transitioning out of the water.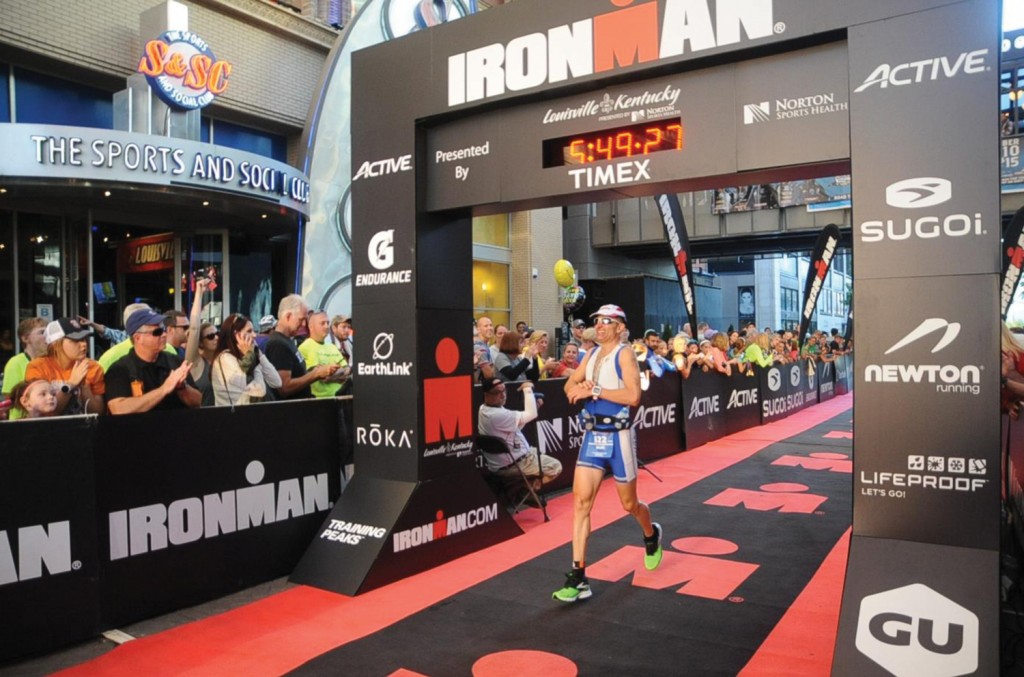 On to Texas
In his first IRONMAN in 2013, Dean finished twenty-fourth in his age group. He improved to eleventh place in Louisville in 2014. Last year, he finished sixth in his age group, and just missed qualifying for Kona by one spot.
"Paula and I talked about it, and I decided since I was that close, I should try to qualify in Texas this year since this is the best year for me to go for it." Having a December birthday is a good thing for an IRONMAN athlete. Age groups are determined by the athlete's age at the end of the calendar year. So this year, Roberts will still be 49 at Kona but will be competing in the 50-54-year-old age group because he turns 50 in December.
And so it was that Paula and Dean, along with their son and his fiancé, headed to Texas, outfitted in bright yellow IRONMAN shirts.
Just like in life, an IRONMAN event throws many unexpected challenges at you.
Just before the Texas event, heavy rains caused major flooding, forcing race officials to change the bike and swim courses at the last minute. The newly-formatted bike course had 90 turns, which made riders nervous, but Roberts says it turned out to be a fast course.
Until he had to sit out for a 5-minute penalty, that is.
Unlike in competitive cycling, where drafting in pelotons is part of the strategy, IRONMAN events are considered individual events. Meaning: you are not allowed to draft.
"You only have 30 seconds to get your front wheel ahead of the person you're passing. Then they have 30 seconds to drop back behind you out of your draft," Dean explained, referring to the group he was leap-frogging near the 50-mile point. "Apparently, the officials thought we were racing too close and they red flagged us."
The red flag meant Dean and the other flagged riders had to pay a 5-minute penalty at the mile 75 tent, which was quite a setback. To make the best of it, he took the opportunity to rest his legs, regroup, and remain positive.
The thunderstorm that popped up during the run portion was another surprise. Motivated by a few cracks of lightning, Dean gave it all he had left to cross the finish line before the storm got bad. Just after finishing, more flash flooding occurred.
That night, IRONMAN officials reevaluated the finish places because of the thunderstorm, since the run was postponed for lightening. Dean finished fourth in his age group at the finish line, but when the results were finalized, he ended up getting the fifth place award. As it turned out, there were six Kona slots allotted to his age group, so Roberts was able to secure his spot for Hawaii.
Preparing for Kona
So how does somebody in Owensboro train for an IRONMAN? For Roberts, it means spending a lot of time swimming at the HealthPark, alternating with open water training in the lake at Windy Hollow. There is no way to get ready for the ocean swim at Kona, but Dean and Paula are flying out a week early so they can swim in the ocean and ride the bike course.
As for the bike portion, Roberts focuses on pacing and staying down in the aero bars during his long practice rides, which requires riding lots of loops. One of his favorites is a time trial course at Panther Creek Park that is a 10-mile loop.
The day after this interview, for example, Dean was planning a 7-hour workout swimming in a lake, then biking ten 10-mile loops at Panther Creek and running. Always the encourager, Paula hands him a water bottle each time he passes her on the loop so he wouldn't have to stop, just like a real race.
The rules state that competitors have 17 hours to complete the course and hear the announcer yell "You are an IRONMAN!" But being competitive takes much more time and commitment. "The way I see it, I'm only going to Kona once, so I want to give it my all and see what I can do."
Dean has three goals:
1) To finish the race. This is no guarantee. As he learned in Texas, you never know what could happen in an IRONMAN event. "I've never done an ocean swim. There's a potential for 60-mile-an-hour crosswinds on the bike. Plus, we have to deal with high heat and humidity," Roberts explained.
2) To break 10 hours. If he does finish, his goal is to beat his best time, which was 10 hours 9 minutes in Louisville in 2014.
3) To be in the top 5 in his age group and podium.
To reach those goals, Dean has hired an online coach to develop a detailed training plan. Dean records the workout statistics online; the coach gives feedback and makes adjustments. "I've learned a lot from my coach. Some key things he has helped me fine tune are my pacing on the swim and the bike and race-day nutrition," he said. The coach suggests consuming 360 carbohydrate calories an hour on the bike. "With pacing and fueling, I've had more energy to run when I get off the bike."
His strategy for dealing with the Hawaiian heat is to fill what Paula calls his "Jar Jar Binks" hat with ice, which worked pretty well in Texas in August. According to Roberts, "Preparing for the heat and developing a strategy for staying safe is key to finishing strong."
But that still leaves us with the "why" question. What part of 10 hours of exertion is enjoyable?
"The challenge is certainly part of it. You fight the course. You fight the heat," Roberts began to explain, pausing to reflect and find the right words. "But really, it's because I believe that God has given me a gift to excel at endurance events. First with cross country, then road racing and marathons. Now it's with IRONMAN. I feel like He has a purpose for me and I'm working toward that."
On October 8, Dean Roberts will be working toward that goal by representing Owensboro on the world stage. And doing his best to make it back to Paula at the finish line. Just like always.
This article was originally published in the October/November issue of Owensboro Living Magazine.