Going into its 19th season and being the first of its kind nationwide, Friday After 5 has grown exponentially into a 17-week fun, free, friendly, family-focused event that now encompasses much more than the RiverPark Center patio. Their $160,000 budget is supported solely through sponsorships, which provide five music venues: in the courtyard; on the RPC patio; gospel music in Cannon Hall (6 events supported by Glenn Family Services); on the overlook stage (Bluegrass jam sessions); and new this year will be the Party Pier—opening mid-June. The courtyard features acoustic music, but the other areas offer a smorgasbord of music genres. According to Kirk Kirkpatrick, executive director of Friday After 5, one of the big surprises is that one of every six attendees at FA5 is from out of town.
Class "pre-unions" are another successful Friday After 5 venture provided at no charge – 30 are scheduled this year. "It's very simple. We know they do not have any money, so we don't charge them anything. If they register with us, we give them a free table and chairs in the lobby for a little registration meeting place . . . we will help promote the fact that they are having a little 'pre-union' at Friday After 5 . . . free band, great venue, beautiful view, something for their kids and a cash bar—and it doesn't cost them anything. That's become a nice addition," Kirk said.
"Friday After 5 began with a handshake. We went to the RiverPark Center . . . we will produce these shows for you; you give us the RiverPark Center at no cost. We will do all the work. We will get the sponsors, get the bands, take care of the insurance . . . we will do everything. All you do is sell the food and drink and you keep all of the money. It makes a lot of money for the RiverPark Center . . . that's part of our mission. It likely makes them more money than any specific series they have," Kirk said. As a non-profit, FA5 charges a $35 fee for street vendors, but that fee is waived for non-profits. "Whether it's Dream Riders or Hospice, Boys' Club or Girls' Inc., we want to give them exposure and help them. A lot of people don't realize how valuable that is to them (the non-profits); they are so appreciative," Kirk said. The kick-off featured a non-profit block party. Friday After 5 has a different theme every week.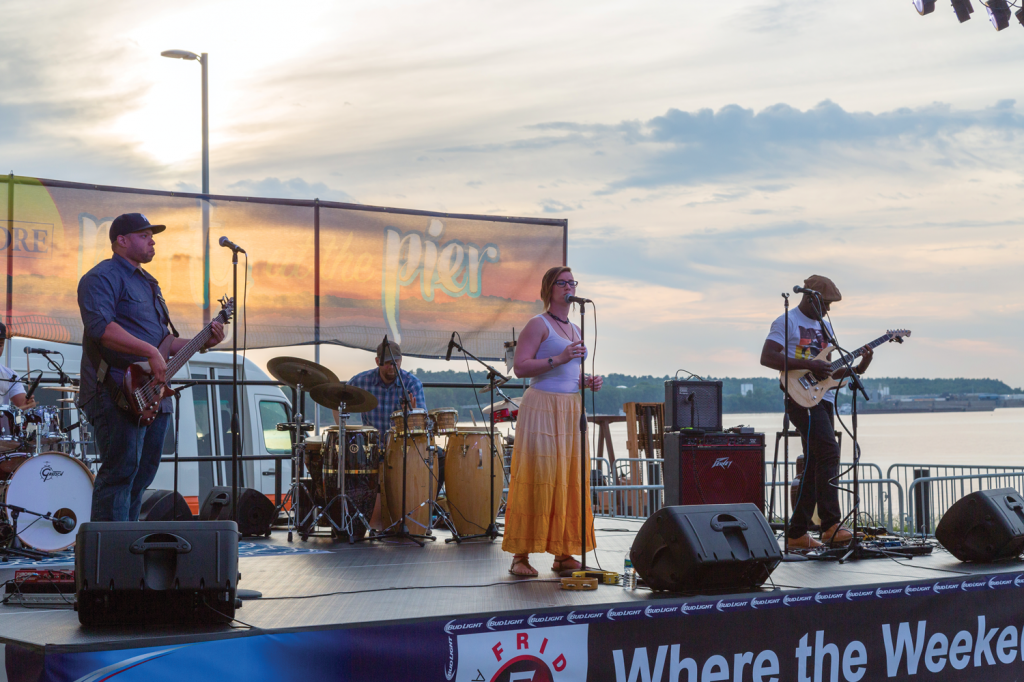 The City of Owensboro is one of their sponsors, providing a small grant to FA5, but the City is not responsible for any of the logistics. A minimum sponsorship is $5000, with some being corporate sponsors and others being weekly sponsors. It depends on the band and the weekend, according to Kirk. To their delight, Friday After 5 has a short waiting list of those wanting to support the event. "We are totally sold out for our weekly sponsors," Kirk said, "and we already know of some who wish to be sponsors next year, which is great." As executive director, Kirk is generally responsible for acquiring sponsorships, but a viable network of 20+ volunteers supports his efforts.
"Every year we have a different chairman, the chairman of the event. Last year it was Chad Hart. The year before it was Brandon Gentry . . . this year it's Andrew Howard. They are all 30 years old or younger. What we try to do is provide leadership opportunities for our young professionals. We don't want an old guy like me going out…They are responsible for meeting with each of the sponsors, which is great networking for them. They are responsible for overseeing the specifics—every stage has a producer and an assistant producer—including the street fair, the Party Pier, the courtyard, etc. These are the people that book the band; they get the W-9s; they get the signed contract; they set up the stage. It's a big job," Kirk said. "Nothing is overwhelming, and I'm there as a safety net, but we want them to get involved in the community." He sees it as an important learning position for these young leaders, a launching pad of sorts, which takes them on to other volunteer positions within FA5 and ultimately in the community. These individuals represent the unsung success of Friday After 5. "Providing these learning / leadership opportunities is honestly one of the best things that Friday After 5 does that people don't know," Kirk said. The well-organized infrastructure of a chairman (the spokesperson), vice-chairman (chairman in training), producer, and assistant producer is critical to Friday After 5's continued success.
Brandon is now chairman of the board of directors for FA5. "Kirk has a remarkable ability to get people to buy into not just being a volunteer but making a difference. That resonated with me," Brandon said.
Three things allow FA5 to get great pricing. First, the event is on a Friday night, not a Saturday. Second, it's a fabulous venue for exposure for the performers. Third, it's over at 10 o'clock. The band actually begins playing at 6:30 p.m.; on the Party Pier it's 7:30-11 p.m. "If people say to us that they'd like to get that band for their wedding, we say talk to the band. We don't reveal because they give us pants-on-the-ground pricing," Kirk said. Most bands are booked six months in advance. An easy submission form is available online, and over 170 bands applied this season.
Weather is certainly a factor in FA5's attendance, but they seem to have steady attendance regardless, since the shows go forward, rain or shine. Kirk estimates a 60,000-70,000 attendance over a season's span—May 15 through September 4. In regard to the strategic booking of bands for specific dates, Kirk said, "It's a real recipe that's difficult to give you. We are flexible enough to do things with common sense. We try to have different genres of bands, we have to juggle that. We also have to juggle our pricing, and we have to juggle our sponsors."
Toast to the Sunset at Friday After 5 this summer after enjoying five free music venues with friends and family. As Kirk said, "It's an opportunity to get off your telephone and talk to people face-to-face." It may even be an opportunity to be photographed with your friends, in the now-famous red frame featured on their Facebook page. Simply fabulous!