*This article appeared in Oct/Nov '17 issue of Owensboro Living.
For most of us, going to the movies is a fun, relaxing escape from reality. For Fatu Litsey, being in a darkened theater full of people triggers anxiety. At the Owensboro Air Show last year, the jets overhead brought back childhood memories of planes that brought death and destruction to her village in Africa.
Even though those triggered memories happened long ago, and Fatu is now an adult living safely in a loving, supportive environment with her adoptive family in Whitesville, those types of responses made Fatu realize it was time to deal with the past.
To make sense of what happened to her as a child, Fatu started writing down her memories of growing up in the village of Mafunta in Sierra Leone, Africa. Life was good until the civil war broke out over possession of the region's diamond fields. To make a long and graphic story short, rebel soldiers terrorized and mutilated thousands of innocent civilians, and Fatu fell victim to a horrific attack by a soldier with a machete, striking the young girl just above the right wrist. But miraculously, Fatu survived.
"That's really why I started writing, to deal with what happened so I could go on with my life," Fatu explained. "Mainly, I started writing to make peace with it."
But Fatu soon found an unintended purpose from her recollections. As the story of her life unfolded on paper, she began to share it with friends and family, who responded to her bigger story of hope and healing. She says it was their prompting that inspired her to turn her recollections into a book. "That way, somebody else could read it and turn it into a blessing."
The final product, titled More Than a Survivor, is now available on Amazon as an eBook or paperback.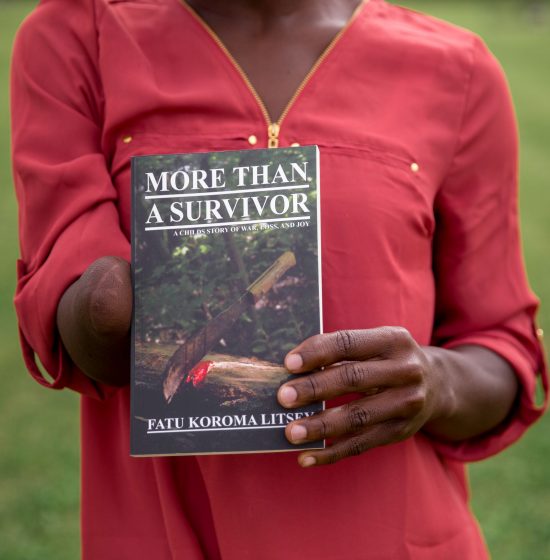 If the cover image strikes you as disturbing and hard to look at, that's because it is. "It is not a friendly picture, but it's not a friendly story," Fatu said, explaining the back-and-forth debate on whether to use that image for the cover. But it depicts the defining moment exactly as Fatu remembers it. And although the machete is native to Africa, the photo was actually taken by Fatu's brother on their grandparents' property in Whitesville.
As for her plans after the book, "I'm looking forward to seeing how my life is going to work out now that I've made peace with it."
A teacher at Apollo High School invited Fatu to speak to his classroom since the class had just finished reading Long Way Gone, a book written by a child soldier in the civil war in Sierra Leone. "It was nerve-wracking, because I didn't know how to present it, but it went well. I used a PowerPoint, and they asked a lot of questions," Fatu said. Based on Facebook comments by the students that evening, it was a powerful presentation.
Next, Fatu has been invited to be on Theresa Rowe's radio show "Shaped by Faith."
"It gets easier the more I talk about it," Fatu says. " The more I talk about it, the more it will be a blessing to other people for them to see how God is at work in my life, and for them in what they're going through, too." 2
Owensboro Living had the privilege of speaking with Fatu about the process of writing and self-publishing the book.
OL: What was the timeline like for your book?
FL: I started writing my memories in 2014, and the memories were coming more and more in 2015. By 2016, it was starting to become more like a book. Then, after several more drafts, we published it in 2017. The eBook first, and then about a week later, the paperback.
OL: When I read the book the first time, I was struck most by the chapter on forgiveness. 
FL: It's hard to forgive someone who can't actually apologize. I didn't know those people. It was war. They didn't ask my permission. They just randomly picked me, and I was next. But because of my faith in God, I knew I needed to forgive them in order to move on.
OL: So how did you forgive them? What was the process? 
FL: I think it was God working in my heart. I wasn't a Christian when that happened when I was a child. To have a better relationship with God, I had to do the hardest thing to do, which is to forgive. It was gradual. But after I had forgiven them for what they did to me, it didn't seem like such a big deal anymore, now that I've seen the power of God. Seeing how God was working in my life through it all just took the anger away of thinking 'I deserved more.'
OL: Was there anything that surprised you about the writing process? 
FL: It was hard to finish. It got to the point where I was just tired of reading about myself and thinking about all that. I would get a little depressed and have to take a break from it. My dad had to push me, but it was because he knew it was going to bless people. I also started to fear what people would think of me once they found out my story. But once I got further along in the writing, I started to see how God was taking care of me through it all. That's what motivated me to finish, because I wanted to share my story with people who were going through their own tough times. You wonder where God is when bad things happen. But God is there all along. He was helping me. And He helps us all through everything we go through. When you feel like life is over, it's not. So seeing that as I was writing my story down encouraged me to keep going and finish the book.
That's why John 16:33 is one of my favorite verses and the one I used in the book; because life is hard, yet we come out of (the hard times) because God has it all under control.