Kentucky is undeniably basketball country. Whether you bleed blue, cheer for the cards, or your allegiances inexplicably belong to a team like Duke or UNC, chances are, if you're reading this, you watch a lot of basketball. And for the fans who enjoy watching the game played live, Owensboro has two great options right in our own back yard. While they might not garner as much of the national spotlight as their peers in Lexington and Louisville, the men's squads at Kentucky Wesleyan College and Brescia University play an exciting brand of basketball. With this feature, Owensboro Living wants to give you an introduction to the best basketball you may not (but should) be watching.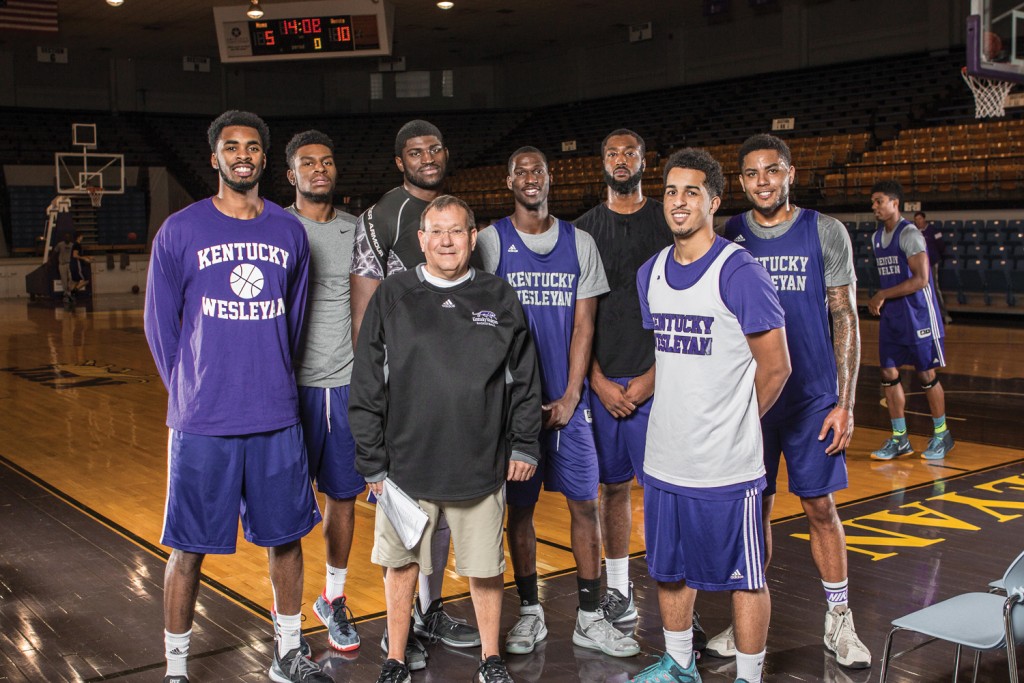 KENTUCKY WESLEYAN PANTHERS
If you live in Owensboro, you surely know something about the history of KWC men's basketball. From 1966 to 2001, the Panthers have brought home eight NCAA Division II championships, the most by any D-II school. In their 105 years of playing the sport, the purple and white have been a collegiate powerhouse. More recently, prior to the 2013-14 season, KWC ushered in a new era when they hired head coach Happy Osborne. Since his hiring, Osborne has led the Panthers to 22 wins in each of his first two seasons. This year, they're looking to build on that success, and make a run late into March. If the pre-season and their first three games are any indication, they're off to a roaring start; the Panthers narrowly lost to WKU in Bowling Green and Louisville at the Yum Center in their two exhibitions, and won their first three games by a combined total of 68 points.
And when we asked Coach Osborne about his team, he first pointed out their achievements off the court. Said Osborne, "First of all, I really like our team. We've got good kids. Our team GPA is 3.1, and I've got guys that want to work." Regarding his expectations for the remainder of the season, Osborne said, "I think it could be the best team I've had since I've been at Kentucky Wesleyan." Knowing the success they've had the previous two seasons, I'd say that's a pretty solid reason to come watch the Panthers play this year. And if you need another reason to watch a live KWC game this season, Osborne has this to say for the fans: "I hope they see a team that works extremely hard and that's very close-knit. I think they'll be proud of our work ethic. People have told me since I've been here that we'll never fill the Sportscenter again. But I know that Owensboro is the best sports city in Kentucky, and I'm counting on the fact that we have the type of product that people want to come watch."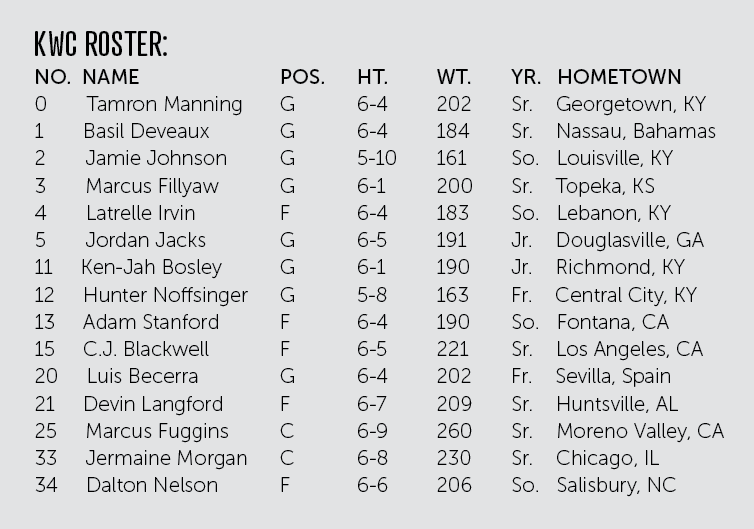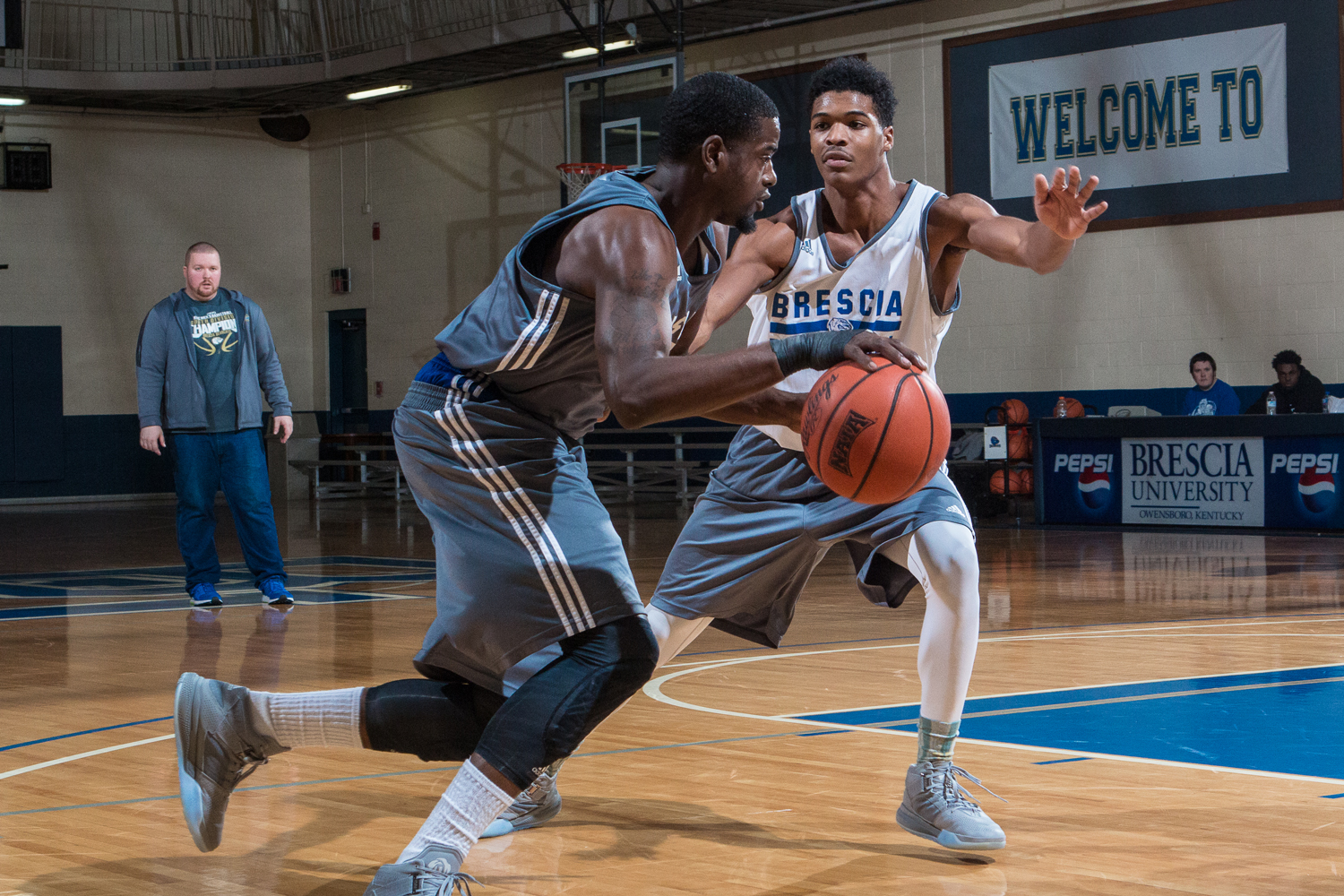 BRESCIA BEARCATS
Brescia basketball competes at the National Association of Intercollegiate Athletics (NAIA) level. Head Coach Josh Gibson is in his fourth year at the helm, and already has the second-highest winning percentage of any coach in Bearcats basketball history. His record includes a trip to the NAIA National Tournament last season, and Gibson hopes to continue to increase that percentage as BU continues their 2015-16 campaign. Through the end of November, Brescia will already have played nine games. The month of December only gets busier for the Bearcats, including matchups with D-I in-state competition in the form of WKU and Murray State, both of whom have made the NCAA tournament in recent years. As for looking to the future, Coach Gibson is taking the season one game at a time: "It's a cliché, but I hope we go 1-0 every time we step on the court. We have a lot of talent and a lot of experience. If we can stay focused on the process of getting better every day, we have a chance to be successful." A big part of that success is owed to the local talent that BU recruits. Says Gibson, "We have a lot of talent and a lot of local players on our roster. Our fans know that we play hard and we play together, and our games are fun to watch. Our fans should be excited because we have an opportunity to win every time we take the court if we play to our potential." And to have the support of the community is a big plus for Coach Gibson and his players. "We would love to have them out to our games! We have worked diligently since I've been here to build a program from the ground up based on four-year players, most of whom are from within a two-hour radius of Owensboro. Many people would likely recognize some familiar faces on the team, and we have become champions by doing things the right way and playing exciting, high-level basketball."