These four motorcycle racers are carrying the torch from the Hayden brothers, and making their own mark on Owensboro's motorcycle racing heritage.
September 23, 2018

Barber Motorsports Park
Birmingham, Alabama
It's difficult to put into words how fast these motorcycles are zooming around the race track. From my view on the second tier of the grandstands at Barber Motorsports Park, just outside Birmingham, Alabama, I can barely whip my head around fast enough to follow the lead pack as they streak past the start/finish line at 130 miles an hour. No roll cage. No seatbelts. No windshields. Nothing between the riders and the asphalt, but a leather suit and helmet.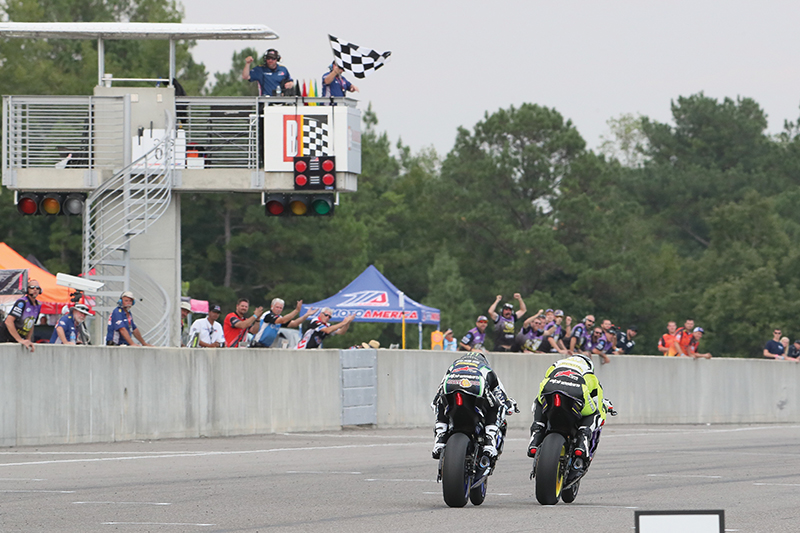 That purple and gold blur out front is Hayden Gillim, of Philpot, who is doing all he can to keep the lead and stay in front of the blue and black streak a fraction of a second behind him.
That's JD Beach, also of Philpot. When they're not on the track, Gillim and Beach are training partners and best friends who even live in the same house. But right now, they are battling for the win, side-by-side on the last lap. Even though JD has already secured enough points to win the 2018 Supersport Championship, he's not about to let Hayden win the last race of the year without a fight. And Hayden wants a victory so bad he doesn't give an inch. He knows he can't afford to. He can sense the checkered flag within his reach.
Gillim dominated the race until the last several laps, but now the two highly-competitive friends are leapfrogging all over the track, trading leads on straight stretches and in and out of corners.
The fans are on their feet as the race announcer struggles to catch his breath, intensely calling the play-by-play over the loudspeakers. Not that you can hear him over the constant roar of the 130-horsepower engines roaring around the 2.4 mile track.
By now, the field is so spread out there are riders in every section of the course, which means Gillim and Beach must also contend with passing slower riders. MotoAmerica road courses aren't ovals. The track at Barber snakes around 16 turns with several dips and rises throughout the track. The sharpest turn is number five, a menacing, paperclip-shaped beast that swallowed several bikes over the course of the weekend.
A half a lap from the finish, they flash across the back straightaway between turns 10 and 11, where it looks like half of Owensboro is standing along the shaded, tree-lined hillside cheering on their hometown heroes. Since Roger Lee Hayden, the youngest of the Hayden brothers dynasty, announced his retirement just a few weeks before, many of the Owensboro crowd came to see his last race. But altogether there are five racers from Owensboro on the track this weekend: Roger Hayden and Jake Lewis in the Superbike class; and JD Beach, Hayden Gillim, and Nick McFadden in the Supersport class.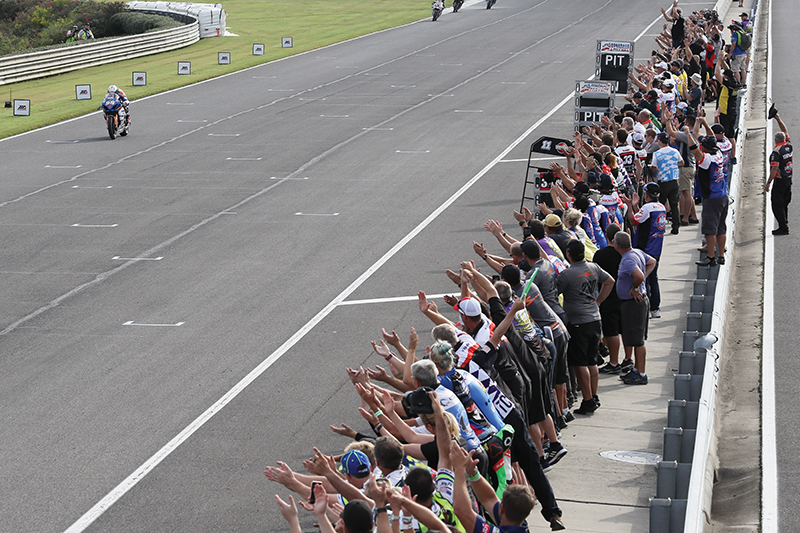 So this battle between Gillim and Beach is exactly the edge-of-your-seat kind of excitement the Owensboro fans came to see. From the grandstands, I couldn't see what happened, but apparently there was contact between Hayden and JD as they battled through the last few turns. At the final stretch, they both crouched down low, gripping full throttle, grabbing every ounce of speed as Hayden crossed the line for a photo finish just .029 seconds ahead of Beach.
You could still feel the tension between them during post-race interviews in the media center as the Superbikes took the track. Then it was Roger Hayden and Jake Lewis' turn to battle. After struggling early, Roger fought back to finish in the top 10, while Jake finished fifth.
In a very moving show of respect, all the other pit crews came to the wall during Roger's cooldown lap to bid him farewell with high fives and a standing ovation as he left the track for the last time. Following the post-race podium celebration, MotoAmerica honored Roger with a ceremonial podium photo shoot to close out his 20-year racing career. He stood atop the podium surrounded by his Suzuki team, crew, friends, and family as fans crowded around with cell phone cameras in the air. Then he took time to shake hands with fans on the way to the Suzuki hauler, and a few minutes later, Roger unstrapped his racing boots for the last time.
As the Hayden Brothers racing era officially came to an end at the conclusion of the 2018 season, the next generation of Owensboro racers started mentally preparing for the next season to continue Owensboro's long legacy of MotoAmerica championship contenders, ensuring the BigO will be well represented for years to come.
Late November, 2018
Old Hickory BBQ, Owensboro
My next conversation with Hayden Gillim, JD Beach, Nick McFadden, and Jake Lewis is much more relaxed than our last encounter at the track back in September. On this cool November day, we're sitting around a table in the back room of Old Hickory, talking racing and eating barbecue. Well, except for JD, who is still focused on staying in peak racing shape and orders two salads.
"I give myself a few weeks to eat whatever I want and just relax," Hayden says from the far side of the table. "But I'll get back into shape soon." As the others order, Hayden tells a hunting story and discloses to me that his after-retirement-from-racing plan is to be a mountain man and live off the land. But for now, he's still chasing this dream just like he has been since he was 6 years old.
If you didn't grow up in the racing scene like these guys did, there's a lot to process. I'm still trying to put the pieces together and learn the right lingo to keep up with the conversation. Following their stories starts to look a lot like a family tree chart of Hayden Brothers connections, and it's clear all four of these racers idolized and still respect their childhood racing heroes.
Nick McFadden just happened to grow up four houses down from Tommy Hayden. "I'd see him (Tommy) riding in the field behind our house, so that's how I got introduced to dirt bikes," Nick remembers. At three-and-a-half, little Nick kept asking for a dirt bike until his parents finally got him one. "We built a little track in my backyard and Tommy would come by and ride with me. That's how I got into riding motorcycles."
Jake Lewis grew up in Princeton, Kentucky, and started racing on dirt tracks at 4 years old when he got his first dirt bike for Christmas. "For me, it's a family thing because my dad raced, my uncle raced, even my grandpa raced a little bit. So it runs in the family," Lewis says.
Jake's connection to the Haydens was through his father, who used to run a dirt track series, and got to know Earl Hayden (Tommy, Nicky, and Roger's dad) when Earl would bring the Hayden kids to the track. As soon as he graduated high school, Jake moved to Owensboro and moved in with Roger. "That's when I got to know the Hayden brothers better and started training with them."
Hayden Gillim also grew up in a racing family; both his brothers raced, and he's cousins with the Hayden brothers. "I rode with my brothers a lot, but when I was getting into racing, Tommy was at the peak of his career, Nicky was just moving over to MotoGP, and Roger was coming up right behind Tommy, so we didn't see them very much."
With their three boys racing, the Gillim family built a track in the front yard when the boys were young, and built a larger one behind the house when they later bought more land. By that time, the Gillim brothers, Jake, and Nick had all become friends from racing dirt tracks and flat tracks together on the weekends.
This is where JD Beach enters the story. Originally from Washington state, JD's dad taught him to ride a dirt bike as soon as he could, and had him racing at 3 years old. "When I was 11 or 12, I came to Kentucky for amateur nationals, and that's where I met the Gillims and Jake," he says, explaining his move to Philpot. The next year, he came a week before to stay with the Gillims. The next year he came a week early and stayed a week after. And by the next year, he had decided to move in with the Gillims. The move from Washington to Philpot put JD strategically between Indianapolis, Atlanta, Birmingham, and several other tracks in this region. It also gave him a dirt track in the backyard and training partners in the Gillims, Jake, and Nick.
Bringing up all these memories from the "good old days" leads to some funny stories. "We had this Ford Econoline van," Hayden remembered. "There was the driver and passenger seat and one bench seat with a mattress in the back with a little TV back there. That was our setup."
"We'd all just meet up," Jake added. "Because if Princeton was on the way, they'd just pull off the parkway and load my bike, and I'd jump in with them."
"We used to have a 24-ft trailer that could hold about 15 bikes or something crazy," Hayden laughed, recalling frequent flat tires and an ill-fated trip down the Natcher when the trailer flipped and sent bikes flying everywhere.
As the waitress filled our cups again, Nick jumped in with a story about moving up to a bigger road racing bike. "I remember the first time I rode a 600cc. I think I was 13. My arms weren't long enough to reach the handle bar in the turns so I'd have to hold on to the gas tank the best I could with my opposite hand when I was making a turn and then grab the handle bar again."
But that was then. These days the racing is a little more serious. What started as riding dirt bikes for fun in fields and homemade tracks has now taken JD, Hayden, Nick, and Jake into the premier motorcycle road racing circuit on the fastest tracks in America.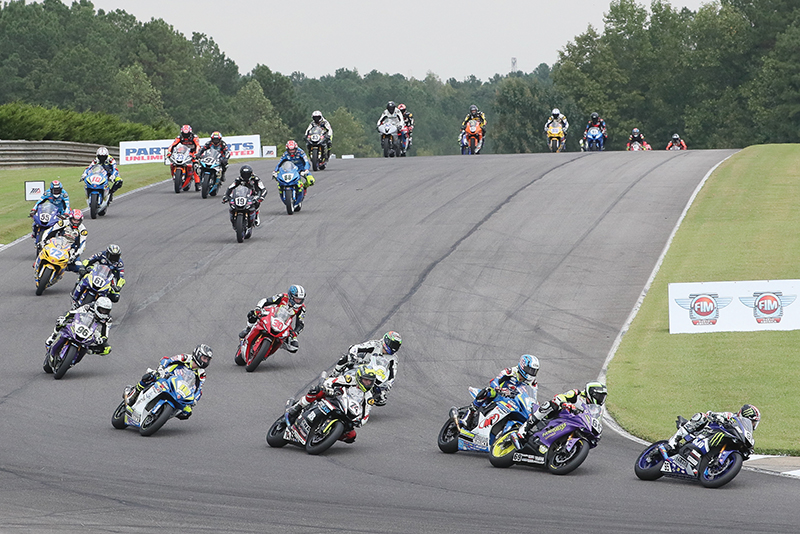 What it Takes to Go Fast
To the casual viewer, it may just look like sitting and hanging on, but these guys say road racing engages every muscle group in your body during a race. To get an idea in your mind, JD compares it to "doing squats, pushups, sit-ups, and sprinting all at the same time for 30 minutes straight."
Cardio is important because racing is intense, and heart rates stay incredibly high during the race. Maneuvering the bike requires core strength and balance, and it takes conditioning and concentration to master each course. Making mistakes is huge, so mental sharpness is equally as important.
During the season, and even in the off-season, their daily training routines might include working out in the gym for an hour, cycling for a few hours, then riding on the practice track. But all four train a bit differently. Because of JD's smaller stature, he focuses on strengthening his arms and legs so he can move the bike better. Hayden, on the other hand, because of his body type, works extra hard to keep his weight down. And because Jake is a little taller that most racers, he goes through extra stretches to stay flexible so he doesn't have back pain from being crouched down for 30 or 40 minutes at a time.
So being in peak physical shape is important, but that can only take you so far. "Ideally, your bike is dialed in, and your body is in good shape. But bike setup is more important," Nick explained. "You can be in the best shape of your life, but if your bike's not set up right, you're going to wear out trying to fight it."
Bike setup and conditioning determine what the bike and rider are physically capable of, but there's also what the rider is mentally capable of in terms of overcoming fear and thinking clearly in the midst of adrenaline, high pressure, and speed. It takes a lot of nerve to go into a switchback corner at top speed with another rider inches from your tire. The smallest mistake can cost you positions on the track or, worse, cause a crash.
And being able to communicate with your team and mechanics to get the bike to perform best according to that track's specific conditions is another skill altogether.
Still, some guys are just faster than others. As JD says, "It's like that with any sport. Some guys can throw a football further than others, even though all quarterbacks pretty much throw the same way." You can't teach intuition.
What's it like?
This sport just seems a little crazier to you and me. But these guys have been doing it since before they were in kindergarten. This is normal for them. So how do you explain what it's like to someone like you or me that have no frame of reference for what it's like to go that fast on a motorcycle?
"I always tell people to imagine driving a Corvette, punching it as hard as you can to get it as fast as it can go, and then imagine if the back of your seat wasn't there," Hayden said.
You'd be hanging on for dear life, right?
Elevated heart rate is another phenomenon racers experience that casual fans have no concept of. Most people can't push themselves hard enough to get their heart rate up to 180 during a workout for even a short interval. But it's common for these racers to look at their heart monitors after a race and see an average heart rate of 175 for a full 40 minutes.
The woods race JD and Jake did the weekend before we met at Old Hickory is proof of that. After that two-hour race, JD's max heart rate was 195 and his average was 167. "But on a regular bicycle, there's no way I could do that," he said.
"When you show somebody that, they'll think your monitor is messed up," Hayden laughed.
Crashes are no joke either. Nick used the image of driving down the Natcher at 100 mph and jumping out the window with a leather suit on while you're going into a curve. Hitting the pavement would be a scary thing. If you're lucky, you'd be able to slide on the pavement until you come to a nice smooth stop in the grass. But that only happens about 20% of the time in a race. A "low side" wreck is when your bike slides out from under you and you don't have far to fall to hit the ground. A "high side" wreck is where your bike flips over and throws you high into the air. Those are the bad ones. Despite that constant reality, none of these racers are showing any signs of stopping anytime soon.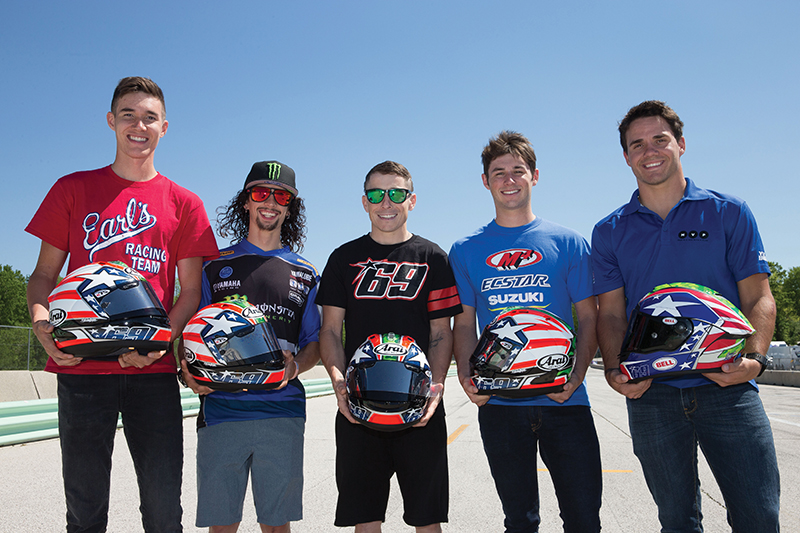 Racing for a Living
The four racers at this table are all on different levels, financially speaking, but they say they're all making enough money to live on during racing season. A few work odd jobs in the off season. "I make enough to get by, pay my bills, and save a little bit," JD said. "But when I'm done racing I'm going to have to get a real job." And that's the 2018 Supersport champion talking.
"Yeah, I risk my life every time I race, but I still wouldn't want to go out and get a regular job," Jake added.
In reality, economic changes in the last decade have completely changed the dynamics in professional motorcycle racing. While the competition on the track is just as intense, the competition for "factory rides" – or contracts with teams funded by major manufacturer brands like Honda or Suzuki is much more intense than it was, say, 10 years ago. When the Hayden brothers turned pro at 16, top brands would have several teams in each class of racing with several riders on each team. But today's riders are all competing for a handful of factory rides.
Which helps explain why today's racers sometimes piece together dirt track series rides and road racing rides to put something substantial together or to bide their time until a Superbike ride opens up.
Jake summarized it best, "Everybody's goal is to be superbike champion because that means you're the best in America. That's what Nicky won to move over to MotoGP."
But the timing on that has to be perfect. And rides overseas are very hard to come by. "The problem is if you leave here (in the U.S) with a good ride, go over there (to World Superbike or MotoGP) and do poorly, you may not be able to come back here because your ride will probably be gone," Hayden says. "But still, if you get the chance, you take the shot. If you're in, you're in. But you're not gonna do that if you don't take a shot."
Spring, 2019
MotoAmerica 2019 Season Preview
Coming off his second Supersport championship, JD Beach transitioned to Superbike during the off-season as Estenson Racing announced a partnership with Attack Performance that will enable JD to race for championships in both premier classes of MotoAmerica and American Flat Track. So, in addition to fighting for a Grand National Championship in the AFT Twins class aboard the Estenson Racing Yamaha MT-07, Beach will also get his dream ride in the MotoAmerica Superbike Championship on an Attack Performance/Estenson Racing Yamaha YZF-R1.
That means this year, JD will join Jake Lewis in the Superbike class. Jake Lewis will again be riding for Team Hammer, Inc. aboard an M4 ECSTAR Suzuki GSX-R1000. Lewis had a solid 2018 season with 13 top-five finishes, and finished sixth in the championship.
In Supersport, Hayden Gillim will be returning to his #69 ride for RiCKdiculous Racing for the 2019 season. His newly named teammate is none other than #16 Nick McFadden.
2019 will also see Tommy Hayden again involved in racing in his new role as Director of Race Operations for Estenson Racing. The eldest brother of the well-known Hayden family, Tommy has been involved in racing his whole life. In addition to two AMA Supersport Championships (2004-2005), Hayden amassed 34 wins in the U.S. National road racing championship (now MotoAmerica), eight of which were in Superbike. More recently, Hayden was the Global Road Racing Manager for Monster Energy.