The Farmer Family Home on Pantle Point
Chelsea Farmer has made a name for herself as the creative designer behind HorseFeathers jewelry company. Using unique gemstones in bold and diverse colors, Chelsea designs pieces that perfectly accent individual outfits and styles. That same vision for pairing colorful gemstones has bled over into her personal style and the whimsical touches she has applied to each room of her home.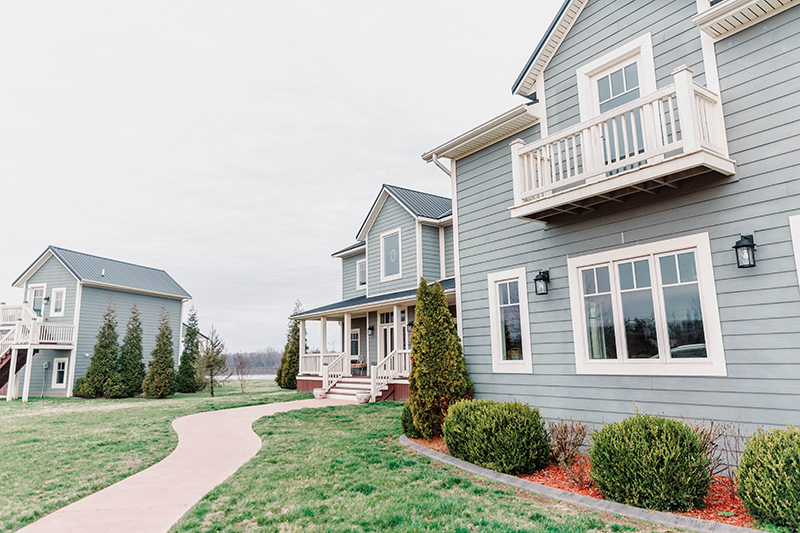 Perched along the edge of the Ohio River, the over 4,000 square foot home was constructed based on a modern farmhouse plan by the original owners and Pantle Point community founders. After being welcomed into the gray entryway, your eye is either drawn to the picturesque view of the Ohio or the brightly colored piece of artwork at the top of the stairwell. Pulling from the vibrant colors of the canvas, each room has been thoughtfully decorated to display its own individual personality and charm.
"How I choose the colors in the house — I choose one piece of focal art that I love and every color in the house is pulled from that," Chelsea said. "So every time I paint a room or pick major accents, they come off of that color scheme, whether it be pale blue, the aqua that comes out in our bedroom or the pink in the living room."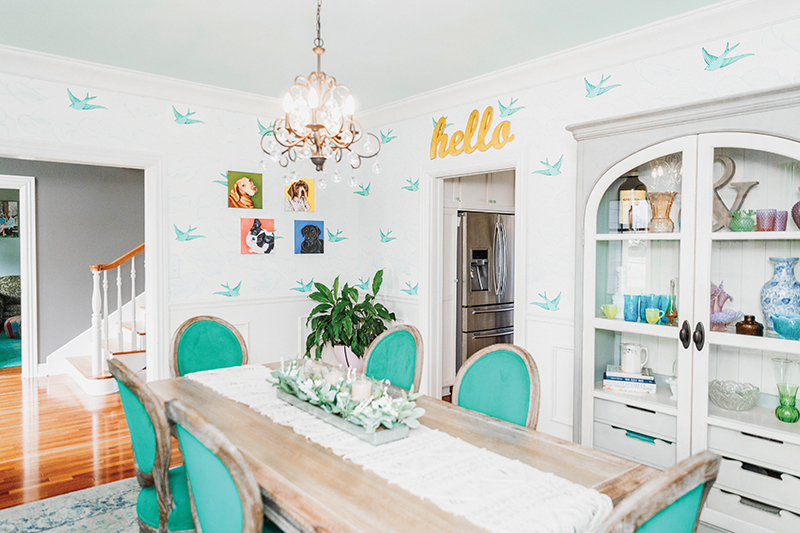 Chelsea said that by having a home broken into different levels and separate rooms, including a formal dining and living room, it allowed her to experiment with color more freely. While the upholstered teal chairs may give a nod to the formal, the dining room features whimsical wallpaper with birds in flight under a painted ceiling. Playing center stage are four boldly-colored custom portraits of precious pets of past and present, which again tie back to the colors of the original focal art piece upstairs.
"My husband and I actually do not like open floor plans," Chelsea said. "We are like the only 30-somethings that don't like open floor plans. Because I like so much color, I find it difficult to mingle so many different colors."
Sentimental and Nostalgic
The daughter of a Naval officer, Chelsea spent most of her younger life traveling and living abroad. Each of those experiences helped to influence Chelsea's style, and have woven their way into her home.
Small decorative pieces from Spain and Italy serve as accent pieces, along with a vintage blown glass netted Japanese fishing buoy, each dispersed amongst towering white bookshelves framed by picture windows that look out over the Ohio River. Chelsea said her husband will soon be hanging a ship's wheel on the living room entry wall to pull together the nautical feel of the surrounding water.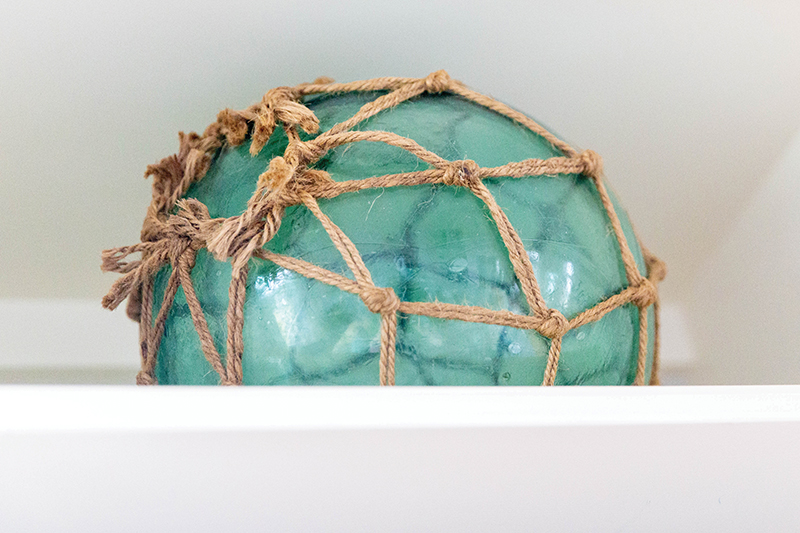 "A lot of my decor is pieces we've collected over our travels — there are a lot of collectibles from all kinds of places," Chelsea said. "All of the chandeliers are vintage throughout the whole house. We collect them in different places when we travel around."
A restored mantle clock, that Chelsea said has been in the family as long as she can remember, serves as the capstone piece to the shelving unit. Placed carefully below the clock are three world globes, the center one was once used in her great-grandpa Sterling's Sunday school class. Nestled alongside books of complementary shades of blue, on a smaller scale of shelves along the opposing wall, is her Granny's Bible with handwritten notes still tucked inside.
Chelsea describes her style as, "very minimalist and minimally eclectic. I have a lot of stuff, but it's not cluttered," she said. "I like things out all the time so I can see them."
Comfy and Cozy
Although Chelsea has created a high-end look by thoughtfully placing each piece throughout her home, she will be the first to admit that she is beyond thrifty when it comes to shopping for furniture and accent pieces. "I'm not really a buyer of new. Chairs are usually roadside finds," she said, adding that, with the exception of her sofas and bed frame, "everything else is Goodwill or side of the road."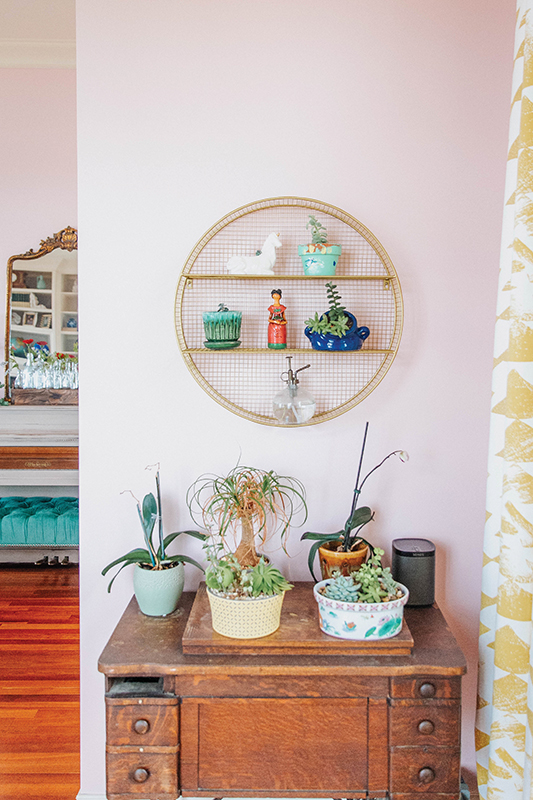 Even thrift shop blankets and quilts have been laundered and placed in a repurposed filing cabinet for visually-appealing storage. When not being stored, she said the colorful blankets are perfect for throwing over the furniture for her pets as she always wants their space to feel "very livable and cozy." A repainted piano, which Chelsea said is easy to come by, sits in the corner for tiny fingers to learn how to play, while also playing home to silver candlestick holders and fresh plants. "I just started collecting plants," she said, "because they make your house feel more homey," joking that if you weren't good at keeping plants alive, there were realistic "fake" plant options for a touch of greenery.
Family-Friendly and Functional
While every book, accent piece and item seems to have its place on each shelf, so does each basket and bin. Although they may appear to just serve as tasteful decor, oversized wicker baskets and fabric cubes are actually home to toddler toys and building blocks.
Even the living room furniture and upholstered coffee table were placed with a growing little one in mind. Providing more stability and peace of mind than a traditional coffee table, the upholstered bench-style table allows three-year-old Sterling a sturdy place to balance and build, and still be in the company of his parents.
Chelsea believes that when you consider the design of a particular room, getting kids involved, and having them make artwork and accents, adds to the overall feel. Two of Sterling's unearthed crystal geode pieces are on display in different rooms of the house, while colorful dinosaurs he painted with his dad brighten up his playroom.
Studio Savvy
After maintaining several shops, and an Airstream, Chelsea moved her jewelry business back to her home following the birth of Sterling. With purposeful workspaces created throughout the open space, as well as a place for Sterling to create and play, the area above the garage serves as a colorful and inviting home base for making jewelry for HorseFeathers. A spiral staircase has been redone in soft pastel wood steps leading up to the open space that spills with natural light.
While Chelsea readily admits that she is constantly inspired by the colorful array of beads she works with each day, she challenges others to step outside of their comfort zone, find their own personal style and experiment with color.
"Your home and the way you dress yourself is your own personal style," Chelsea said. "You meet people that love to wear color but their house is neutral — they still have that disconnect. If you love wearing it on your body, you can totally put it in your house."
Creating the Look
Find a Focal Point. Choose a piece of artwork or an item in your home from which you draw inspiration, and use the colors in that piece of art to inform your decisions on wall colors and accessories for each room.
If you don't necessarily want to paint the entire room teal, choose one wall, or even the ceiling, as the focal point of the room. You can also add bold splashes of color to the room without paint, by choosing bright throw pillows, bold curtains or small accessories that pop.
Hone in on Hardware. One inexpensive suggestion Chelsea made for those who are on a budget, or might be afraid to put color directly on their walls, was to change out the knobs.
"One of my favorite ways to update furniture pieces is to change out all of the knobs," Chelsea said. "Changing out hardware is like the easiest thing ever, and it adds a little glam."
Whether it's upgrading contractor-grade hardware on kitchen cabinets to something more colorful, or adding a little detail or cohesiveness to an old dresser set, knobs are an easy way to change up your design.
A Little Paint and Paper. Throughout Chelsea's home are beautiful pieces of furniture that are thoughtfully painted, and seem to suit every room. She usually finds at thrift stores and garage sales.
While she said men often tend to shy away from painting over natural wood, it is another opportunity to bring color into the room, and give an old piece of furniture new life. "If you put paint on stuff that you didn't pay very much money for and you scuff it up, and it's your style, but functional — it's not going to hurt anything," Chelsea said.
Chelsea recommends CC Caldwell Chalk Paint and mixes her own colors to achieve the desired look. She said this brand of chalk paint offers her not only the look and style she wants, but it can be done quickly, distressed easily, and is safe for her son and pets to be around. After applying soft layers of chalk paint, she often adds fun and decorative wallpaper to bookshelf interiors as a unique backdrop for books and decor.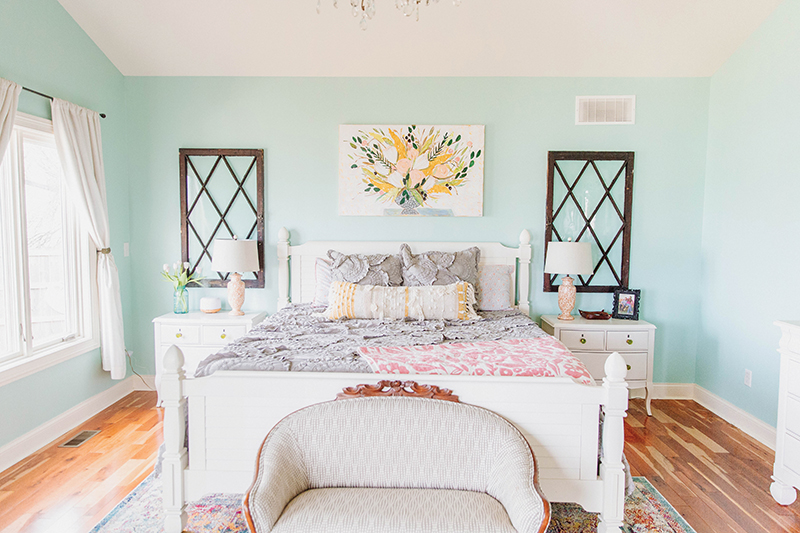 Lamps and Lighting. Another way to personalize a room is by adding unique lighting. While Chelsea has been known to hot-glue fabric to a lampshade or two to add a little whimsy, her preference in lighting is to go bold.
"I put a chandelier in every room," Chelsea said, admitting that there is even one in her closet. "I am all about some chandeliers, because how fun is that?"
But not all of Chelsea's light fixtures are jeweled chandeliers. Pendant lights and lights with a unique shape and color can also add that extra touch to a bland space. Because her chandeliers have been vintage finds throughout her travels, she recommends Wayfair for accent lighting on a budget.