Founded in 1885, Dahl and Groezinger has the distinction of being Kentucky's oldest family-owned scrap iron and metal processor. Today, John and Drew Kirkland, along with cousin Will Helwig, run the day-to-day operations. All three are great-great grandsons of founder George Groezinger, who started the business. 
My 9-year-old son was so excited to cash in those three bags of aluminum cans that you would've thought that $3.85 was a hundred dollar bill.  When you're 9, four dollars is a big deal. Since he crushed all those cans himself, we let him keep the money. 
He took the ticket from the worker at the scale at Dahl & Groezinger, turned it into the office, and stuck those three dollar bills, three quarters and a dime in his front pocket until we got home. Beau had seen me take several loads of scrap metal to Dahl & Groezinger before. (He enjoys watching the giant "claw" or the really big magnet pick up all the stuff from the truck bed.) But this time was different. This was his load. And therefore, his money. That sort of passing the proverbial torch to the next generation is what keeps Dahl & Groezinger going strong for over 135 years.
In the Beginning 
The story goes that George Groezinger met Phillip Dahl on the boat ride over from Stuttgart, Germany, in 1867. Once in New York City, the two met a man named Mr. Lacer, who brought them to Owensboro to buy hides, wool, and pelts for his American company. When Mr. Lacer retired, they bought his business, established it as Dahl & Groezinger, and set up shop at 114 Frederica Street, where the Bluegrass Music Hall of Fame & Museum now sits. When George's son, Walter, joined the firm in 1910, he believed scrap metal was the future of the business and began to develop the metal processing operations. With that new direction, the company continued to grow and expand, survived the Great Depression, and moved to the current location at 940 W. 9th St. in 1954.
In the past decade, the fifth-generation owners have expanded again, adding a 17-acre yard across from the Owensboro Riverport Authority at 1600 River Road so they can load barges. Today, D&G averages 100 customers a day from the surrounding region, bringing in everything from aluminum cans to junk cars. They accept both ferrous (scrap iron and steel) and non-ferrous (copper, aluminum, brass and stainless steel items). Basically, anything metal. They then ship it by the truckload, by barge, by railroad cars and by overseas containers. With all those avenues, the scrap metal from your garage could literally be shipped anywhere in the country or around the world to be melted down and made into something new.
Into the Future  
Driving through either scrap yard, there are giant piles of car parts, appliances, lots of random metal, and even junk automobiles. Cranes (equipped with either a giant magnet, a mobile cutting shear, or grapple) swing about, processing material and staging it for shipping. A building at the 9th Street location collects and weighs aluminum, copper, and other non-ferrous items. The River Road location houses a new 900-ton stationary shear, a beast of a machine that can cut multiple pieces of metal at once and send them down a conveyor belt for sorting.
Changing with the times and seizing new opportunities is how D&G has stayed in business all these years, and adding the River Road site is another example. After leasing land from the Owensboro Riverport Authority for many years, Will, John, and Drew jumped at the chance to purchase a piece of property across from the Riverport Authority.
That expansion allowed the trio to upgrade some equipment and move the steel operation to the new location. "We have our regular customers, but every day we buy scrap from somebody different. This room gives us the space to expand to take on other scrapyard's scrap. And with some of our contracts for our foundries – we need room to stack up loads for them (to ship large quantities)," Will Helwig explained.
"At our River Road location, we have the space to store and process large amounts of scrap from industrial accounts and other scrap dealers. We mostly take scrap from the public at our 9th Street location," John added. "There's no way we could do the amount of processing we do at River Road on three acres in the middle of town."
Recycling old barges, a process Will oversees, is just one example. Will says it takes about a day and a half for workers with torches to cut a barge into small enough sections to run through the new shear. The cut pieces come out of the shear in 2 ft x 3 ft sections. From there, like all the other cut metal, those 2×3 sections are then loaded on dump trailers and taken to foundries.
Owensboro happens to be a great location for a steel processing scrap yard because there are several foundries close by. Waupaca, for example, is one of the main buyers of scrap from D&G. "We ship loads every day to Waupaca," Drew said. "So we buy scrap from our customers, processes it here and ship it to the foundry, where they melt the metal down and make new products. That's how it works."
They've found other ways to expand the business as well. "We buy a lot of catalytic converters and junk cars – items that we used to not take 20 years ago" John added.
"We also buy scrap batteries and aluminum cans," Drew added. "Accepting new items has allowed us to grow and open some new avenues. We still hold the core values of our business, but we have the vision to adjust and change when we see an opportunity."
You Don't Start Out in the Office 
Understandably, remaining a family-run business is something they take great pride in at D&G. "Our families gave us the opportunity, but it was on us to carry it through" Drew said. "We had to learn and put in our time. We had to work hard to take advantage of that opportunity."
And work hard they have. Will, John, and Drew each started working at D&G as soon as they could — at age 16. Will joined the firm full-time after he graduated from Georgetown in 2002. John and Drew joined full-time when they graduated from Alabama with MBAs in 2003. "We just always knew we wanted to do this, so every business class we took, we had this in our minds," says Drew.
Fifth generation member Lee Hall decided not to join the firm and is pursuing her own interests as a successful interior designer. The other fifth generation member is Bill Conley III, who joined the firm for a while, but then decided to enter the banking business. The Conley line of the family was very instrumental in the success of D&G. Bill Conley Jr. was fourth generation, and his father, Bill Conley Sr., was a connecting link for over 40 years from his time in the service during the war years until 1987.
Whether or not the sixth generation takes over is yet to be seen. All three owners are family men now. Will, for example, has five kids. "Dad and Uncle Bill never pressured the three of us into the business. The opportunity was there if we wanted it, and it's something we've all loved. And we plan on handling it the same with our kids. It's not for everyone, and that's okay," John assured. "They'll have to earn their way in and work long, hard hours just like we did."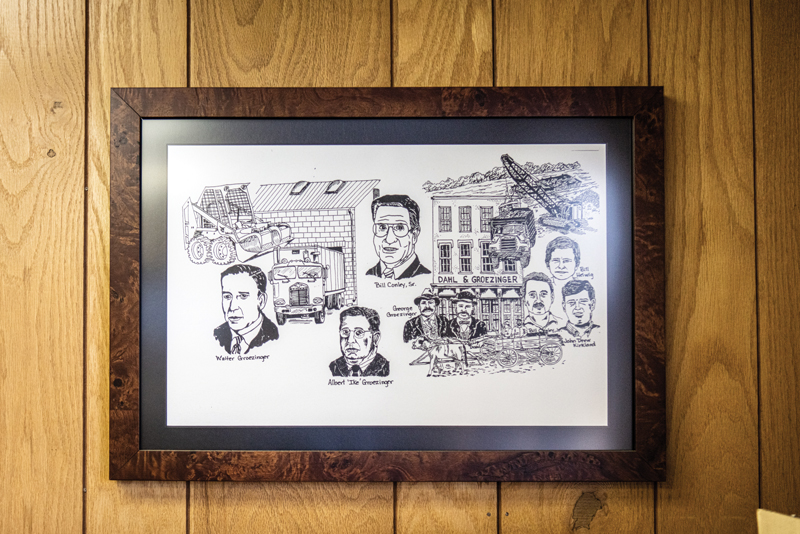 Giving Back 
Community involvement is very important to the guys at D&G, as well. They sponsor ROMP every year, are involved in the Chamber of Commerce, and support several non-profits. To Will, John, and Drew, they're just paying it forward. "We feel very blessed to have a five generation business. The least we can do is to give back to the town we've been in for so long. Owensboro is our home base and always will be," Will said.
Will and Drew both echoed that sentiment, and acknowledged that the three cousins wouldn't be successful on their own. "We love Owensboro, and wouldn't be here if it wasn't for the hard work of the previous generations, the guys we work with, our suppliers, and our customers," Drew said. "We couldn't make it without them. In a family business, we don't have a parent corporation. The owners of this business live in Owensboro, so we want to give back to this town, personally."