E. Louis Johnson was a man of the utmost integrity who met each day with an indescribable gratitude and purpose. He completed every task in his life with his whole heart, as evidenced by his joyful 52 years of marriage, successful 50 year law practice, tireless commitment to countless leadership roles, and devout prayer life for those in and around his community.
At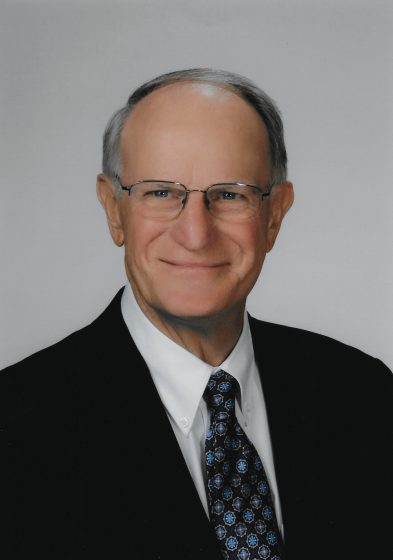 the age of 80, he still got up every day and dressed for court, with no intention of slowing down or retiring from his law practice in the near future. This may be why he approached October 24, 2017 as he did any other day. He dressed for court and went with his wife Suzanne to receive the results of what began as routine physical lab work. To their surprise, Mr. Johnson was given the diagnosis of acute leukemia. He would continue to work, enjoy time with his family, and pray for a miracle, until his body was no longer able to fight. On December 19, 2017, less than two months after receiving the diagnosis, Louis Johnson went to be with the Lord. His impact in and beyond the community of Owensboro was reflected in the nearly 1,500 people that attended his funeral visitation across the span of seven hours. On January 10, 2018, the House of Representatives adjourned in his honor as a small testament to the man E. Louis Johnson was, and so many will fondly remember.
Louis Johnson grew up with a strong desire for bettering himself and his community. He began his career first as a salesman, then as a teacher and coach at Owensboro Catholic High School, while attending Brescia College. It was there that he met "the love of his life," Suzanne, and embraced his calling to be an attorney. The two would marry shortly before Louis' last year of law school at the University of Kentucky. In 1967, he opened his own private practice, and would eventually join Ron Presser to become Johnson and Presser on Third and Locust Street. Aside from his passion for the law, Mr. Johnson had a love for politics. Suzanne recalls a day when she was home with their (then) four children, and Louis announced that he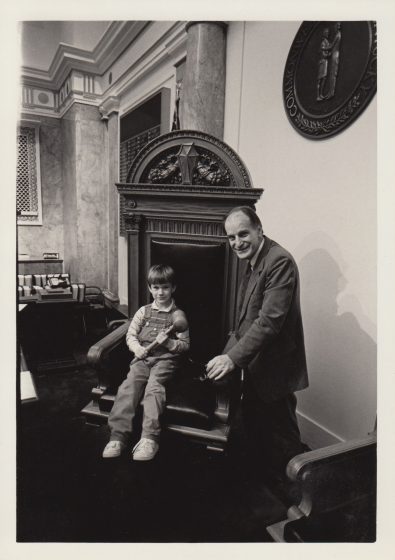 wanted to run for State Representative. Suzanne responded playfully, "What is that?" Ever his partner and teammate, she helped him paper every door of the 13th District in Owensboro in pursuit of his goal. Mr. Johnson won the seat, and served for 17 years as State Representative, while still managing to maintain a full-time law practice, helping to pastor Owensboro Covenant Church, and serving as husband and father to his wife and five children. Suzanne says that one of the many reasons her marriage was so successful is that she believes you should, "Do what you need to and what you can to help your husband to be successful. The Bible says, 'the two shall become one,' so whatever success he has, you will have as well."
If there is any truth to the common misconception that Christian values and politics do not mix, Louis Johnson was definitely the exception to the rule. He did not view the law profession or politics as merely a job, he viewed it as a calling on his life, one that he thoroughly enjoyed. His son, David, who had the privilege of practicing law with his father for 10 years, said that his father "liked being a lawyer because it allowed him to minister to people. He looked at the legal profession as a service. When people were down, vulnerable, and in a time of need," he would minister to them. David also shared, "Very rarely did someone not leave his office encouraged, prayed for, or ministered to." Ron Presser, who shared a law practice with Mr. Johnson for 43 years, agreed, "I think he ministered to as many people as he did give legal advice."While some might find it unusual for an attorney to pray with their clients, Mr. Presser said, "You would be surprised how receptive people are to being prayed for and having their needs met."
Louis Johnson's passion for serving the Lord and the community did not stop at the office doors of Third and Locust streets. Five years ago, Suzanne bought Louis a new bicycle and helmet. At age 75, Louis began riding the streets of Owensboro, where he spent his early years campaigning, praying for each home along the way. Each evening he would document his route on an old realtor's map, and then plan where he would ride next. It is believed that he prayed for nearly two-thirds of Owensboro in his five-year mission. This spring, approximately 300 volunteers plan to man their bikes in order to finish his ride.
While Mr. Johnson had an incredible heart for his practice and his community, his love for his family surpassed them all. He instilled in his sons the need to have a strong walk with the Lord in order to be good husbands and fathers in their own homes. He viewed his daughters as treasures that others should honor and respect. Louis was intentionally present at family gatherings and events, and invested in each of his 13 grandchildren individually, making sure they each knew their value to him. His daughter Ellen says, not only did her father "work hard, and pray hard, he also liked to play hard." The attorney and former State Representative would not hesitate to put on a Sonny Bono wig and 70's glasses and laugh at himself at the family talent show, or join in the fun of backyard Olympics.
So much can be learned from the way Louis Johnson lived his life, but here are a few of his philosophies in the words of his children. If your faith and family are sound, everything else will fall into place. If you are honest with people, in life and in business, they will respect you, and continue to come back to you. If you are in the wrong, apologize in a timely manner. Be generous with what you have, and give God the glory for what you receive in return. Make time for family, and ensure that each person knows how much they are loved. Louis Johnson held many titles in his life: husband, father, grandfather, pastor, salesman, teacher, coach, attorney, and State Representative. But the title that described him best was that of a "Kingdom man."