Congratulations to the 2023 Greater Owensboro Chamber of Commerce 40 Under 40 honorees
The following 40 individuals were nominated for 40 Under 40 based on their leadership and potential to influence our community. Each nominee was recognized as hardworking, bold, innovative, and going above and beyond to affect change in the workplace and in the community.
They are executives and directors of businesses and nonprofits. Educators and farmers. Some are fourth and fifth generation business owners while others are entrepreneurs and pioneers. All are shaping the future of Owensboro in their unique way.
After nominations were received, each nominee was sent an application. Those applications were carefully reviewed by an anonymous panel of judges on a selection committee that was independent of the Greater Owensboro Chamber of Commerce staff and board members. Final selections were made by that independent committee based on the nominee's experience, contributions, and essay answers.
Katie Cecil, 36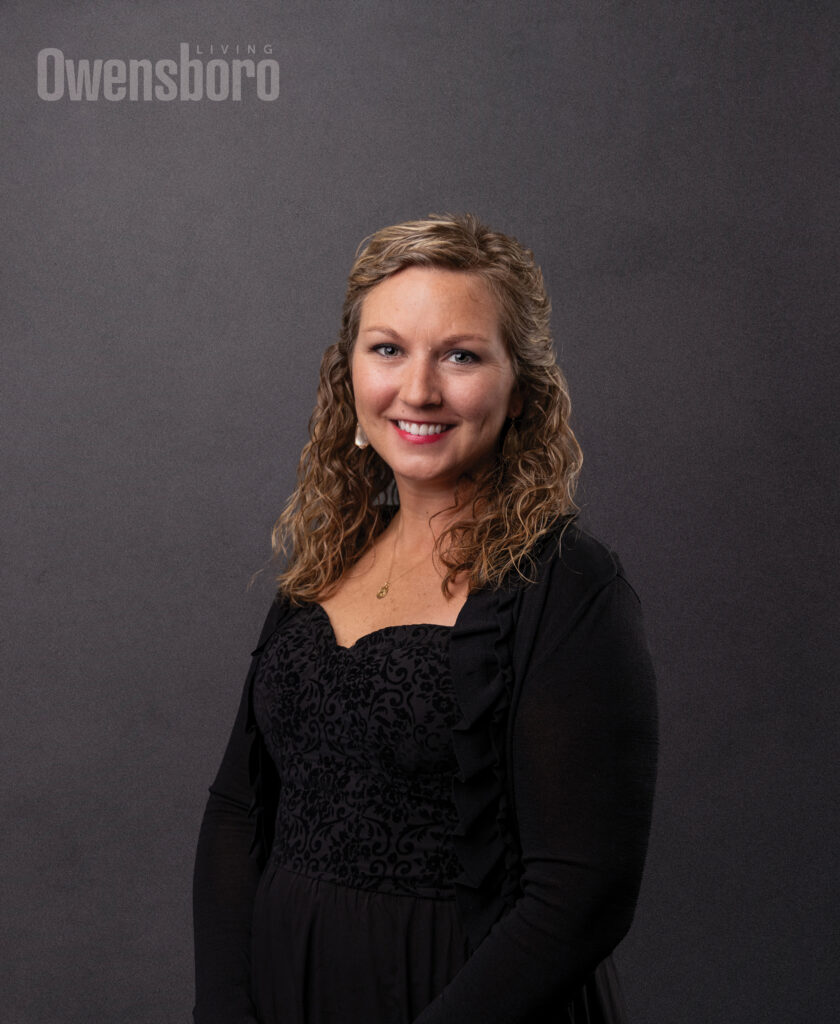 Owner, Chief Floral Designer, Katie Ann Flowers LLC
Katie Cecil is a second-generation farmer at Cecil Farms Produce, bringing a dynamic perspective to the family legacy. After spending a decade working in marketing at Chick-fil-A, she returned to her roots in Owensboro, partnering with her dad, Gary Cecil, brother, Ryan Cecil and sister, Suzanne Cecil White, to enhance the farm's produce division. This journey took an exciting turn as she ventured into wholesale fresh-cut flowers through the Southern Kentucky Floral Exchange, reaching florists from Owensboro to Nashville, TN. In 2020, she founded Katie Ann Flowers, LLC, specializing in wedding and event floral design, bringing her creativity to various celebrations across Kentucky.
Graduating in Business Administration from Kentucky Wesleyan College in 2009, Katie continued to expand her horizons. In 2023, she completed the Kentucky Agriculture Leadership Program (KALP) and in 2022, she successfully graduated from the Kentucky Farm Bureau LEAD Program. Her commitment to agricultural growth earned her the title of the 2022 Kentucky Farm Bureau Generation Bridge Advocate of the Year. Katie's journey is a testament to her dedication and progressive spirit within the agricultural community she serves.
Summer Aldridge, 31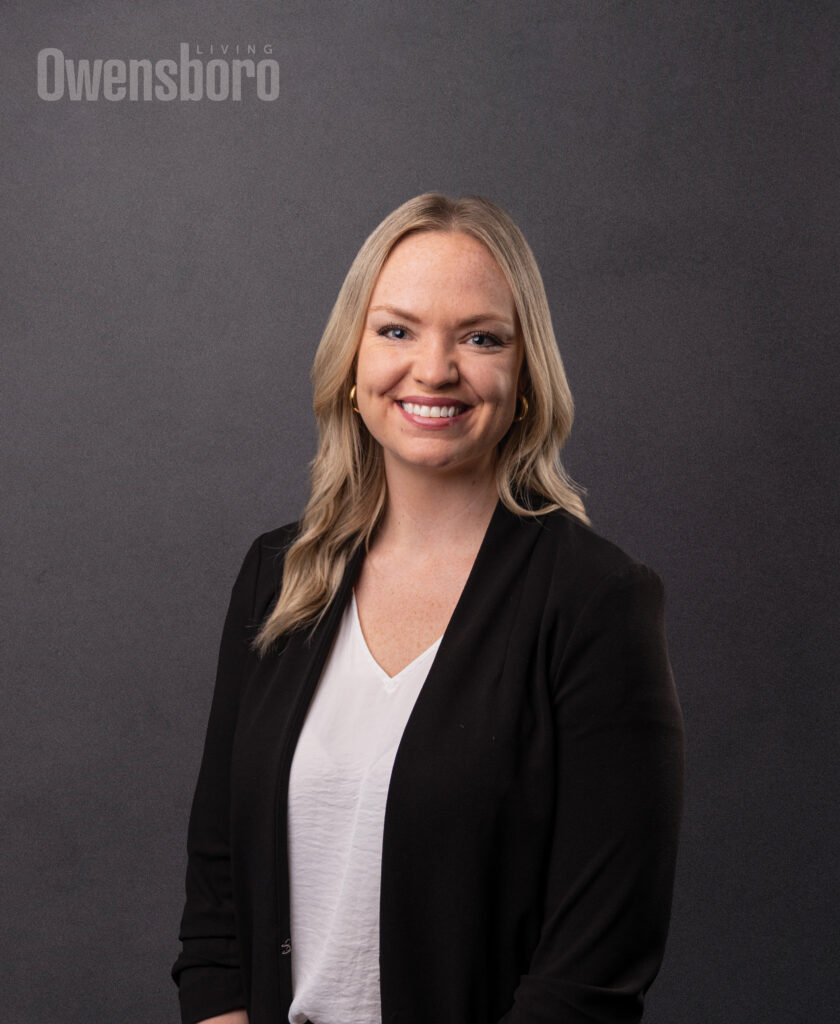 Senior Director of Engagement, Kentucky Wesleyan College
Summer is the senior director of engagement at Kentucky Wesleyan College, where she oversees the College's alumni and career engagement efforts. She's also the co-owner of Something Borrowed, which offers event rentals and event planning services.
A Madisonville native, Summer earned her bachelor's degree in psychology from KWC and her master's in public administration from the University of Evansville. She was named Hopkins County's Citizen of the Year and to its 30 Under 30 list in 2019, co-founded the Hopkins County Young Professionals, and was named Staff Member of the Year at KWC in 2022. She is a graduate of both Leadership Hopkins County and Leadership Owensboro and is active in the Owensboro Rotary Club and Chamber Young Professionals.
Summer is married to her Wesleyan Sweetheart, Kirk, and they have two pups – Mako & Rupert.
Dustin Warren, 39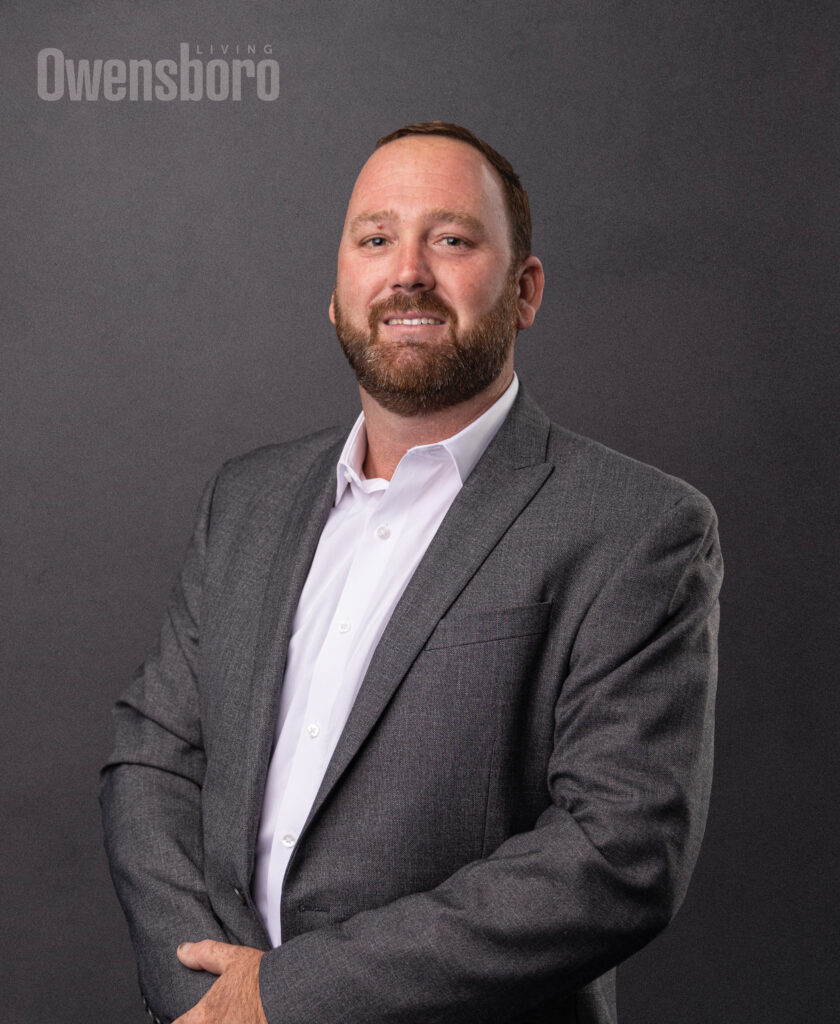 Farmer, Warren Farms
Dustin Warren, a farmer at Warren Farms in Daviess County, collaborates with brothers Jared and Cory to raise corn, soybeans, wheat, tobacco, hay, and cattle. He holds the role of Captain/EMT at St. Joseph Fire Department, contributes as a Daviess County Farm Bureau Board Member, and actively participates in the Daviess County Agricultural Development Council. Serving as a Daviess County Soil and Water Conservation District Supervisor, Dustin's commitment to the land is evident. He is a member of St. Alphonsus Catholic Church and graduated from Owensboro Catholic High School in 2002.
Chris Anderson, 39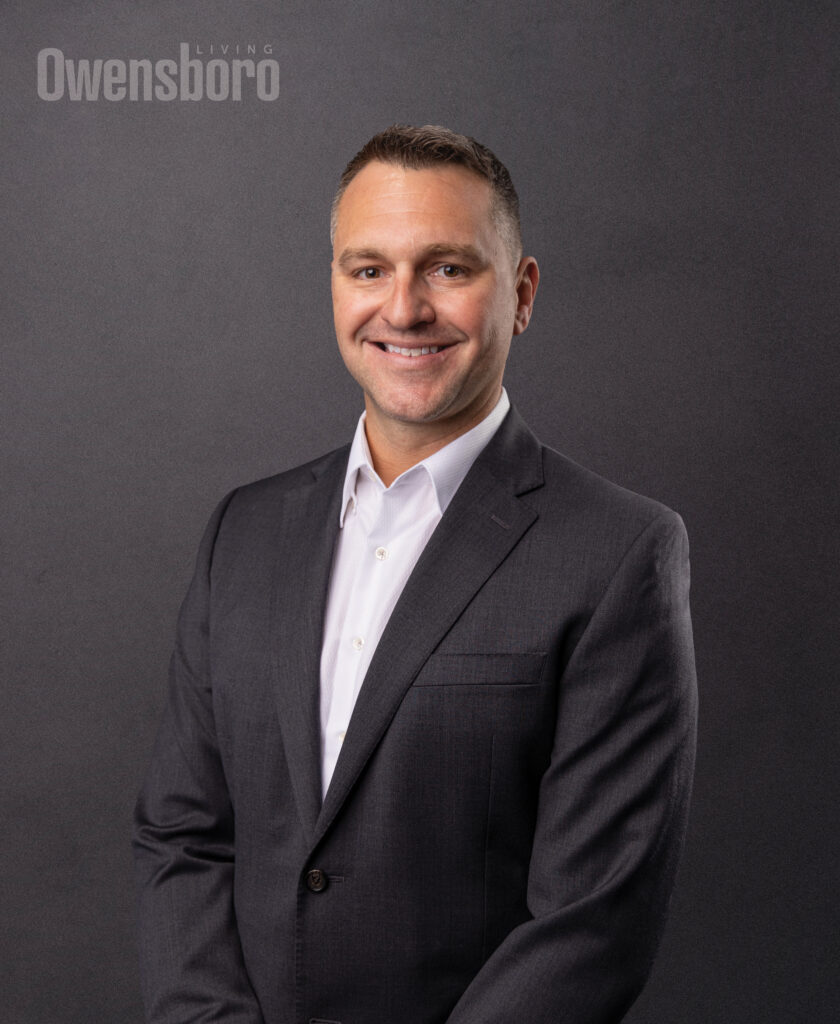 VP of Operations, Sun Windows
Chris Anderson's impactful journey is anchored in dedication and leadership. As the 4th generation part-owner and VP of Operations at Sun Windows Inc., he orchestrates day-to-day functions and strategic expansion, influencing the livelihoods of 160 families in Western Kentucky. With a fulfilling marriage of 15 years to his best friend Kellyann, they are parents to Anabelle (12), Adelyn (10), and Austin (4).
Hailing from Owensboro, Chris attended The Webb School in TN for high school, and then ventured to Stetson University and WKU, graduating with a degree in Finance. His professional path commenced in the banking industry in Austin, TX, but his aspiration for a career in the window industry steered him towards Charlotte, NC. Here, he took on the role of National Account Manager at Newell Rubbermaid's window hardware division. Collaborating with manufacturers across 13 states and 3 Canadian provinces, Chris honed his industry insights and strategic acumen.
A significant move brought him back to Owensboro, where he stepped into his family business, Sun Windows Inc., as the 4th generation leader. The financial knowledge garnered from his time in banking, combined with the time he spent learning the operational models of numerous other window manufacturers has been essential in the continuation of success and growth of Sun Windows. From 2018 to 2022 the Sun Windows team propelled the company to new heights, growing 142% in 4 years, creating dozens of new jobs in Owensboro, and positioning themselves as an industry leader in the premium window and door market.
Beyond his professional sphere, Chris's influence extends to nonprofit and professional organizations. His commitment to the Home Builders Association of Kentucky as the current Associate Vice President showcases his advocacy for 4,000 employers and 30,000 employees statewide. With a deep-rooted passion for his family, community, and industry, Chris Anderson exemplifies the embodiment of success with a heart for growth and service.
Sharmy Davis, 38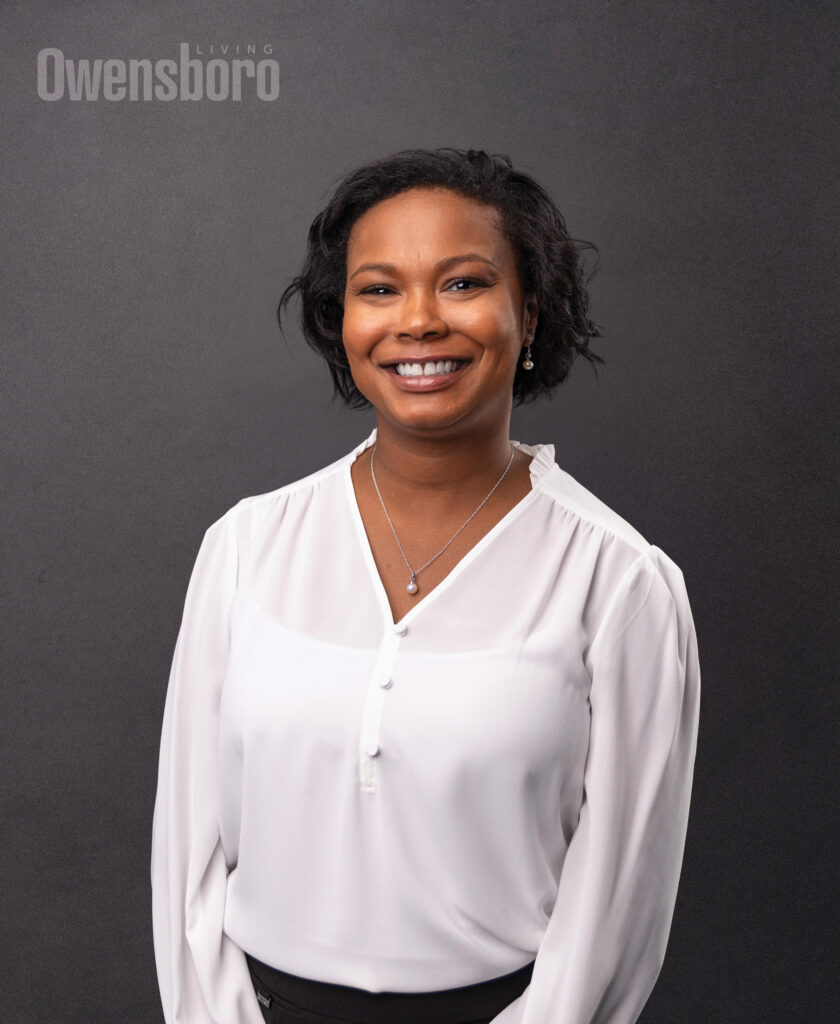 Dean of Student Affairs, OCTC
Sharmy Davis is the Dean of Student Affairs and Director of Cultural Diversity at Owensboro Community & Technical College.
As Dean, Davis oversees the Pathfinder Den, the Office of Cultural Diversity, the Experiential Learning Center, as well as the Pathfinder Pantry, and leads advising, transfer, and retention efforts.
Sharmy is a shining example of professionalism and has a proven record of success. She is deeply involved in the community, serving on multiple boards and recently participating in the Dancing with our Stars fundraiser for the Boulware Mission.
She played a key role in planning and executing the successful 2023 Regional Diversity Conference and was instrumental in creating the ACE mentoring program, a partnership with Owensboro Black Expo that offers high school students valuable college and career insights.
Davis graduated from the University of Maryland-Baltimore County with a Bachelor of Arts degree in history. She also holds a Master in Public Administration from Eastern Kentucky University and a Master in Business Administration degree from Midway University. Currently, she's working towards completing her doctorate in Educational Leadership at the University of Kentucky.
Travis Owsley, 35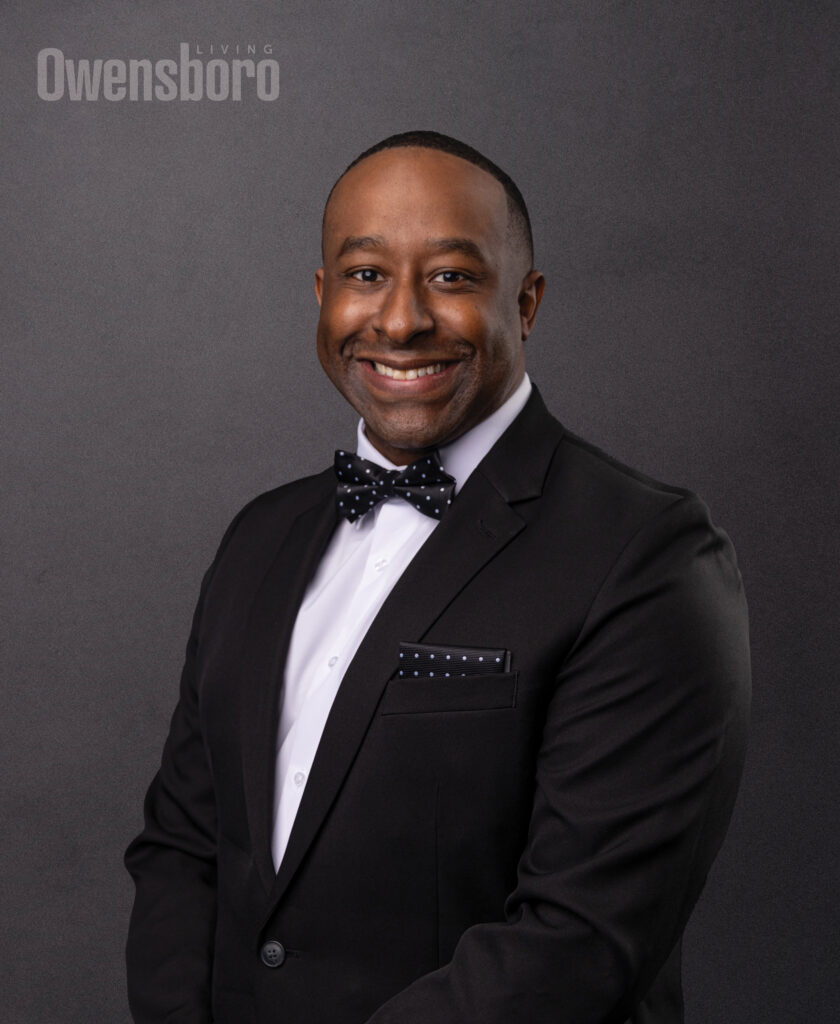 Founder/Executive Director, Beverly's Hearty Slice
Travis Owsley wears multiple hats as the founder of Beverly's Hearty Slice, Director of Recreation at Genesis Senior Living, and Assistant Basketball Coach at Kentucky Wesleyan College.
Through his work in the field of senior living, Travis brings an extraordinary blend of passion, enthusiasm, and joy to the residents and the wider community. He established Beverly's Hearty Slice in honor of his late mother, offering meals, assistance and supplies to those in need.
He shares a message of empowerment for local youth, emphasizing resilience in the face of challenges and the importance of fighting for the right reasons.
Travis has worked to collaborate with the community, exemplifying that positive change truly requires a village.
David Grinnell, 38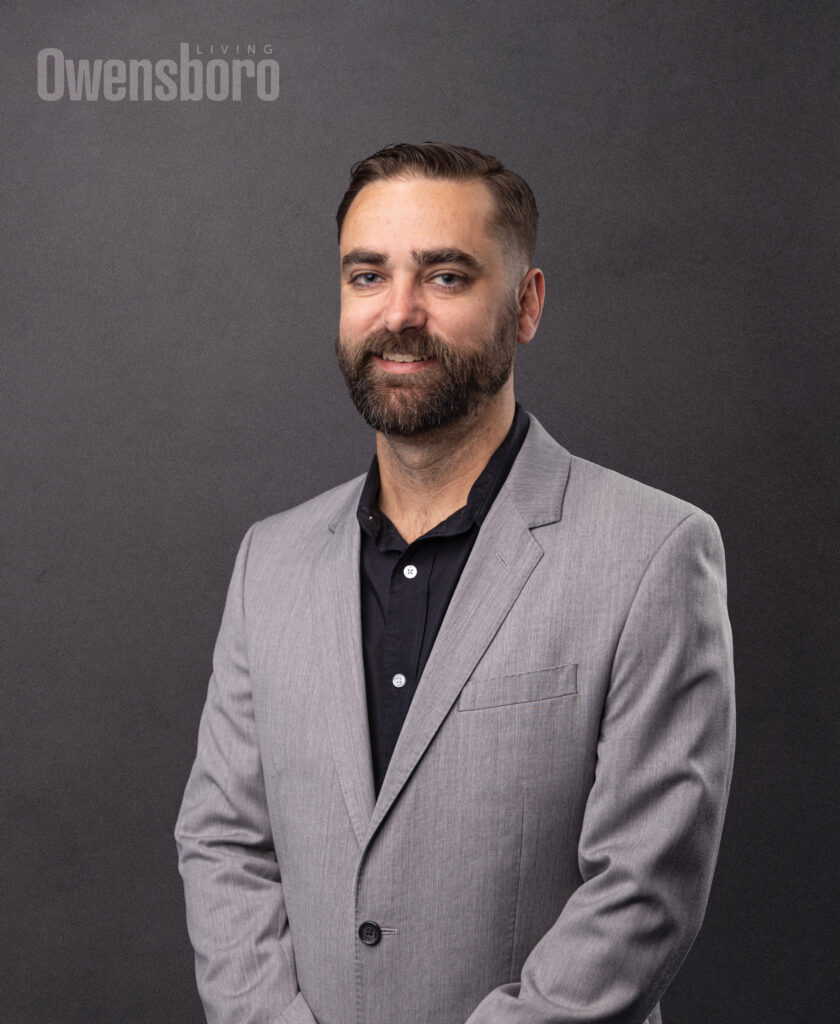 Producer, Tanner+West
David Grinnell serves as the Executive Producer and Head of Production at Tanner+West, a journey that began when he filmed a wedding for a friend. Over the span of nearly nine years at Tanner+West, his unwavering commitment has been to elevate every production to a level where it can compete on a national stage in terms of creativity and execution. This dedication has yielded remarkable results, including 13 regional Emmy Awards and a prestigious national Emmy nomination during this time frame.
David's passion lies in storytelling that touches people's hearts, and his ultimate goal is to produce visuals that immerse the audience in emotionally resonant moments. He firmly believes that in order to change someone's mind, you must first move their heart. He values the profound lessons hidden within seemingly ordinary stories, which can teach us about resilience, perseverance, and the indomitable power of the human spirit. Every individual's journey, no matter how "crazy" or "ordinary" it may seem, is a wellspring of inspiration.
Within Tanner+West, David is pivotal in various aspects, including writing, budgeting, planning, and executing photo and video shoots. Living in Owensboro for 23 years, he is now raising a family with his wife of 16 years, Sara, and their two daughters, Harper (9) and Luna (2).
Megan Carter, 27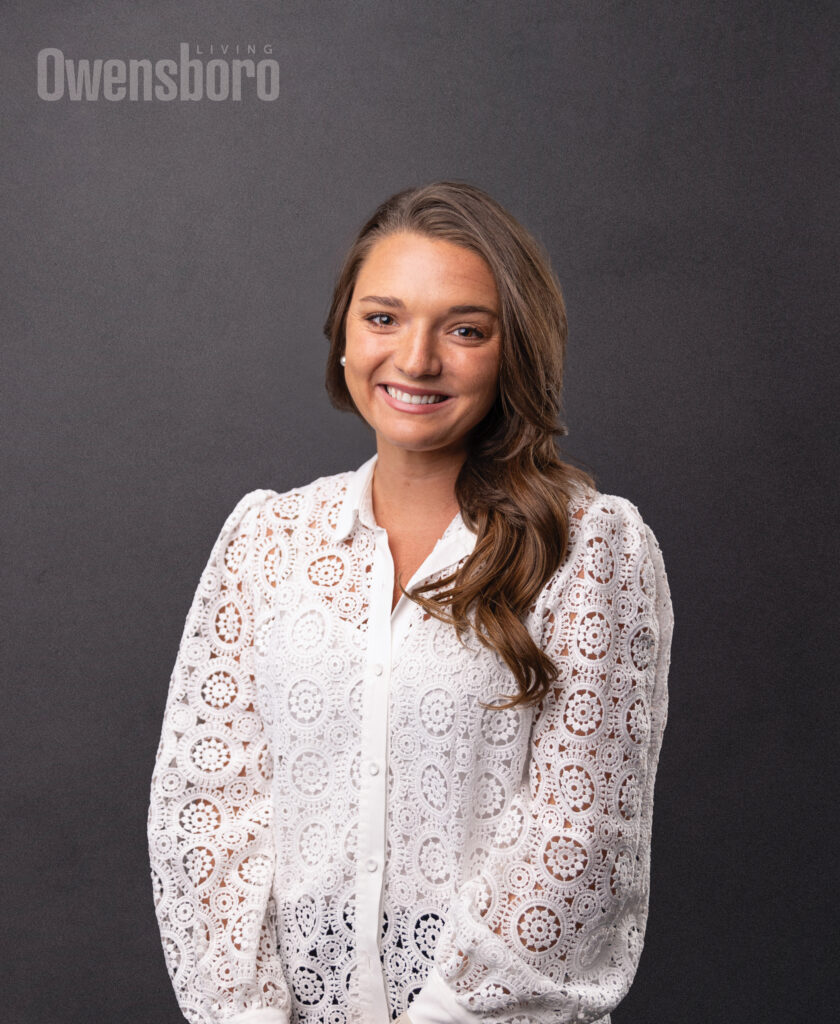 Physician Recruiter, Owensboro Health
Megan Carter grew up in Owensboro and attended Daviess County High School. She graduated from the University of Kentucky in 2018 with a Bachelor of Business Administration degree, majoring in Marketing and Business Management. Megan has spent the last four years working for Owensboro Health, currently as a Physician Recruiter and previously working in Marketing/Advertising. She is a graduate of the 2023 class of Leadership Owensboro and is on the Chamber Young Professionals Executive Committee. Megan is a member of the Junior League of Owensboro, previously serving on the Board of Directors, and is also a member of First Christian Church of Owensboro.
Mason Head, 32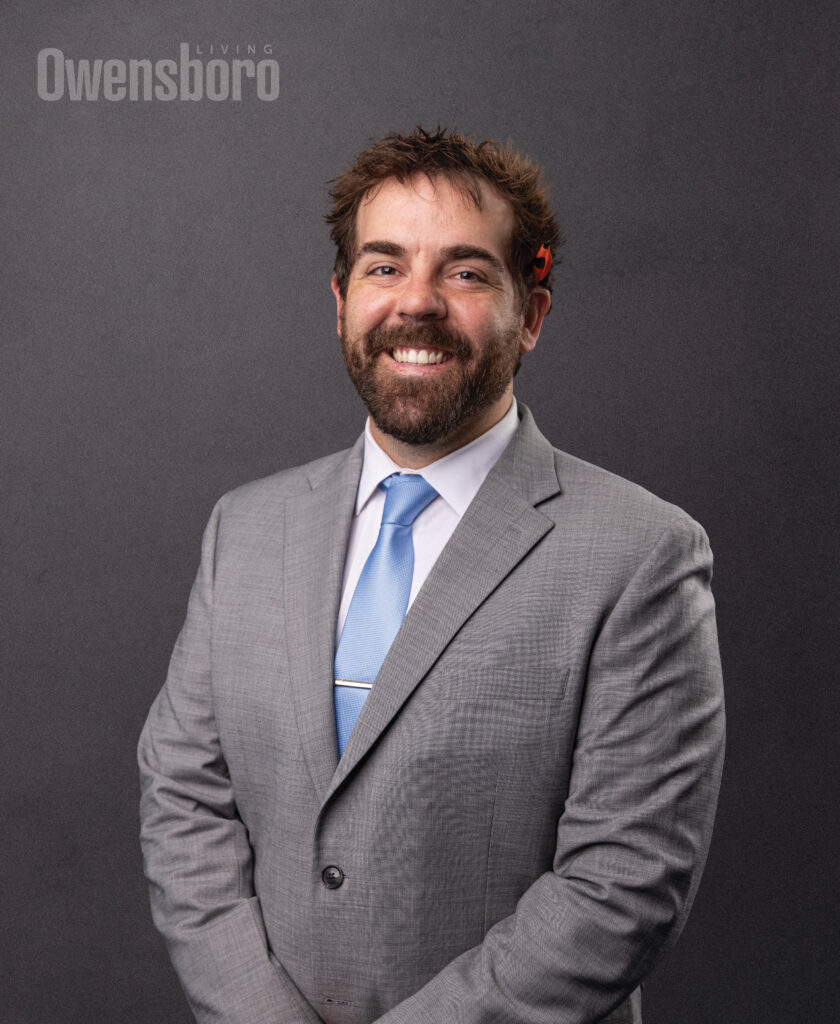 Assistant Principal, Apollo High School
Daviess County Public Schools would like to congratulate Mason Head for being named to the 2023 40 Under 40 list!
Mason Head is an Assistant Principal at Apollo High School where he has spent the entirety of his 11 years in education. He spent nine years working as an English teacher and is in his second year in his current role. While at Apollo, he has coached and sponsored various sports, clubs, and activities.
Mason's education background includes Holy Angels Elementary, F.T. Burns Middle School, Apollo High School, Georgetown College (Undergraduate and Graduate), and Western Kentucky University (Graduate). He is the son of David and Jill Head and is married to Allie Head, who teaches English at Daviess County High School.
Mason and Allie have one beautiful daughter, and the family may most typically be found simply enjoying the splendors that are the whimsical jollies of a toddler – most especially going for a walk, swimming, playing with their pets (Jack, Maggie, and Cleo), or reading as a family. Mason chose education because he holds the belief that investing in our youth is one of our society's chief responsibilities – one that is not to be taken lightly nor one that may be given anything less than the most sincere attention and most steadfast dedication.
Jared Revlett, 33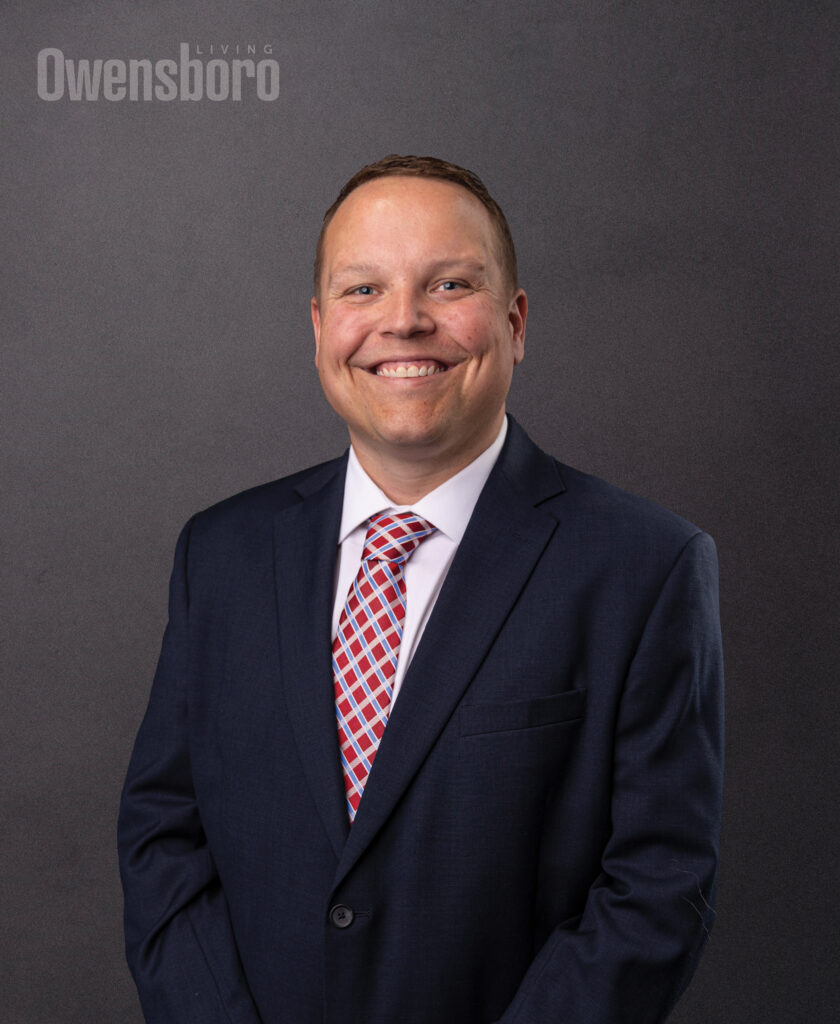 Public Information Officer, OPS
As the Public Information Officer for Owensboro Public Schools Revlett is responsible for sharing the OPS story and developing community partnerships that benefit the student population.
After earning a Communication degree from Hanover College, Revlett spent several years broadcasting collegiate and professional sports and worked in corporate public relations in Louisville. While at OPS, Revlett has served as President of the Kentucky School Public Relations Association and was named a Top 35 Under 35 School PR Professional by the National School PR Association in 2021.
Revlett is a strong proponent of public service and community engagement. He serves on the local Girls Inc Board of Trustees, Bicycle Owensboro, the Chamber Young Professionals Executive Board and the city's Community Development committee.
As the Public Information Officer for Owensboro Public Schools Revlett is responsible for sharing the OPS story and developing community partnerships that benefit the student population.
After earning a Communication degree from Hanover College, Revlett spent several years broadcasting collegiate and professional sports and worked in corporate public relations in Louisville. While at OPS, Revlett has served as President of the Kentucky School Public Relations Association and was named a Top 35 Under 35 School PR Professional by the National School PR Association in 2021.
Revlett is a strong proponent of public service and community engagement. He serves on the local Girls Inc Board of Trustees, Bicycle Owensboro, the Chamber Young Professionals Executive Board and the city's Community Development committee.
Revlett is married to his beautiful wife Liz. They are the proud parents of Biscuit the cavapoo who joined their family in July 2022.
Ross Hyland, 26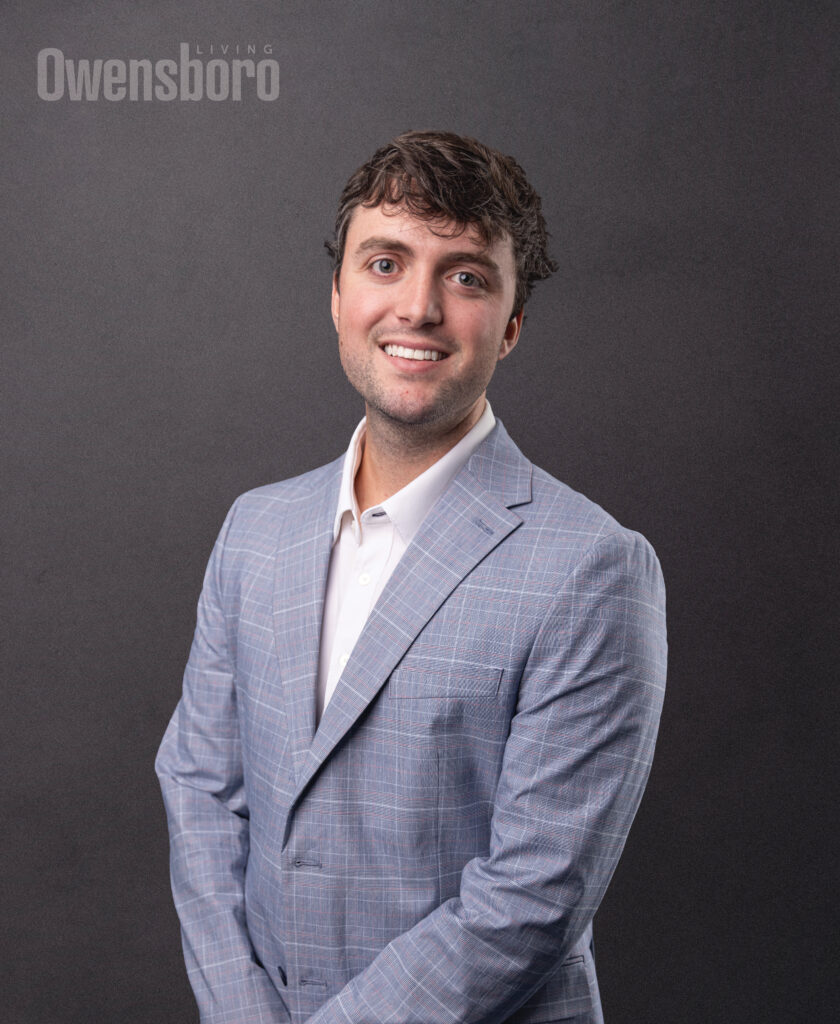 Owner, Lark Electric
Lark Electric would like to congratulate Ross Hyland on his 40 Under 40 selection.
Ross started his business at 21 years old and now, at the age of 26, he has grown the organization to encompass Lark Electric, Patterson Westbrook Electric and Hyland Enterprises. Lark Electric was founded in 1963 by the Fulkerson family. Since Ross purchased the company in 2021, Lark Electric has grown to one of the largest electrical contracting companies in the region.
"I want to thank all the people in my company for growing the business to where it is today," Ross said. "It truly is a team effort, and I am humbled to be selected for this award."
Josh Kelly, 24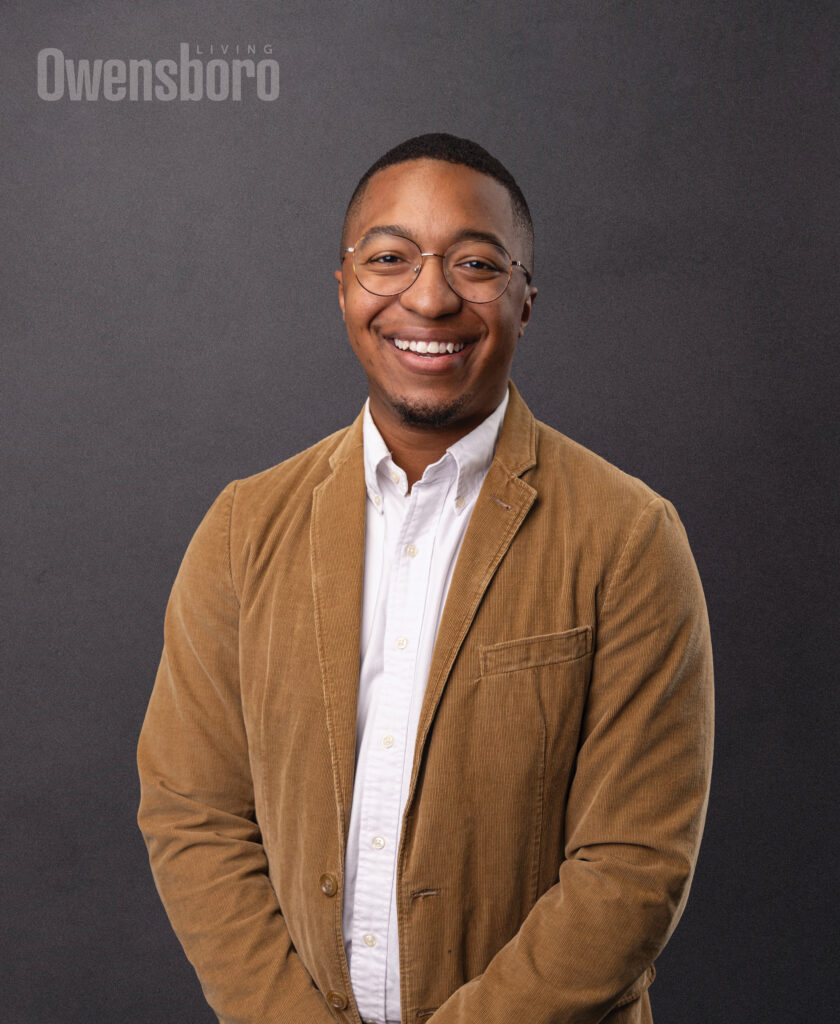 News Associate, Owensboro Times
Josh Kelly is a Reporter at Owensboro Times and Freelancer for Owensboro Living, covering any and all news of this city. He is an Owensboro native graduating from Owensboro High School before he attended Northern Kentucky University. Since returning home, he has become an integral part of the community, actively contributing to its journey forward. He is a board member of the Chamber Young Professionals, Through Sleet's Eyes Festival, Breaking the Cycle, a recent graduate of Leadership Owensboro 2023, and a member Rotary International – Owensboro Chapter and the National Association of Black Journalists. Outside of work, he enjoys coffee shops and watching the newest episode of Survivor.
Ryan Richardson, 31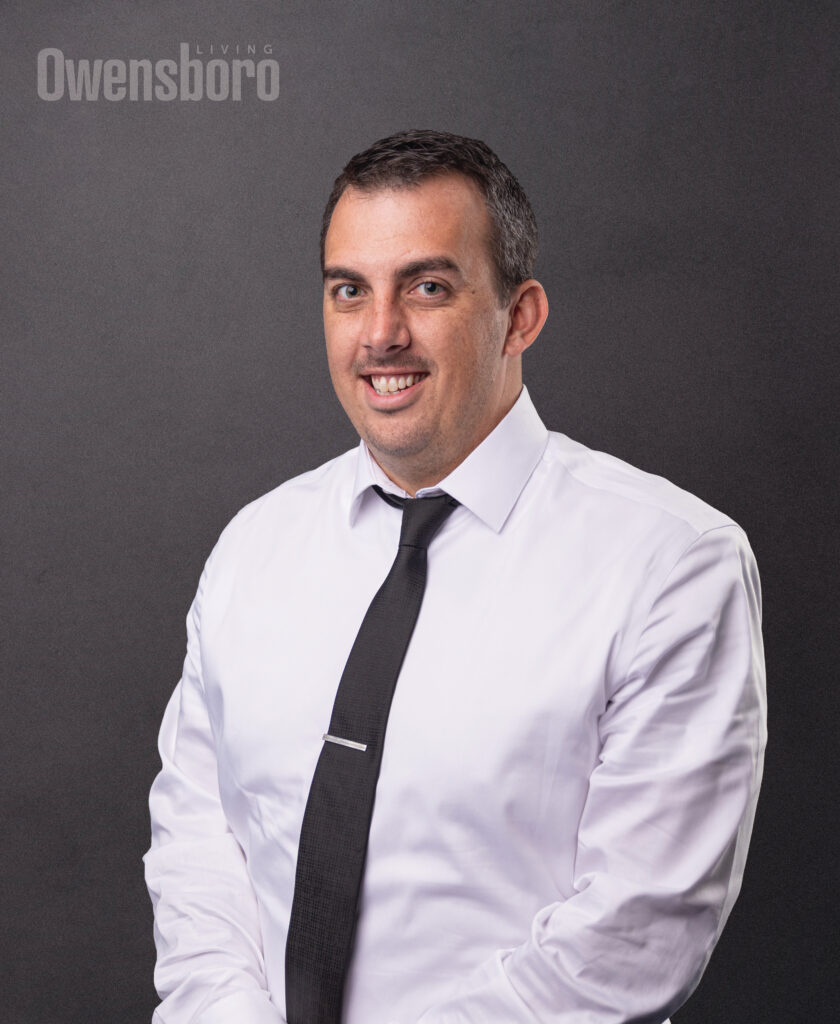 Managing Editor, Owensboro Times
Ryan Richardson has served as the Managing Editor for Owensboro Times since March 2020. He oversees the day-to-day operations and has helped the award-winning news outlet expand its presence and dedicated following in the area. He previously served as the OT Sports Editor, a position he held since the company was founded in August 2018. Ryan also held several roles for weekly and daily newspapers in Tennessee and Kentucky before joining Owensboro Times. Ryan was born and raised in Gleason, a small town in northwest Tennessee. He attended Murray State University, where he obtained a degree in journalism in 2014 and where he met his wife Meghann, an Owensboro native. They have one daughter, Emery.
Jamie Johnson, 39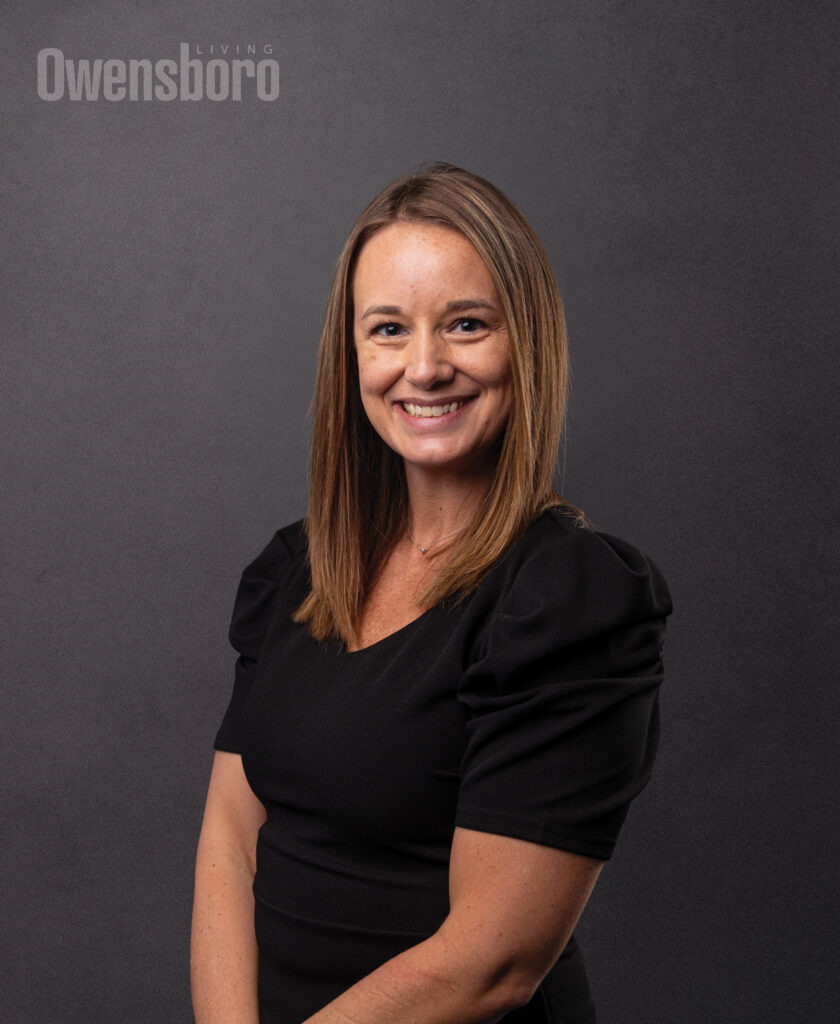 Center Director/Business Coach, Owensboro Small Business Development Center
Jamie Johnson is the Director for the Kentucky Small Business Development Center in Owensboro. Over the last three years, she has helped local entrepreneurs start and grow their businesses. Johnson graduated from Western Kentucky University with a bachelor's degree in Corporate and Organizational Communication. Previously, she has held positions at Marshall Ventures, a $2 million venture fund created by local investors, the Owensboro Convention Center, and the Greater Owensboro Chamber of Commerce. Jamie and her husband Logan have two sons, Henry, and Simon. Her goal is to help make Owensboro a better place for families to live and work.
Trey Pippin, 33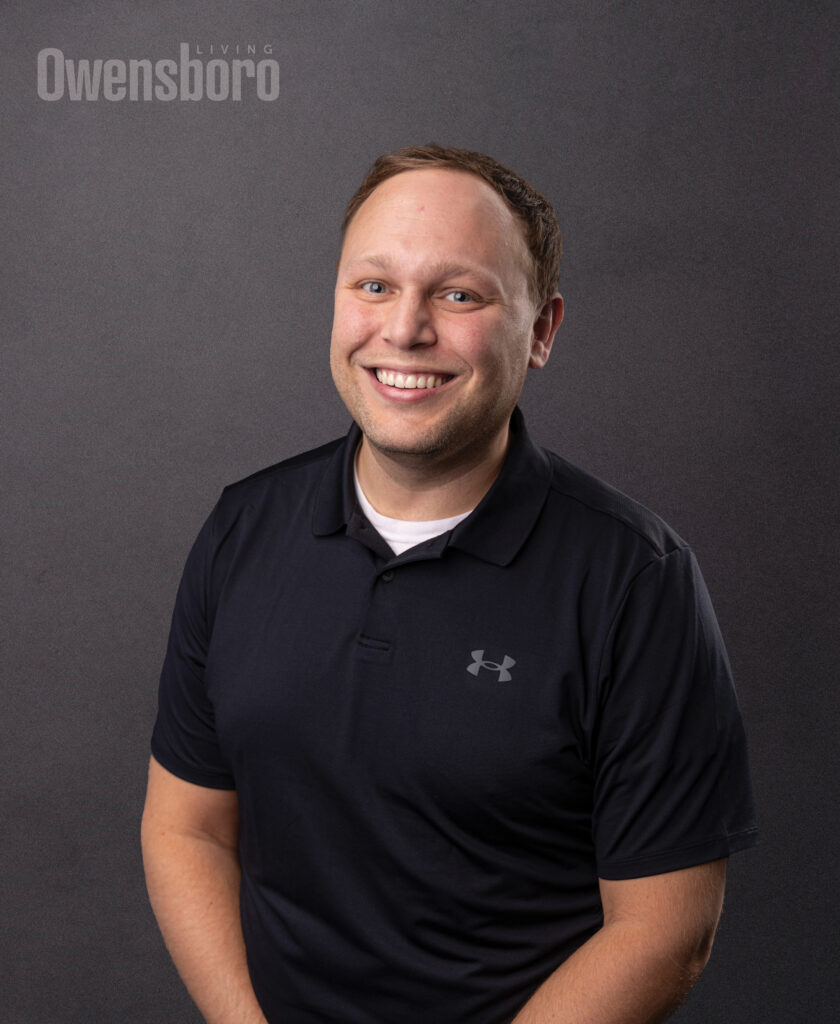 Sales Representative, Greenwell Chisholm
An Owensboro native, Trey Pippin attended the University of Louisville after being awarded the prestigious McConnell Scholarship.
After working stints in both houses of Congress and even the Walt Disney World Resort, Trey served as a teacher and counselor with Daviess County Public Schools where his contributions to dual credit programs were recognized on a national level.
Leaning into his adventurous spirit, Trey transitioned to a role with Greenwell Chisholm, a long-standing staple of Owensboro's small business community, and he's having a blast.
He is most proud to be husband to Maddy and dad to their children— Sawyer and Ford.
Amanda Owen, 39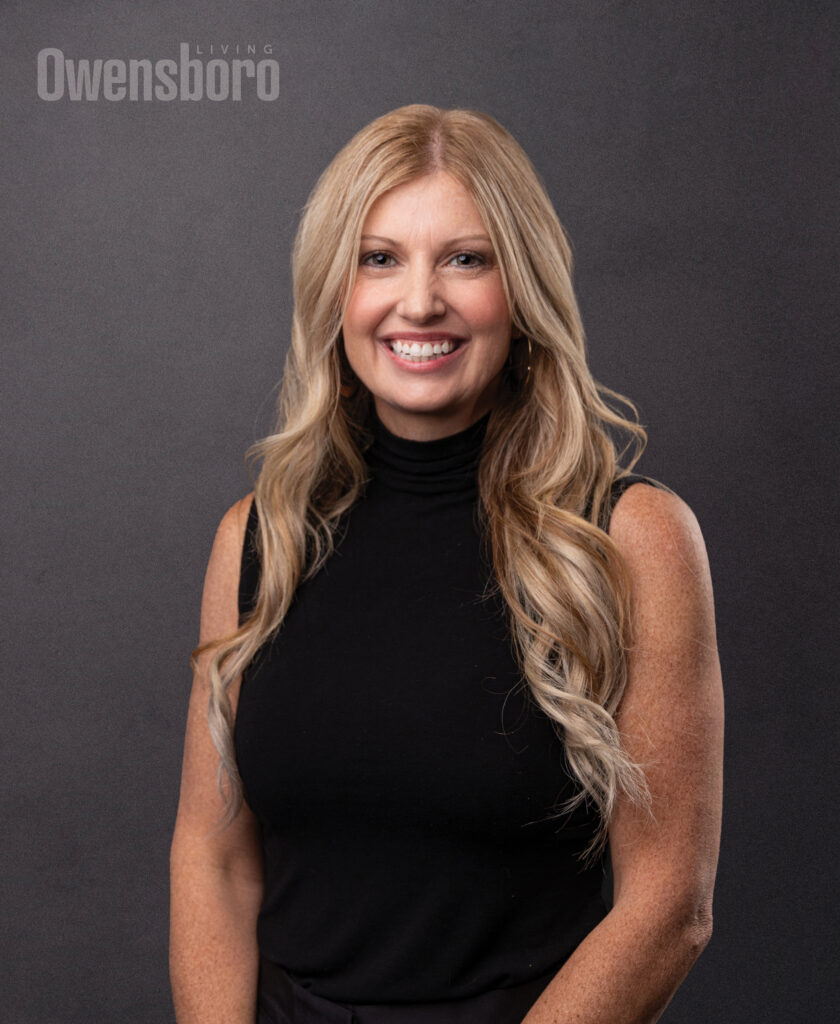 Founder/Executive Director, Puzzle Pieces
Amanda Owen left her job as a special education teacher over a decade ago to launch Puzzle Pieces, a nonprofit that serves individuals with disabilities, offering them more opportunities outside the classroom and after graduation. Amanda has grown Puzzle Pieces to serve more than 400 clients with a staff of over 100 and a $5 million operating budget. Puzzle Pieces offers clients social and vocational skills, supported employment, residential living, behavior therapy and the region's only targeted autism programming.
Under Amanda's leadership, Puzzle Pieces was named the 2019 Nonprofit of the Year by the Greater Owensboro Chamber of Commerce and Employment Opportunities (a division of Puzzle Pieces) was named the 2023 Education & Workforce Development Institution of the Year. Amanda is a founding member of the Nonprofit Coalition of Owensboro and was appointed to the Kentucky Employment First Council by Gov. Andy Beshear.
Driven by her unique perspective as a sibling to a brother with a disability and a nonprofit service provider, Amanda launched Pieces of Me, a social media platform where she reaches 3.5 million people. She has authored two children's books and a gratitude journal for special needs moms, hosts a podcast, and coaches both special needs parents and female entrepreneurs across the country.
Brandon Gilles, 33
Regional Vice President Insurance Services, Farm Credit Mid America
Brandon Gilles currently serves as a Regional Vice President of Crop Insurance for Farm Credit Mid-America. In this role, Brandon works with a dedicated team of insurance agents across Kentucky, Tennessee, and Arkansas. Their team is known for their customer service and helping farmers and agribusinesses leverage opportunities and reduce risks.
Brandon earned his bachelor's degree in Agricultural Economics from the University of Kentucky and his MBA from Northern Kentucky University. He joined the Farm Credit Mid-America team in 2013 where he managed a diverse lending portfolio as an agricultural loan officer. During this time, he worked to build relationships with farmers and businesspeople in and around Owensboro.
Brandon is also a fifth-generation farmer and was raised on his family's farm in western Daviess County. He functions in a part-time capacity on the farming operation now. Raising livestock, grain, and tobacco, he has gained an appreciation for the farm and all the lessons it has taught him. He has enjoyed learning all aspects of agriculture, from production to agricultural policy.
Brandon is passionate about giving back by being active in his community and state. He enjoys being involved in many agricultural and civic organizations and serves on multiple committees and boards.
Dirk Dooper, 37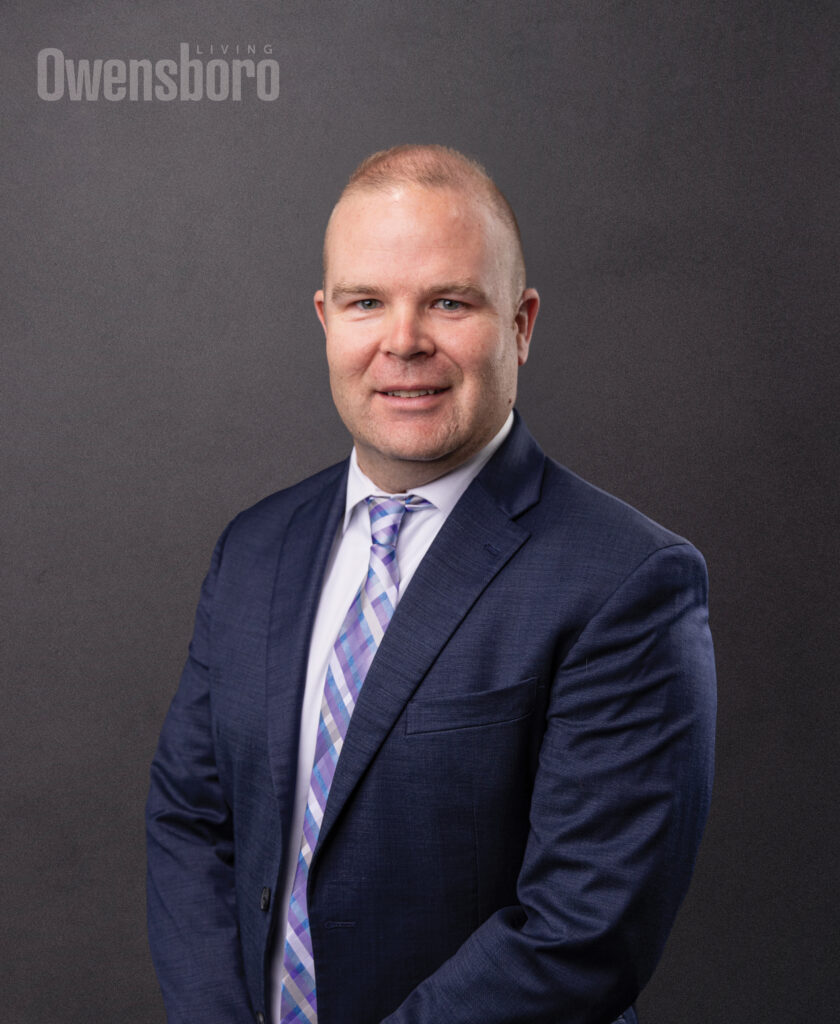 Assistant City Engineer, City of Owensboro
Dirk Dooper serves as the Assistant City Engineer for Owensboro, holding this role for 8 years. He oversees the city's infrastructure, including streets, sidewalks, and storm sewers as well as reviews plans for new private developments. Dirk has successfully managed key construction projects like the Greenbelt Trail expansion and the Grover Cary Bridge Lights and is currently supervising the construction of the Owensboro Fire Training Center.
Born and raised in Owensboro, he's the eldest of four siblings. Dirk graduated from Owensboro Catholic High School and holds Bachelor's and Master's Degrees in Civil Engineering from the University of Kentucky. Outside work and his role as Treasurer for Friday After 5, he enjoys running, biking, hiking, and canoeing. Dirk is also a licensed private pilot and is working towards an instrument rating.
Ben Skiadas, 39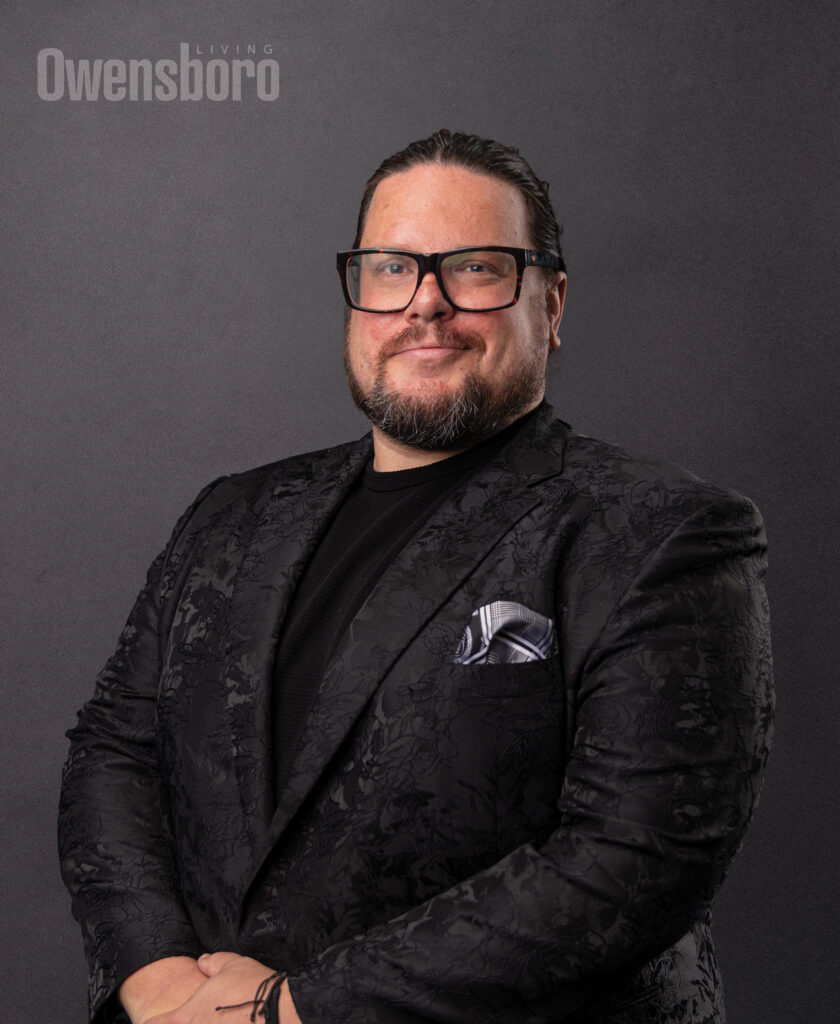 Owner/Operator, Lure Seafood & Grille
Ben Skiadas has significantly impacted the Owensboro food scene by continuing the family legacy at Famous Bistro, opening Lure Seafood and Grille, Lure Smoke Shack, and most recently The Lot Food Truck Park. He has consistently demonstrated exceptional leadership, collaboration, innovation, and dedication throughout his career, and he is always looking to help the community progress.
While growing up in the culinary world, he still found time to pursue other passions, such as theatre and the fine arts, attending the prestigious theatre program at the University of Evansville. There he learned to express his passion and honed his skills as a visionary. His love for the arts is always on display at his restaurants through artistic platings and cocktails as well as his insistence that live music and local art enhance the dining experience.
Skiadas is always on the go in his pursuit of new experiences. Traveling to new places and finding unique experiences has profoundly affected his desire to bring world-class experiences to his hometown of Owensboro.
Throughout his career, Ben has consistently displayed a passion for pushing the culinary envelope and creating memorable and noteworthy events. His expertise, collaboration, and leadership have allowed him to partner with significant distilleries, breweries, and wineries for unique tasting events and philanthropic ventures. His commitment to excellence and drive for success have earned him a reputation as a highly respected professional in Kentucky.
Beyond his professional achievements, Ben is deeply committed to giving back to the community. Actively participating in collaboration with the City, Friday After Five, Kentucky Motor Sports Week, Nicky Hayden Day, The Holiday Stroll, Owensboro Food and Beverage Coalition, Rally Point Events, Coalition for Workforce Diversity, The Bluegrass Legends Car Show and Food Truck Rally, and Beverly's Hearty Slice.
Ben is a proud son of Owensboro and looks forward to working toward building a better Owensboro for tomorrow. He is honored to be recognized as one of Owensboro's 40 Under 40.
Samantha Taylor-Ka'ai, 31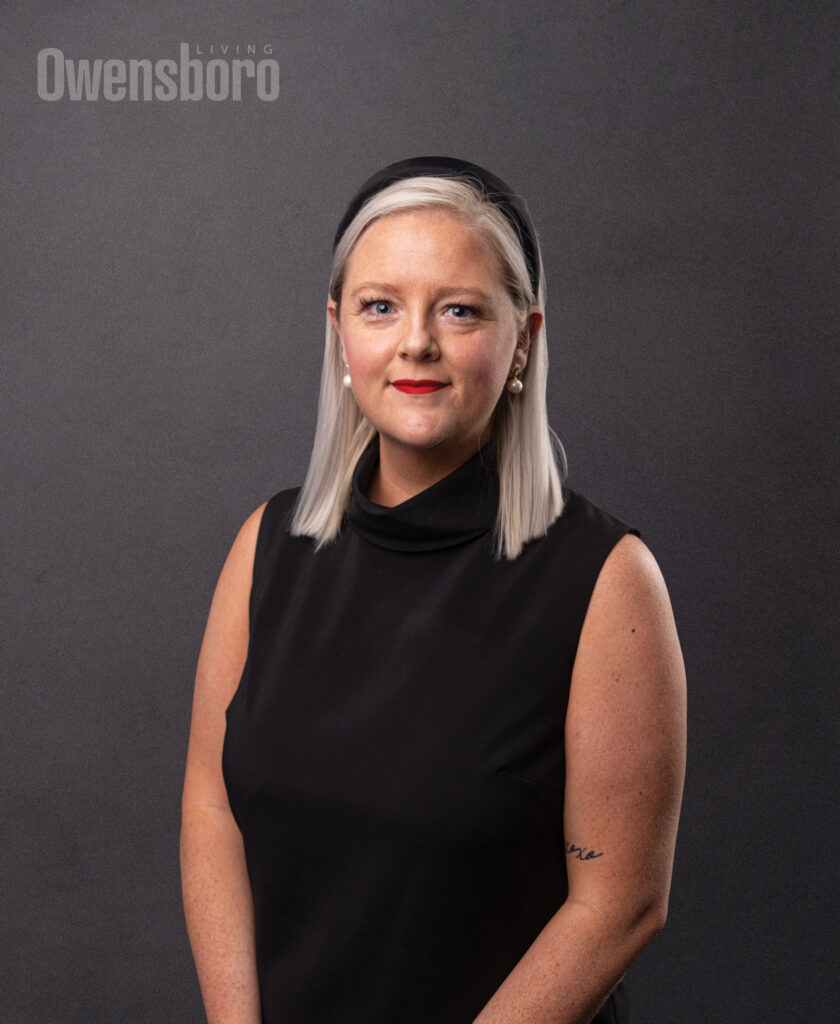 Program Director, Audubon Area Community Care Clinic
Samantha Taylor-Kaai directs the Audubon Area Community Care Clinic, a crucial primary care provider for the underserved in Owensboro. Her role marries her dedication to serving the vulnerable with her healthcare administration expertise. Beyond work, Samantha is active in Owensboro's nonprofits, including Junior League as membership chair and St. Stephens Cathedral's social concerns ministries. She serves on the boards of Girls, Inc. and Crossroads Emergency Shelter for Women. Samantha recently completed her MBA at Brescia University and is pursuing a Doctorate of Business Administration with a Healthcare Administration emphasis at the University of the Cumberlands.
DeMarcus Curry, 36
Performing Operations, U.S. Bank
DeMarcus Curry is a dedicated professional, excelling in roles at U.S. Bank and Kroger. As the founder of the Owensboro Youth Empowerment Summit since 2007, he uplifts local youth. DeMarcus is also a mentor in the Breaking the Cycle program and a board member of the ODC Drug Task Force. Recognized by Owensboro Black Expo, NAACP, and Owensboro Human Relations Commission, he's an influential community figure. A family man, he's been married to Aunjanae for a decade and is a proud father of three boys: Zion, ZayDen, and ZayVion. Beyond his community service, DeMarcus is a minister and musician at Tenth Street Missionary Baptist Church and Asbury United Methodist Church.
Cody Russelburg, 36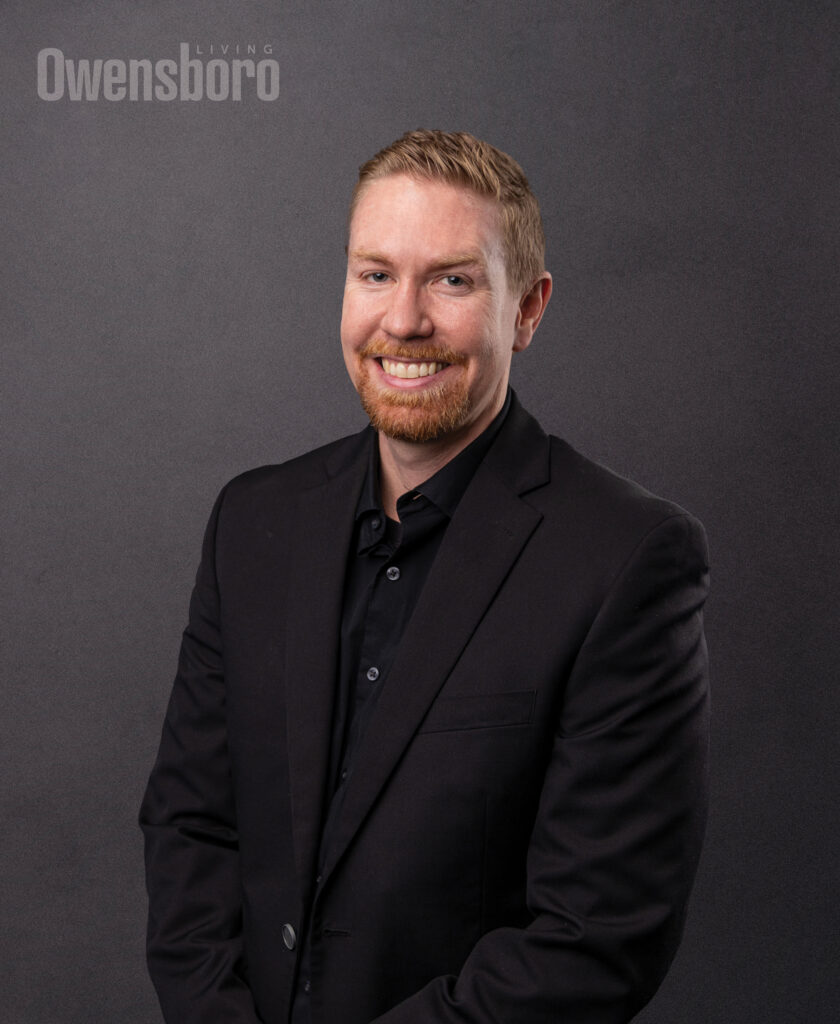 Assistant Principal, Sutton Elementary School
Cody Russelburg, Assistant Principal at Sutton Elementary School, brings four years of leadership experience. Previously, a Social Studies Teacher and Boys Tennis Coach at Owensboro High School, he earned Teacher of the Year honors twice. His educational journey started at Newton Parrish Elementary and Owensboro High School, followed by University of Kentucky and currently, the Educational Leadership Doctoral Program at Western Kentucky University. A family man, Cody enjoys nine years of marriage with wife Jana, alongside daughters McKinley and Peyton. They love to watch any sport they can, especially if the players are wearing red and black, or blue and white. Cody is passionate about teaching, continuous learning, and thoughtful leadership.
Sydney Warren, 39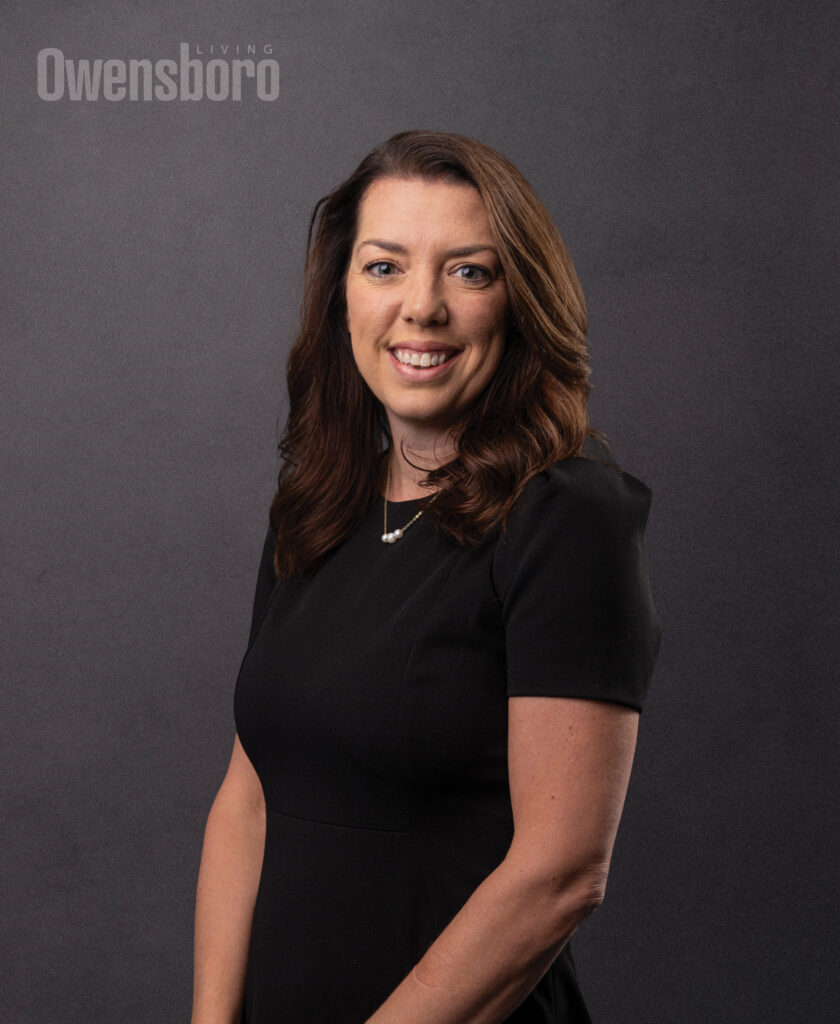 Vice President of Institutional Advancement, Brescia University
Brescia University would like to congratulate Sydney Warren, Vice President of Institutional Advancement on her 40 Under 40 selection. Sydney has served the University for over 10 years, taking on new responsibilities in the Advancement office several times before leading the team since 2019. She has a heart for Brescia's students, faculty, staff and alumni and lives the values of Brescia Difference.
Sydney is grateful for the opportunity to work and raise her family in the Owensboro community. She is involved in many organizations, including the Owensboro Nonprofit Coalition and Impact 100, and teaches religious education in St. William's Parish.
Will Wathen, 38
Director, Supply Chain Services, Southern Star Central Gas Pipeline Inc
Will Wathen is the Director of Supply Chain Services at Southern Star Central Gas Pipeline where he manages the overall supply chain strategy as part of the executive leadership team. Before beginning work for Southern Star in 2019, Will served in the United States Marine Corps as a commissioned officer for nearly 11 years, culminating in the rank of Major. During his time in the Marines, Will held various leadership roles managing teams focused in supply chain, logistics, manpower management, and operations in support of two overseas deployments to Afghanistan and Spain.
Will was born and raised in Owensboro and has been married to his wife, Kelly, since 2008. He is the proud father of three daughters, Caroline, Lucy, and Maggie. He attends Immaculate Parish and enjoys coaching youth sports, fishing, hunting, following UK athletics, and watching his girls dance. He is a 2023 graduate of Leadership Owensboro. Will holds a Bachelor of Science in Economics from the United States Naval Academy in Annapolis, Maryland, and a Master of Science in Operations Research from the Naval Postgraduate School in Monterey, California.
Edris Akbari, 33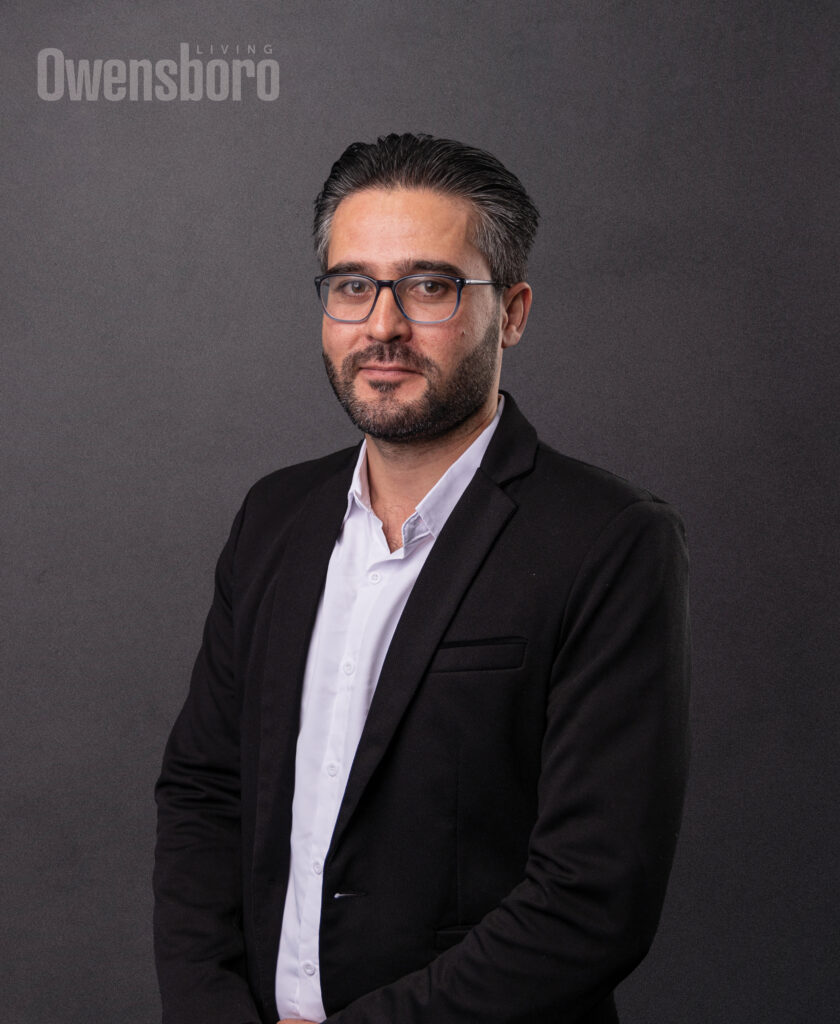 Afghan Community Liason, International Center
Edris Akbari is the Afghan Community Liaison for the International Center of Owensboro and co-owner of Pamir Afghan Cuisine restaurant. Edris holds a bachelor's degree in computer science and worked as a journalist for The Kabul Times from 2015-2021.
As the Afghan Community Liaison for the International Center of Owensboro, Akbari builds bridges between the Owensboro community, the Afghan community, and the entire refugee community. He also works to build connections, friendships, and unity by encouraging acceptance, understanding, and compassion between these groups of people.
Akbari and almost 200 other refugees left Afghanistan in September of 2021 and lived in Virginia for a couple of months before making their way to Owensboro. Opening Pamir Afghan Cuisine was a way for Akbari to do something for the refugee community and for Owensboro people so they could experience good and new food. The restaurant, housed in Windy Hollow Biscuit House, also serves as a gathering space for the Afghan community during their holidays and other celebrations. Akbari is proud to have helped create a space that will bring joy and a piece of home to both his community and others in the Tri-State.
Mario Vizuet, 31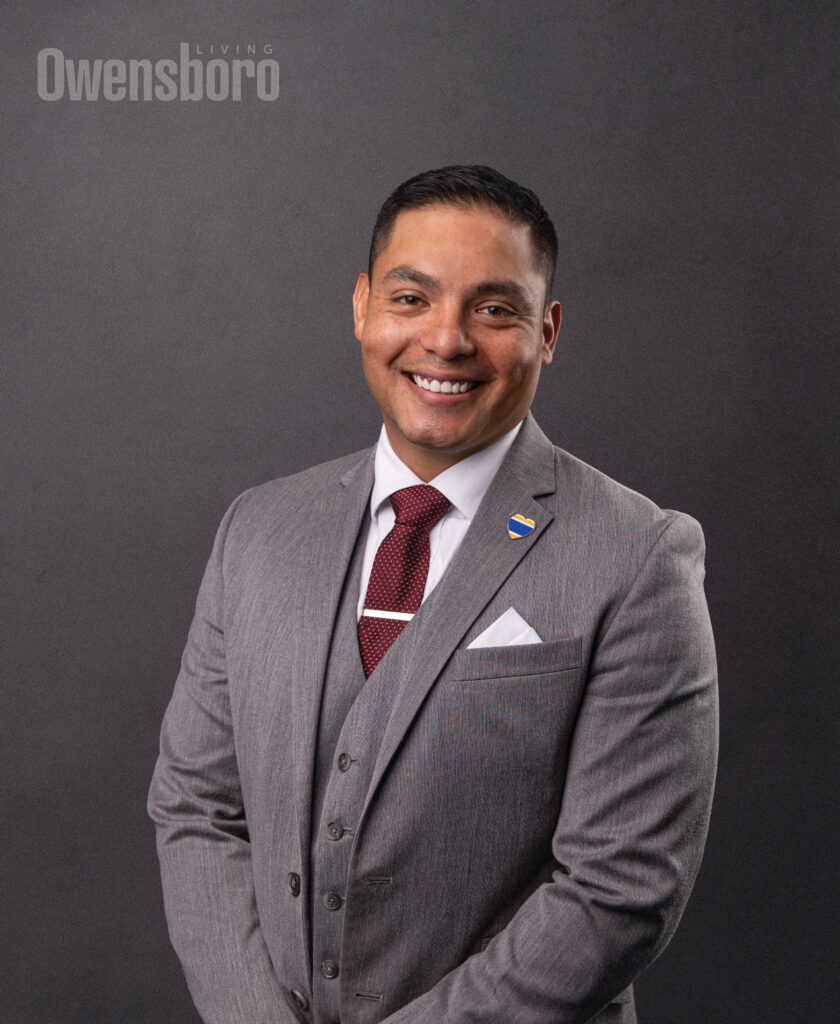 Wealth Advisor, Old National Investments
Mario, who was born in Mexico City, moved to the US at age 12. With a business degree from Texas A&M University, he began his career at Old National Bank in 2016. Mario is deeply involved in the community. He has chaired the Chamber of Young Professionals, is an active volunteer in financial education for Junior Achievement, and a is consultant for Owensboro's Community Development Committee. He's a board member for Boys & Girls Club and Beverly's Hearty Slice, as well as a 2018 Leadership Owensboro graduate. Beyond work, Mario cherishes family time, exercises, travels, plays golf and pickleball, and roots for his Texas A&M Aggies on college game day.
Ashtin Warren, 36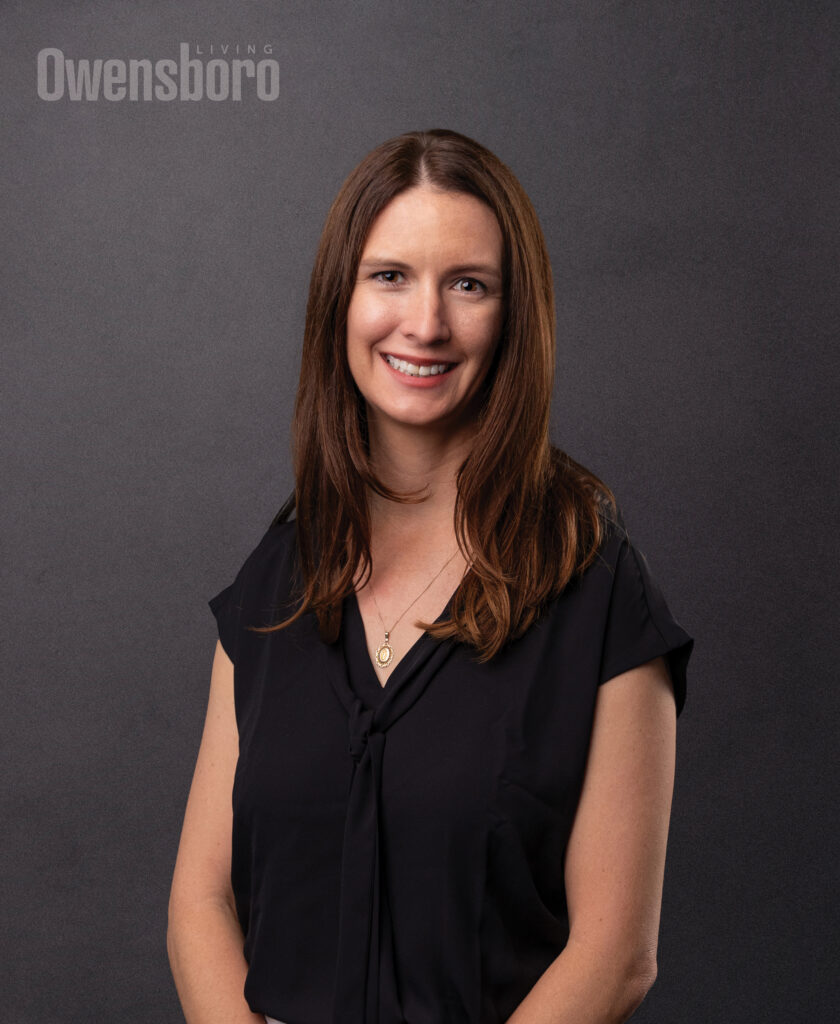 Director of Talent Programs, Chamber
Ashtin Warren is the Director of Talent Programs for the Greater Owensboro Chamber of Commerce. She earned her bachelor's degree from Bellarmine University where she studied abroad in both Spain and Argentina.
In her role at the Chamber, Ashtin serves as the program director for Leadership Owensboro, a talent development program focused on educating, engaging, and empowering individuals to improve the quality of life in Greater Owensboro. In addition to Leadership Owensboro, Ashtin connects graduates of the program through Leadership Owensboro Alumni to increase awareness, participation, volunteer involvement and philanthropic commitment in our community.
Ashtin also serves as the staff liaison for Chamber Young Professionals, a talent retention and development program that creates strong ties in the community through corporate tours, professional development, social events, and philanthropy events and encourages those involved to serve as future community leaders.
Her role at the Chamber also includes coordinating the Educators in the Workplace program, a business and education partnership that exposes educators to the needs of regional employer to provide meaningful careers for their students beyond graduation.
Ashtin grew up working on a fourth-generation family farm, Riney Farms. Ashtin is married to James, and together, they have two children, Jane and Pete.
Jim Gilles, 35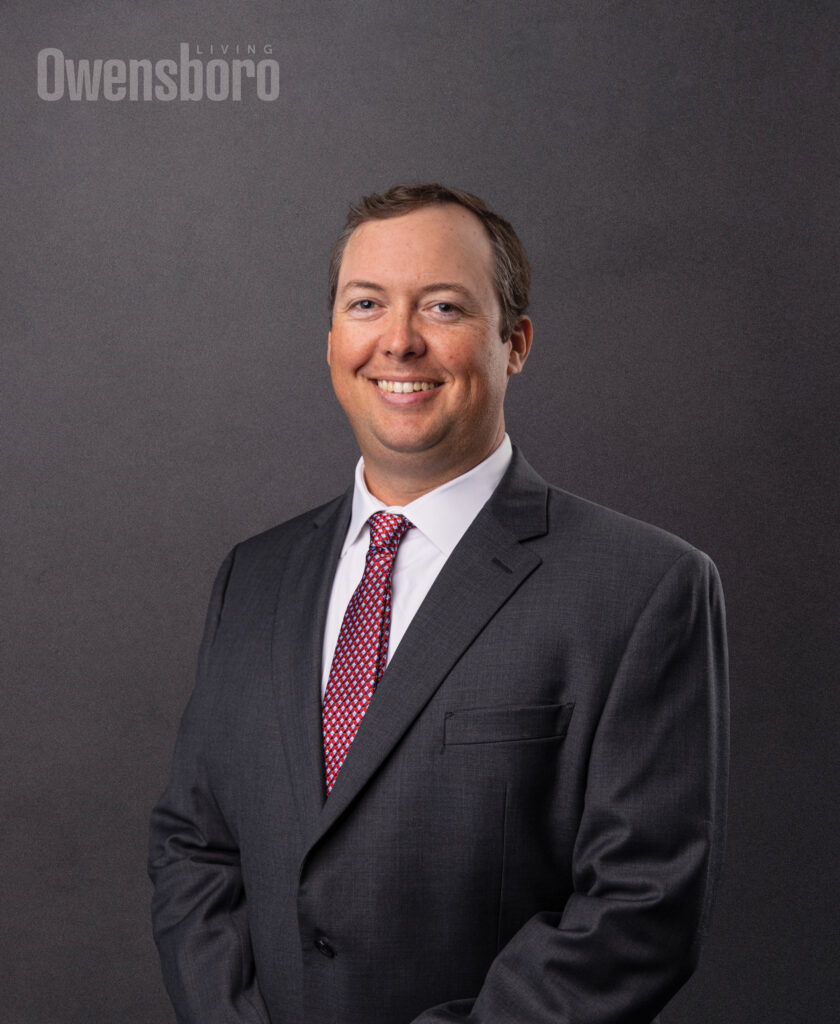 Owner/Operator, Hill View Farms Meats
Jim Gilles is the 5th-generation to operate Gilles Farms, a 2,500-acre diversified farm in Daviess County that has been running for over a century. Their farm boasts corn, soybeans, hay production, wrapper tobacco, registered Angus beef cattle, pastured chickens and meat sales.
With a degree in agricultural economics and political science from the University of Kentucky, Jim founded Hill View Farms Meats in 2013, providing the community a local protein source. He added an on-farm retail store in 2016, which is a hub for Kentucky Proud and local products. Jim prioritizes product quality year-round while also contributing to several local and state boards across the Commonwealth and the Owensboro community engagement.
Shaelie Velez, 30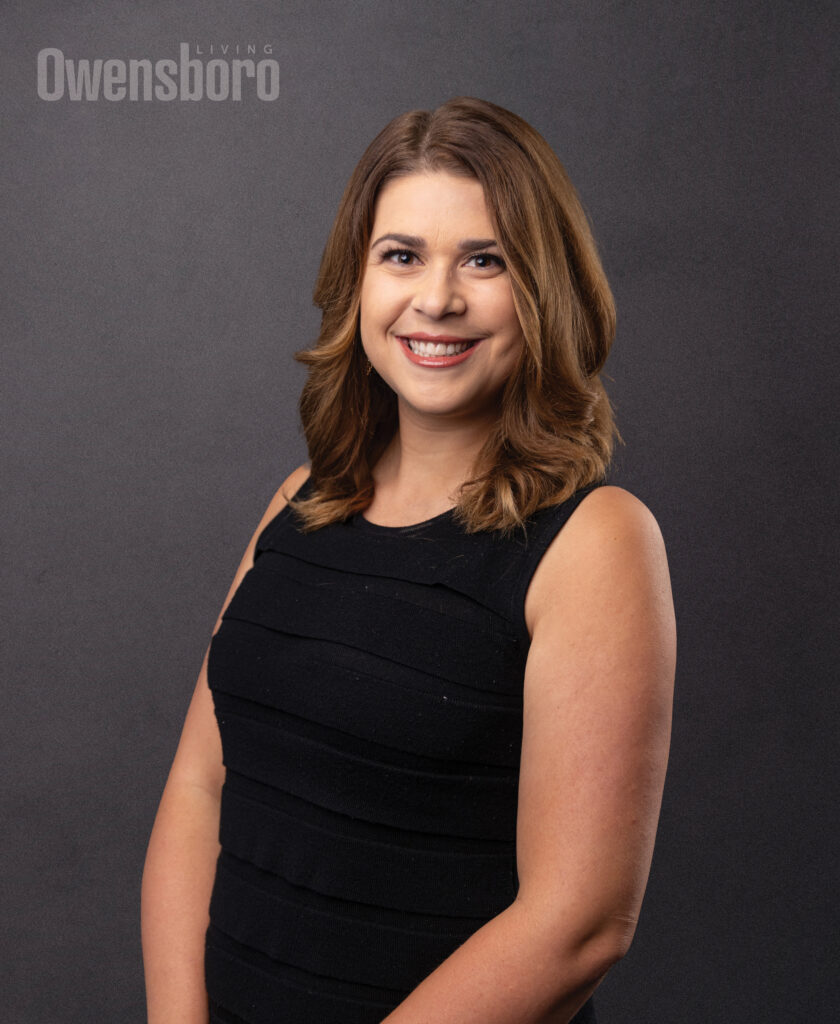 Communications & Marketing Manager, City of Owensboro
Shaelie Velez is the Communications and Marketing Manager for the City of Owensboro. She moved to Owensboro after graduating from Indiana Wesleyan University in 2016, and worked at 14 News as a reporter and morning anchor for six years.
Owensboro immediately felt like her home. She met and married her husband, Marcus Velez, in this city and it's now become home to their first child, Ruth Velez.
Shaelie is an active member of the Chamber Young Professionals, a mentor at Mentor Kids Kentucky, Board Member for the Boulware Mission, and a youth teacher at Bellevue Baptist.
In November 2022, she started a new career working for the City that she's come to love and now calls home. She says it's been an amazing year working with a great team of people who strive to make the City of Owensboro a phenomenal place to live. She's learned so much working under the great individuals leading our city, and looks forward to keeping the community informed on the great things happening here in Owensboro.
Jay Fallin, 36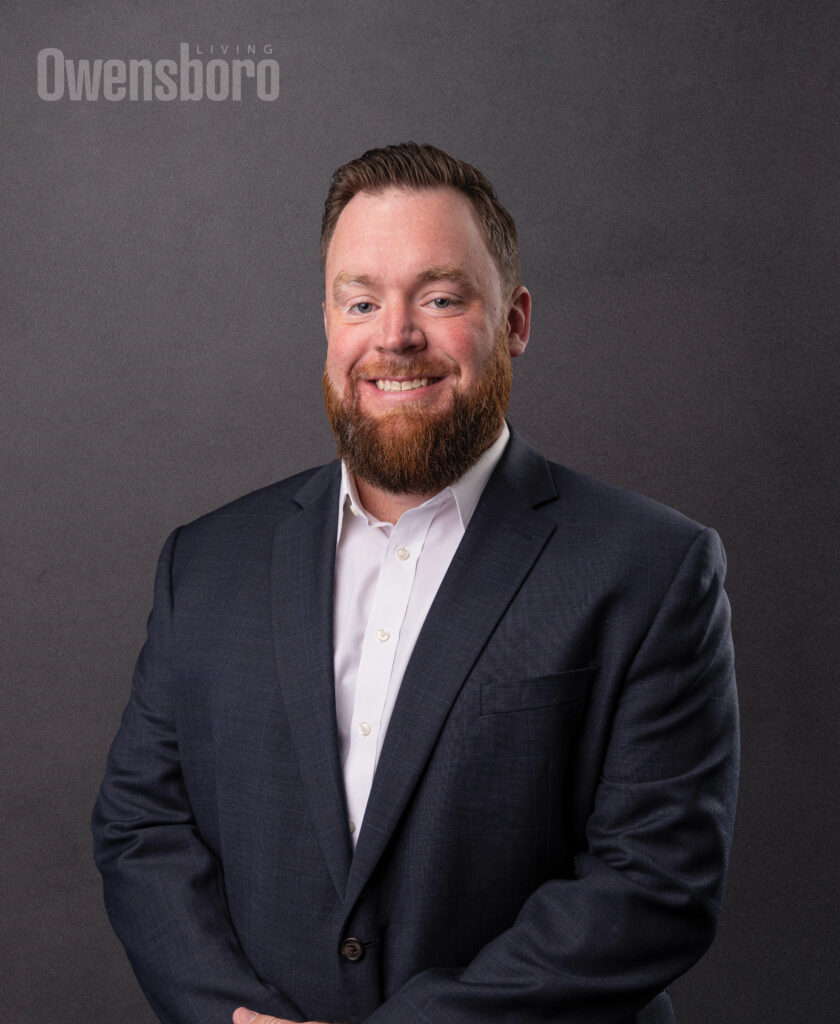 Social Studies Teacher, Head Football Coach, OHS
This fall, Jay Fallin started his 14th year teaching and coaching football at OHS, his ninth season as head coach. Fallin holds a bachelor's degree in secondary education with a dual certification in social studies and special education from Kentucky Wesleyan College, as well as a master's in K-12 administration (principal's certification) from the University of the Cumberlands. In addition to teaching and coaching, Fallin sponsors the annual Bradshaw History Tour of New York and Washington, DC for OHS students, as well as the Student Y Club. Fallin and his wife, Allison, a physical therapist and clinic manager for KORT, have two sons, Drew and Ben.
Kara Howard, 32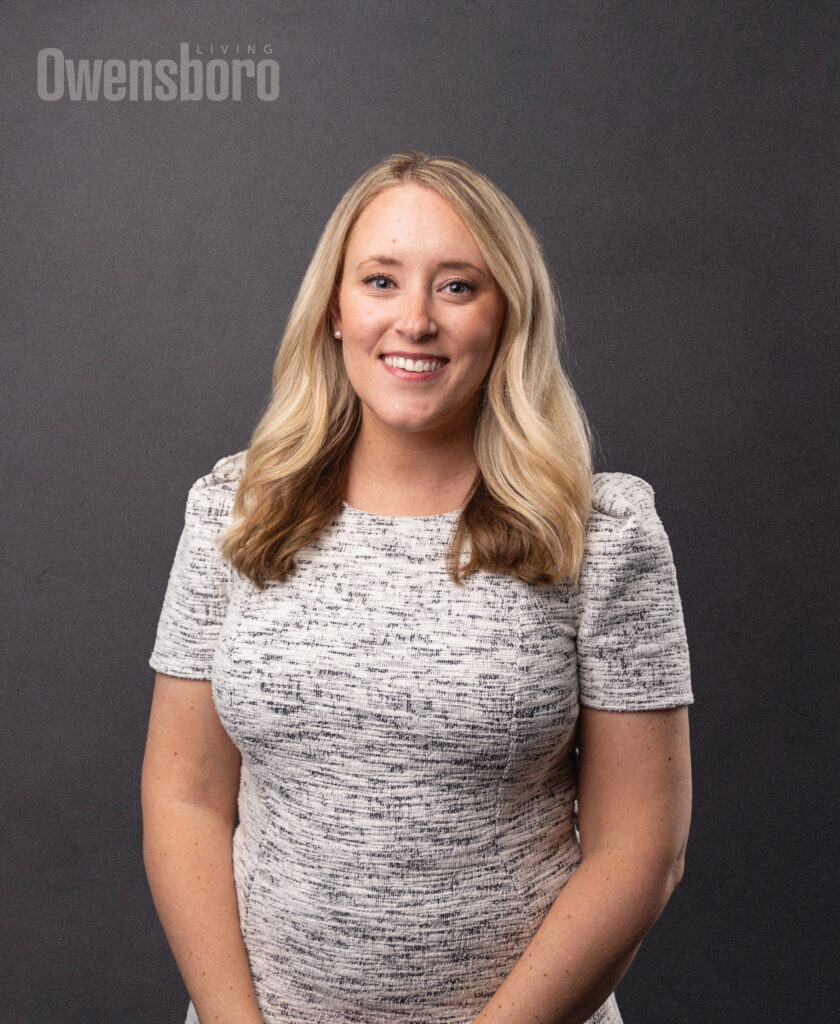 VP of Development & Community Engagement, Wendell Foster
Wendell Foster would like to congratulate Kara Howard on being named 40 Under 40. A graduate of Western Kentucky University with a degree in Advertising, Kara realized her love for the non-profit sector when she joined Wendell Foster in 2021. Her creativity and fresh perspective led to her promotion as Wendell Foster's Vice President of Development and Community Engagement. As Vice President, Kara increased brand awareness and modernized fundraising for the organization. She obtained her certificate in Fundraising Management from the IUPUI Lily Family School of Philanthropy in 2022 and is a 2023 Leadership Owensboro graduate.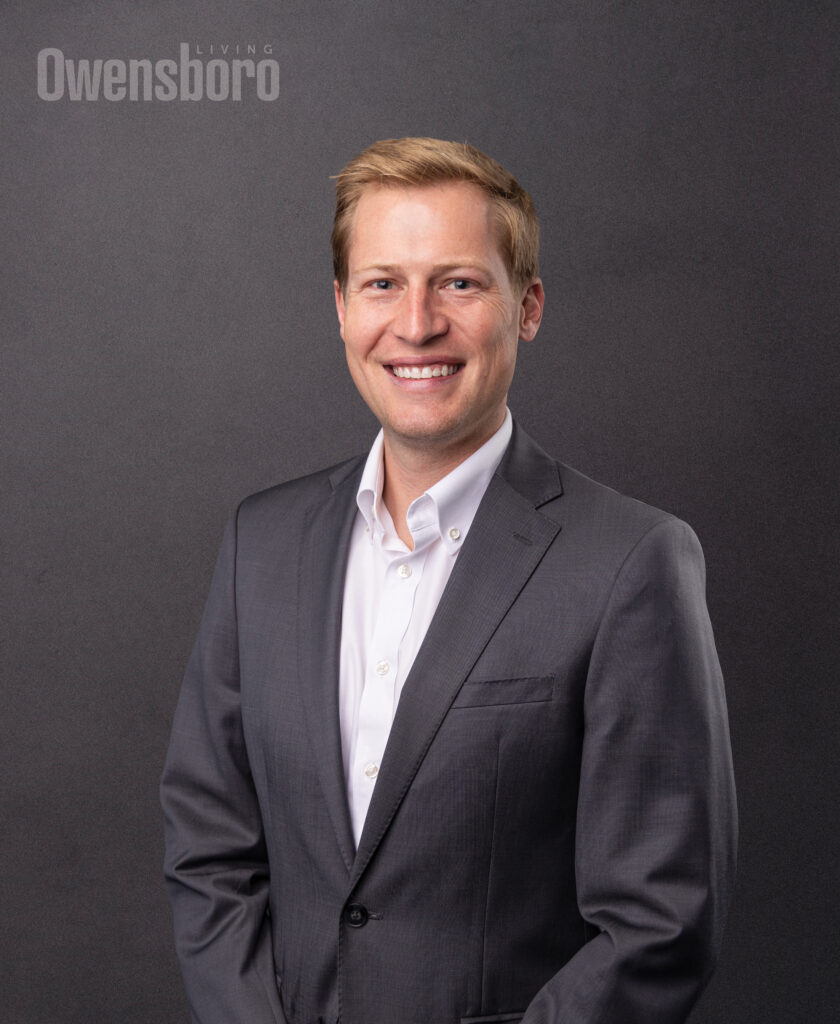 Jake Boswell, 33
Assistant Marketing Director, Independence Bank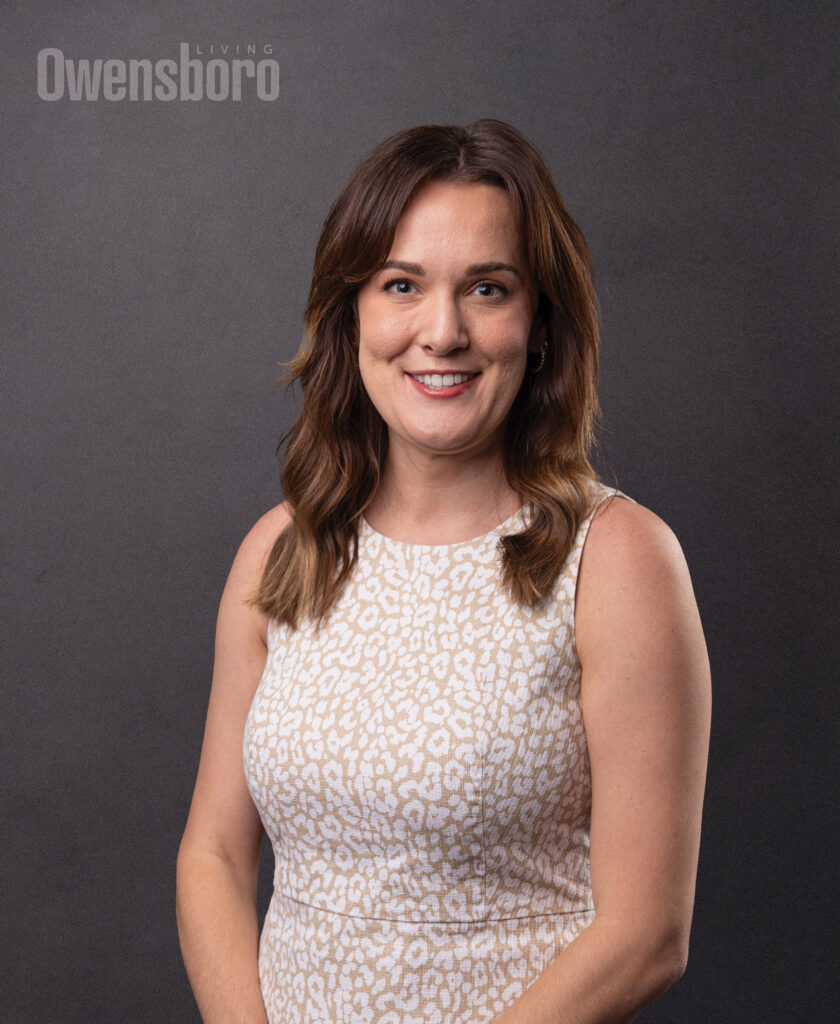 Ellen Ebelhar, 30
Retirement Plan Services Officer, Independence Bank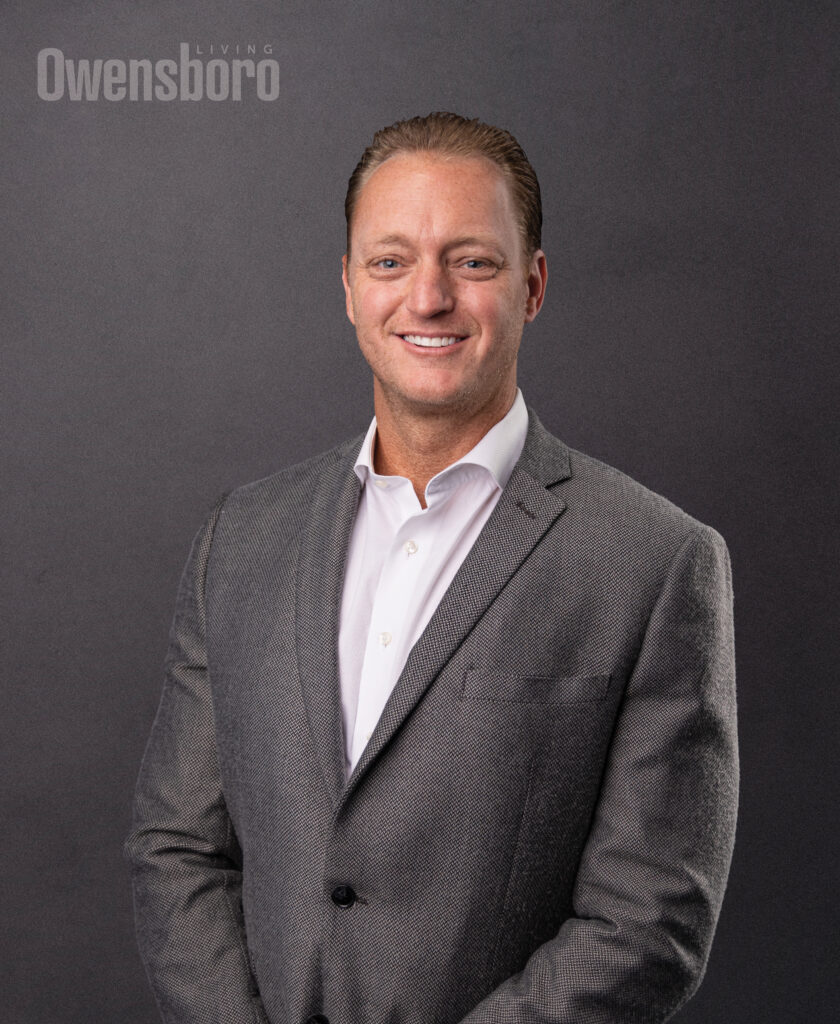 Andrew Howard, 36
VP, Commercial Loan Officer, Independence Bank
Independence Bank is proud to recognize what makes our Bank revolutionary: our employees. Congratulations to Andrew Howard, Ellen Ebelhar and Jake Boswell for being named to the Greater Owensboro Chamber of Commerce's 40 Under 40.
Vice President and Commercial Loan Officer Andrew Howard continues to serve as a leader on multiple non-profit boards across Owensboro while also leading on the court as a coach at his alma mater, Owensboro Catholic High School.
Retirement Plan Advisor Ellen Ebelhar spends her time putting others first as a board member of Boulware Mission and leading the Owensboro Chamber Young Professionals as this year's Chair.
Assistant Marketing Director Jake Boswell is continuing to build the Guys and Ties program with the Owensboro Chamber Young Professionals. The mentoring program for 8th grade students at Burns Middle School is beginning its 5th year.
Andrew, Ellen and Jake are just a few of the more than 450 employees working to make a difference in the community where they live. Banking is always, and forever, about People. About YOU. We're Independence Bank. We're Here For Good.
Ashley Evans-Smith, 36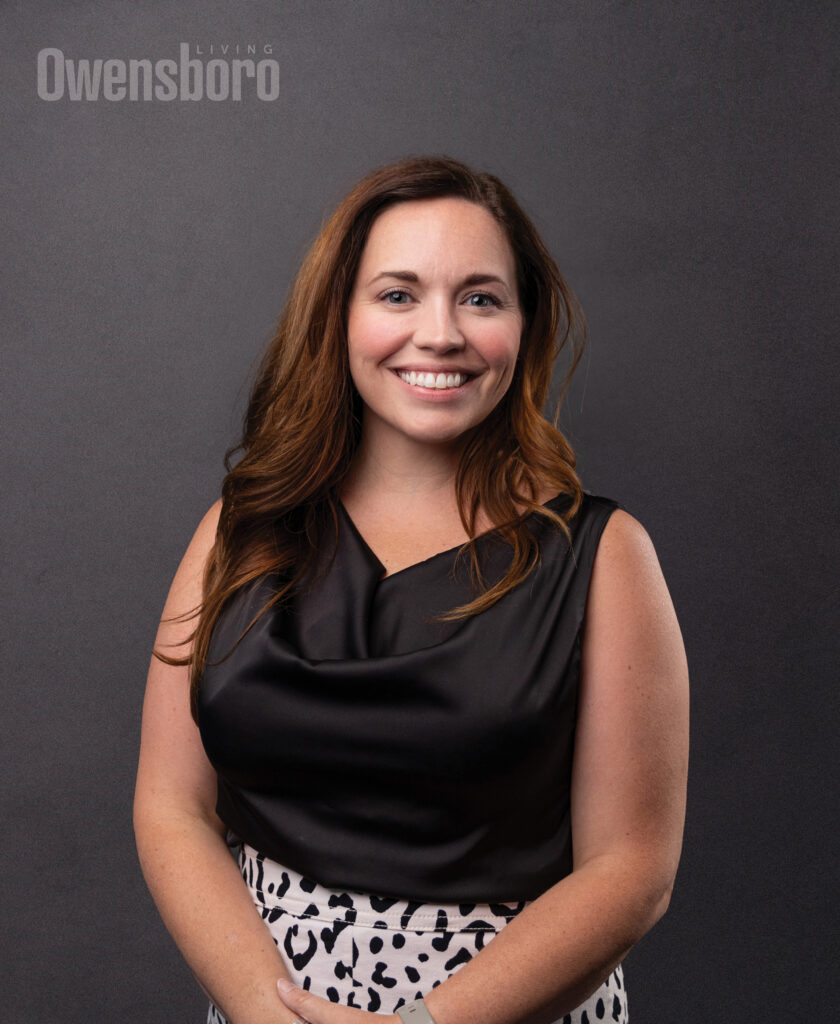 Executive Director CASA
Ashley began her career at CASA of Ohio Valley in 2017. She assumed the role of Executive Director of CASA in August 2021 after four years working within the organization.
Born and raised in Hartford, Kentucky, Ashley learned the value of family, leadership, and commitment to community from observing the manner in which her parents operated their own small businesses.
Inspired by her mother's passion for early childhood education and commitment to create successful families for women who work outside of the home, Ashley is proud to have worked with the CASA of Ohio Valley Board of Directors to provide child care assistance as a benefit for CASA staff.
Ashley is honored to be able to serve the community through Impact 100, Junior League Owensboro, and the Building Stronger Families Board. She also enjoys volunteering with the International Center of Owensboro.
Ashley obtained a bachelor's degree from the University of Kentucky and master's degree from the University of Louisville. She will complete a masters degree in children's law and policy from Loyola University Chicago in December 2023. Ashley also worked to enhance her skills and passion for her state and community through ELEVATE Kentucky and Leadership Owensboro.
It is with the love and support of her husband, Lance, that she is able to effectively juggle her dedication to being a lifelong learner, passion for her work, and absolute joy she finds in their four children: Michael, Case, Jesse, and McKinley.
Sara Williams, 31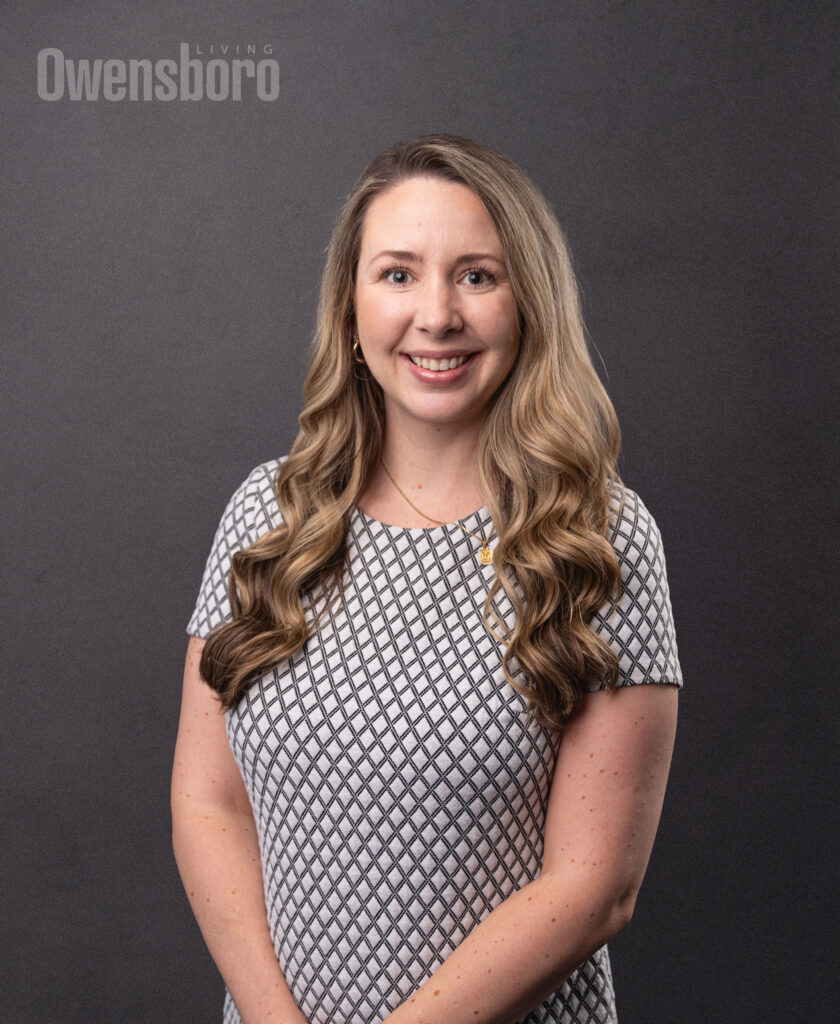 Tax Supervisor, Riney Hancock
Sara Williams is a Supervisor in the Tax Services Division with Riney Hancock CPAs PSC. Sara is a 2015 graduate of Kentucky Wesleyan College. She went on to become a Certified Public Accountant in 2017. Sara serves as Board President for the Western Kentucky Botanical Garden and Board Treasurer for the Daniel Pitino Shelter. She is a 2018 graduate of Leadership Owensboro, and a member of Chamber Young Professionals, previously serving on the Executive Committee from 2017-2022, including as Chair from 2020-2021. Sara's favorite titles she holds are wife to Chris and "mama" to 1-year-old daughter, Miller Jane.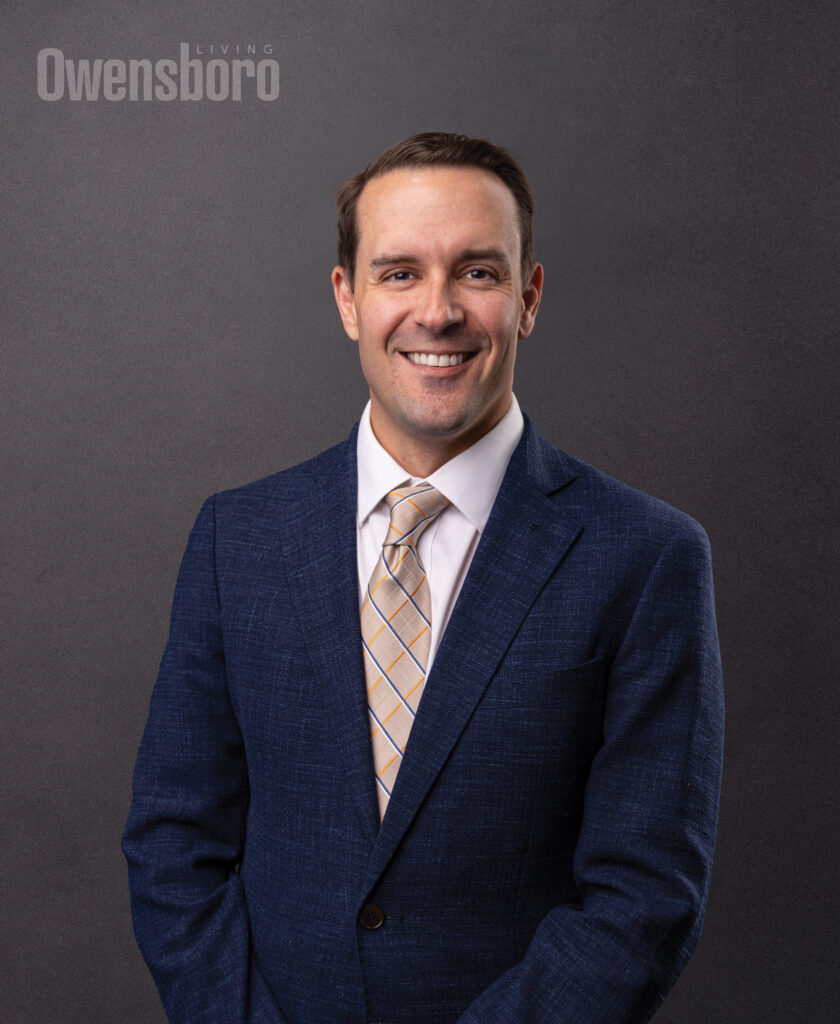 Dave Kirk, 35
Destination Management, Visit Owensboro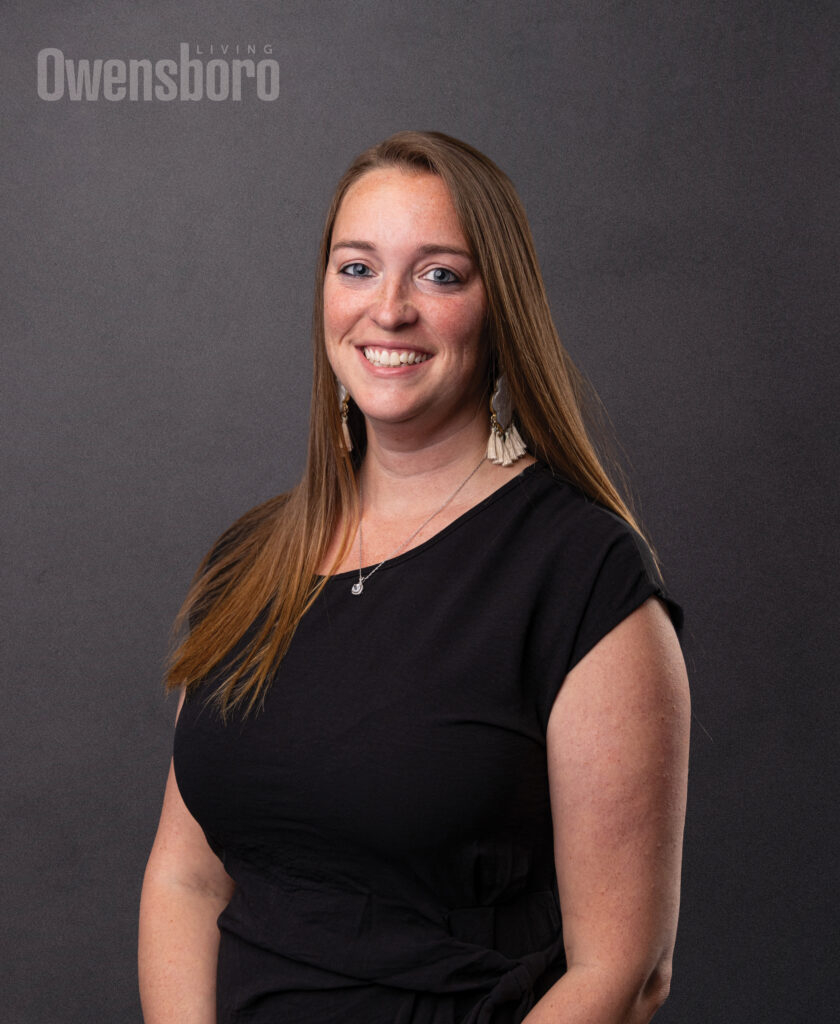 Stephanie Bertram, 33
Director of Development, H.L. Neblett Center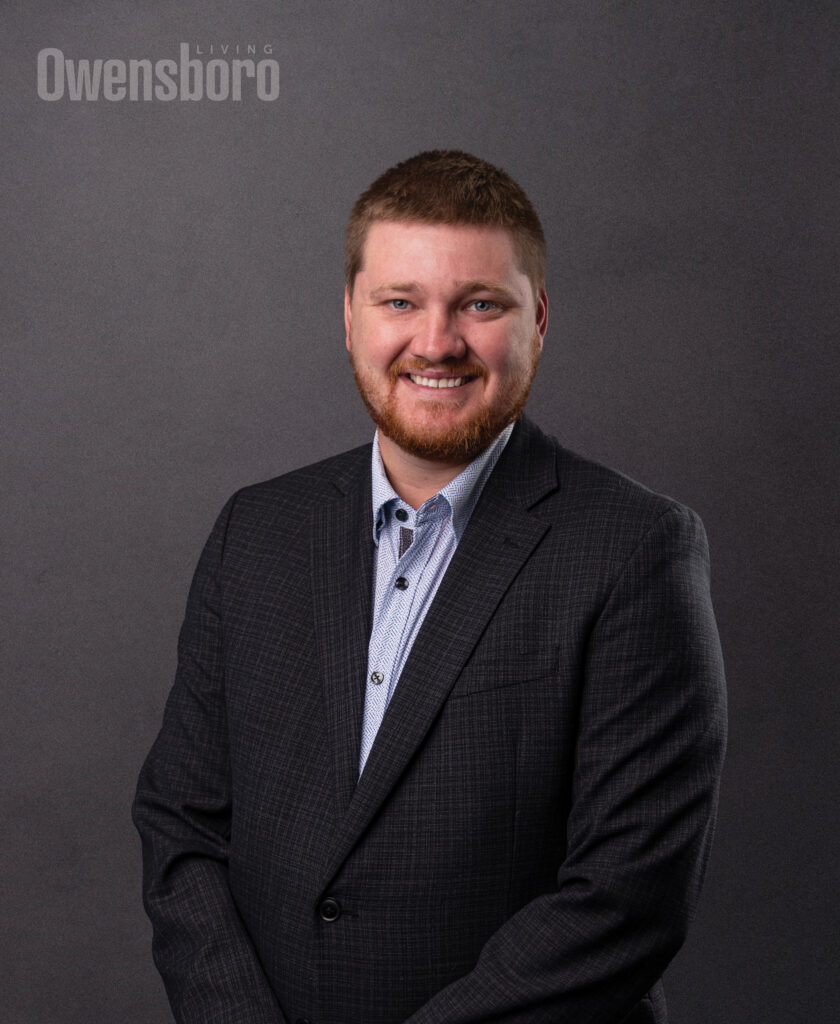 Tristan Durbin, 27
Airport Director, Owensboro-Daviess Co Regional Airport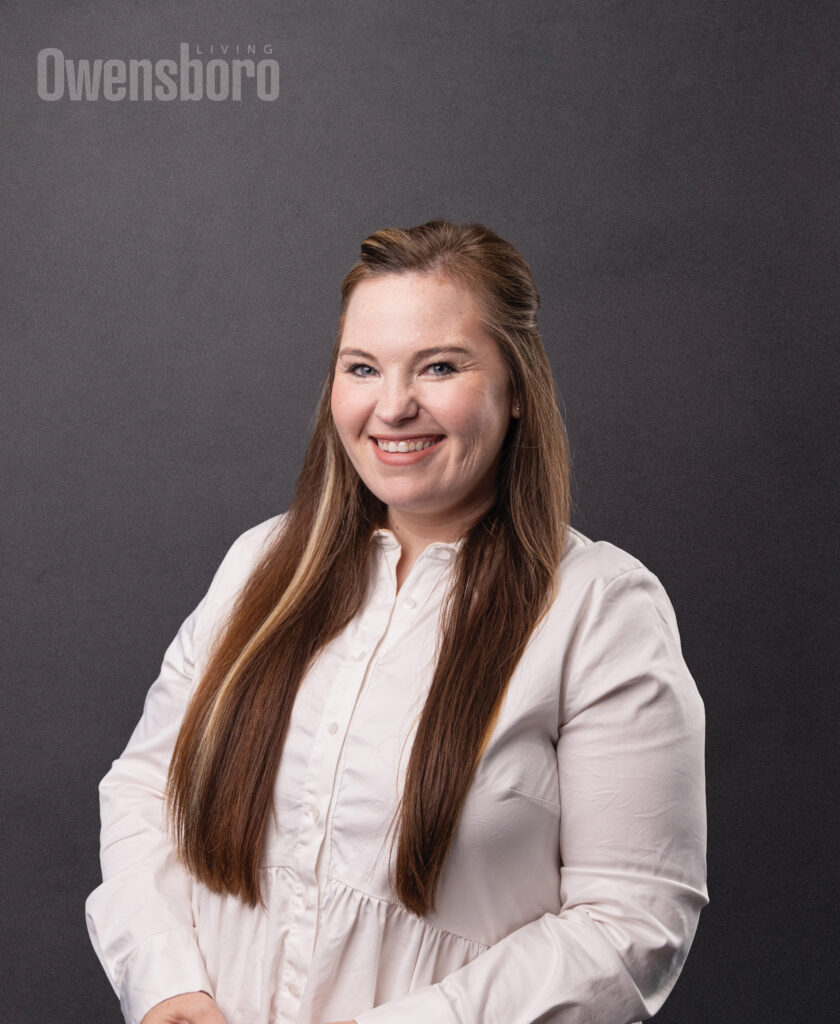 Emmy Woosley, 35
Quality Engineer II, Daicel Safety Systems America