The "Country Boy at Heart" returns to ROMP with his all-star bluegrass band, Kentucky ThunderThe "Country Boy at Heart" returns to ROMP with his all-star bluegrass band, Kentucky Thunder
Fans of Skaggs' country music catalog may not realize that Ricky has deep roots in bluegrass music, and has even played alongside and learned from many of the first-generation pioneers, including Bill Monroe and Ralph Stanley. After decades in the business, the 15-time Grammy Award winner continues to do his part to lead the recent roots revival in music, drawing from a life dedicated to playing music that his website describes as "fed by the soul and felt by the heart".  
Born in the eastern Kentucky town of Cordell, Ricky's talent for music was recognized before he was school aged. His father bought Ricky a mandolin at age 5 after he heard Ricky harmonizing with his mother as he was playing in the next room. Barely a year later, after learning to switch chords, Ricky was called on stage with Bill Monroe. The next year, at age 7, the child prodigy played with Flatt & Scruggs on their TV show, earning his first paycheck as a musician.
As a teenager, Skaggs played music with Keith Whitley (who later had several country hits of his own) and the two were invited to join bluegrass legend Ralph Stanley's band. A short while later, Ricky played on JD Crowe and the New South's debut album. In the late 70s, he set his sights on country music and jumped on the opportunity to sing harmony and play fiddle in Emmylou Harris' band.
With that experience, Skaggs branched out on his own and charted twelve #1 country hits in the 1980s, became a member of the Grand Ole Opry in 1982, won the top Country Music Association (CMA) honor of "Entertainer of the Year" in 1985, and collected 4 Grammys and 8 CMA awards during his country career.
But when his recording contract ended in 1997, Skaggs settled back into bluegrass music, started his own record label (Skaggs Family Records), and began breaking bluegrass sales records.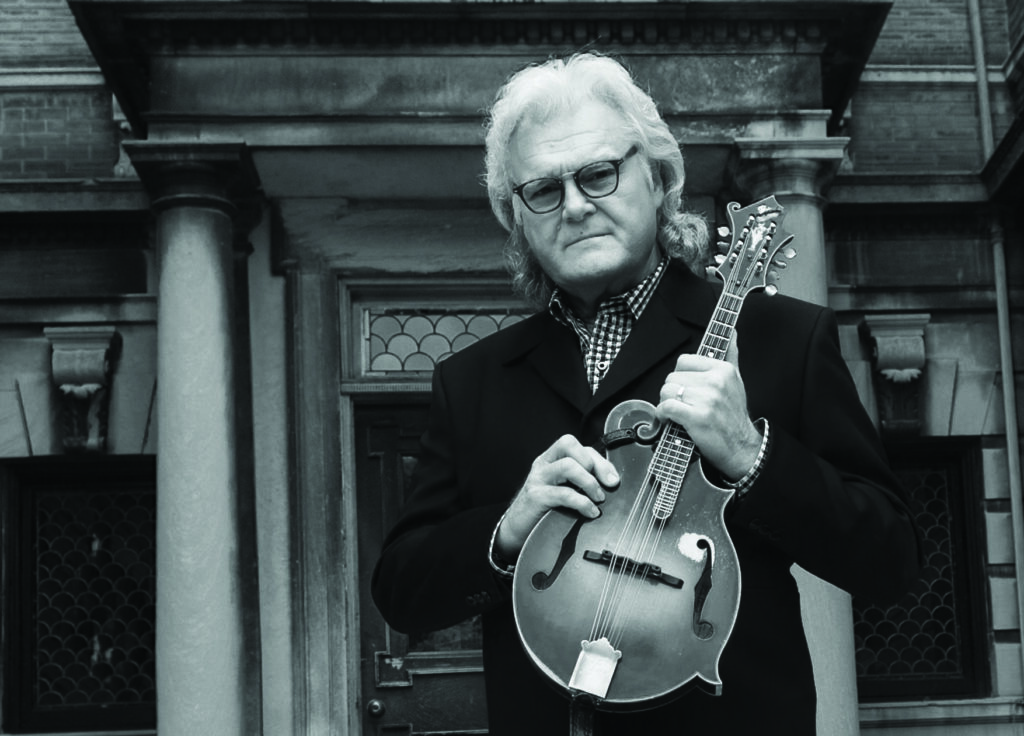 The Grammys kept coming.
Even with all those accolades, 2018 was certainly a milestone year for Skaggs. In the same calendar year, Skaggs was inducted into the Country Music Hall of Fame, the Bluegrass Music Hall of Fame, and the National Fiddler Hall of fame. 2018 also happened to be his most recent appearance at ROMP.
He and his band, Kentucky Thunder, are now considered one of the most sought-after live performers in bluegrass, roots, and mountain music.
Ricky graciously took time to talk with Owensboro Living about his life in music, what he's most looking forward to in 2023, and what fans can expect at his return to ROMP this June.
OL: You've been to Owensboro several times. Do you have any favorite memories of Owensboro? 
RS: Sure. Back in my country days we played in Owensboro quite a bit. I remember playing the Executive Inn several times. Then, when I transitioned back to bluegrass, we'd come and play the bluegrass version of those country radio songs and people would still enjoy them. Like you said, we played ROMP in 2018 with Kentucky Thunder. So yeah, I've got several great memories of Owensboro.
OL: Before we talk about ROMP, what are you most looking forward to in 2023?

RS: The thing that's on my mind right now is renovating our studio. For years it's been the place where I record, but other artists can also book it and record there. It's a full-fledged working studio, and this renovation should be finished by summer. I'm really excited about that.

I'm also very much looking forward to the shows we've got coming up this year. I always say, and it's true, that this is the best band we've ever had. It's a joy to play with them. I feel like I'm the weakest link in the chain because these guys are just amazing. Some of them are 30 years younger than me. It's such a thrill to have a great band to depend on and travel with. They're amazing musicians and people love hearing what they do.
OL: Is there anything new that fans can expect at this year's ROMP performance?

RS: We've got some new members in the band that weren't with us in 2018. Mike Rogers is our new harmony singer. Gavin Kelso is our new bass player. We have a new fiddle player too, Billy Contreras. He's so amazing. Billy is the most unique fiddle player I've ever heard. He never plays a song the same way twice. When he starts a solo it's just amazing. I love the energy and the fire he brings to this band. The other guys (Russ Carson – banjo, Jake Workman – lead guitar, Dennis Parker – baritone vocals, guitar) are playing great like they always have. We have twin fiddles in the band again, which is nice.
OL: What do you love about playing festivals like ROMP?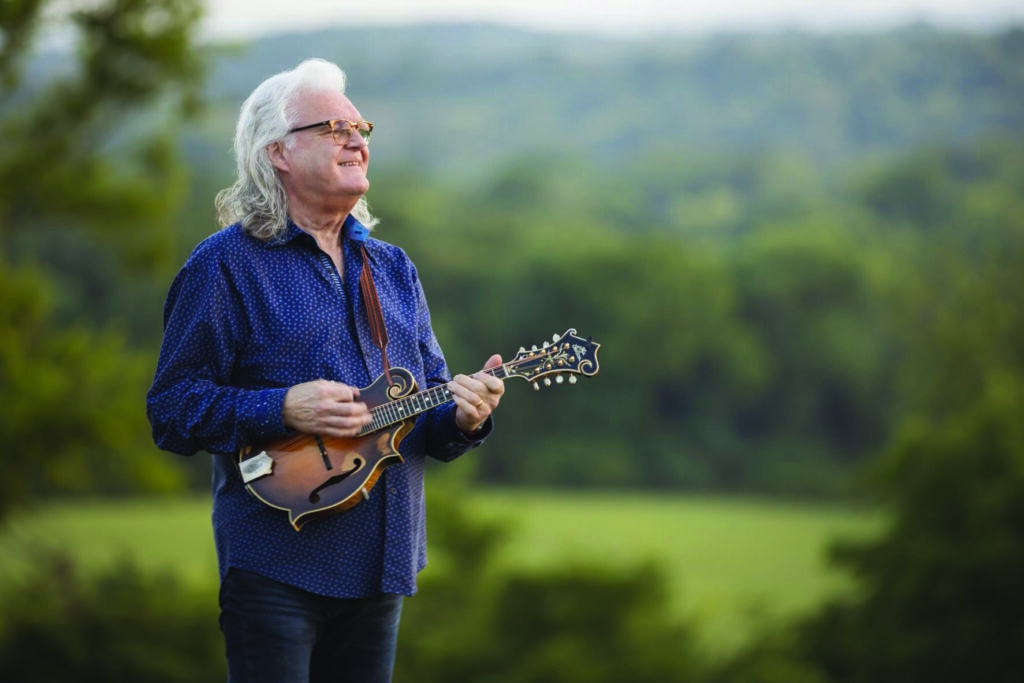 RS: We love playing for any crowd, but the bigger the crowd the better, so these festivals are a lot of fun. We're actually playing quite a few festivals this year that are not bluegrass festivals. Railbird at Keeneland in Lexington, for example.
We've got theaters and big rooms on our schedule, too. We love the difference between the indoor and outdoor shows. Some nights we'll be outside in the rain or cold and be wishing we were inside. But other times we'll be in a smaller venue inside and wish we could be outside. I'm still excited about music and I'm always excited to play.
I feel like people need music now more than ever, having gone through the pandemic. People are beginning to think it's okay to get out. I believe music is something God gives us to enjoy. Music is a language that God gave us, but it's also a gift that can make people feel joy. Music comes out of your heart, your mind, your soul. So, we're purposeful to play uplifting music. My purpose is to make people have a good time and leave feeling uplifted. You wanna give them their money's worth. That's another reason we're doing this, and why we love it. Music has a good, lasting effect. It brings joy and peace and happiness to your heart. And another thing, we hope families can bring their kids with them to our shows because they'll never have to worry that we might say something nasty on stage.
OL: So if someone has followed your whole career, or even saw you at ROMP 2018, there's still something new to enjoy? Same energy, different set list? 
RS: I think the band is to a place where we switch it up show to show, but we have our staples we do every show, too. I've come to realize that we can take some of the "country" songs and do them our bluegrass way with long solos trading from acoustic guitar, to fiddle, to mandolin. Sometimes after Billy gets done, I'll step up before I sing the next verse and start the circle back again and we'll do another round of solos. We love doing things like that to mix it up and keep it interesting. It's so much fun.
I've written a lot of instrumental pieces the last couple years so we'll definitely be throwing in some new instrumentals when we come back up to Owensboro. I'm always glad to get a new instrumental idea. It's always a gift. Sometimes they pop into my head first thing in the morning when I'm in between sleep and awake and I'll hear a melody. So I'll try to grab a mandolin and put it in my iPhone real quick until I can get in the studio later. Ideas come that way sometimes.
Some of the arrangements we do now with those early "country" hits I actually like better than the radio versions. We love playing Highway 40 Blues with this band. We gotta do some of the hits that people want to hear that were popular back in the 80s and early 90s. But then we'll do some classics and standards. We try to cover the Mount Rushmore of bluegrass: Mr. Monroe, Stanley Brothers, Flatt & Scruggs.
OL: Which is cool coming from you because you played with those guys in your early days. Many of the younger artists on the ROMP lineup discover the first-generation pioneers of bluegrass and go back and study them, but you played with them. 
RS: Yeah, I'd say I'm the first-and-a-half generation. [Laughs] It still amazes me to look back where I've come from – being able to play with Mr. Monroe and learn from him, play with him, and end up being friends with him is amazing. Then to be able to play with Carter Stanley before he passed and Ralph for several years. I met Earl Scruggs when I was 7 when we went to see the Grand Ole Opry. He heard me play and invited me to audition for their television show. That was an amazing thing to play with all those people and still go on and play with Country Gentlemen, JD Crowe, Emmylou Harris, Jerry Douglas, Tony Rice.
Then, after that, I started feeling like I wanted the chance to play and sing. Emmylou gave me that chance; I played fiddle for her and sang, too. Then I wanted the experience of leading my own band, so that's when I went out on my own and was fortunate how that ended up.
We're very excited about coming back to ROMP. It's going to be a great time and we can't wait to come play again! OL