Photos by Jamie Alexander
For many, 2020 was a year of self-discovery and renewed interest in former passions. For Owensboro native Bobby Edge, it was an opportunity to reinvent himself and rediscover the artist within. While other small businesses saw a decline in sales over the past year, Edge found a niche in creating black canvas portraits. Although he has found some success in partnering with local coffee shops and restaurants to display his paintings, Edge said embracing personal commissions has helped propel his artistry, enabling him to survive the pandemic.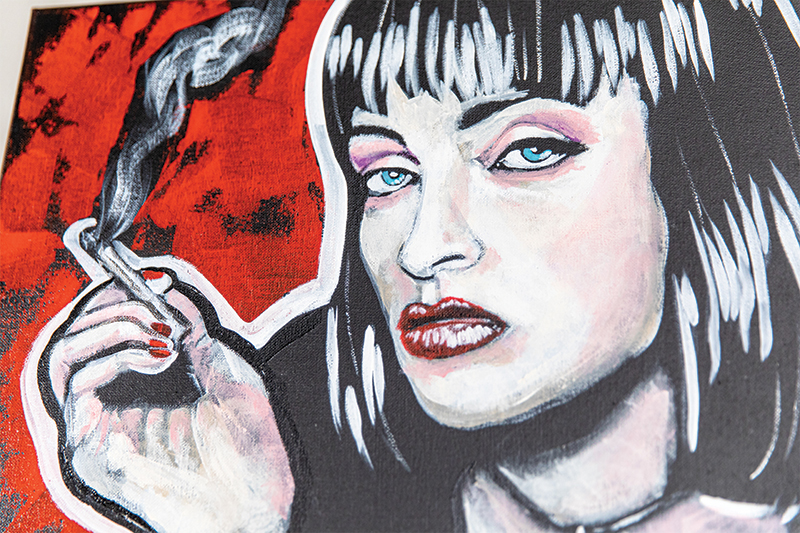 "I had to reinvent myself again, so I started doing commissions," Edge said. "I love the stories behind them; I really enjoy doing it. And the emotions from the client when they see these—it will really choke you up. It's like I have more purpose in my life now from painting."
His most recent commission request came from Lure Seafood & Grille owner, Ben Skiadas. The two are collaborating to create a limited-edition label for Four Roses Single Barrel Bourbon that can exclusively be purchased at Lure. The one-of-a-kind bottle will serve as a tribute to Owensboro legend and professional motorcycle racer Nicky Hayden, who died in 2017 following a fatal bicycle accident in Italy.
"It's a really neat project—it's paying tribute to one of our own, which I'm really proud to be a part of," Edge said. "I'm really taking it seriously, and taking my time on the painting to really capture his essence in it. I'm just making sure this is a tribute that lives up to his inspiration and his memory."
Over the past year, Edge said he has been approached multiple times with requests for private commissions by those who wanted to pay tribute to lost loved ones, which he finds to be a very humbling privilege.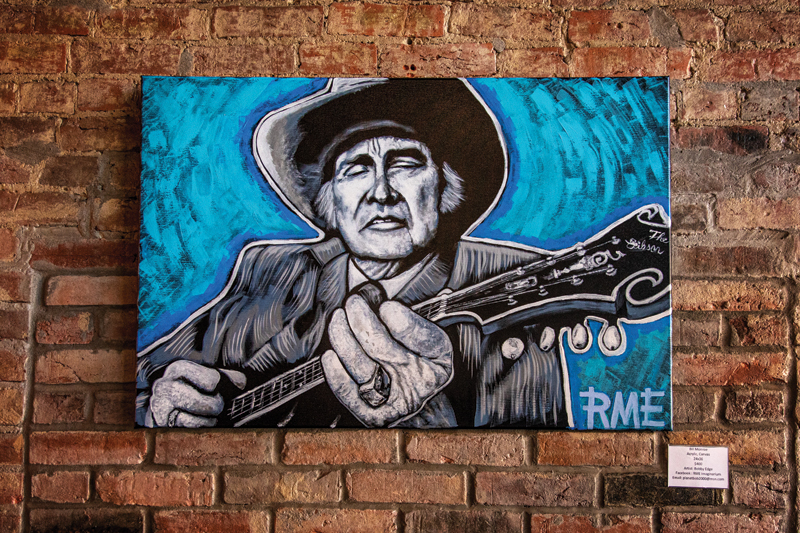 "It's emotional, trying to capture who they were," Edge said. "I do as much research as I can on the subject—who they were, what they were into, the colors they liked…"
Paying tribute to late musical legends has also proved to be an outlet for Edge, who has recreated the acrylic likenesses of such artists as David Bowie, Bill Withers, John Prine and Eddie Van Halen.
"COVID has taken a lot of people from us," Edge said. "Anyone who has affected me or affected society in any way, I like to paint them."
The David Bowie portrait can be found on display at The Pub on Second, along with a likeness of everyone's favorite neighbor, Mr. Rogers.
"I think in this time we need helpers and we need people with empathy," Edge said of his inspiration for the painting.
His current portrait collection on display at Lure Seafood & Grille features Kentucky musicians such as Tyler Childers, Sturgill Simpson and Ricky Skaggs. While the musicians are not all entirely bluegrass, Edge said he does feel a sense of pride for the portrait of Bill Monroe with the blue moon of Kentucky poised behind him.
"When I'm painting musicians I will listen to their music," Edge said. "It helps me understand the subject better. The music vibrates through the brush strokes."
According to Edge, art was a passion he was born with.
"I kind of came out drawing," said Edge. "I have been sketching and drawing all my life."
However, it wasn't until two years ago when he received an art table as a Christmas gift that he began to truly embrace his artistic ability.
"I didn't know what I wanted to do, but I knew I wanted to get back into it and see if I could," Edge said, adding that he began to experiment with watercolors and acrylics, and eventually discovered his gift for portrait painting on black canvas. "Over time, I put the time into it, and I really like what black brings to the table with shading and color play."
Edge said he draws inspiration from watching other artists on Instagram, following their techniques and learning their brush strokes. But, he credits "another Owensboro legend" for inspiring his work on black canvas, local artist Aaron Kizer.
"He's incredible," Edge said. "I have come to him for advice. He's very humble. He does a lot for the community. He's actually inspired me to help local artists, as well—I mean how could you not be inspired."
Moved by Kizer's generosity, Edge said he has found himself compelled to donate art supplies to other local artists, as well as offer up wall space at The Creme Coffee House to aspiring artists that did not have the space to display or promote their work.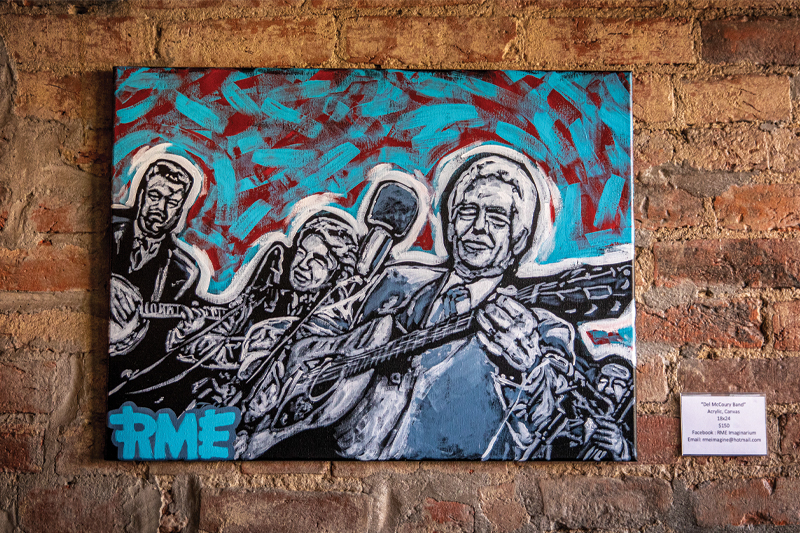 Throughout the pandemic, Edge has rediscovered himself, his gift of bringing people to life on canvas, and the gift art has given to him in return.
"It is expression—angst, joy— the full spectrum of emotion," Edge said. "The next thing you know, it springs to life on that canvas."
To see more of Edge's artwork, visit The Creme Coffee House, Lure Seafood & Grille, The Pub on Second, or follow him on Instagram @bobalou73 or on Facebook
facebook.com/rmeimaginarium/