The Bluegrass Music Hall of Fame and Museum Unveils New Exhibit Rich with Bluegrass History
Photos by Jamie Alexander
Every year, the Bluegrass Music Hall of Fame and Museum tries to add a new aspect to the ROMP festivities. This past summer they leaned into their mission statement and found a way to interact with the performers while also preserving the history and importance of bluegrass music.
With My Bluegrass Story, the team interviewed Bluegrass music staples including Del McCoury, Rhonda Vincent, Dan Tyminski, Doyle Lawson and others to share how they were introduced to and grew the genre of bluegrass music. In addition, the Bluegrass Music Hall of Fame and Museum is adding a new exhibit to coincide with the TV series.
"Our mission involves preservation of bluegrass music and also education," Curator Carly Smith said. "So the exhibit was a great opportunity since we had these artists coming to Owensboro to the Hall of Fame to film their episodes."
During the production, they were able to film 13 episodes, each about a different bluegrass performer, ranging from legends to up-and-coming artists. These episodes have been rolled out since earlier this year all the way through October.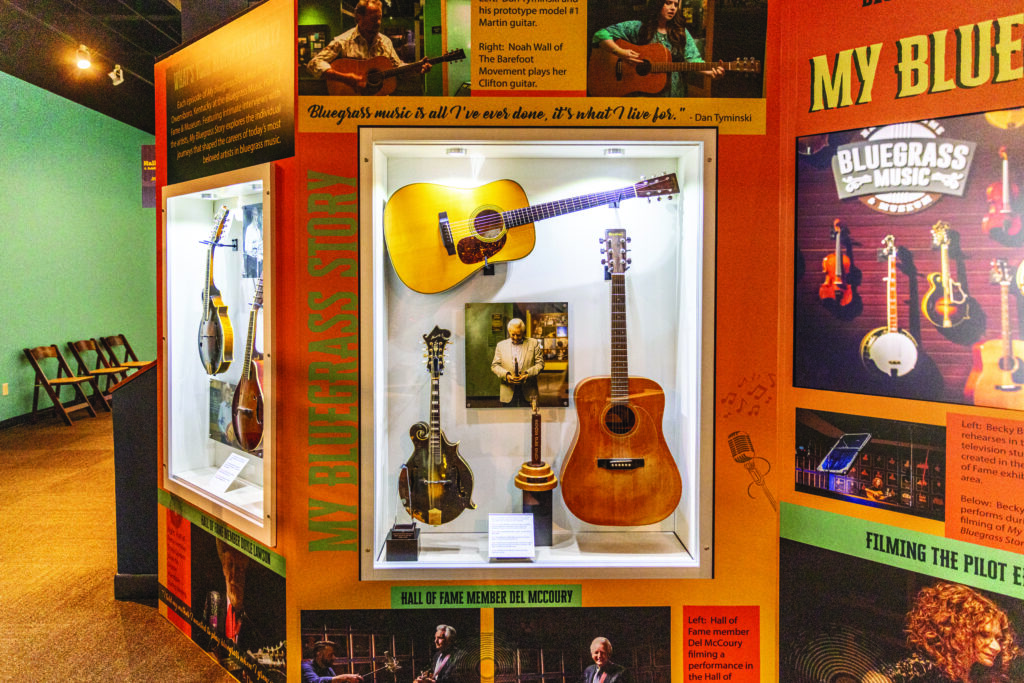 While filming, they took the artists around the Owensboro Convention Center, the Hall of Fame and allowed them a chance to see Owensboro, as well.
The episodes have been broadcast on RFD-TV and clips have been shared on their YouTube channel. In the 30-minute episodes, the stars cover their Bluegrass start, their passion for the music and several more interesting stories.
"It's a truly intimate look into what drove them to select bluegrass music as their life's work and it's just a really a great picture of the artists themselves," Smith said.
When they were interviewing the artists, Smith said that several of them had stand-out moments in her mind, but Doyle Lawson's stood out the most. Getting to talk to Hall of Fame Member Lawson, she was able to learn about how he was introduced to bluegrass by way of a family friend. He would borrow their mandolin on occasion and ultimately learned to play on it.
"Many years later, that mandolin was presented at his first show in this first touring band," she said. "And now it's at the Museum on display."
As part of the interviews, they asked each artist to bring an artifact that they wanted to talk about, but also add to the Hall of Fame for the duration of its exhibit. Through the artifacts, the exhibit is able to showcase several different pieces of history in Bluegrass.
Each artifact reflects both the artist and their relationship to bluegrass, so the exhibit includes several instruments like guitars, mandolins, fiddles, banjos and even stage clothing.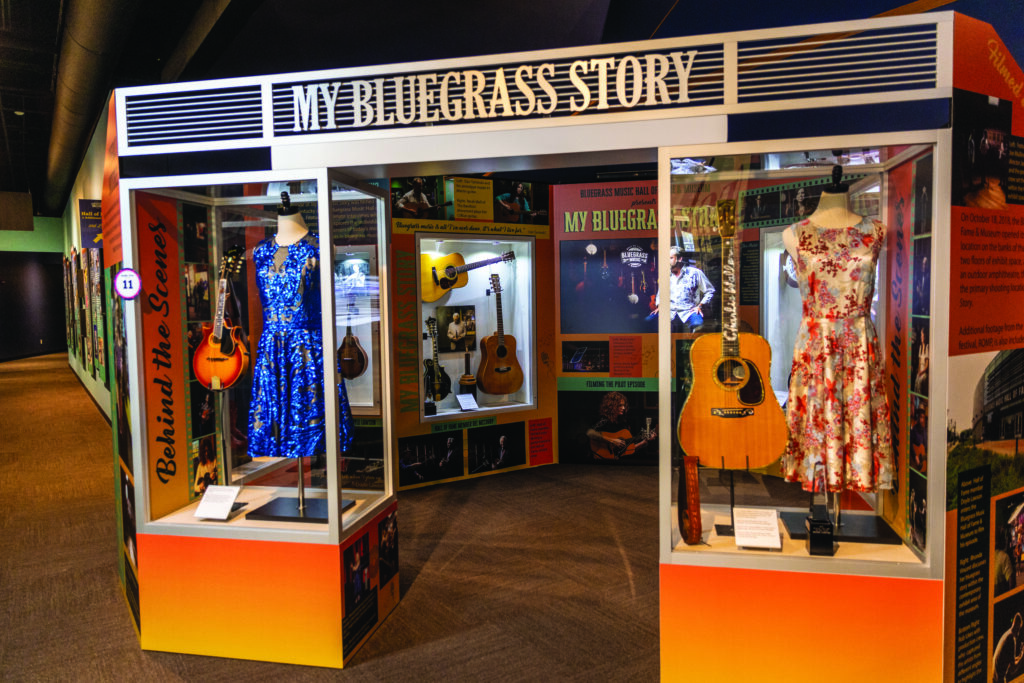 All-American Bluegrass Girl artist Rhonda Vincent was inducted to the Grand Ole Opry in 2020 as one of two artists that year. She didn't get to officially be inducted until February of 2021 due to the pandemic. Her induction marked the first time a brother and sister had been inducted into the Grand Ole Opry.
"Darren and I, to hold separate Opry memberships, its historical," she said in her interview. During her interview, she was able to bring anything she wanted, and she brought the dress she wore to her historical induction.
Smith said the exhibit has gotten so big that once stepping into the front doors, it's the first thing you see. The museum has hosted the exhibit since the release began earlier this year. After each episode, they have a short segment promoting the museum, which was caused a lot of traffic, according to Smith.
The exhibit will be open until December of 2024. As part of the installation, they also include the short video clips from the show itself.
Smith highly encourages people to come to the museum to learn more about the bluegrass community. "These people have dedicated their lives to bluegrass music. They've built their careers around it. They've raised their families with it," Smith said. "It's such a unique insight into what drove them to bluegrass music and why they stayed.