When you're the only steel guitar player in Owensboro, you get asked to play in a lot of bands.
That's what happened to Jim Heep, who started playing steel guitar at age 10. So by the time he was in his twenties, Heep was playing in seven bands at one time; including Owensboro favorites like Elliot Sublett, Brasher Bogue, Drew Aud, and pretty much every other opportunity that came along.
Even though he's now playing bigger gigs in concert halls and outdoor stages across the country and around the world, backing one of country music's most iconic bands, the Bellamy Brothers, Jim says the emotional connection is still the same. "To me, it doesn't matter where we're playing or what size stage I'm on. When I step on stage, that's the only thing in my mind. I play to the crowd. I give it my all, and I always try to play to my full potential. The crowd reaction is what makes it fun. If I can make one person feel what I'm feeling on stage, then I've done my job."
It's been said that steel guitar is one of the most difficult instruments to learn since it involves both hands, both knees, and both feet, possibly all at the same time. Here's a quick overview. Picture the neck of a guitar, laid on its side just above your lap. Steel guitar players use their hands to play the strings and their knees and feet to move levers and pedals that control the positioning of the strings. On a traditional guitar, your left hand makes a chord pattern while your right hand strums the strings. But a steel guitar player holds a solid tube called a "slide" with his left hand and picks or strums the strings with his right hand. Jim, for example, holds a slide in his left and uses two finger picks and a thumb pick on his right hand. The floor pedals and knee levers raise and lower different strings to make different combinations for chord changes and to make different sounds and pitches. In addition to five knee levers and floor pedals, Jim also uses a volume pedal for added effect.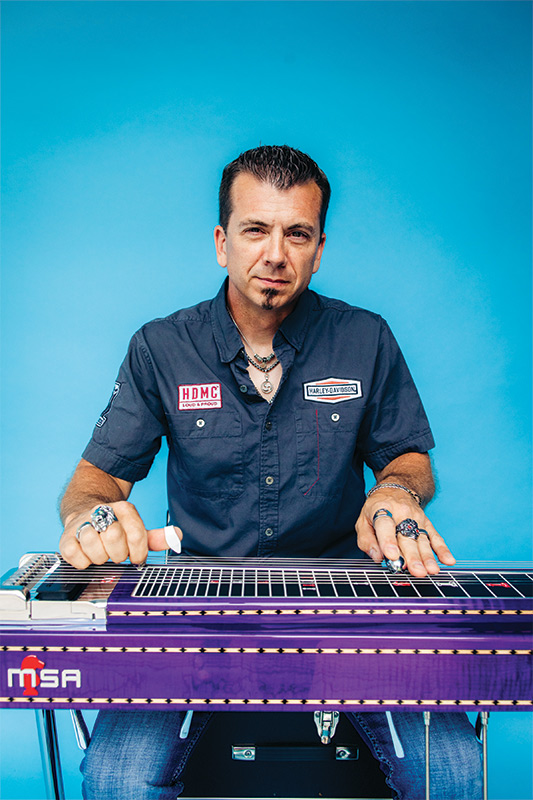 "A lot of people don't know what my instrument is," Jim admits, "So every show I tip my guitar up toward the crowd just to show people it's not a keyboard." Part of the fun too, he says, is knowing there is always something new to learn with steel. "You never fully master it, no matter how long you've been playing. There's always another level you can take it."
When you grow up dreaming about playing the Grand Ole Opry, there's no greater thrill than when it actually happens.
Heep's first time playing the Opry was with current country chart topper, Chris Janson. He figures he's played the Opry and the Ryman Auditorium dozens of times since then with Chris and the Bellamy's, but that dream started right here in Owensboro.
Jim credits his cousin, Stewart Heep, for originally sparking his interest in steel guitar. "When I was a kid, I'd sit beside him and watch him play. I thought the sound he was getting out of that instrument was interesting, and I was mesmerized."
Once he tried it for himself, Jim practiced relentlessly, learning all he could from his cousin, and then taking lessons from Carlton Day, who used to play for Goldie Payne at Goldie's Opry House, for six months. Then his parents drove him to Evansville to take lessons from Bud Hall for another six months. After that, the Heeps traveled three weekends to Nashville so Jim could take more advanced lessons at Jeff Newman's steel college, where he studied under Buddy Emmons and Paul Franklin, Jr.
He was 12 by then. "At that time, those three guys were doing most of the stuff that was recorded in Nashville that you heard on the radio."
At 14, Heep got his first gig at the American Legion downtown by the River, which turned into a two-year run playing Saturday nights. By 16, he started playing variety shows at Diamond Lake Resort, where his role grew to include booking the acts and rehearsing with the band that afternoon for the show that night. A few years later, he was playing steel and singing backup and lead vocals in the house band at Charlie's Yellow Rose, which he continued for 12 years.
Then came the moment that opened things up for Jim in Nashville; a YouTube video he posted of himself playing the blues. "After I posted that video, Chris Janson called to see if I wanted to drive to Nashville on the weekends and play for him out on the road," Jim remembers. At the time, Jim was working swing shift at Aleris, playing in local bands when he could, and driving to Nashville every weekend to jump on the bus with Chris Janson.
He traveled almost two years as a part of Chris Janson's touring band. "That was a great tour to go on. Chris is such an entertainer. He's high-energy. He's going to pull you in with his show. He has a ball on stage."
One of those Chris Janson shows was opening up for The Bellamy Brothers. A little while later, the tour manager for The Bellamy's called and asked if Jim wanted to play for the brothers' touring band, a commitment that included 150 shows a year, averaging two to four shows every week. Plus a world tour each year with 15-20 shows.
It was an offer he couldn't refuse. So at that point, Jim and his wife decided to quit their jobs here in Owensboro, move down to Nashville, and make his dream of being a full-time musician a reality.
When you play for country music legends that go on a world tour every year, you get to play in some interesting places.
"I never dreamed I'd be playing overseas like this," Heep admits. Since joining the Bellamy Brothers, he's played in Australia, India, Mumbai, England, Norway, Switzerland, Sweden, Germany, Singapore, Greece, Italy, Croatia, Jamaica, and South Africa. "We were the first country act in Dubai, which means I'm the first steel guitar player to ever play there. I've been told I'm also the first steel player in Sri Lanka. That's the kind of stuff that just blows my mind."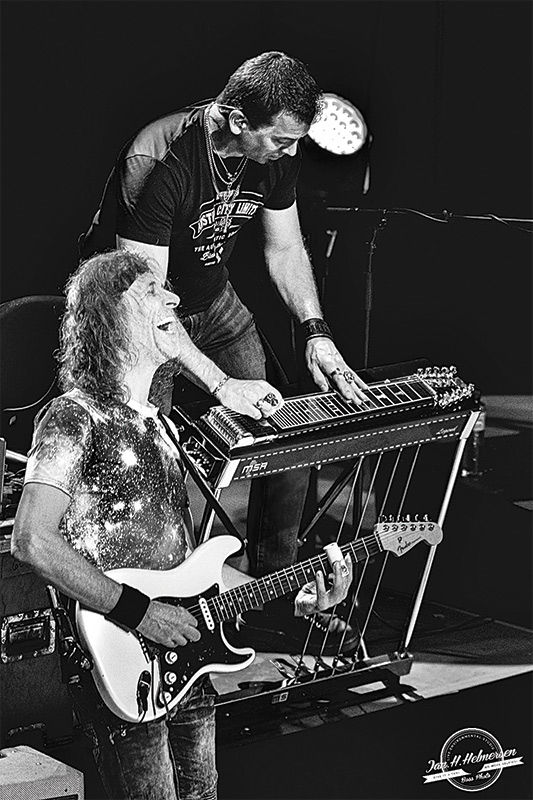 But when you're the steel guitar player for the Bellamy Brothers, you also get asked to do some other "crew" jobs, too, like drive the bus and work the merchandise table. Which suits Jim just fine. "I love it all. I tinker on the bus when it needs some work. The brothers will call me for random things. Whatever they need. I'm just part of the team. But they're great guys and they're great to work for. I can call them up at any time. They really are friends."
A typical night of work for Jim includes playing steel guitar, singing backing vocals, setting up and breaking down the merchandise tables, and driving the bus. Jim laughs, "The joke among the band members is we play for free but we get paid to drive the bus."
Jim is one of four guys in the band/crew who rotate shifts driving the tour bus, usually splitting the miles evenly. So sometimes Jim gets to sleep a few hours in his bunk and then wake up and drive; sometimes he drives a few hours and then sleeps.
When you double as a bus driver for the Bellamy Brothers and they get asked to go on tour with Blake Shelton, you might end up getting a "wet willy" from Blake Shelton. That's exactly what happened to Jim Heep one night during Blake's "Friends and Heroes" tour last year. "How you see Blake act on 'The Voice' on TV – that's exactly what he's like! All the time! He's a cool dude," Jim said. He actually told me a worse story than that, but we won't print that here in the magazine. Blake's a prankster. We'll leave it at that.
Blake Shelton invited John Anderson, Trace Adkins, and the Bellamy Brothers to join him for his "Friends and Heroes" tour last year. Since Shelton's band backed up the other performers, Jim didn't actually play steel on that tour, but he still drove the brothers and ran their merch table each night. "It's just wild," Jim explains. "I remember growing up listening to Trace Adkins and John Anderson on BKR, and now here I am standing right next to them, and I'm like 'is this really happening?' It's crazy the people you meet. But all these guys I've met in the industry are all great people."
When he's not on the road, Jim sometimes records studio tracks in Nashville. Jim and his wife Kim also started a laser engraving business called Loud and Proud that will serve as a retirement job once Jim retires off the road.
To keep up with Jim's adventures on the road, check out his blog page at Steelin1.com. But don't be surprised if you find Jim up on stage in Owensboro on a rare weekend off – back where it all began.