Photos courtesy of BEC records
During a phone interview from her home in Nashville, Tasha Layton admitted that her life looks quite a bit different now than it did in the fall of 2020 when she began leading worship at Owensboro Christian Church. Since then, her two smash hits "Into the Sea (It's Gonna Be Okay)" and "Look What You've Done" both climbed the Billboard Christian airplay charts back-to-back, which brought a whirlwind of attention, concert dates, and other responsibilities. Between all that and caring for two children under five, it's enough to keep her plenty busy. 
But at the tail end of a Friday afternoon, Tasha graciously took unrushed time to share a glimpse of her life with Owensboro Living readers, reflect on her time at Owensboro Christian Church, and look ahead to her upcoming performance at the Bluegrass Hall of Fame in August.
OL: You got your start on American Idol, Season 9. How did that experience set things in motion for you?

TL: It's funny because I made a vow that I would never do a show like that. But some friends asked me to go with them to audition, so I tagged along. I ended up making it to Hollywood Week, where I met Lauren Daigle and Tori Kelly. Then I made it to the top 60 round. After I got cut, I felt like I was meant to sing outside of church for a while. My pastor confirmed that calling when he told me, 'Oh Tasha, we've known that for years.' So I got called in to audition for the Kesha/Rihanna tour, but that morning I had an uneasy feeling, so I declined the offer. That same day, at the same time I was supposed to be trying out for Kesha/Rihanna, I got the call from Katy Perry's people asking me to audition to be one of her backup singers. Two days later, I left for Madison Square Garden to start what became a four-year run as a backup singer for Katy Perry. That was around 2010-2014.
OL: How did leading worship at Owensboro Christian Church come about?
TL: Because my tour dates were canceled for Covid, I had availability. I actually wasn't looking for anything at that time; we had a newborn, and I was looking forward to some time off. But my husband heard about the opportunity to lead worship at Owensboro Christian, and with it being just two hours from our home, we visited and liked it so much that it seemed like a great fit.
So in 2020, we lead worship there once a month. Then it was twice a month. In 2021, I had some tour dates picking back up, so it worked out less often. We still come up to lead worship when we can. We love everybody at Owensboro Christian. They don't have any aspirations of being the famous, cool church, which I love. Keith and I feel like we can go there and worship and be ourselves. We see Owensboro Christian as our home away from home.
OL: Since that time, your career has blown up. How did your experience touring with Katy Perry prepare you for your career?
TL: All my life I had only wanted to serve God, so when I took the job with Katy, it felt like a detour, but in hindsight I can see how God was giving me so much through that experience. I got to travel the world and do so many cool things before the rubber hit the road ministry-wise for me. I got rid of a lot of insecurities and nerves and stage fright. So many of those internal battles got worked out. So when it was time to launch my own career, I didn't have those false insecurities like some Christian artists struggle with.
With being in Katy's band, I experienced the best of both worlds because I was traveling the world but didn't have the pressure of being the artist. I crossed off most of what was on my bucket list and got to play the biggest stages all over the world and got to do so many special things that come along with being famous without all the added responsibilities of being the artist. But at the same time, I saw how detrimental fame can be to a person and how unhealthy it could be.
OL: After touring with Katy, how did you end up on BEC recordings as a Christian artist?
TL: After that, I took a sabbatical from music for a while and actually went to a counseling facility in Colorado. That was life changing for me. I had always wanted to do Christian music, but I struggled with insecurity that I wasn't a good enough singer or songwriter. So I needed to work that all out. It was a beautiful time of inner healing where I exchanged all those lies for God's truth over me. I had always been in church, went to seminary, was a worship leader, all that. But there were still these lies from childhood that needed to be healed in me. So after that time of healing, I felt like I could do anything that God called me to do because all those fears were gone. I could just serve God and let Him love me.
So then I moved to Nashville, but not for music. My aspiration was to write Christian books. But before I finished the first manuscript, I met my husband and we started writing music and I ended up signing with BEC (Brandon Ebel Company, based out of Seattle) in 2018. The book I originally intended to write is actually coming out in 2023. But the other book I wrote in the interim is called Boundless, and it's a workbook for people to journal through the process of healing from trauma and memories to help them find healing.
OL: What's it like to be on BEC?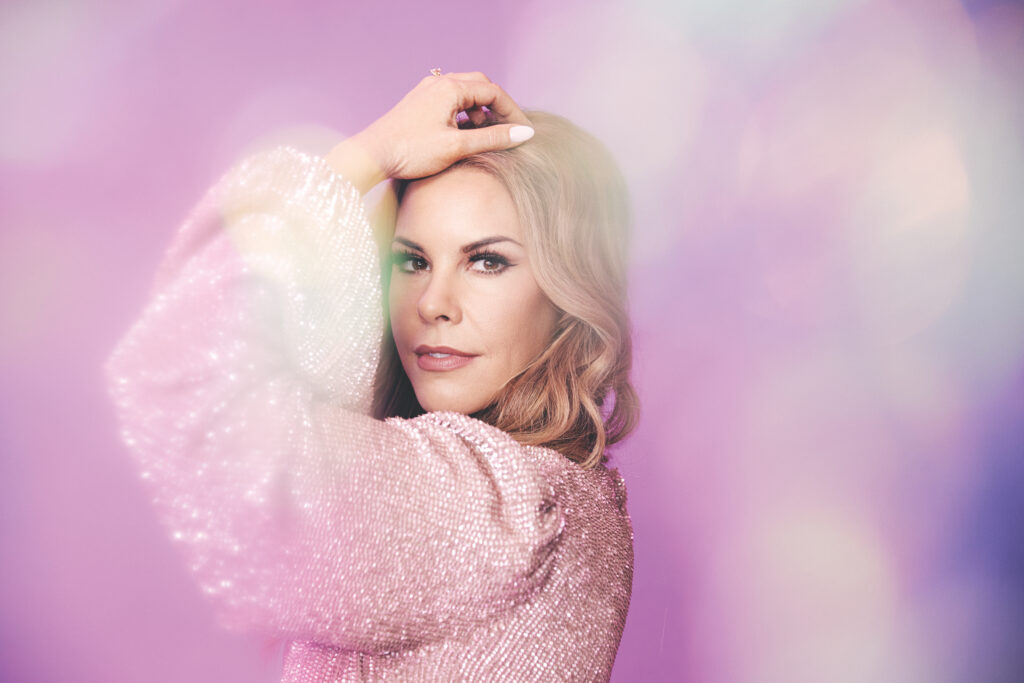 TL: When I signed with BEC, there was no one else in the space that was doing the mixture of worship and pop like I was. BEC wasn't in the Nashville bubble, and living in California for ten years, I understood the West Coast vibe they have, so I just felt like it was the label for me. It just made sense. They took a chance and signed me, and I really appreciated that. Since I signed, there have been several others with a similar sound on other labels. We just finished a Christmas vinyl record and we're really stoked to put that out. Brandon (Ebel) was really involved in that project because he has a vinyl imprint.
OL: It's fascinating to me that BEC broke you in the middle of the pandemic.
TL: Yeah, the timing of it was crazy. It was the beginning of the pandemic. When we wrote "Into the Sea (It's Gonna be Okay)," we had planned to release it later. But one day, three people on our team all said we felt the Lord wanted us to put it out sooner. And that was right about the time things started shutting down. The process that songs take to get on radio takes a while, so if we had waited longer, maybe it wouldn't have hit at just the right time like it did. I think it was because the Lord knew people would need that song.
When that song came out, I actually went into counseling because so many people were sending me their stories of heartbreak in their own lives and how God was meeting them through that song. It was breaking me to read all of them. So I had to find a way to process that and give up any savior mentality and just be grateful to God without the pressure.
I think there are seasons for songs, and timing is important. God is good like that. And even the timing of starting this a little later in my life, it couldn't be more perfect for me. I wouldn't have it any other way.
But it was funny. Everything in 2020 was virtual, so when I was finally able to do a live show in front of an audience it was a little trippy for me that everyone knew the words to my songs because it was the first show, but everyone already knew my music.
OL: Sharing some of your story sheds light into the lyrics and themes in your songs.
TL: I was 16 when some rough stuff started happening at my church. I was nearly 30 when I went to Colorado to finally deal with it. Shortly after moving to Nashville, I met Keith and we got married. So after that healing season in Colorado, I was able to let go of the reins and let God take control and things just started blossoming. When I got started in music in Nashville, I really didn't want to be an artist. I didn't want to be back in the spotlight because I had already experienced that with Katy. But it was my husband who encouraged me to trust that if God was calling me to do this that we could do it differently and it would be okay. God has blessed it, and it's been really fruitful and wonderful.
OL: So what can fans expect at the concert on August 5?

TL: This is actually going to be a one-off for me because I'm going on tour in the fall with Danny Gokey and Jordan Feliz, but that starts right after the show at the Bluegrass Hall of Fame. This show will be a mix of ballads and up-tempo. We'll bring some musicians and I'll share a little bit of my story from stage like I always do. I might even throw in a bluegrass song! It's going to be so fun. Our kids will be there with us for sure. Our kids love Owensboro.
Another interesting thing for me about performing at the Bluegrass Hall of Fame is my grandmother is the one who taught me to play guitar and she loved bluegrass music. She used to play banjo and guitar; everyone on that side of the family plays an instrument. My grandmother has since passed, and she would have loved to see me play at the Hall of Fame. So this will be sweet for me, but also bittersweet.