Encore Musicals Brings Beauty and the Beast to the RiverPark Stage
Photos by Kevin Brown Media
Encore Musicals is hoping to bring people back to the theatre with their upcoming production, "Disney's Beauty and the Beast." 
With an ensemble of 42 people, a lavish set design and elaborate costuming, Director David Roberson said this is a musical for all ages.
"We are hoping to be impressive," Roberson said. "We have a wonderful cast. People don't realize how much talent Owensboro has."
He said that over 20 people auditioned for the role of Belle and 65 people for the cast.
"The Belle we cast is really, really good," he said. "The cast is great, the sound of the ensemble…amazing."
Roberson said the Encore Musicals board chose "Disney's Beauty and the Beast" several years ago then canceled it, moved it, and then worried about producing it during the summer of 2021 with the guidelines and restrictions, so they held it until this summer.
"It's a humongous show, and it has to be done a certain way to do justice to it as many know the story," he said.
Encore Musicals began five years ago, forming out of Back Alley Musicals. Roberson said the founding members were not ready to quit having a musical theatre group in Owensboro.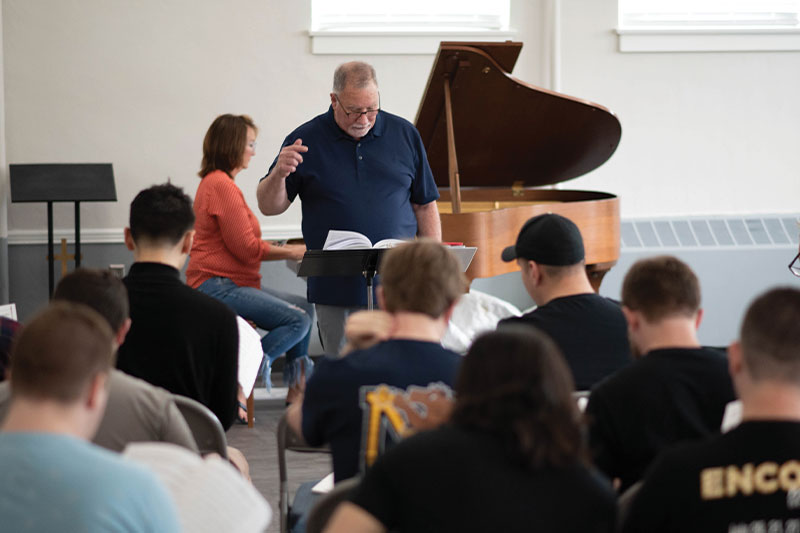 Their first production as Encore Musicals was a review with an ensemble of 20-30 people. It was free to the public, and the community's response showed the community organization there was a need for musical theatre.
Several productions were held before the pandemic, including "The Fantasticks," "Joseph and the Amazing Technicolor Dreamcoat," and "Mamma Mia," and last summer, Encore resumed with "Bright Star" and "Damn Yankees" in the fall.
Roberson said they typically have three shows in a season, but may move to four with the addition of a Christmas show.
They are also planning a musical revue to pay homage to their first performance. This will also be free to the community and will be held in September.
Encore Musicals has a board of eleven members, who are also involved in the shows and when they are selecting the season, they try to make them family-friendly while also producing shows for older audiences.
"We try to do a little of both," he said. "The board is a fan of 'Beauty and the Beast' and I am glad that it is, and we hope that kids will be interested in theatre [after seeing the production]."
Rehearsals for the show began in May and June will be spent learning the choreography and blocking for the cast members on the stage.
"Disney's Beauty and the Beast" takes the RiverPark Center stage on July 16 and 23 at 7 p.m. and on July 17 and 24 at 2 p.m. Tickets are on sale at the RiverPark Center and Ticketmaster.