Chris Joslin may be the Executive Director of the Bluegrass Music Hall of Fame & Museum, but he fondly remembers being a regular ol' bluegrass music fan from middle Tennessee, and he still tries to think from that "fan" perspective. What would bluegrass music enthusiasts really want to see at the museum? What events or attractions would bring a bluegrass fan to Owensboro? What would make the drive to Owensboro even more worth the trip for a fan?  It was that line of thinking that helped the idea for the Great American Bluegrass Jam to evolve into an entire weekend full of activities. 
Since being named the Bluegrass Music Capital of the World, Owensboro has been building on the momentum from being the home of the Bluegrass Music Hall of Fame & Museum by leveraging every opportunity to incorporate bluegrass music's influence on the community; not only by expanding existing events, but also by creating new activities and attractions to draw even more bluegrass fans to Owensboro. 
The first ever Great American Bluegrass Jam, March 17-19, 2023, is a great example.
Taking place throughout downtown Owensboro and beyond, the Great American Bluegrass Jam is an entire weekend full of events and entertainment including the Kentucky Fried Pickin' Hotel Jam at the Holiday Inn Riverfront, the Kentucky State Fiddle Championship at the Hall of Fame & Museum, an Earls of Leicester concert in Woodward Theater (inside the Hall of Fame), and shuttle excursions to both Green River Distilling Co. and the Bill Monroe Homeplace in nearby Rosine, KY.
Here's how it came about. 
The Kentucky State Fiddle Championship had already been hosted at the Bluegrass Music Hall of Fame & Museum for several years, but organizers were trying to expand the competition to a two-day event. At that point, Executive Director Chris Joslin reached out to his friend, Mark Hargis (of the bluegrass group King's Highway), who had organized the Kentucky Fried Pickin' Hotel jam at the Holiday Inn Riverfront, and the two started brainstorming how they could coordinate and combine both events on the same weekend.
It did take some maneuvering, because the Kentucky Fiddle Championship and Kentucky Fried Pickin' have shifted dates between winter and spring months in the past, so it was a matter of deciding on a weekend everyone could agree on.
Joslin and Hargis then reached out to Mark Calitri, of Visit Owensboro, who helped coordinate blocks of hotel rooms, and began connecting more tourism pieces, especially with the downtown restaurants and nightspots.
From there, the next tourism partner they contacted was Jody Fleener, who oversees tourism in Ohio County. Jody was more than happy to coordinate the day trip to the Bill Monroe Homeplace and Rosine Barn. "Working with Jody on this was another example of an existing working relationship that we just formalized for the Great American Bluegrass Jam," Joslin said. "With the side trips to Rosine and Green River Distillery, this really became a coordinated effort that fell together nicely and will help all of us (tourism partners)."
For example, Fleener and her Ohio County tourism team will have a booth in the lobby of the Holiday Inn Riverfront during the Hotel Jam so fans and musicians who come for the jam can learn more about the "sights and sounds of Rosine," including the Bill Monroe Home Place, Bill Monroe Museum, and the Rosine Barn. Fans can sign up right there for one of the excursions.
Joslin says even though Green River Distilling was purchased by Bardstown Bourbon Company, the local distillery is very open to community partnerships. "Green River is a big part of the mix when you think about what Owensboro is known for: bluegrass, bourbon and barbecue. So to be offering a shuttle from the hotel to the distillery for an additional side excursion that weekend is another nice thing to offer that is unique to Owensboro. Green River is a great part of the Owensboro story, too, because, just like bluegrass music, bourbon is very authentic, and there's no way to shortcut the process. It's just steeped in history and heritage."
The highlight of Kentucky Fried Pickin' Hotel Jam is the chance for fiddle, banjo, mandolin, and acoustic guitar players to pick with other bluegrass musicians from across the country in impromptu jam sessions taking place throughout the weekend at the Holiday Inn Riverfront. The hotel jam session is a throwback to the early days of the International Bluegrass Music Association festival when it was held at the old Executive Inn Rivermont.
Within walking distance of the Bluegrass Music Hall of Fame & Museum, the Holiday Inn Riverfront is an ideal location, offering participants discounted rates on rooms and a chance to jam with other musicians all weekend long inside the hotel.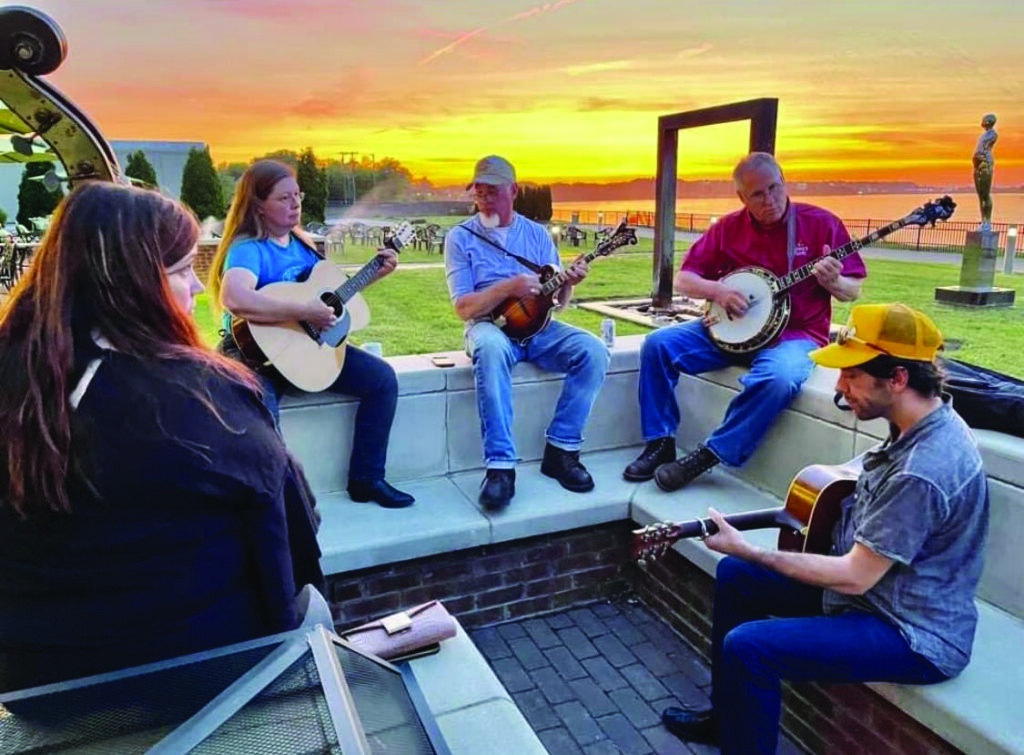 "It has been a joy to watch Kentucky Fried Pickin' grow right here in our hotel," said General Manager Andrea Benke. "Every year we have more travelers from out of state than the previous year. This year we are planning to open our 1,300 sq. foot meeting space, which will allow more pickin' groups to play!"
Burger Theory, located inside the Holiday Inn Riverfront, will be hosting a bluegrass happy hour on Friday night and bluegrass brunch on Saturday and Sunday. Other downtown businesses are getting involved by offering specials and live music throughout the weekend. 
The Kentucky Fiddle Championship has been hosted at the Bluegrass Hall of Fame since 2020. The competition is free to enter for participants, and spectators can watch for $10, which includes access to museum exhibits.
Joslin says bringing all these worlds together for a weekend full of entertainment was a lot of fun, and he hopes that vibe carries over to the fans and musicians who participate in the Great American Bluegrass Jam.
"There was already a good chemistry and natural synergy with these other tourism partners. We want to create events that are unique and one of a kind. There's strength in numbers, and this is a good example of taking several things that were already happening at various times in Owensboro and packaging them to make a weekend destination for bluegrass musicians and fans, with the idea that it's a lot easier to justify the trip if there are three or four things to do as opposed to one or two things to do. We hope to see many more collaborations like this with tourism partners in the future."
"This has been a great collaboration," agreed Jody Fleener. "The Hall of Fame and the Bill Monroe Homeplace and Museum play off each other well already, so we would love to see more events like this. Bill (Monroe) would be so proud to see his story still being told, and he'd be thrilled to see how his music has grown internationally."