Photos by Jamie Plain
Owensboro tattoo artist Crystal Dawn's passion for creating original artwork began when she was a young child who had trouble focusing in school.

"The only subject that kept my interest was art," Crystal explained.  "I had a wonderful counselor at Seven Hills who put me in a classroom by myself and let me work without distractions, so I was able to create original artwork in addition to completing my assignments.  One school year, I raised enough money to take my classmates on a trip to Holiday World by selling original portraits that I sketched! The school was very supportive of my talent, and I later ended up graduating from high school early at age 17."
Crystal then attended cosmetology school and later purchased a starter tattoo kit, teaching herself the art. She searched for an apprenticeship and had one for two years, but felt she wasn't learning as much as she wanted. She was considering a move to Nashville, knowing that a larger market for tattooing existed there, when she met her future husband, Mike White.
"At that time, Mike owned a private studio here in town," Crystal explained. "He asked me why I wasn't tattooing and I said I hadn't found the right place. He taught me the fundamentals of tattooing and brought me into his business as an apprentice."
Later, Mike expanded his business, and Hooded Crow was born. Located on St. Ann Street downtown next to Riverwalk Razor Barbershop, Hooded Crow specializes in tattoos and permanent cosmetics.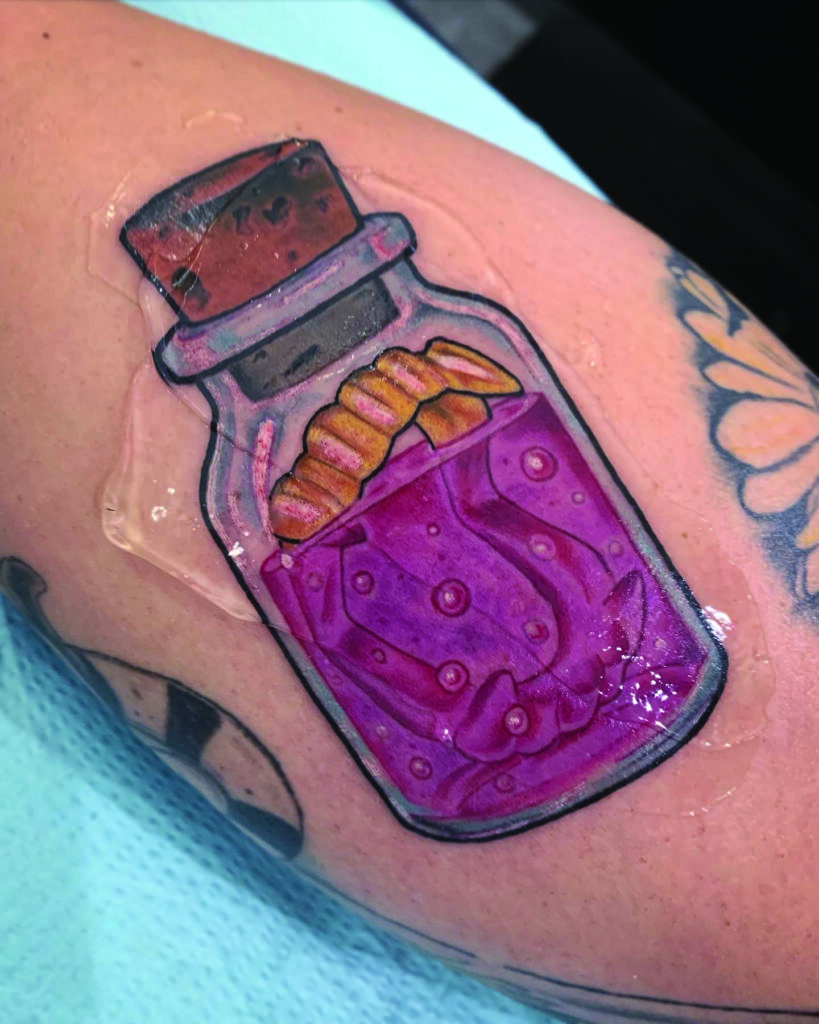 "Our business continues to grow," noted Crystal. "Our clientele are wonderful about spreading the word, and we are always searching out new learning opportunities. We have taken multiple private classes with big names in the industry."
Hooded Crow is more than just a tattoo parlor; it's a destination. Snack bags are given to clients as they relax and watch their original creations come to life at the hands of talented tattoo artists like Crystal. Traditional, neo-traditional, realism, blackwork, illustrated, and new school tattoos are among the options offered.
"Mike has developed a client-focused environment that offers an experience and a sense of comfort," explained Crystal. "Instead of just walking into a basic tattoo parlor and feeling uncomfortable, our clients are treated to personalized, one-on-one interactions and given our full attention. We truly care about the people we serve and are dedicated to giving them a once-in-a-lifetime experience."
In addition to tattooing, Hooded Crow also offers permanent cosmetics.
"I do eyebrows, lips, eyeliners, and cosmetic services for breast cancer survivors," Crystal added. "That is a very rewarding service for women who have suffered through an illness and overcome it, so I enjoy helping them get back to living."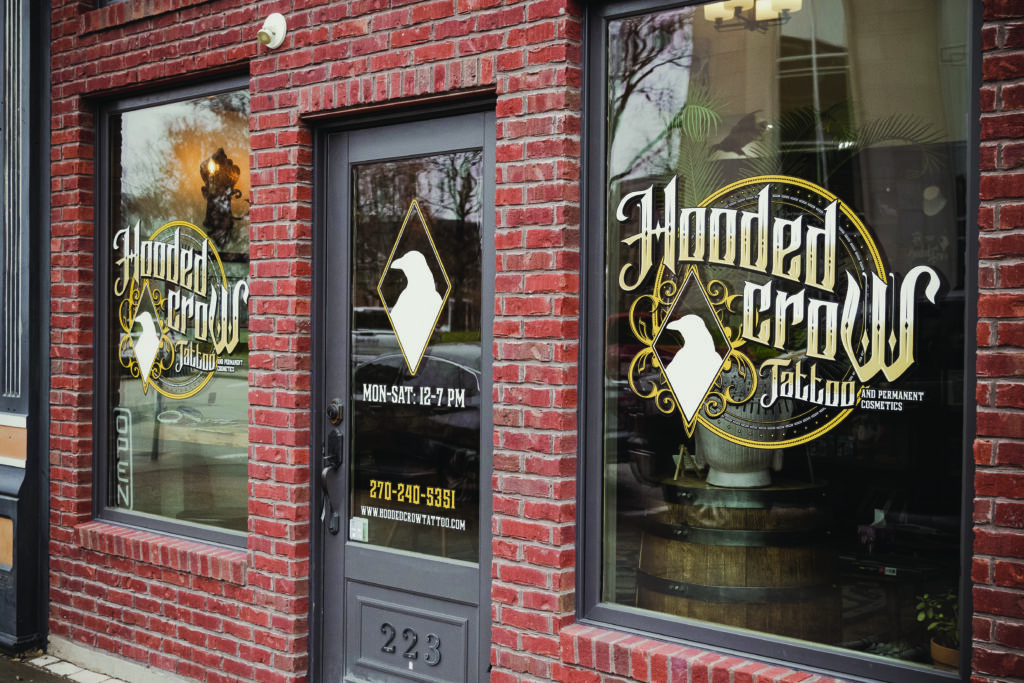 Mike and Crystal also enjoy offering their talents to community projects, having donated their time and talent to paint a large mural downtown in honor of the Green Dot Project at the request of New Beginnings here in Owensboro. The mural is located at the corner of Third and Allen.
For Crystal, sharing her passion for creating original artwork and helping others do the same is a reward that goes beyond receiving a paycheck.
"I enjoy the opportunity to help clients express themselves in my own artistic way," said Crystal. "Clients come to me with ideas of what they want, and I put it on paper for them. Then that goes to their skin, and it boosts their confidence. The client has the opportunity to display who they are in a very unique way, and I love being part of that process."
"Tears of joy happen," Crystal continued.  "I love helping people tell their story and feel better about themselves.  For me, this is much more than a job; it's truly a calling."