The "Calhoun Cowboy" becomes Owensboro's Fastest Rising Singer-Songwriter
Photos by  Taylor Graves
Was it really blind luck that brought Colt Graves to Owensboro 11 years ago? Or, was it something more, like fate or destiny? 
Or, was it his deeper subconscious that landed Colt in the emerging Bluegrass Capital of the World, considering his grandfather "Uncle Josh" Graves has a plaque in the Bluegrass Music Hall of Fame as a legendary dobro player for Flatt & Scruggs.
That little tidbit, Graves says, had no bearing on his decision to move from Nashville to Owensboro in 2012. "I changed my life around and wanted someplace new to start fresh. I literally opened up a map, closed my eyes, plopped my finger down, and Owensboro just happened to be where it landed. That was it. It could have been anywhere in the United States."
Which begs the question: was he running away from something when he landed in Owensboro, or running toward something?
Either way, fast forward to the day of this interview and Colt Graves is finally a free man; free to make the music he wants, how he wants, and whenever he wants.
In just a few seconds, it's clear that Colt Graves doesn't do anything halfway. He goes big. He doesn't just have a band; he has a team. (Several actually.) He didn't just show up to Porchfest; his team parked a vintage tour bus on Griffith Avenue for their green room. He didn't just accept this request for a phone interview; he invited me to his house, opened the front door, and completely took Owensboro Living inside his world for an hour and a half.
When I turned on the recorder and opened my notebook, the first thing I noticed was a look of relaxed determination. Two weeks before our interview, Colt was still a sales manager at Don Moore Automotive on Frederica. But on this blazing hot August afternoon, I had Colt's full attention with nowhere to be as he kicked back on his sofa, propped his boots on an ottoman, and explained how he was now able to focus on his music full-time since signing a record deal with megaproducer Timbaland in June.
These days, Colt's team is loading up his socials with video clips and status reports daily. His PorchFest performance: "Dirt on Me" surpassing 200K streams on Spotify and a plaque from Amazon Music for hitting #2 on the country new release chart; "Lonesome Roads" surpassing 100K streams on Spotify as well; a packed-out celebration performance at Brasher's Lil Nashville in July. Then, on August 2, a photo and reel of Colt recording next to Timbaland in Soul Train Sound Studios in Nashville.
At the time of this printing, "Dirt on Me" was Team Graves' latest release, and the one that broke the doors wide open for him, but there were many, many steps along that path to crafting this first batch of songs.
From Nashville Rapper to Calhoun Cowboy
Yes, there were Colt's early days in Nashville where he helped look after Johnny Cash's goats (True story!). There were also the days he taught himself to play guitar and the day he won a talent contest in the 5th grade playing Jewell's "You Were Meant for Me" in front of the whole school.
But there were days that weren't so great. One day, a 16-year-old Colt stood before a judge and was legally emancipated by the State of Tennessee, which meant he was on his own with no parent or guardian.
Because of that, there were days and weeks and years spent raising himself where he got into some wild things you wouldn't believe. Those were the days he was rapping in inner-city Nashville and living the "thug life," as he called it with a chuckle.
Then there was the day he needed a new beginning and moved to Owensboro, two hours away from all that. Which led to some long, hot days on a roofing crew to start making good, honest money. But his music dream was still very much alive in Kentucky.
"The first summer I was here in Owensboro I think I handed out like a thousand rap CDs at the Barbecue Festival," Colt remembered, laughing about the fact that his new band will be playing one of the main stages during Friday After 5 on September 1.
There were many Sundays spent in church, playing on stage behind a worship pastor, which led to some recording projects and writing sessions in his Christian music phase, which is where his Biblical references and spiritual influence sprinkled throughout his recent lyrics largely come from.
Soon after that, there were a few years spent collaborating, writing, and performing with a buddy from Philpot on a project they called "Kenessee."
Then there was the day Colt had saved enough money to buy a farm in Calhoun. Equal parts relaxation and inspiration, it also kept him grounded and reminded him of his roots. He enjoyed the wide-open space and room to breathe, and the satisfaction of caring for chickens, horses, and a mischievous small herd of goats. Make no mistake, there is still actual dirt on those cowboy boots we see in the photos.
Then there was "the year" that changed everything.
Still in the midst of Covid, Colt decided to take a year and throw everything he had into his music, and focus 100% on finding his unique, authentic sound. "I was working at Don Moore then. My fiancé and I decided to sell the farm in Calhoun and buy a house here in Owensboro so we could be closer to things. I shut everything else out and just started writing fresh," Colt explained.
"Things didn't really happen for me until I decided exactly what I wanted and made it very clear. I had three goals; to provide for my family full-time doing music, to play on the Grand Ole Opry, and to win a Grammy. To make a big jump like that, you have to sacrifice time, talent, and treasure. So that's what I did. And that's when people started catching on and things started happening fast."
When he emerged from that year, he was ready to reveal his new music to the world. "Dirt on Me" was released on May 11, 2022, and things have skyrocketed since.
Your Vibe Attracts Your Tribe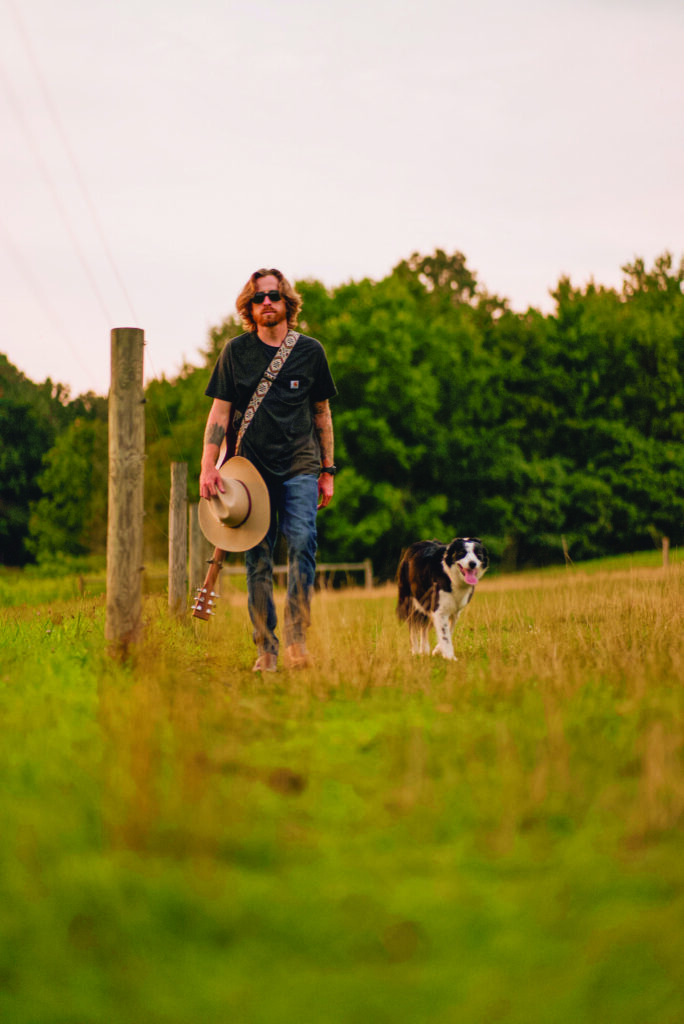 "Lonesome Roads" might be one of his most-streamed songs, but Colt is far from lonely these days. Once his close-knit friends and collaborators heard the songs he was cranking out in his upstairs writing loft, people started paying attention and wanting to be a part of it. He now has a team that helps him with vision, marketing, and promotion (see sidebar), another team of writers and musicians he can call upon to perform live, and his producer/engineer Jake Parshall who records and masters the final versions of the songs in a Nashville studio.
Colt gives a lot of credit for his success to his team. "My team is my tribe. My people. We've really become like a family. They get what I'm doing and take it to the next level. They're all amazing at what they do."
The video for "Lonesome Roads" is a perfect example of the creative synergy of Colt's team. The production value is way beyond what most unsigned artists produce. The idea for the video was Colt's vision to create "a blend between the movie O Brother Where Art Thou and Blow." The team then scripted it, meticulously planned the scenes, and made it all happen. There are airplanes buzzing by, horses in several scenes, a chain gang, multiple sets and locations, and sounds from the visual story overdubbed to add impact to the video.
And that was before the Timbaland deal.
Signing with Timbaland
The deal with Timbaland started earlier this summer during a random moment on Timbaland's TikTok channel where he reviews and does reaction videos for independent artists. At this point in the conversation, Colt pointed to a stool at his kitchen bar across the room and recalled the story, "There are thousands of people in those live videos, and I had been on the channel several times watching. So, I'm halfway watching this with the kids running around in the background when all of sudden I see my song pop up and I about fell off my stool.
"He stops and says he likes it and then he pulled up 'Lonesome Roads' but turned it off right before the rap part, so he wasn't even aware I could rap at that point. I expected him to hate it because I'm a country artist. But he brought me up on his live chat and told me I was fire, and he was going to follow me. About a week goes by and I don't hear anything so I thought I would do something crazy and message him. He messaged right back and asked for my email. Then a few days later he emails me and asks for my number. A week later I get a Facetime from an unknown number, and I take it and it's Timbaland right there on my phone."
It took some negotiations, but once the deal went through, Colt was able to quit his day job and focus full-time on music. A few days after our interview, Colt spent several days in a studio in Nashville with Timbaland.
Focus. Sacrifice. Hard work. Determination. Positioning. Perfect timing. Opportunity. Or as Colt calls it: "Manifestation." (See sidebar)
That's the fascinating thing about Colt's story: if you take away any one of the pieces of his past – his bluegrass and country pedigree, his inner-city Nashville rapper phase, the Sundays on stage with a worship band, the "Kenessee" collaboration, or the Calhoun Cowboy on the farm with his chickens and goats – then these last five songs don't sound like the Colt Graves songs he's releasing now. Which means they might not have caught Timbaland's ears.
It took every step on that path, every piece of the musical puzzle, falling into place at the right time.
Would an independent upstart from Owensboro be in the studio with Timbaland if he hadn't dedicated that full year of focus to reset and write fresh songs with a whole new vibe?
Finding Freedom
In the days to come, you can count on this: fans find the music they like. And the music Colt and his team are putting out is finding a LOT of ears.
If you ask Colt, this moment is exactly where he always hoped and dreamed he'd be.
"Everybody goes through their things in life. All my songs are feeling-based about breakups or depression, but faith also definitely comes through. This is music with a purpose. I hope people see it's important to be real with yourself. The moment I was truly honest with myself is when everything changed for me. I was able to be honest about my mindset and my feelings. Don't be conformed to the world, but be transformed by the renewal of your mind. That's where it's at; a change of mindset. Be who you are because free is the absolute best thing you can be. You can find freedom in Christ. Freedom in yourself. Freedom from any ties. The truth shall set you free. I want to be truly myself to everybody… And it's working. I can't believe it. But it worked."