The Evolution of an Artist
Photos by Jamie Plain
Louisville native Kenneth "KO" Lewis has called Owensboro home his entire adult life. Lewis originally moved to Owensboro when he enrolled as an art education major and football player at Kentucky Wesleyan College in the fall of 2004. While at KWC, Lewis' met his future wife, Erin. After graduating, he began his career as an educator at Owensboro Public Schools' alternative high school, which was then located at the former Seven Hills Elementary. In addition to teaching, Lewis worked as an assistant football coach for the storied OHS football program. After 7 years teaching and coaching, Lewis transitioned into administration as an assistant principal at OHS. Five years later, KO and Erin welcomed a daughter, Eva. This fall, he is set to begin his third year as an assistant principal at Newton Parrish Elementary. 
As Lewis' life has changed and evolved over the last two decades, so has his relationship with art and his career as an artist. Lewis has always had a love for painting, and it was his art skills that helped him to gain admission to the highly selective and prestigious duPont Manual High School in Louisville. After high school, KO continued to create art during college and his early career as a teacher through painting. "At that time, I was essentially just painting commissions when a friend wanted a portrait of their children or their family. It was a way to make a little money and continue painting, but it wasn't really something that I was passionate about," said Lewis in a recent interview. In fact, it wasn't until Lewis entered the East Bridge Art Festival in downtown Owensboro in 2010 that he realized that people were interested in purchasing his own original artwork. "I sold a couple of pieces that first year, and that's when I realized that maybe this was something that I could do."
Lewis says the success he experienced in his early shows kindled a fire within him to begin to create more and more original artwork. "At that time, my goal was to sell art and to one day have the opportunity to get to St. James, so I tried to create pieces that featured or centered around popular, well-known figures that I felt would have broad appeal." Lewis realized his goal of earning admission to the prestigious St. James Art Fair several years later, and continued to be invited to display and sell artwork in cities all over the United States. Over the course of the decade that passed after that first art show, Lewis consistently sold paintings and drew invitations to some of the biggest art shows in the region.
Despite his success, Lewis felt as though he wanted to develop a deeper connection to his art. "Several years ago, I decided that I needed to stop trying to paint figures who I thought would be popular or have broad appeal to the masses, and instead create artwork that centered around people who had been influential in my life. Whether that was a musician, an athlete, a social or political figure, it was important to me that the art I create centered around someone who had influenced me."
Lewis said he was prepared to sacrifice monetary gain in order to make his art true to himself. However, just the opposite proved to be true. "Strangely enough, I have found that since I started painting portraits of people who have influenced me in my life, my work is more popular than ever. I truly believe that because I am now painting who and what I want and I am passionate about, my art is deeper, more meaningful, and more powerful than ever. It speaks to people because it is from my heart."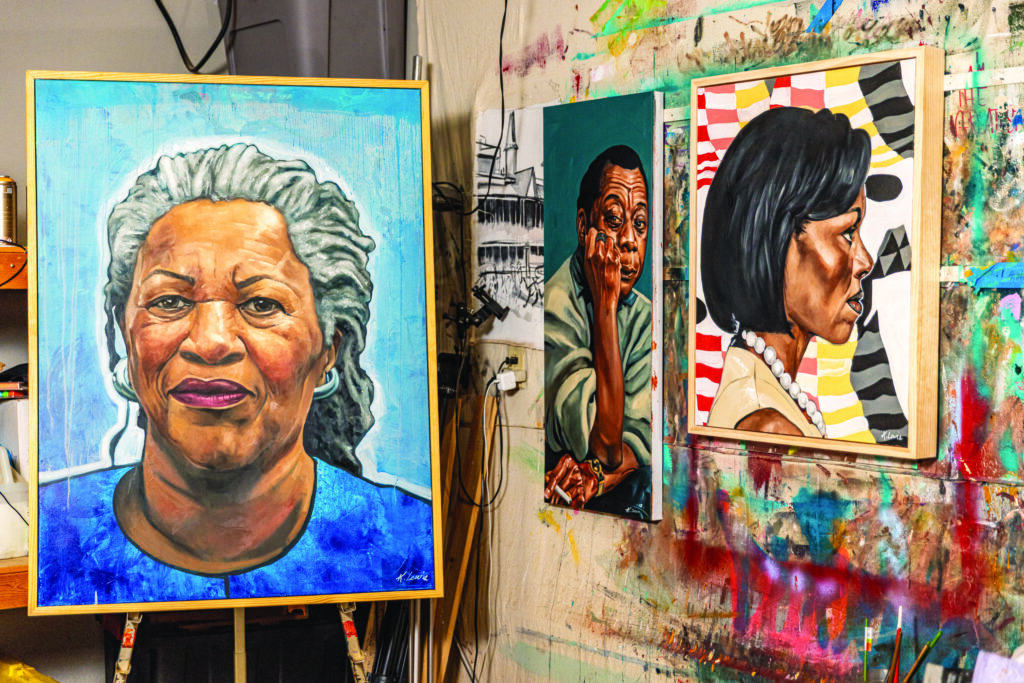 Lewis recently entered work into the Millenium Art Festival, hosted adjacent to Chicago's famous Millenium Park. One of his pieces that was purchased was a portrait of Emmett Till. Till, a 14-year old Chicago native, was visiting family in Mississippi in 1955 when he was lynched. The ensuing court proceedings drew shock and outrage outside of the south when Till's murderers were acquitted, and it created a national discussion around the horrors of the Jim Crow south. The purchaser of the Till painting did not want to keep it for their private collection, according to Lewis. "The individual who purchased the painting of Emmett Till commissioned me to find a museum or other location meaningful and central to the fight for civil rights and social justice for the painting to be on permanent display. That was definitely a powerful moment for me, and definitely showed me that I was making the right decision in choosing subjects for my art that spoke to me and influenced me."
Lewis is a self-described contemporary expressionist and says he is still just as passionate about creating art as he was when he entered the East Bridge art festival back in 2010. "I just want to keep creating art, and I want to keep making pieces that put on display black intelligence, black beauty, and black excellence."